Who Makes Parlos Faucets – Everything about Parlos Brand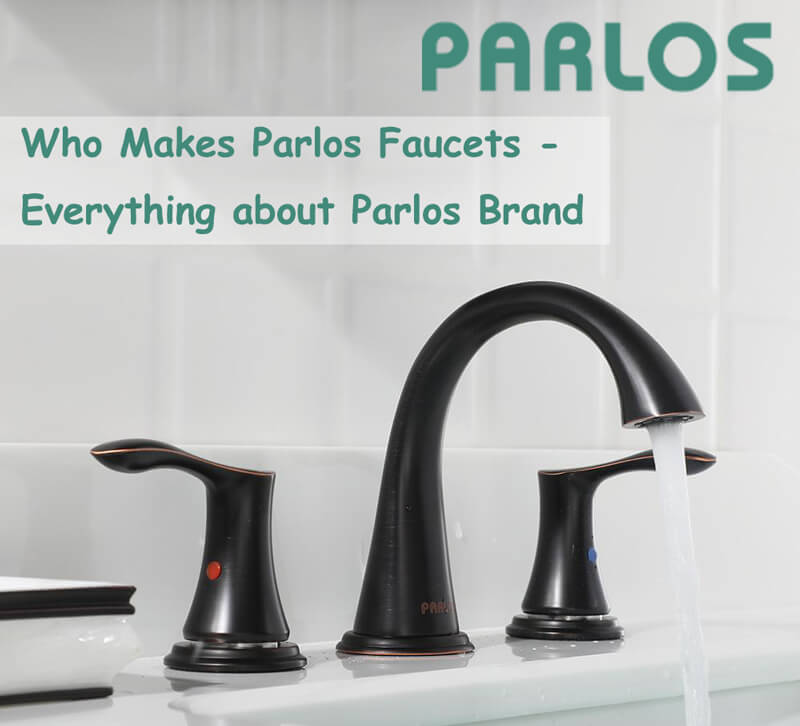 Parlos is one of the most popular reseller on Amazon with a variety of bathroom and kitchen faucets. Today, we will describe everything about Parlos brand including who makes Parlos faucets and the reviews of Parlos faucets. So that you can have a more comprehensive understanding on Parlos.
Who makes Parlos faucets – A Brief introduction of Parlos Co.
Built in 2014, a brand new company Parlos Home Furnishing Co.,Ltd is committed ourselves to creating a brand that represent joy and comfortable home idea. During the past several years, Parlos took part in international fair such as IBS, PCBC, HKHF, aiming to explore the golbal market. Products Always Render Love & Offer Support; this is the full meaning of PARLOS. So, it's easy to understand why they are one of the best third-party sellers on Amazon. Durability, attractive design, and excellent customer support are the three areas where the brand excels.
Kitchen and bathroom faucets are the first products of this brand. All the models are built with care to last and made available to you at very budget-friendly prices. Whether you need widespread, two handle, or single handle bathroom faucets, you can get one at PARLOS. The brand also has a wide range of kitchen faucets available with all the latest features.
Features of Parlos faucets – Are Parlos faucets good
Almost all PARLOS are user-friendly and they can be perfectly integrated with the interior decoration of any bathroom or kitchen. Since they have a wide range of options, you can easily choose one of their products to meet your requirements and budget. Let's discuss some other benefits of investing in PARLOS faucets.
Durability
All PARLOS faucets are durable and leak-free, especially if they are installed according to the accompanying instructions. Buy one of their faucets and you can use it for a long time without worrying about repairs or replacement.
Easy to install
PARLOS taps include all necessary hardware, including water supply lines. Therefore, you can quickly assemble them according to the accompanying instructions.
Safety
All PARLOS faucets are manufactured in accordance with the standards established by cUPC and NSF 61. This means they can be safely used in bathrooms and kitchens. In addition, the attached water pipe comes with a million-dollar global insurance.
Are Parlos faucets good
In order to understand the true value of PARLOS faucets, we communicated with many users. Most of them are very happy because the product looks good and easy to install. It is quick and easy to remove everything and install them. All Parlos faucets are equipped with pop-up drain assemblies and water supply lines. Both components work well and there is no leakage even when used frequently. The processing is very smooth and the water flow is very good.It is almost effortless to use, and users are satisfied with both single-handle and double-handle faucets.
Reviews of Parlos faucets
PARLOS Two-Handle Bathroom Sink Faucet Brushed Nickel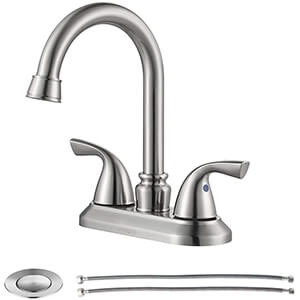 This bathroom faucet has a stylish design and may look great with other accessories and fixtures in the bathroom. The brushed nickel coating effectively prevents corrosion and rust. It has two handles, which can effectively control the water flow. It comes with a drain assembly and a hose, making it easier for you to install the faucet. I would recommend this to those who want to install it themselves without any professional help.
This bathroom faucet is safe to use: it complies with cUPC and NSF 61 standards. The sturdy and durable structure of the faucet makes it durable. You don't have to worry about replacing it again and again.
PARLOS Widespread Double Handles Bathroom Faucet with Metal Pop Up Drain and cUPC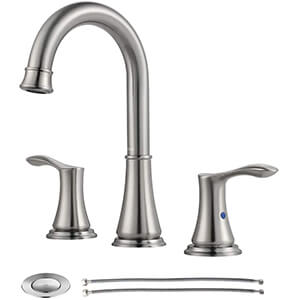 Made of brushed nickel, Palos 13651 is elegant in design and, like previous models, is equipped with pop-up drains and faucet supply lines to provide you with everything you need to easily install the product.Since the wideprep faucet is very suitable for those with large space, the Palos wideprep model can provide a large amount of water without flooding the sink or bathtub too quickly.
Many consumers commented on the fashionable design and its fashionable and impressive appearance. This material also feels luxurious and heavy, and will not leak.
PARLOS Waterfall Widespread Bathroom Faucet Double Handles with Metal Pop Up Drain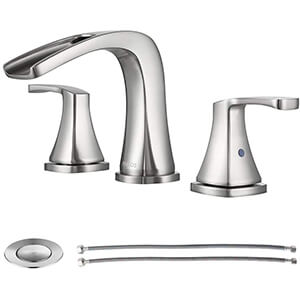 It has a unique design and supports three-hole installation. The faucet is equipped with a pop-up drain assembly, a water supply hose and a quick connector hose. If you follow the installation instructions, its welding is very easy.
The brushed nickel finish of the faucet gives it a stainless steel appearance and complements the surrounding objects. Due to its metal structure, the product is durable and reliable. There are two handles, easy to use. Similar to the previous two recommendations, the waterfall also has a HENT filter element to achieve leak-free performance.
PARLOS Single Handle Bathroom Faucet with Escutcheon, Metal Pop Up Drain and cUPC Faucet Supply Lines, Matte Black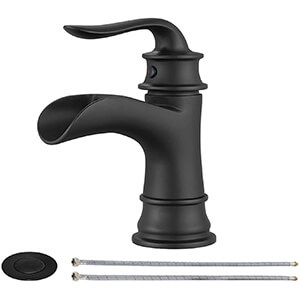 This faucet has a corrosion-resistant and matte black finish with a modern appearance that complements most decorative styles. The unique waterfall spout can deliver waterfall effect water flow without splashing. This faucet comes with metal pop-up drain assembly and water supply hose and cover plate, which is suitable for 1-hole or 3-hole installation.
PARLOS Double-Handle Lavatory Faucet Two-Handle Lavatory Faucet Oil Rubbed Bronze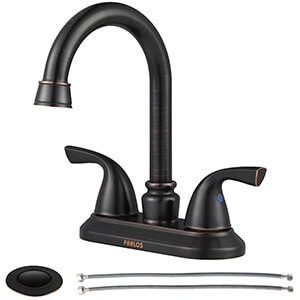 It uses a smooth oil wipe design that can be easily matched with other accessories and fixtures to make them look great. Due to its bronze finish, the faucet is resistant to corrosion and rust. It has a drain assembly and water supply outlets for hot and cold water. The product complies with the standards set by cUPC and NDF 6, so everyone can use the faucet safely.
The lavatory faucet has a sturdy structure and has maintained a new appearance for many years. You don't have to think about repairs or replacements soon. It is used in conjunction with two handles, allowing you to fully control the flow of water.
Final thoughts
We have shared with you the Parlos faucets in various aspects and you may have an overall impression on Parlos. Overall, Parlos faucet is worth considering, if you are intended to purchase a new faucet for bathroom or kitchen.
Best Faucets on Amazon Recommended