What is A Centerset Faucet – Centerset Faucet Definition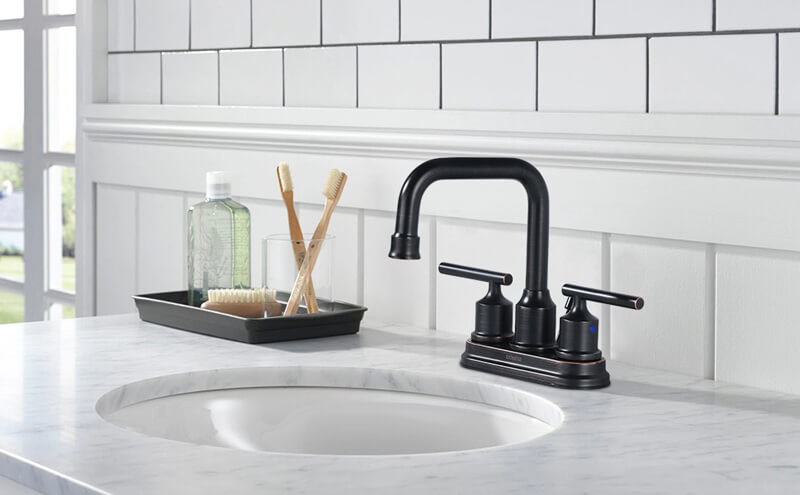 It may look like a simple piece of plumbing hardware, but the faucet is a functional element of the room design. In the faucet market, there are faucets of various shapes and finishes to meet various indoor styles. Centerset faucets are becoming more and more popular among homeowners. But, what is a centerset faucet and ? This post mainly concludes the centerset faucet definition and discuss about centerset faucets in differents aspects.
What is a centerset faucet
When it comes to centerset faucet definition, we need to know about what centerset means at first. In regards to faucets, they vary in terms of their mounting type; centerset is one of those options. A centerset faucet is designed for basins with three holes and the center hole is for spout while two holes on sides are faucet handles. With centerset faucets, the faucet spout and handles are mounted together to create a single unit. Most offer individual controls for hot and cold water to mix the perfect temperature every time. Although the 4-inch style is the most common type in most bathrooms, the 8-inch central faucet is often used in other commercial areas, such as frosted sinks.
4 inch centerset faucet vs 8 inch centerset faucet
The four-inch centerset faucet or eight-inch centerset faucet refers to the center distance between the two furthest mounting holes. The centerset faucet has three mounting holes. There is space to connect each faucet, and then there is a mixing connection for the middle outlet. All faucets with this installation method are measured between the two furthest apart openings to obtain the required measurement value.
How to install a centerset faucet
Installing a a centerset faucet requires a sink or countertop with a three-hole centering configuration. Before installing the faucet, measure the distance between the center points of the two external mounting holes on the sink or countertop to determine whether the faucet is suitable. When the faucet is placed on the sink or countertop, the hot and cold water supply lines rise and connect to the respective handles of the faucet from below. The outlet of the faucet is located on the central installation hole of the sink or countertop.
Benefits of centerset faucet
Centerset faucet work well in many bathroom and kitchen settings. It is a ubiquitous sink fixture and its popularity is unparalleled. Equipping your sink with a centrally opposed faucet has many advantages.
Compact
The size of centerset faucet does not exceed 6 inches, and most sizes are 4 inches. This is a plus for smaller bathrooms and toilet sinks where space is at a premium. In addition, it is accurately measured to fit the pre-cut sink and counter hole.
Easy to install
The centerset faucet adopts a compact design and integrates all the components into one unit-faucet, handle and bottom plate. This makes installation a breeze, because you don't have to look for each individual component. And because it is accurately pre-measured, you can quickly place and connect the tap without any confusion.
Closing thoughts
As for centerset faucet definition, the faucet and handle are usually installed on a central part and close together. The centerset faucet is more suitable for small bathroom sinks, while the widely used faucet is more flexible when placed. These types of faucets have advantages in terms of function and ease of installation. In addition, cost and variety play a big role in choosing the best fit for your home. Comparing these characteristics side-by-side will help guide the decision-making process to make it best for your space. If you are intended to buy a centerset faucet for your bathroom, WOWOW offer a wide range of selections for your references, visit WOWOW Centerset faucet and pick one!