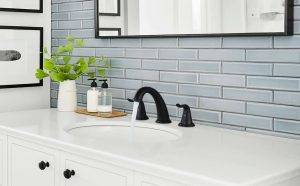 Home decor trends shift with the tides like trends in any other part of life, from fashion to hairstyles. Still, there are some decor elements that have been on-trend for years with no sign of stopping. Matte black bathroom fixtures are among them.
Matte black is a highly popular trend in homes across the US and around the world. It has a distinctly modern and high-class look that's beloved by homeowners far and wide. Of course, it only looks its best if it's kept clean and fresh. How do you maintain that look long-term?
While matte black fixtures are easier to maintain than most fixture finishes, there are some rules and guidelines to consider. This guide shows you how to clean matte black bathroom fixtures and gives you everything you need to know to keep your fixtures looking new and your bathroom looking luxurious.
1. Why is It Important to Clean Matte Black Bathroom Fixtures?
When it comes to your fixtures' exteriors, cleaning them often will help them keep their fresh-from-the-box look. Not only do water spots and residues take away from your fixtures' aesthetics, but some of these residues contain chemicals that can wear away at the finish. Cleaning them off promptly will help you prevent long-term damage to your fixtures.
While that's true for the exterior of your fixtures, cleaning your fixtures' interiors is even more important. Faucets and drains alike can clog, making your important fixtures less functional. In many cases, a simple cleaning schedule can prevent those problems.
How Often to Clean Your Matte Black Fixtures
We all have busy lives, so how often do you need to take time to clean your fixtures? Fortunately, cleaning their exteriors is easy to incorporate into your weekly cleaning routine, with each bathroom taking five minutes or less.
Cleaning your fixtures' interior areas takes a few extra minutes, but often 15-20 minutes is plenty for a bathroom with a shower and one or two sinks if you keep up with regular cleaning sessions. These only need to be cleaned once every month or so to keep grime buildup under control.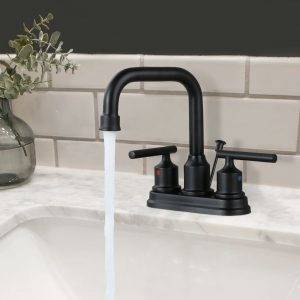 Top Challenges in Cleaning Matte Black Bathroom Fixtures
Matte black finishes tend to be rather durable, so they aren't as tricky to clean as some other finishes. Still, there are some challenges to keep in mind.
Maintaining the Matte Finish
Some cleaning products are designed to not only clean and sanitize but to add shine as well. That may be something you want on your countertops, but not on your matte black bathroom fixtures. You'll need to use products that will leave the matte look intact.
Removing Water Spots
The benefit of matte black fixtures is that they don't show water spots as easily as high-gloss finishes like chrome or polished brass. Water spots still appear, though, and you'll want to clean them off when they do.
Those water spots tend to be trickier and more persistent than your standard dust and other particles on fixtures. It's important to clean them in a way that is strong enough to remove the water spots but gentle enough to avoid scratching the finish.
2. Dos and Don'ts for Cleaning Matte Black Bathroom Fixtures
To keep your matte black bathroom fixtures looking their best, there are important guidelines to follow, from products to use to specific techniques. Follow these tips to get spotless, damage-free fixtures.
Do Use a Simple Soap Solution
There are many chemicals that can damage a matte black finish, including many of the chemicals found in commercial cleaning products. What's the safest and most effective way to clean these fixtures? Simple soapy water.
Fill a bucket or sink with water and add a dash of standard dish soap. Make sure it's pH-balanced dish soap so that it's not acidic. Mix it up, dip a cloth onto the soapy water, and use it to wipe down your fixtures.
Don't Use Acids
It's important to always avoid using acids on your matte black fixtures. These acids can wear away at the finish, even if the fixture comes from a high-quality manufacturer. It can leave behind uneven splotches of damaged finish.
The only exception is that you can use vinegar when you're removing stubborn water spots. However, the vinegar should be heavily diluted and there are strategies to use to avoid damage, which we'll dig into further below.
Do Use a Gentle Cloth for Cleaning
Any type of finish can develop scratches, and black matte is no exception. Even common cleaning tools like brushes, scouring pads, and rough sponges can scratch your fixtures. The best tool to use while cleaning your fixtures is a simple microfiber cloth.
Don't Use Waxes or Cleaning Products with Filling Agents
This is a tip that many people don't realize, but it's critical with a matte finish. Manufacturers create a matte finish by adding a microscopic texture of bumps, ridges, and valleys. When light hits the surface, this texture disperses the light so that there's no staunch reflection like you would see on a smooth surface.
Waxes, glass cleaners, and some other products contain filling agents. These ingredients work by filling in the ridges on a surface to make it shinier. While that's perfect for mirrors and granite countertops, it will create a blotchy inconsistency in a matte black finish – or any matte finish.
Do Rinse the Fixtures Promptly
When you wash your matte black fixtures with dish soap, it's important to rinse them with water right away and dry them thoroughly. This allows you to prevent any water spots or residue from staying behind and ruining your fresh cleaning job. Remember to dry the fixtures with a soft, clean microfiber cloth rather than using anything rough or textured.
Don't Use General-Purpose Cleaners
When you see a product that is labeled as a general-purpose or all-purpose bathroom cleaner, you think, "That's easy, I can use it on anything in the bathroom." It turns out that "anything" is a bit of an overstatement.
These products often contain either acids, filling agents, or both. While these ingredients are fine for most surfaces, they can damage a matte black finish, especially after repeated weekly use.
Ultimately, unless you know all the ingredients in the cleaner and are sure that none of them pose a risk, it's best to steer clear. Dish soap does the job of cleaning your fixtures so there's no need for harsher cleaners. If you do use a cleaning product, though, be sure to rinse it off immediately and dry the fixture with water right away, just as is the recommendation for using dish soap.
Do Clean Outer Surfaces Before Inner Surfaces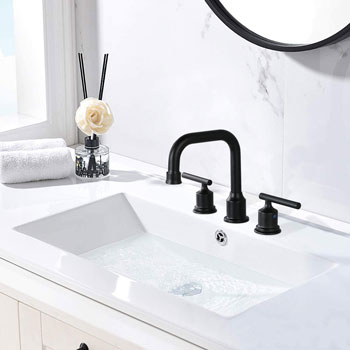 When people think of cleaning their bathroom fixtures, they think about exterior surfaces first. Interior surfaces need attention too, though, if you want to keep your fixtures in good shape and running properly.
It's important that if you're cleaning the outer and inner surfaces with the same cloth, though, clean the outer surfaces first. Interior areas are more prone to a buildup of calcium and lime deposits, grime, and other particles. If you carry those particles to the outer surfaces of your fixtures, they could scratch or leave residue on the finish.
Don't Go Overboard Using Vinegar
As we mentioned above, vinegar is the only acid you should use on your matte black finishes, and only under specific circumstances. It works well for removing stubborn water spots but be sure to follow this process carefully.
First, dilute the vinegar. A solution of 50% vinegar and 50% water is typically effective enough to work yet gentle enough to avoid damage. Dip a soft microfiber cloth into this solution and use it to gently wipe off water spots.
As soon as you're done rinse the fixture well with water to remove any trace remainders of vinegar. Finally, dry it with a clean microfiber cloth.
Do Read Your Manufacturer's Instructions
When in doubt about caring for your bathroom fixtures, always turn to the manufacturer's instructions. Most instruction manuals are available online if you didn't keep your original copy.
Different manufacturers sometimes use different materials and techniques to create their matte black finishes. For that reason, they know best what types of products and techniques will clean their fixtures effectively without risking damage.
Many bathroom fixtures come with some type of manufacturer's warranty as well, and in some cases, straying from the manufacturer's care instructions will void your warranty. It's always better to be safe than sorry.
3. Cleaning Internal Parts of Your Bathroom Fixtures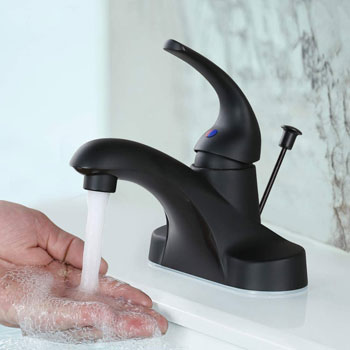 As we mentioned, it's important to keep the exteriors of your bathroom fixtures looking their best, but you need to clean their interiors from time to time as well. That goes for any fixture that has interior parts, like drains and faucets that have aerators.
Cleaning Your Faucet Aerator
An aerator is a tiny piece inside your faucet that looks like a fine screen. It filters some particles from your water while also adding air into the water stream so it's a smoother stream. As handy as an aerator is, it can develop some particle buildup so it needs cleaning from time to time so that it doesn't block water from coming through.
1. Remove Aerator
In most faucets, the aerator is inside a small screwcap inside your faucet, typically sticking out of the bottom of the faucet spout slightly. You can usually unscrew this cap to remove it, though it's best to check your manufacturer's instructions to be sure.
2. Create Your Cleaning Solution
Use the same type of cleaning solution you use for matte black exteriors: dish soap and water. Mix it up in your sink or a bucket and you'll be ready to go.
3. Clean the Aerator
Using a cloth, scrub brush, sponge, or old toothbrush, scrub the aerator in the soapy water to loosen the grime and buildup. Rinse it frequently throughout, removing the loosened particles. A simple visual inspection will tell you when the aerator is clean.
You can also use this opportunity to refresh the inside of your faucet since the aerator is usually blocking it. Take an old toothbrush with some of that dish soap and water and scrub the inside of the faucet. You only need to go in a few inches to do a thorough job.
4. Replace the Aerator
Put the pieces of the aerator back together in the same order they were in when you removed them. Feel free to check the manufacturer's instructions if you aren't sure. Simply screw this assembled screwcap back in place and you're done.
Cleaning Your Bathroom Drains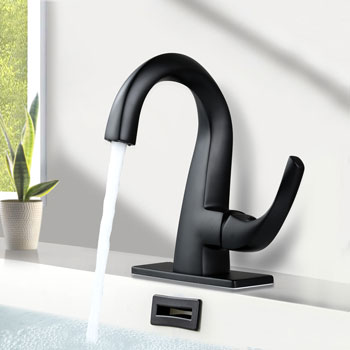 Sink drains and shower drains are both essential parts of your bathroom fixtures, and they need a good interior cleaning every so often. Sometimes the drain tells you it's time by draining water slowly or developing a bad smell. Even if you aren't seeing these symptoms, it's helpful to clean your drains every month or so to stay on top of clogs.
1. Remove the Drain
In the case of sink drains, you can usually unscrew the center of the drain easily by hand. In the case of some shower drains, there might be small screws you need to remove with a simple screwdriver.
2. Remove Any Internal Clogs
You can pick up a clog remover tool from any hardware store. It's a long, thin, flexible stick, usually made of plastic, with hooks along the edges to grab hair and other drain-clogging debris. Just slide this tool into the drain and pull it up to remove any clogs within the first several feet of the drain.
3. Clean Around and Inside the Drain
With any messy clogs gone, use your microfiber cloth and soapy water to clean around the edge of the drain and inside the very top of the drain. Don't forget to clean the drain piece you originally removed as well.
4. Reassemble the Drain
With the drain clean and fresh, it's time to screw it back into place and enjoy your fresh, clog-free drain.
4. Caring for Your Matte Black Bathroom Fixtures
Matte black bathroom fixtures truly have the look of luxury and refinement. Still, even the most beautiful of items can look unkempt if you don't keep it clean and care for it properly. Follow this guide to keep your matte black fixtures looking their best and making a great impression on everyone for years to come. If you're still shopping for the perfect fixtures, check out our bathroom fixture buying guides.
Matte Black Bathroom Faucet Products Recommended