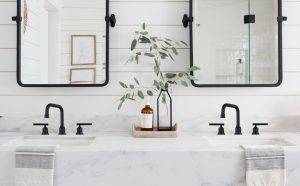 After you've picked out your shower, bathtub, vanity, flooring, and wall color, your bathroom faucets might feel like a small detail. Truthfully, though, they can be the design piece that truly ties it all together…or they can disrupt the visual flow of the entire room.
As you shop for the perfect faucets for your bathroom, it can help to start with the most popular choices, especially when it comes to the finish of the faucets. So what is the most popular finish for bathroom faucets, and how do you know which finishes are right for you?
What Is the Most Popular Finish for Bathroom Faucets?
Answering the question of the most popular faucet finish is tricky because there's no singular source that tracks this data. Experts all have their own opinions, and each finish's popularity also shifts based on decor trends as well. Many say brushed nickel is the most popular finish today, while others say it's chrome.
Ultimately, though, what matters most is that you choose the finish that best fits your needs and your vision for the room. Let's compare the most common finishes to see which ones fit your bathroom best.
Top Finish Options for Bathroom Faucets
Your choices for faucet finishes have increased dramatically over the past few decades. Before the early 2000s, nearly every bathroom had either polished brass or chrome fixtures. We have far more choices today, but that can also mean shopping can be a bit overwhelming. Begin your process by learning about the most popular finishes you'll find and considering their pros and cons.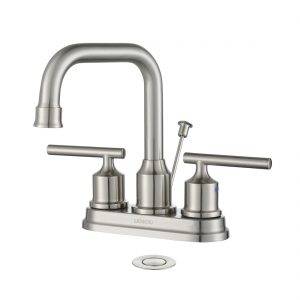 Brushed Nickel
You've likely seen brushed nickel often, even if you didn't realize what it was called. It has a silver-like color with yellow or brown undertones. It also has a satin finish so it offers a soft sheen rather than a vivid reflection. It's common in homes of all styles today, from rustic to traditional to modern.
Pros of Brushed Nickel
If you want an easy way to dress up your bathroom, brushed nickel fixtures are perfect. The finish is so popular that you'll have a wide range of faucet options available. The finish is durable as well, so it tends to retain its fresh-from-the-box look for many years. Plus, there's less chance your faucet will start to look outdated years later.
Cons of Brushed Nickel
While just about every bathroom accessory you could want will come in brushed nickel, it's important to recognize that this finish can come in slightly different tones from different manufacturers. This can make it tricky if you want your faucets to match your towel rack, toothbrush holder, toilet brush, and other items.
Polished Nickel
Brushed nickel's close relative is polished nickel. It generally has the same color as brushed nickel but with more of a shiny finish.
Pros of Polished Nickel
Polished nickel is easy to clean and it has a durable finish like brushed nickel does. In general, for people who want to split the difference between chrome and brushed nickel, polished nickel is the ideal middle ground.
Cons of Polished Nickel
Matte and satin finishes have become more popular in recent years. As a result, most people see polished nickel as having a less modern and trendy look than brushed nickel. It's also not as common of a finish as many others on this list. This means that it can be tricky to find and when you do find it, it's often more expensive.
Chrome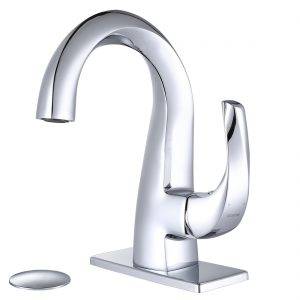 Chrome is one of the best-known finishes around, and not only in-home decor word. It has a silver-like color with an extremely glossy, shiny finish. It was the most popular finish for faucets for a long time, though it's been fading slightly in recent years.
Pros of Chrome
In many models of faucets, chrome will be the most cost-effective finish available because it's so widespread and it's inexpensive to manufacture. On top of this, chrome is incredibly durable and scratch-resistant, and it may be the easiest finish to find as well. This makes it easy to mix models from different manufacturers.
Cons of Chrome
It's fortunate that chrome is so easy to clean because its primary downside is that it shows fingerprints and water spots easily due to its high-gloss finish.
Matte Black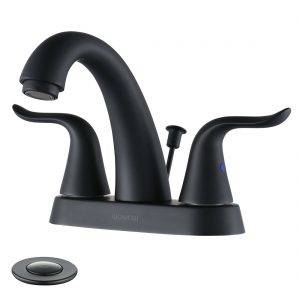 Matte black has become a popular finish with a luxury feel in many arenas, from home decor to performance cars to electronics. This finish is uniquely created to have a rough texture at a microscopic level. This allows the texture to capture and distribute light rather than reflecting it.
Pros of Matte Black
The distinctive, modern look is the most notable benefit of matte black. Not only does it look luxurious but it's particularly versatile as well, because black goes with nearly any bathroom color scheme. This finish is also easy to clean and maintain.
Cons of Matte Black
The primary setback for matte black is its price tag. Manufacturers know how in-demand it is, so they charge a premium for it.
Copper
Copper is one of the more recent additions to the lineup of popular faucet finishes, but it's a callback to the retro bathrooms of the past. Copper faucets start off with the classic burnt orange, reflective look of new copper. Some people choose to maintain their copper in a way that keeps this same look, while others let the copper age naturally until it develops the well-known seafoam green patina.
Pros of Copper
Copper is a unique and beautiful look, particularly in homes with industrial or rustic decor styles. However, it has interesting functional advantages as well.
For one, copper is able to "heal" itself to some degree, with scratches darkening over time until they blend in with the copper's natural patina. In addition to this, copper is naturally antibacterial, so it is a helpful way to reduce the spread of germs.
Cons of Copper
Copper is not the most durable of faucet finishes. It may "heal" scratches, but it is inconveniently easy for scratches to happen in the first place.
Copper can also be high maintenance if you want to maintain its original orange hue. On top of this, copper is a rarer finish choice for bathroom faucets. If you want accessories and other complementary items to match your faucets, you could have a difficult time finding them.
Polished Brass
Polished brass was incredibly popular in the 1980s and 1990s. Starting in the late 1990s and early 2000s, though, it was seen as outdated. In the past few years, however, it has begun to make a comeback.
With its yellow, gold-like color, brass is easy to spot. Polished brass in particular has a high-gloss finish.
Pros of Polished Brass
Thanks to the glossy sheen, polished brass is very easy to clean, much like chrome. It is often durable as well, although this varies depending on the quality of the faucet.
Cons of Polished Brass
Bringing back old styles can be tricky. In the same way that there is a fine line between "retro" and "dated" in fashion, you need to pair your polished brass with the right modern bathroom decor in order for it to look trendy rather than tired.
Satin Brass
Polished brass may be making a comeback, especially among those with a retro chic style, but some people prefer the color of brass with a more modern finish. This is where satin brass comes in. Some manufacturers called it brushed brass, but under either name, it has the gold-like tone of brass with more of a satin sheen.
Pros of Satin Brass
Satin brass has a uniquely modern look, and it fits well in homes that are aiming for a high-class look. Because the finish doesn't have the high gloss of a polished brass, it does not show fingerprints as easily.
Cons of Satin Brass
While satin brass is growing in popularity, it is not yet widespread throughout the home decor market. This means that it could be difficult to find accessories like mirrors and towel bars that match your satin brass faucets.
Stainless Steel
Stainless steel has become one of the most popular finishes in all rooms of the house, from kitchens to bathrooms and beyond. It looks similar to brushed nickel, but stainless steel has a blue undertone while nickel's undertones are more yellow or brown. Still, stainless steel can fit well in nearly any style of bathroom.
Pros of Stainless Steel
Because stainless steel is so popular, you'll have an easy time finding matching accessories and bathroom appliances to create a uniform look.
Cons of Stainless Steel
Stainless steel may be popular, but it is not convenient. It scratches fairly easily. It can also be difficult to keep clean because not only does it show fingerprints quickly but it needs to be cleaned with specialized cleaners and wiped with the grain of the steel.
Oil-Rubbed Bronze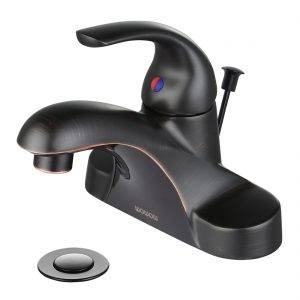 Oil-rubbed bronze has been thriving in the past decade or so in bathroom faucets and kitchen faucets alike. The finish looks to be a dark brown or nearly black, but with some copper tones shining through. It generally has a satin-like finish, and it is highly popular traditional and rustic homes, as well as homes with a Tuscan aesthetic.
Pros of Oil-Rubbed Bronze
Thanks to its surging popularity, oil-rubbed bronze is now available nearly everywhere you look. This gives you plenty of faucet options to choose from. In addition, the matte-like finish does not show water spots easily.
Cons of Oil-Rubbed Bronze
Unsurprisingly, as oil-rubbed bronze's popularity has risen, so has its price. It tends to be among the most expensive choices for faucets, so be sure to budget accordingly.
Cleaning Tips for Various Types of Finishes
We noted that some faucet finishes are easier to clean than others. While most are rather easy to clean, there are important considerations to keep in mind as you shop for faucets and learn to care for your new fixtures.
Be Careful with Waxes and Filling Agents
Waxes and filling agents work by filling in surface imperfections in certain finishes, giving them a glossy shine. While products with these ingredients are perfect for polished finishes, be sure not to use them for matte or satin-like finishes. These finishes are textured precisely to create their lack of a reflective shine, and these products will add unwanted shine by filling in those textures, often in an uneven or splotchy way.
Clean Any Finish of Faucet Often
Particularly if you have children, there is no telling what types of substances and materials could get onto your faucets. Some types of materials, especially those that are acidic, can wear away at your finish over time. To prevent this damage, wipe off your faucets often, even if you only use water and a drying cloth.
Steer Clear of Abrasive Cleaners
It is a good rule of thumb to avoid abrasive cleaners, including brushes and rough sponges, for any faucet finish so you don't risk scratching it. However, this is particularly important for nickel finishes. Nickel can tarnish or rust easily if it's scratched, even if the scratches are so small that you don't see them. To avoid this risk, opt for microfiber cloths instead.
Above All, Use Manufacturers' Care Guides
While there are general guidelines about certain finishes, like avoiding abrasion on nickel and avoiding waxes on matte finishes, there is one golden rule: follow your faucet manufacturer's care instructions.
Different manufacturers can formulate or apply the same finish in different ways, so products that work for one may damage another. In addition, if you don't follow the manufacturer's care instructions, it could void the warranty on your faucets.
Choosing Your Ideal Bathroom Faucet Finish
Ultimately, your finish choice for your bathroom faucets comes down to your personal style along with weighing the pros and cons. Compare your options with the guide above and you'll be well on the way to enjoying the perfect faucets in your bathroom. For additional tips while you shop, check out our bathroom faucet buying guides.
Related product recommendation
3 Hole 4 Inch Centerset Faucet Brushed Nickel
Matte Black Two-Handle Widespread Bathroom Faucet
 Chrome Bathroom Faucet With Drain Assembly