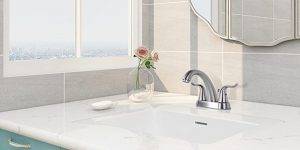 Choosing a bathroom faucet for your sink may sound like a simple decision until you start seeing how many options are available. There are different configurations, colors and finishes, handle styles, sizes, and more. How do you know which needle in the haystack is the right fit for your bathroom?
It helps to start by understanding each of your options as well as their pros, cons, and limitations. Some may not be an option for your bathroom at all. Let's break down the top differences among various types of bathroom faucets to determine which ones best suit your needs.
Understanding Your Installation Options
Most vanities and bathroom countertops come with pre-drilled holes for the faucets. You might notice that some vanities only have one hole in behind the sink while others have three. Those with three holes have differing amounts of space between the holes.
Look at your vanity or countertop to see what hole configuration you have, because this will limit your selection for faucets. For example, if you only have one hole, you won't be able to use a three-hole faucet installation unless you make additional customizations.
In addition to the number of holes, look at how the holes are laid out. If you have three holes, measure the distance between the two farthest holes on either side. Different faucets are made for different hole layouts.
With these measurements and limitations in mind, you can move forward knowing which installation configurations are and aren't an option for you as we explore those installation types.
Faucet Installation Types
Between the faucet and the handles, there are many different ways a faucet set can be laid out. These are the common categories you'll find.
Centerset Faucets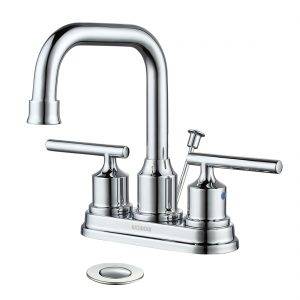 Chrome Bathroom Faucet Centerset Faucets
A centerset faucet has a faucet and two handles, but they're all mounted onto one base. These are especially common for small vanities because they're compact. A centerset faucet will need a three-hole installation, and many of them come in different base sizes, so you'll need to choose the one that fits the distance between your vanity's holes.
Single-Hole Faucets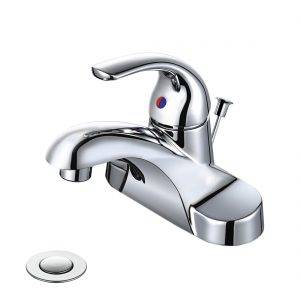 Chrome Single-Hole Faucets  Bathroom Faucets
True to its name, a single-hole faucet only consists of one piece: the faucet. Most of these will have the handle built into the faucet, usually on top of the spout.
The majority of single-hole faucets are short, but there are also vessel faucets, which are designed for vessel sinks so they're taller than traditional faucets. Regardless, if you have a single-hole installation, these are the types of faucets you'll need.
Widespread Faucets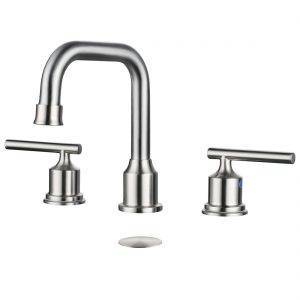 Brushed nickel Widespread Faucets For Bathroom
A widespread faucet has three separate parts: the faucet and two handles. Unlike centerset faucets, widespread faucets don't have a base; these three parts are installed separately with bare vanity or countertop space between them.
These faucets are only an option if you have a widespread three-hole configuration in your vanity. Fortunately, though, because these three pieces are separate, there's no need to choose a faucet that matches the exact width of your layout: a consideration that is important for center set faucets.
Wall-Mounted Faucets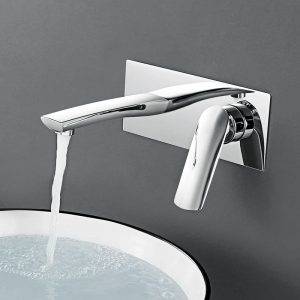 Wall Mount Bathroom Faucet Chrome
Wall-mounted faucets are a growing trend, especially in luxury bathrooms. True to their name, these faucets are mounted to the wall or backsplash behind your sink rather than on the vanity itself. This frees up more space on the countertop, though it tends to add to the price of your bathroom because it often requires a plumber to move some pipes to reach the installation point.
Factors That Affect Your Faucet Installation Type
How do you know which of these faucet installation types are options for you? Consider these factors.
Current Installation Holes
Go back to the pre-drilled holes in your vanity or countertop. For a cost-effective bathroom update, choose a faucet that is made for the type of configuration your countertop has.
You do have the option to drill additional holes, but this can be expensive. Keep in mind that you can choose a single-hole faucet if you have three holes in your vanity, but look for a faucet that has a way to cover up the unused holes.
Vanity Size
You want your faucet to be in proportion to the size of your vanity or countertop. In general, smaller vanities work better with single-hole, center set, or wall-mounted faucets. Widespread faucets are more proportionate to larger vanities and countertops.
Sink Basin
Most faucets are designed for traditional, in-set sink basins. However, vessel sinks are becoming more popular. If you have or plan to have a vessel sink, choose a vessel faucet or a wall-mounted faucet that is high enough to accommodate your sink.
Faucet Handle and Water Control Options
Another difference you'll see among faucets is the way they manage water control, such as the number of handles they use and the way those handles move. These are the most likely categories you'll find.
Single-Handle Faucets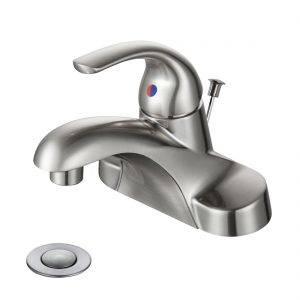 Single Handle Bathroom Faucets Brushed nickel
Single-handle faucets have one handle that controls both the water flow and the water temperature. The handle typically turns left and right to control the temperature while also turning up and down to control the water flow.
These types of handles are common on single-hole faucets as well as vessel faucets and wall-mounted faucets. Many people find them easier to manage than having separate handles for hot and cold water because it can be difficult to find the right balance between the two.
Two-Handle Faucets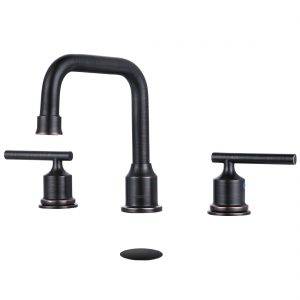 Two-Handle Faucets Oil Rubbed Bronze Widespread Bathroom Sink Faucet
For centerset and widespread faucets, expect your faucets to have two separate handles. One controls the flow for cold water while the other controls the flow for hot water. Unlike a single-handle faucet, these handles only turn in one way: either left and right or up and down.
Touch-Activated Faucets
A touch-activated faucet is a faucet that turns on with a touch to the faucet's surface. In other words, you don't need to turn a specific handle. A mere tap of your hand, arm, or elbow will activate the faucet.
These faucets are especially helpful for sanitary purposes. If your hands are dirty, for example, you can turn on the faucet with your elbow instead of touching the handles with dirty hands.
Temperature control varies on these types of faucets. Some have a pre-set temperature, so the water always comes out at the same temperature. Others have one or two handles you can use to control the temperature, so you can turn on the water and give your hands an initial rinse before adjusting the temperature.
Touchless Faucets
True to their name, touchless faucets require no contact at all. They have sensors that detect when your hands come near the faucet, and those sensors turn on the faucet. Like some touch-activated faucets, touchless faucets almost always have a pre-set temperature.
Factors That Affect Your Handle and Water Control
How do you choose the best handle and water control mechanism for your bathroom? There are several factors that should affect your decision.
Hand Mobility Skills
Does anyone in your home or anyone who visits your home have difficulty with their hand mobility? They might have arthritis, nerve damage, or another type of illness or injury. If so, a touchless or touch-activated faucet requires less hand strength and coordination so it will be easier for them to manage.
Sanitation Priorities
Between colds, the flu, and the COVID-19 pandemic, there are many reasons to look for ways to make your home more germ-free. This is especially true if you have kids, as their little hands tend to find their way to plenty of dirt and other messy substances. For safety and health,  touchless or touch-activated faucets will be your best bet.
Type of Faucet Installation
Go back to your faucet installation configuration on your vanity. The number of holes you have could limit your options for the types of handles you choose. If you have a single-hole configuration, you most likely won't be able to choose a two-handle faucet unless you make additional customizations.
Faucet Handle Styles
When choosing your faucet, it's important to consider the style of handles you want as well, not just the number of handles. Consider these top options.
Knobs
Knob handles are generally round handles that you turn to control your water flow and temperature. Some people prefer them because they tend to be more compact than lever handles. You'll primarily see knobs in two-handle faucet configurations, though there are some single-handle faucets that have a knob that moves in all directions.
Lever Handles
A lever handle is the most common type of handle you'll see in faucets. It's shaped like a horizontal rod, though each handle has its own style and curvature. Like knobs, these handles typically appear in two-handle faucets and turn left and right only.
Joystick Handles
When you have a single-handle faucet, that handle is typically a joystick handle. These are long handles that turn up and down as well as left and right so they can control both temperature and water flow. They're typically attached to the faucet spout itself.
Factors That Affect Your Handle Choice
As you consider your handle options for your new bathroom faucet, keep these factors in mind.
Hand Mobility
As with the different handle configurations, the types of handles you choose could depend on your family members' hand mobility. Knobs, for example, require a grip so they're more difficult to use for people with limited hand strength or hand control. Joysticks and levers are more accessibility friendly.
Faucet Installation
The type of faucet configuration you choose will narrow your choices for handles. For example, if you need a single-handle faucet, these will almost always have a joystick handle.
Finish Options for Bathroom Faucets
As much as configuration and usability matter for bathroom faucets, you also want the faucet to look great in your bathroom. That's where various colors and finishes come in, so keep these options in mind.
Chrome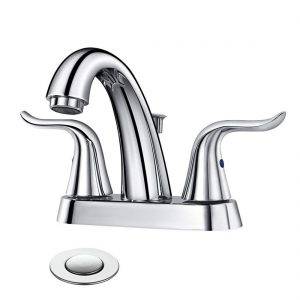 Bathroom Centerset Faucet Chrome
Chrome is among the most widely known finishes for bathroom faucets and beyond. Its silver-like color and high-gloss sheen make it a popular choice.
Nickel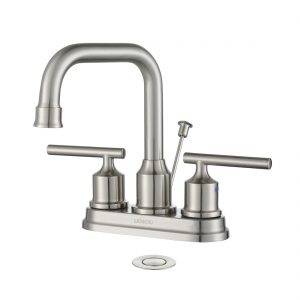 Centerset Bathroom Faucet With Pop-Up Drain Assembly
Nickel faucets can have a silver-like or almost tan color, with yellow undertones. Both brushed nickel, which has a satin sheen, and polished nickel, which is glossier, are common in modern and traditional bathrooms.
Oil-Rubbed Bronze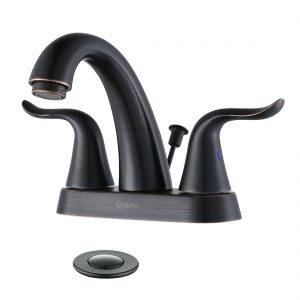 Bathroom Sink Faucet 4 Inch Center Oil Rubbed Bronze
With its deep brown, nearly black coloration, oil-rubbed bronze has skyrocketed to popularity in recent years. It's common in bathrooms with a traditional or contemporary style, and it typically has a soft satin sheen.
Brass
Brass has shifted into and out of popularity several times, but today, it's a rising option for bathroom faucets. Much like nickel, you'll find both brushed brass and polished brass faucets.
Matte Black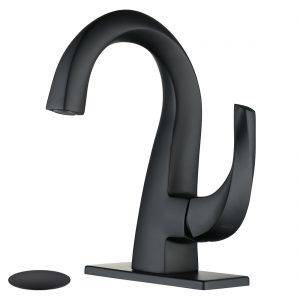 Vessel Sink Faucets Matte Black
Matte black is a newer option for faucets and is becoming a highly popular one, especially for modern homes. The shine-free style is bold and contemporary while the black hue is easy to match with nearly any color scheme.
Stainless Steel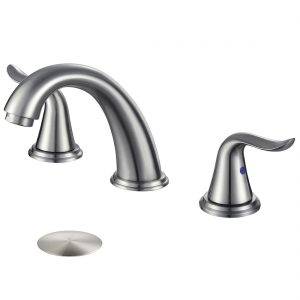 Bathroom Sink Faucet Stainless Steel
As popular as stainless steel is in kitchens, it's now a common option for bathroom faucets as well. It often looks similar to brushed nickel but with more of a blue undertone, and with a slightly shinier finish.
Factors That Affect Your Choice Among Faucet Finishes
Which of these finish styles is the right choice for your bathroom faucet? Consider these factors.
Aesthetics
Clearly, you want your bathroom to have a cohesive, aesthetically pleasing look. Different faucet finishes will complement different styles and colors, so choose the one the best suits your style.
Maintenance
Some finishes are easier to maintain than others, and they each have their pros and cons. Glossier finishes show spots and fingerprints more easily than matte and satin finishes do, but they're also easier to clean. Weigh your priorities while choosing your faucet finish.
Matchability
To achieve that cohesive style throughout the bathroom, many people want to match their faucets with other accessories in the room, like their mirror, countertop accessories, and other pieces. The more popular your faucet finish is, the easier this will be to do.
Choosing Your Bathroom Faucet
Clearly, there is a lot that goes into selecting your next bathroom faucet. It's a matter of understanding the different models and options, determining which ones are available based on your bathroom and your vanity, and finding the perfect fit for all your needs and goals. For more help and for top faucet ideas, check out our additional bathroom faucet buying guides.
Related bathroom faucet series recommendation
Single Handle Bathroom Faucets
Double Handle Bathroom Faucets