With more and more styles of bathroom products on the market, the surface craftsmanship is also required more.
The first time you locked eyes on a matte black kitchen faucet, you knew this was the right style to bring into your home. Matte black stands out against a stark white backsplash, complements charcoal veins in a marble countertop and is cohesive with other black accessories. But this look isn't just for the kitchen. If you're ready to expand your love of matte black to new spaces, look no further than the bathroom. WOWOW faucets and shower fixtures add a dramatic finish to your bathroom.
The black faucet also has a variety of processes. Such as electroplating black, spray black and blackening.
Electrophoretic black is also called electrophoretic paint. Its characteristics: as a new type of low-pollution, energy-saving, protective and anti-corrosive paint. It has a smooth surface, good water resistance and chemical resistance. Easy to operate.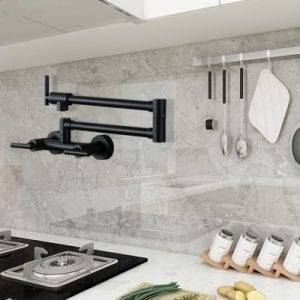 Blackening is a process close to elimination, it is a chemical surface treatment. The main purpose is to form a dense oxide film on the surface to prevent corrosion of the workpiece. It is characterized by simple process and low cost. But the environmental pollution is serious. The process is unstable.
Spraying is to spray plastic powder on the workpiece. The powder is adsorbed on the iron plate by static electricity. The advantage is that it is not harmful to the environment. Harmless to human body. Excellent appearance.
Most of WOWOW 's faucets are electroplated black, pursuing an excellent surface.
"exceeded my expectations. Easy installation, soothing trickling sound when the faucet is turned on, and truly eye jewelry for my sink. "Guests continually comment on the faucet's elegant look