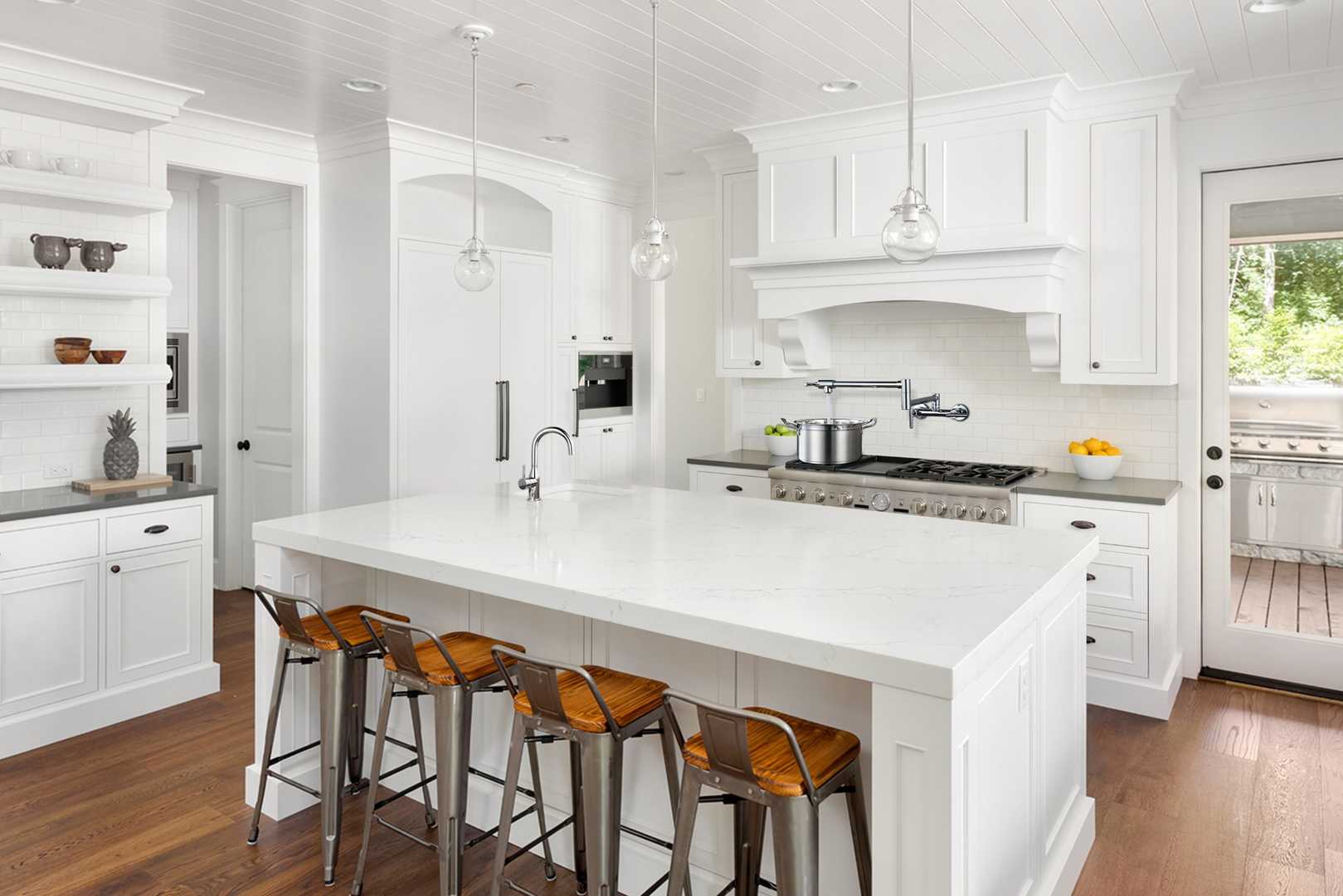 Your kitchen is a centralized part of your home. It's a place where you share meals and memories, focus on health and well being, and spend a lot of your time. Every part of it should be exactly as you want it to be, and that includes your kitchen faucet.
Having trouble finding a kitchen faucet that offers everything you need? Check out these best kitchen faucets of 2020.
1. Delta Essa Pull Down Faucet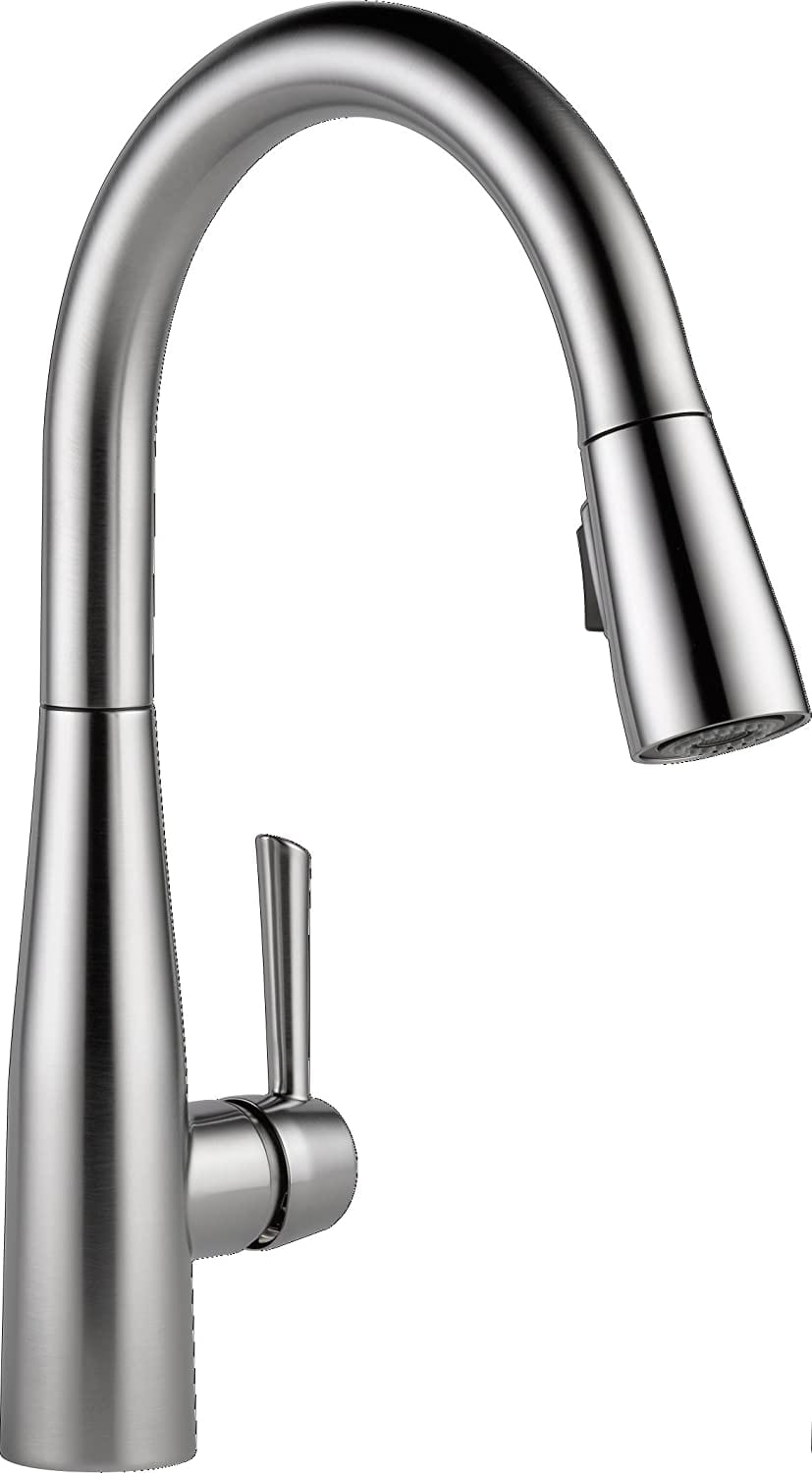 When you think of a contemporary faucet, you think of a simplistic design and clean lines. The Delta Essa Pull Down Faucet is all about that easy-going, minimalist style. Let's take a look at what this faucet has to offer.
A faucet's look might be the first feature that strikes you, but when it comes down to it, your faucet has a job to do. The Delta Essa Pull Down faucet is the right tool to get the job done.
The faucet has a spray option that's essential for tough clean-ups. Between the 20-inch hose extension and the 360-degree mobility, this faucet can also reach any area or angle you need. To make sure your faucet keeps its power, the Delta team has outfitted it with a high-quality valve as well.
Any faucet needs to bring something to your home's style, and this faucet leaves nothing to be desired. Its sleek style and multiple finish options give any kitchen a beautiful contemporary touch.
Most faucets can look nice when you first install them. The real test is how they look in the months and years to come. The Delta Essa faucet has what it takes, with a surface that is resistant to fingerprints, smudges, corrosion, and rust. Plus, it's backed by Delta's limited lifetime warranty to give you peace of mind.
2. Wowow Kitchen Sink Faucet with Pull Down Sprayer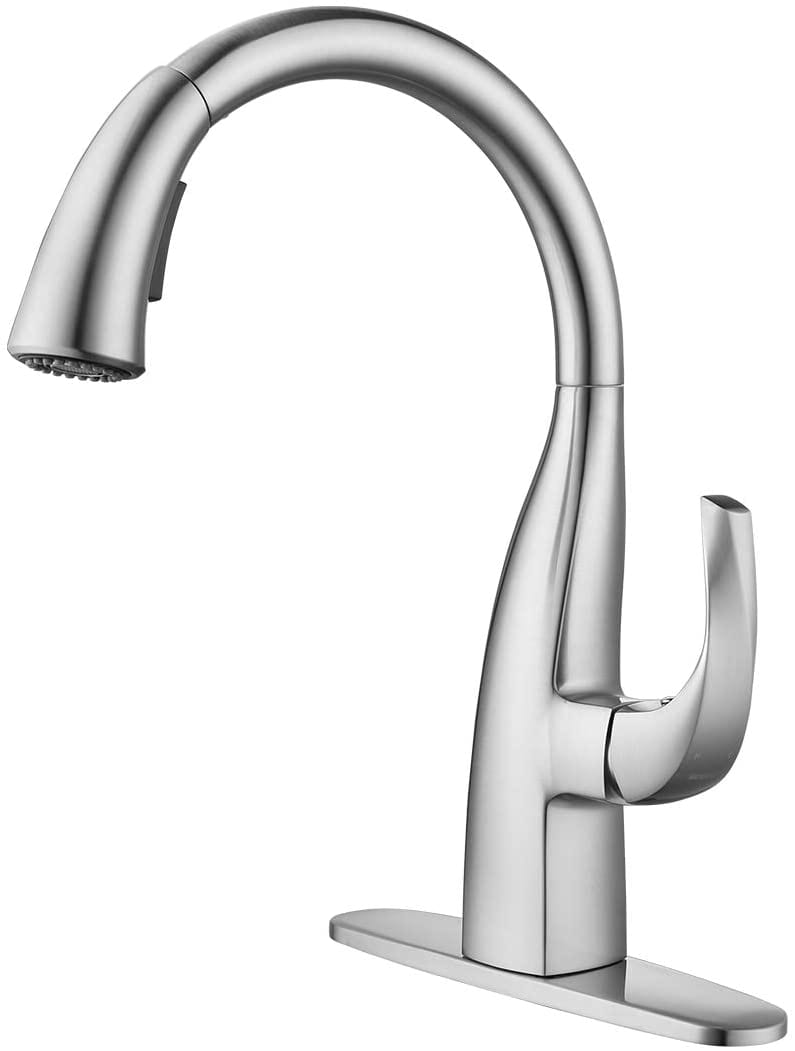 A sleek and simplified faucet can fit in any kitchen without disturbing the décor you've cultivated, and the Wowow Kitchen Sink Faucet with Pull Down Sprayer fits that description perfectly. Check out all this faucet has to offer with its unique blend of a modern yet understated look.
This faucet has a powerful two-mode nozzle that also improves water efficiency, but its advantages don't end there. Wowow's technology also ensures leak-free installation and usage and comes backed with a five-year warranty for added peace of mind.
The beautiful swan-style pull down faucet offers a unique yet classic appeal. Its sleek curves create a distinguished style to set your kitchen apart, while popular finish options command attention against any backdrop.
A protective coating prevents spots and fingerprints from diminishing its shine. It also features an anti-burst hose to help you keep a cleaner kitchen. It also comes with a matching deck plate or one hole or three hole installation.
3. Kraus Commercial Kitchen Faucet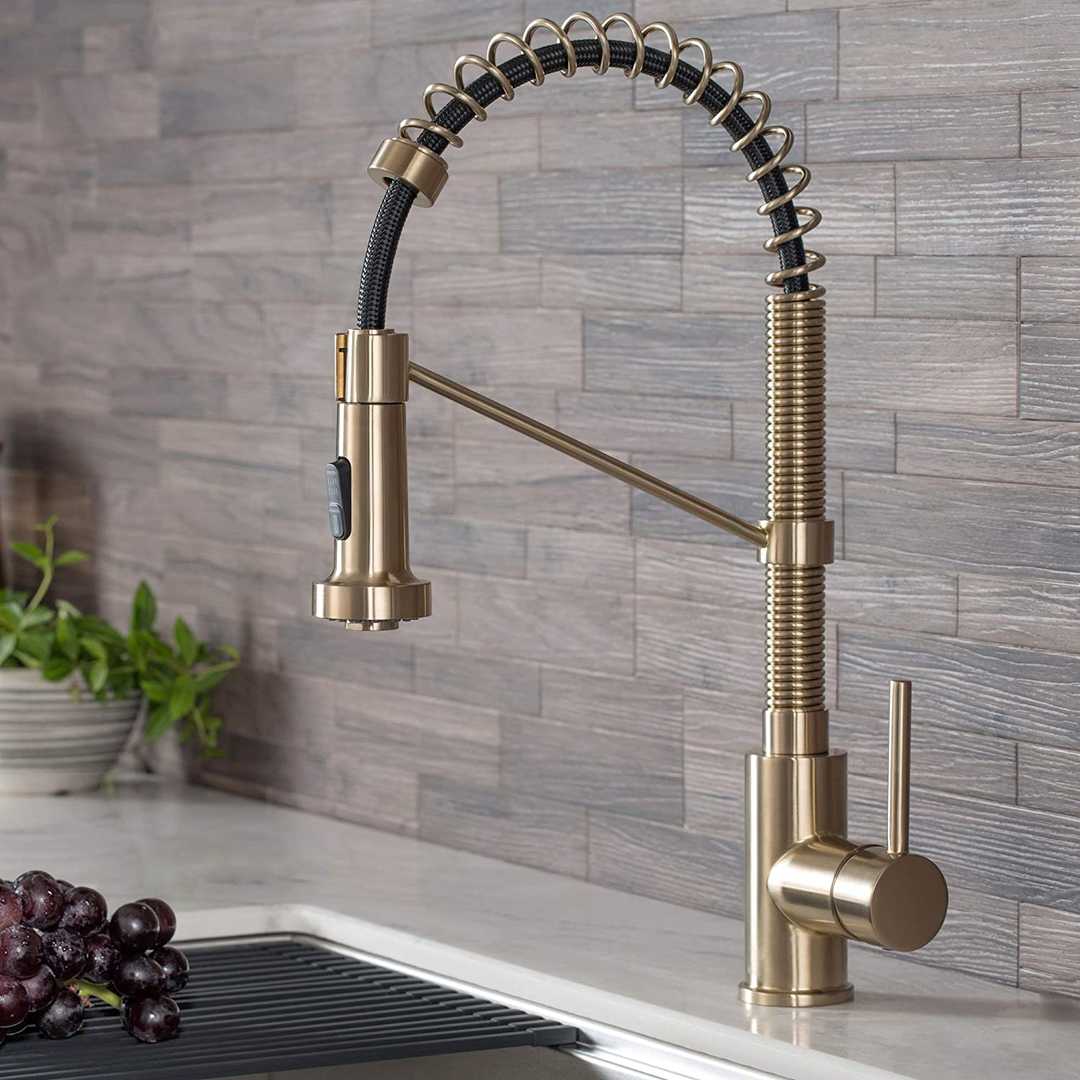 This faucet may look like any other standard faucet you'd see in a restaurant, but it's actually designed for home use. And despite its unassuming style, the Kraus Commercial Kitchen Faucet has plenty of hidden features any home chef would love.
With a spray mode and aerated stream mode, the Kraus commercial kitchen faucet has everything you need to clean any dish with heavy duty rinsing. Even better, its sprayer head has the advanced dual function pull down technology to make it operate smoothly.
This Kraus faucet has a classic, sleek style that looks great in any style of kitchen. It also comes in a variety of colors and finish options, including brushed gold, chrome, matte black, and spot free stainless steel.
Aside from its beauty and style, this faucet comes with a bonus: a docking arm that keeps your sprayer head right where you want it.
4. Moen Arbor Motionsense Wave Touchless Kitchen Faucet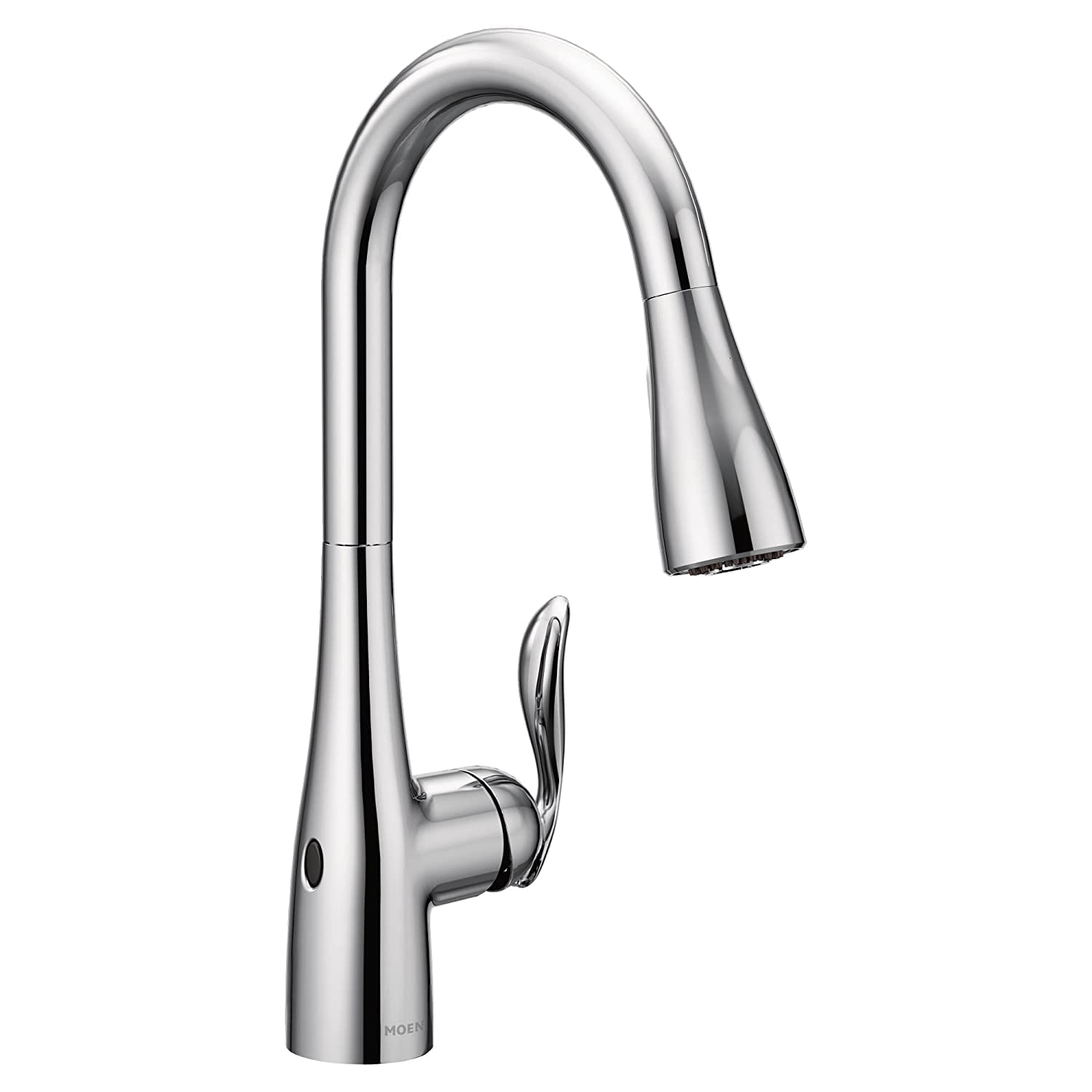 Buy On Amazon
The Moen Arbor Motionsense Wave Touchless kitchen faucet stands out from the start because of its uniquely modern look, but its the advanced technology that makes it a clear winner in any kitchen. If you want a faucet that complements the way you work in the kitchen, this could be the right fit.
This Moen faucet has all the essential productivity features you need, like a detachable spout and touch-free sensor. The brand's Power Clean spraying technology offers up to 50% more cleaning power than your standard kitchen faucet.
The Moen Arbor Motionsense Wave is ideal for a modern kitchen. You can choose from multiple finish options, including chrome, matte black, spot resistant stainless steel, and oil rubbed bronze.
If you're feeling luxurious, this faucet has a voice controlled option that offers unmatched convenience. This is ideal for helping you get the water temperature just right or turning off the faucet when you have your hands full.
5. Kohler Simplice Kitchen Faucet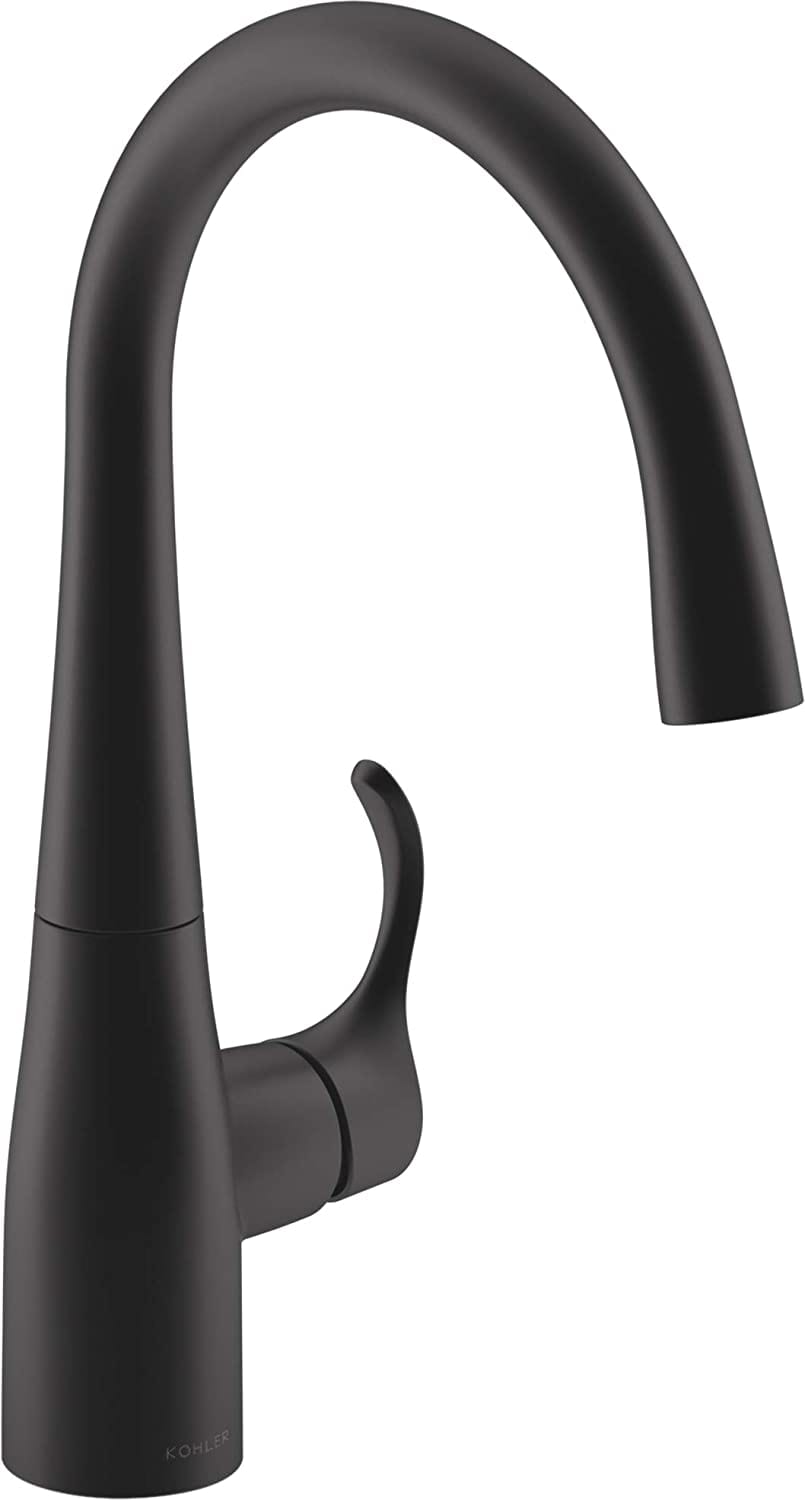 Kohler is a popular brand for kitchen faucets for a reason. Their faucets have a classic style and a reliable quality that any homeowner can appreciate. Their Simplice bar faucet is no exception.
Like many faucets, the Kohler Simplice faucet offers 180-degree spout rotation and a finish that will stand up to your toughest kitchen challenges. The ceramic disc valves exceed industry standards to protect against leaks and drips.
In true Kohler style, this faucet comes in multiple looks to match your kitchen, including polished chrome, vibrant stainless, and matte black. You can also take your pick from the standard bar design, high arch, low arch, touchless, or semi-professional.
As many great features as this faucet has, there's one feature that stands above the rest: the simplified installation process. Flexible supply lines give you less hassle so you can finish the job faster.
6. WEWE Single Handle Faucet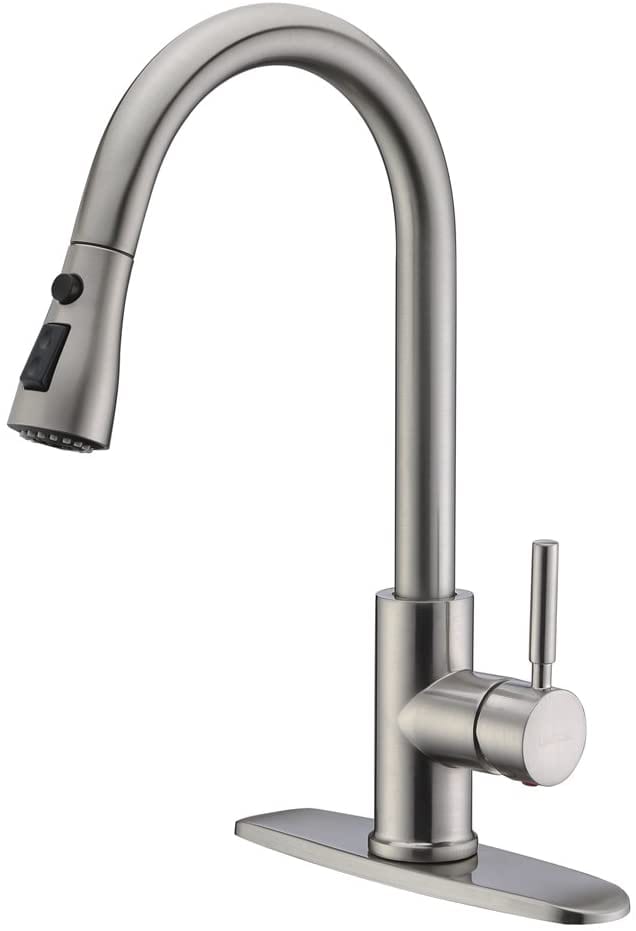 You've heard the saying that you get what you pay for, and that's often true when it comes to kitchen faucets. While this WEWE single handle faucet may be on the less expensive end of the spectrum, don't for a second think it sacrifices quality. It's an A-lister in most homeowners' budgets and it packs in a variety of great features for the cost.
For your faucet to get the job done, you need it to have a wide reach. The WEWE single handle faucet answers the call with its 360-degree swivel. More notably, though, this faucet includes a high arc so you can easily wash large pots, pans, and other items.
You don't want to compromise on your home's style, and with the WEWE single handle faucet, you don't have to. You can choose your favorite among brushed nickel, polished chrome, and matte black. While each of those finishes has a different price point, you can't put a price on loving your kitchen's look.
Most faucets have two modes for water release: stream mode and spray mode. This model also has a pause option. Also worth noting, much of this faucet comes pre-installed to save you time on getting your new faucet up and running.
7. OWOFAN Commercial Solid Brass Faucet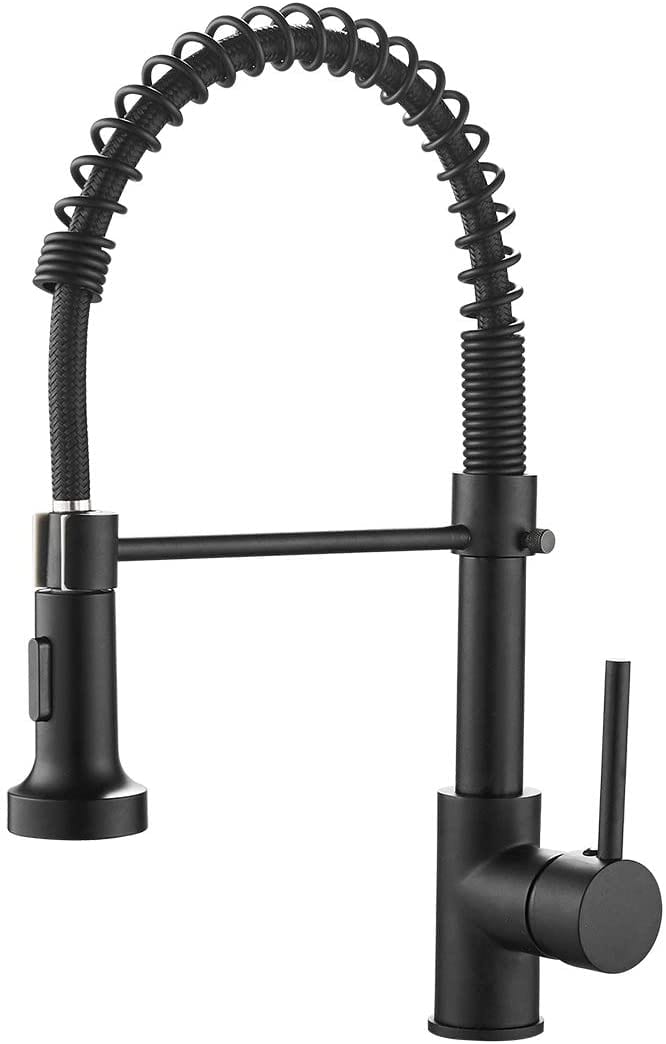 Commercial kitchen faucets are becoming a style of choice in modern homes, like the OWOFAN commercial solid brass faucet. It's durable, attractive, and packs a powerful spray to stand up to your worst kitchen nightmares.
The high arch spout design is perfect for gourmets who cook big meals in big dishes. Detach the sprayer to clean hard to reach places, and enjoy peace of mind that the scratch- and corrosion-resistant finish will last until you're ready to upgrade your kitchen aesthetics.
If you're a fan of the minimalist look, this faucet is perfect for your kitchen. It has a simplistic design that any homeowner can love. You also have your choice between a modern matte black, brushed nickel, or combination.
On top of its beautiful design, the OWOFAN commercial solid brass faucet offers an added durability. It's made to age gracefully, even with daily use.
8. WOWOW Pull Down Kitchen Faucet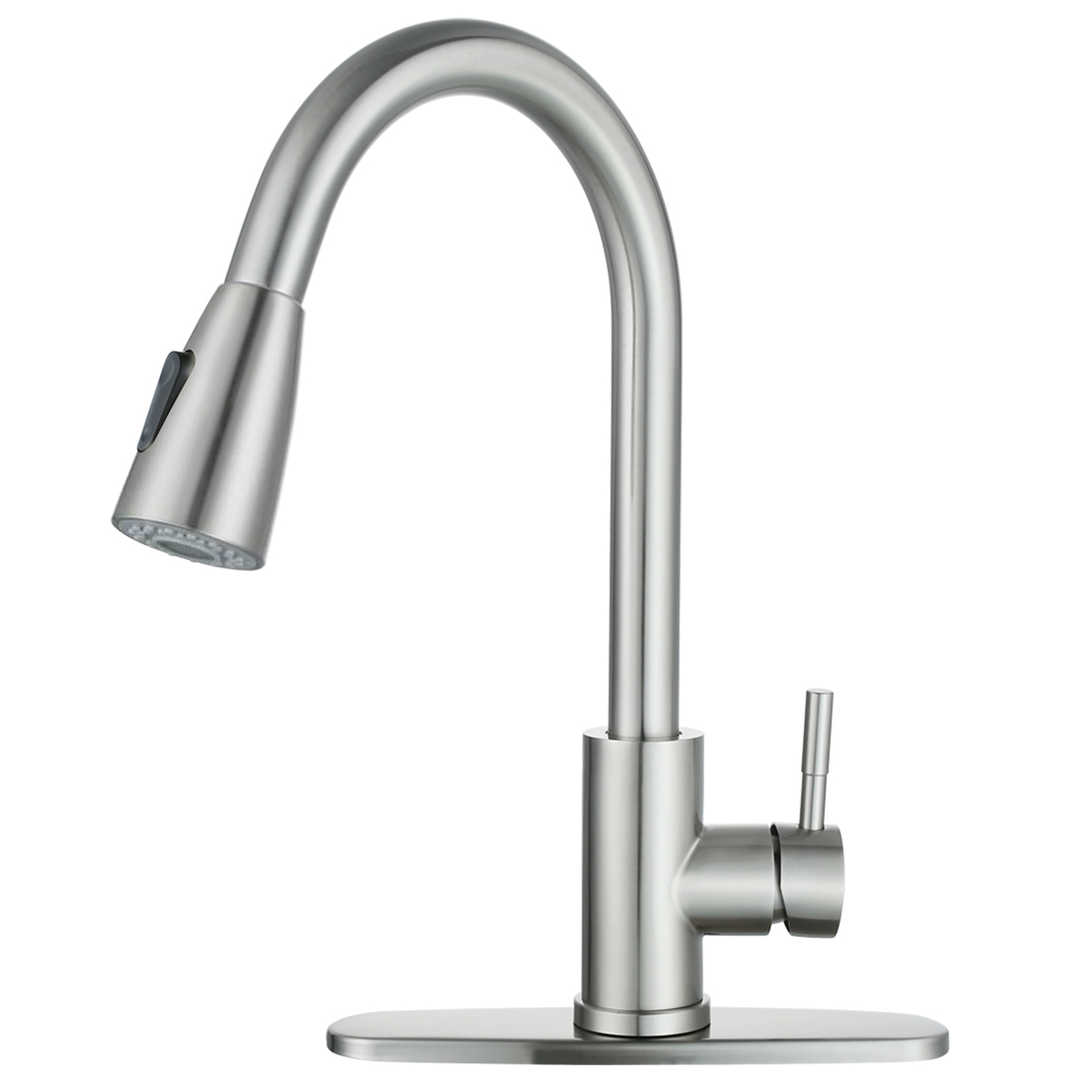 When you need to choose a modern-looking kitchen faucet, this WOWOW kitchen faucet is a good choice. It is made of high-quality stainless steel and has a fashionable style. Recently, it has become a popular shopping platform. It is unique in that the handle of the switch and the shape of the nozzle are developed and designed by the manufacturer to avoid the same styles as common on the market. The unique design makes many people choose it.
Excellent SS304 single handle faucet and brass nut, assure it is corrosion-resistant and durable. Two functions spray/stream – water-saving can satisfy the needs of washing, flushing, filling, sweeping, saving water. 1.5 m PX pull out hose WITH SPRAYER HEAD, expanding washing area until 80 cm square;
brushed nickel finish is highly elegant look that works with any decorating style for your kitchen. The faucet was easy to install. The directions were easy to follow even for me with minimum plumbing experience.
This faucet lives up to its name "Wow" as it's very high quality and less than half the price of a Delta of the same quality and grade. High arc faucet easily spans 3 tub sink and allows filling tall pots without having to tip the pot to accommodate fitting it under the faucet head.
9. Delta Leland Faucet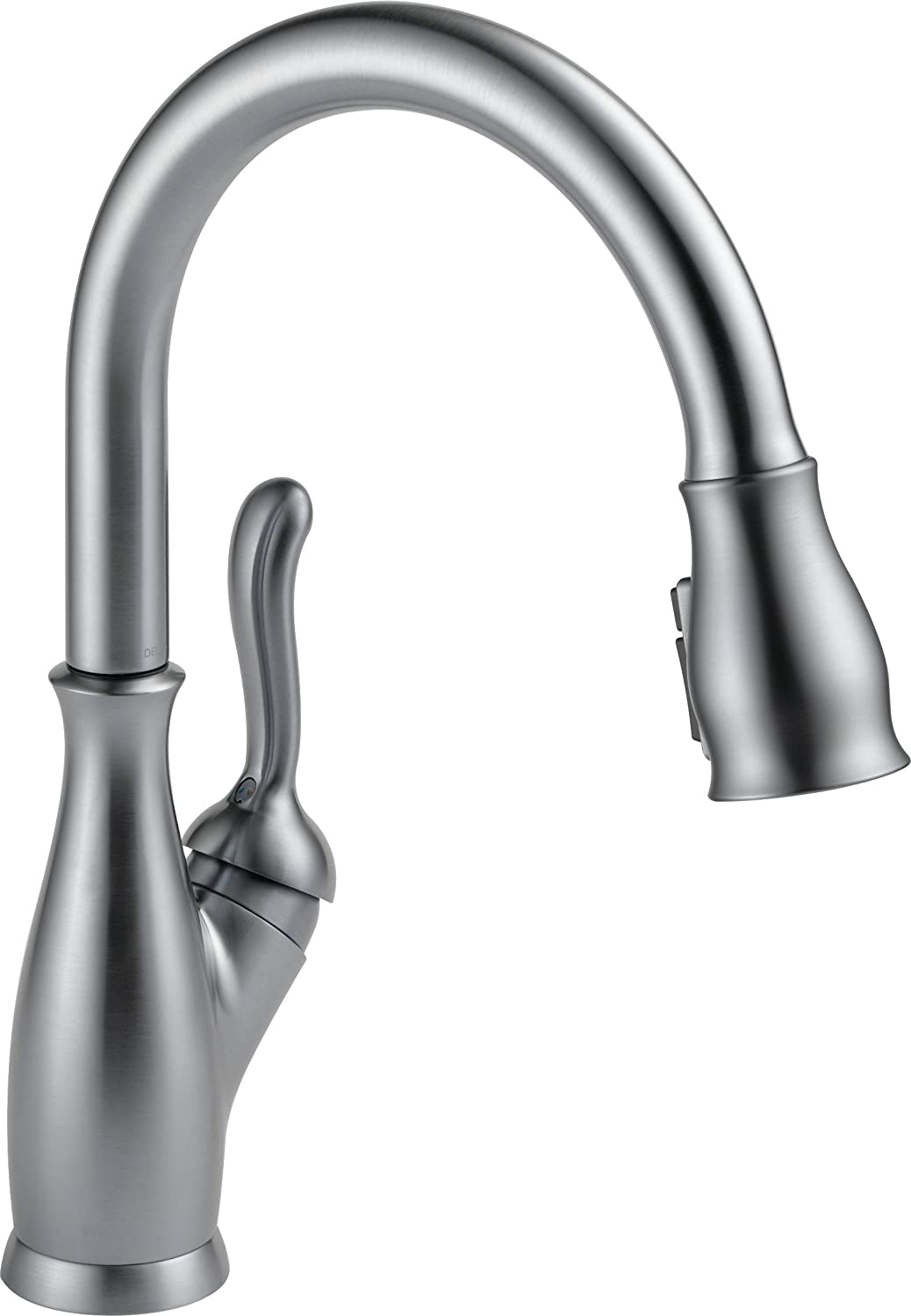 Buy On Amazon
When you think of a traditional kitchen faucet, you probably think of the tulip design. This Delta Leland faucet puts that look to use with features any chef will love to have in their home kitchen.
For your faucet to tackle any job, you need it to have multiple modes, and the Delta Leland faucet has what you need. This faucet offers a standard stream mode as well as a spray mode and even a unique ShieldSpray mode which cuts through tough messes while shielding you from getting an accidental shower in the process.
This faucet has the ideal look for a traditional home, with plenty of customization available, too. You have your choice of finishes like arctic stainless, chrome, SpotShield stainless, and Venetian bronze.
If you want a faucet that is easy to use, look no further. This faucet has the unique MagnaTite technology which uses a magnet to automatically place the nozzle back in the base when you're done with it.
10. American Standard Colony Faucet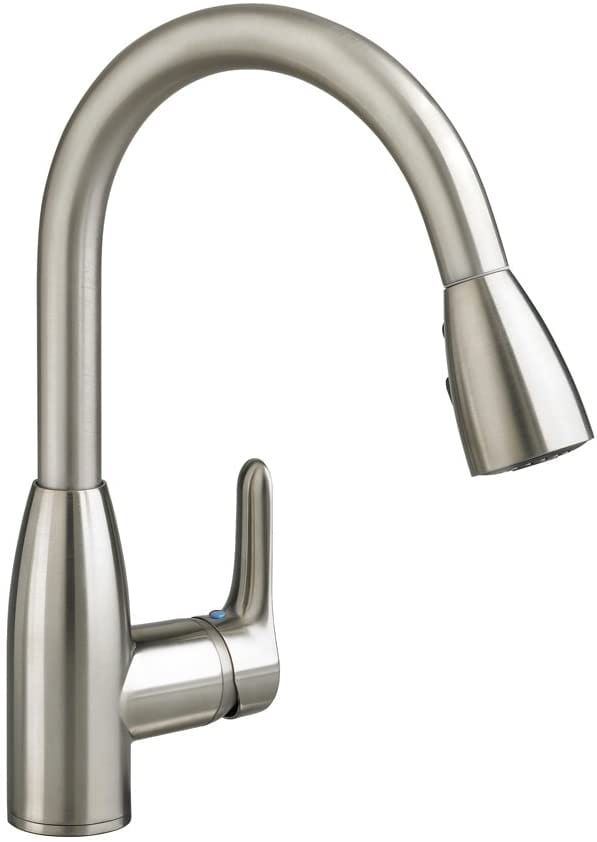 Buy On Amazon
Many faucets have a very similar look to one another, and for some homeowners, that's exactly what they want. If you love that classic look, the American Standard Colony faucet is perfect for your home.
While this faucet has the multi-mode sprayer and extendable hose that most modern kitchen faucets do, it has one unique feature. The faucet is restrained to a low height of about 14.5 inches, making it easy to fit beneath low cabinets.
The American Standard Colony kitchen faucet's beauty lies in its simplicity. It works for any decor and aesthetic and offers classic appeal that will stand the test of time.
On top of its beautiful design, this American Standard faucet offers added durability in its solid brass design.
Choosing the Best Kitchen Faucets of 2020
Your kitchen is where you'll spend time with your family, prepare meals, and enjoy other essential tasks in your home. You shouldn't have to spend all that time with a low-quality faucet. Check out the best kitchen faucets of 2020 to see which one suits your home's personality.
Best Kitchen Faucets on Amazon Recommended