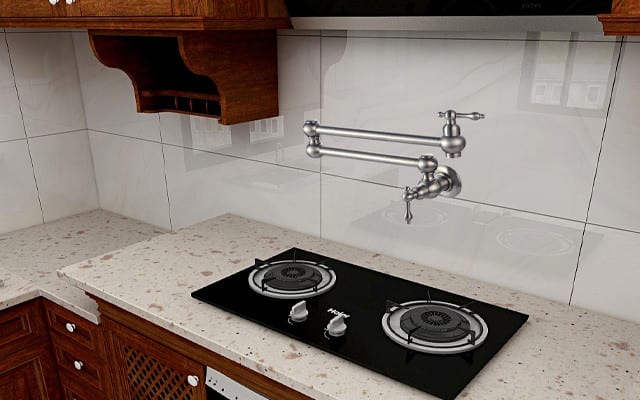 A folding faucet on the kitchen wall is comparable to the configuration of the Michelin kitchen, it is simply too easy to use
Everyone has a faucet, but to be honest, I do n't think how easy it is to use the faucet in my home. At least it 's not very flexible and it makes people feel uncomfortable! Especially when cooking, sometimes forget to prepare water in advance, when stewed, it will become very busy! But not all kitchens are like this, because many owners now install foldable faucets on the kitchen walls. Whether it is practical or beautiful, it is comparable to the advanced configuration of the Michelin kitchen!
This type of faucet is directly installed on the wall in front of the stove, and it is folded properly when not in use. When cooking or boiling water, directly stretch the faucet to a fixed position, and you can directly pour water into the appliance without holding the kettle or pots and pans to receive water back and forth! Is such a faucet convenient?
At first, this design is indeed more common in the kitchen of a big hotel. Chefs can directly open the faucet with a spoon, and they do n't need to go around when brushing the pot, which is extremely convenient! However, the kitchen is not only available in hotels, it is also more convenient to install such a faucet in the home kitchen! If it is not convenient to install on the wall, it can also be installed on the countertop against the wall!
This kind of faucet can reduce the water stains in the process of getting water. It is installed directly above the stove, and it is also very convenient to use.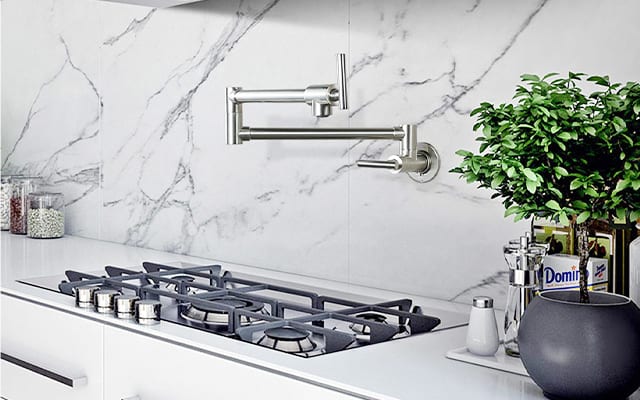 Both stews and soups can't live without water as long as they are cooking.
This type of faucet is different from other faucets. It is two water pipes with turning points. The stoves in foreign kitchens are relatively large, generally about four stoves, so this faucet is also designed to be adjustable in length and angle. Adjustable look! Not only is it easy to use, but it can be folded with a spoon, it will not affect the chef when cooking
When installing the faucet, you should pay attention to it, that is, the distance from the stove must be kept at a certain height to prevent the stove fire from affecting the water pipe during cooking. Even if it is stainless steel or other materials, it will affect to some extent!
The second point is that the built-in water pipe must be waterproofed to avoid water leakage and cause moisture and mildew on the walls!
The last is the material. The appearance of the golden and bronze water pipes is good-looking, but not as good as stainless steel. After all, the water pipes are closest to the stove, and there is a lot of oil fume. The stainless steel faucet is easier to manage and there will be no paint removal! This kind of water pipe can be used with high price. But to make cooking easier, it is certainly worth spending more money! What do you think of this design?