7 Latest Trends in Bathroom Faucets in 2022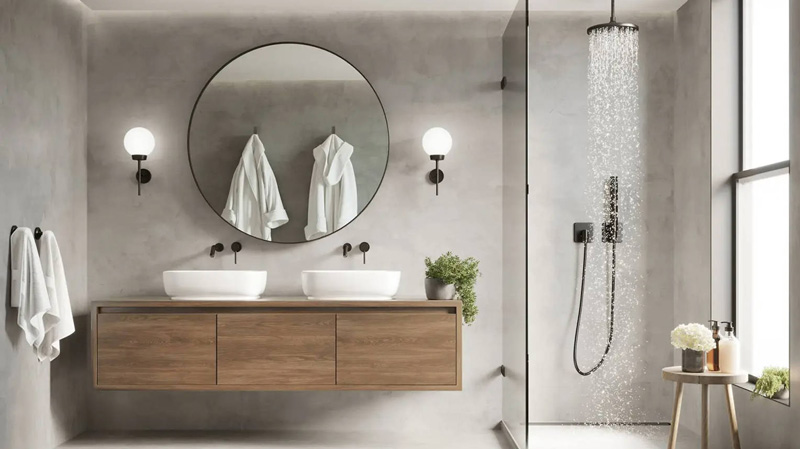 Bathroom faucets come in different styles, forms, finishes, colors, and functionality that can make your bathroom unique and elegant. However, lots of people are confused when looking for the latest faucet for their bathroom. So, what are the latest bathroom faucet trends? Here are the latest trends of bathroom faucets that we'll see in 2022 and beyond. Get inspiration for your next bathroom remodel. Read on!
Bathroom Intelligent Technology
Technology continues to be popular in every room of the home, but some smart technologies are best suited for bathrooms. These will become more and more popular in the next three years. The top smart technology in the bathroom is expected to be the smart temperature control of the faucet and shower. Water-saving technology ranks second, but it is still close to the motion sensor control of lighting and leak detectors.
Champagne bronze finish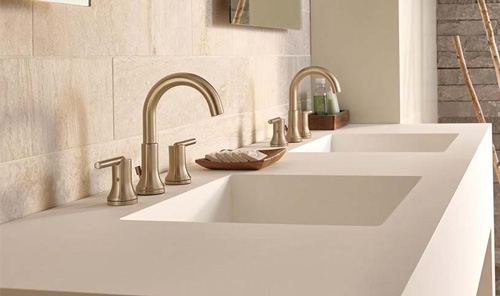 Bathroom faucets in 2022 are all about updating the classics. Nothing is more classic than the farmhouse design style. champagne bronze finish shower fixtures are the perfect fit in an updated farmhouse style bathroom! The brushed gold color really stands out against the white subway tile. Here we see how a champagne bronze faucet adds luxury to this otherwise rustically designed space.
Mixed-metal inishes on a single faucet
Mixing metals — pairing brass pulls on your kitchen cabinets with a chrome faucet at the kitchen sink, for example — has been trending in home design for some time now. In fact, the majority of renovating homeowners (54 percent) mix metal finishes for fixtures and hardware as part of their bathroom remodels, according to the 2021 U.S. Houzz Kitchen Trends study. So, it will be a popular trend in 2022.
Matte black finish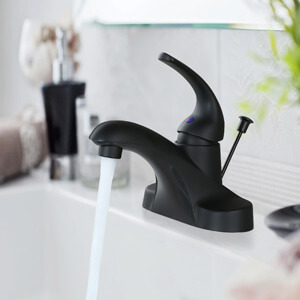 Matte black remains by far the top finish choice for homeowners matching their fixtures and hardware in bathroom remodels, according to research. Actually, matte black finish can make you bathroom morden and elegant all the time. Faucets of matte black finishes are always seen across the booths at online market, with many companies expanding their offerings of matte black.
Touchless faucet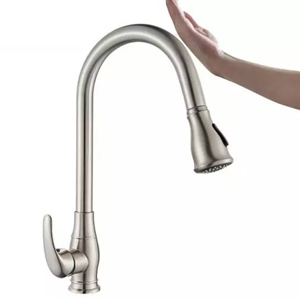 This is one of the latest faucet trends. Kitchen faucets are moving towards high technology and will become a popular trend in 2022. Although touchless faucets have been around for some time, the pandemic only emphasized its importance. In particular, the recent pandemic of COVID-19 has greatly increased people's awareness of health and safety. Whether it is increasing concerns about spreading bacteria or increasing demand for hands-free functions, the demand for touchless faucets will increase in the new year. With these innovative faucet trends, you don't have to worry about spreading bacteria to the faucet, it can improve your work efficiency in the kitchen.
Brushed gold finish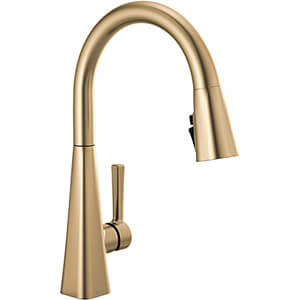 Brushed gold finish is never out of style! One of the most fascinating up-and-coming finishes to hit the market is Brushed Gold. Designing with brushed gold fixtures is both refined and classy. Highlighting your plumbing features with this warm radiant finish creates a stunning statement in your bath space.
Vintage bathroom fixtures
Just when you thought it's time to get rid of the tapware that looks like something from a hotel bathroom in a classic old Hollywood movie, they start to make their appearance in some of the most stylish interiors again. An antique brass bath mixer with a handshower is definitely not a thing of the past. Visible shower pipes are also no longer something that has to be avoided. Brass tones and shiny tiles really complement each other.
Closing thoughts on trends in bathroom faucets
Trends come and go, but some classic design styles endure for a long time. 2022 is the year to update these classic trends and make a unique turn for them. The update of classic design trends will continue for several generations and can be completely customized according to the needs of each user. In the latest trend, find the faucet that suits your bathroom! WOWOW Faucet is dedicated to providing the most fashionable and practical faucets to the world, which are suitable for all styles of bathrooms!
Bathroom Faucet Products Recommended