WOWOW Faucet Reviews & Buying Guide 2021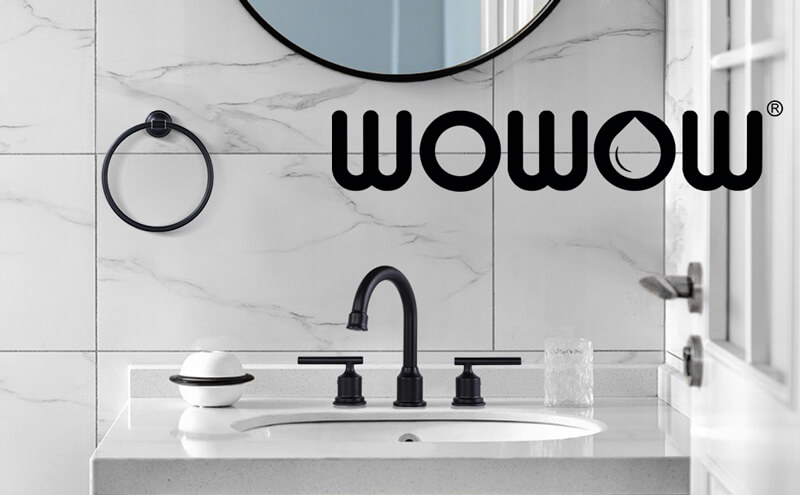 As one of the leading innovation companies in the faucet industry in the United States, WOWOW Faucet Company has always been committed to providing consumers and partners with branded faucets and corresponding solutions that are necessary for life. Its specialty products include kitchen faucets, bathroom faucets, shower heads, shower systems, and related accessories industries, which are sold in many countries or regions. In this post, we will introduce to you the best WOWOW's bathroom and kitchen faucets for your reference.
WOWOW Stainless Steel Kitchen Faucets with Pull Down Sprayer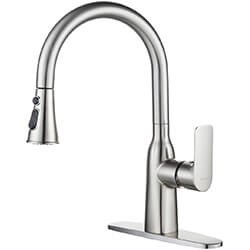 This faucet is suitable for one and three hole installation. For one hole installation, you can install it directly while for three holes, you can use escutcheon to cover 2 useless side hole to make faucet beautiful. In addition, the faucet has three water flow modes, including pause mode (pause mode can save water when working, water-saving design), stream mode (distributed and mild water flow can flush dished, clean fruits, vegetables), and spray mode (concentrated flow have strong force can filling pot quickly). Original creative fast connect construction is easy to install by yourself without a plumber. Hoses have specific treatment with anti-explosion tech, not only easy to install but also easier to use without leakage. The inner surface also ensures lead-free water flow. The flexible pull down/ pull out sprayer head can expand the washing area easily and smoothly.
WOWOW Kitchen Faucets with Pull Down Sprayer, Black Quartz Low Arc Single Handle Kitchen Sink Faucets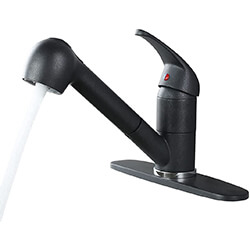 The single handle kitchen faucet adopts a unique black quartz finish, and through fine craftsmanship and durable quality, it resists daily scratches and corrosion. Due to screen differences, there may be a slight color difference, the actual product is black and gray. The drop-down pipe with weight ball can be easily retracted, explosion-proof design, can withstand high water pressure, 1.5m long enough to provide a wider working area in the double sink. There are two modes of large water flow: water flow and spray mode, which are used for cleaning, filling and flushing. Equipped with ABS aerator to ensure smooth and stable water flow. Special technology makes the aerator easy to clean.
WOWOW Kitchen Pull Out Faucet Single Handle Kitchen Sink Faucet Chrome Single Lever Stainless Steel Faucet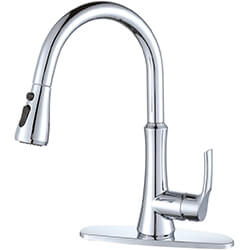 This faucet has a wide range of applications, such as kitchen sinks, bar sinks, laundry sinks, garage sinks, public sinks. This kitchen sink faucet with pull out sprayer can make your life mroe efficient and sanitary. Sprayer of 3 different modes that can satisfy your needs well. The flow mode can be switched from spray to stream easily, maximize your kitchen's functionality. and the pause mode can save water when not in use, cost-effective.
WOWOW Pot Filler Faucet Wall Mount Brass Faucets Kitchen Commercial Faucet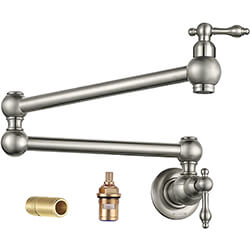 Unlike stainless steel pot filler, solid brass pot filler is more durable. Brushed nickel finish, resistant to fingerprints, scratches and corrosion, not easy to oxidize. Even if it is placed in the high-temperature furnace top environment for a long time, the coating will not peel off due to heat. Pot filling faucet with neoperl aerator provides stable water pressure, quiet and no splash. The most important thing is water saving!!! The equipped drip free brass filter element is more durable and rotates smoothly to prevent dripping. 360 ° rotary folding faucet can easily and quickly fill the cooking container without walking from the sink to the stove. Dual valves provide greater flexibility in use. The double circuit adapter allows the can packing to be easily folded when not in use. The thread size of lead-free tank packing is 1 / 2 " NPT (American standard size), single hole wall mounting, with mounting flange to maintain stability.
WOWOW Pot Filler Faucet Matte Black Commercial Wall Mount Faucet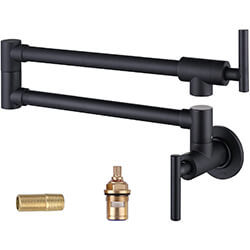 WOWOW pot filler faucet with 360° swing arm two handle design is convenient to fill pots on your stove quickly without the walk from sink to stove. It can retract when not in use, save your kitchen space. Made of Solid Brass Material, this pot filler can prevent corrosion and fingerprint and increases the durability and reliability of the structure. Low-key in a pure black finish resists corrosion and is not easy to oxidize, for creating a modern kitchen decorating style. Drip-free aerator provides a steady water pressure, no-splash and water saving.
WOWOW 4 Hole Kitchen Faucet with Sprayer, 8 Inch Centerset Brass Bridge Kitchen Faucet 2 Handle with Side Sprayer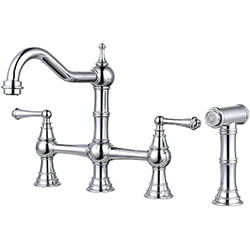 This bridge kitchen faucet features 2-handle design and comes with supply hoses (cold&hot), which can help control water volume and temperature precisely. High arc 360° rotating faucet is also perfect for double sink. The heavy-duty bridge faucet is made of premium solid brass and weighs 7.76 Ibs. Brass kitchen sink faucet with chrome finish is rust, corrosion, leak-resistant, and ensures water safety and a long lifespan. With one push of a button, the high-pressure brass side sprayer can spray a strong stream of water to clean dishes and the dirt in the corner. The included hose can be pulled out up to 59 inches, which is easy to clean any position around the sink.This antique brass kitchen faucet is a beautiful addition to your kitchen. Vintage kitchen faucet comes with all necessary hardware and user instruction, which makes the installation easier with 30 minutes.
WOWOW Brushed Gold Bathroom Faucet Widespread Bathroom Sink Faucet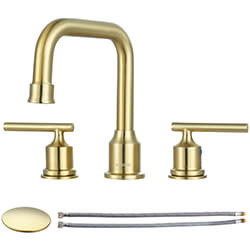 This modern simple basin faucet is warm and luxurious, which can create a noble and elegant bathroom for you. A brushed finish can help you resist corrosion and rust in daily life. The 3 hole mount with 6-16 inch widespread design enables you to adjust the installation distance on basin requirements. The original creative fast connect construction is easy to install the vanity faucet by yourself without a plumber. It comes with matching pop up drain and cUPC water supply lines. 360 degrees rotate high spout design is convenient for precise controlling in both volume and water temperature. High sealing ceramic cartridge, have drip-free performance. And water-saving noeperl aerator is equipped.
WOWOW Single Handle Commercial Bathroom Faucet Oiled Rubbed Bronze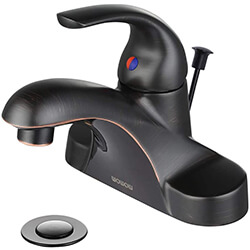 The bathroom faucet come with lift pop up drain assembly, which easily drain water by lifting rod, so that you can enjoy a friendly and clean bathing experience. High performance neoperl aerator provides a comfortable washing. Gentle touch with fingers to remove scale and calcium. The single lever makes it easy to control water temperature and flow so that you can relax and enjoy the bath experience. Lowkey and luxury oiled rubbed bronze finish, full of minimalist feelings, classic and simple. Add flowing curves and a classic look to your bathroom. Premium finishing process, finishes will resist corrosion and tarnishing through everyday use. Corrosion-resistant and durable, easy to clean and maintain. 3-Hole, 4-Inch centerset design for easy installation
WOWOW Bathroom Faucet Chrome 4 inch Bathroom Sink Faucet Centerset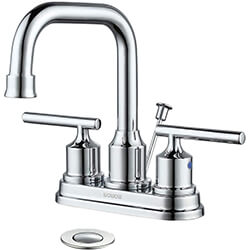 This 4 inch bathroom faucet comes with two handle design, which makes it easy to adjust the water and the temperature. Vanity faucet in mirror-like chrome finish, unique high spout design for creating a never outdated shaping. Non-corrosion, non-rust, anti-scratch. The high arc spout gives you ample clearance beneath the spout. Besides, the vanity faucet comes with a lift rod drain assembly&a pair of gloves. 4-inch centerset and 3 hole mount design allow for easy installation. Copper leg ensuring durability and dependability; Made of BASF food grade material, protect you and your family's health. The spout of vanity faucet made of ABS aerator can help you conserve water. (This aerator can be taken down directly with your hands to clean).
WOWOW Bathroom Faucet 2 Handle 4 Inch Centerset Bathroom Sink Faucet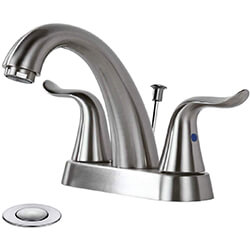 Two handle faucet has fashion classic retro design, which is finger print free, resist corrosion. Deck mounted vanity faucet suitable for rent house, new condo, single-apartment, motor home, travel trailer and family use. This 4 inch centerset bathroom faucet comes with lift rod and pop up stopper. This brushed nickel faucet is made of zinc alloy, stainless steel and metal. The drip free ceramic cartridge and high sealing ceramic cartridge make it rotate smoothly to ensure long-term use without dripping water and leakage, and accurately control water temperature. The ABS aerator save 50% water and anti-splatter. Drip free ceramic cartridge endures. High quality faucet with copper leg, stainless steel outer shell, durability.