What Are The Best Kitchen Faucets? Reviews & Buyers Guide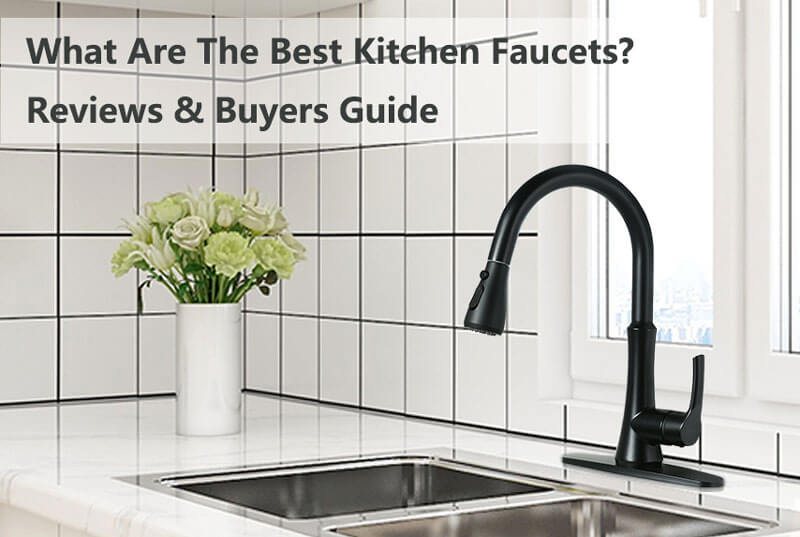 1. What Is The Difference Between Pull Down & Pull Out Kitchen Faucet?
Pull down and pull out faucets are two of the most commonly found models in modern kitchens. They have become a popular option due to their ability to reach a greater amount of space and get into hard to reach areas. From making it easier to wash produce to cutting down the amount of dishes in your sink, they are a great option for many people. Despite this, there are still some small differences between the two that could impact your final decision.
Pull Down
The pull down faucet makes use of a spray head that you pull straight down from the faucet. The ergonomic shape and motion of the head makes it easy to use and takes less maneuvering. Pull down faucets have a high arc design that provides high clearance in the sink and makes it easy to fill pots and other dishes that may be taller.
Pull Out
Pull out faucets, although similar to their pull down counterparts, instead have a faucet head that extends laterally out from the faucet. This gives it a longer reach that can aid in reaching farther surfaces and provide the ability to fill pots that are placed on the counter. Due to the low profile, they can be used in smaller spaces that may be cramped and can't necessarily fit a pull down model.
2. Which Model Should You Pick?
Each model, pull out and pull down, have their own individual pros and cons that can have an effect on the decision that you make. While both have some distinct advantages over the other, the best way to pick a model is by looking at your specific situation and figuring out which one would be most effective for you. For example, a kitchen that doesn't have as much room to work with in terms of the sink space may be better fit for a pull out faucet. On the other hand, in a kitchen where tall pots and pans are frequently in use, a pull down faucet would be best.
Best Pull Out Kitchen Faucet
Pull out kitchen faucets have exploded in popularity due to their ability to provide a stunning look to any kitchen area — especially those that are attempting to pull off a modern look. Even while knowing that this is the type of faucet you are looking for, it can be hard to decide on a specific brand and model that you will love.
Fortunately, there are a variety of high quality companies who offer fantastic selections of pull out faucets to choose from that can simplify the process as a whole. These include models such as Delta 4353-DST Linden Single Handle Pull-Out Kitchen Faucet which comes in colors such as Venetian bronze, chrome, Oil-rubbed bronze, and arctic stainless while also coming in at a low price (despite the fantastic design). The 4197-AR-DST Cassidy Single Handle Pull-Out Kitchen Faucet, another model produced by Delta, is a fun take on the traditional design of these faucets which can make it a signature piece for anyone looking to add a pop of intrigue to their kitchen.
Aside from these two options come the Pfister Pfirst Series 1-Handle Pull-Out Kitchen Faucet — a low cost option that has quickly been rising in popularity over the past year or so despite the fact that the company is not as popular — and the KOHLER K-10433-VS Forte Single Control Pullout Kitchen Sink Faucet — a faucet that comes in a diverse array of colors and utilizes one of the sturdiest ceramic disc valves that can currently be found on the market.
One-Handle Or Two-Handle?
Aside from making decisions like pull down versus pull out or choices about the specific design of the model you end up choosing, you must also decide on whether you want a one-handle or two-handle faucet.
Single handle faucets are easier to use and install as they only require one hole for the installation process. Along with this, they can be turned on in one swift motion which makes it a breeze to get the water flowing. Some disadvantages of this design include difficulties to get the exact temperature that you want and concerns about having to turn off both valves if a leak occurs (this will leave you without water until a plumber arrives to fix it).
Double handle faucets, on the other hand, are spectacular in design, functioning to be both timeless and stylish simultaneously. One of the primary advantages of this model is that it is much easier to control the temperature of the water as you can simply adjust each handle, adding either more hot or cold water until it is right. The disadvantages of double handle faucets mostly deal with the fact that they are quite harder to install. Two holes must be drilled into the countertop which means more time and mess during the setup process.
It is important to take these factors into account when choosing the option that will work best for you.
Side Spray
A side spray is an extra faucet piece that sets right next to the actual faucet itself. Not only does this feature add to the overall aesthetic value of the space, but it also provides the added flexibility of being able to reach a greater amount of space. With the trigger functionality of the side spray head, you will be able to get into hard to reach spaces and make your dishwashing process more efficient. This is an especially handy tool for faucets that do not already have the sprayer functionality. Along with this, it can help solve problems such as having too many holes in the countertop (often when a double handle faucet is replaced with a modern, single handle model, there is a remaining hole that can cause problems both functionally and aesthetically).
Some of the downsides of this sprayer is that because it is not actually integrated into the head of the faucet it can sometimes be awkward to use. Additionally, the water pressure is often lower than that of which would be included in the main faucet with a sprayer capability which decreases its effectiveness overall.
Styles & Finishes
These faucets are available in a multitude of different styles and finishes which makes it more than easy to find an option that will fit the design of your kitchen and home. You can choose from models such as ones that are designed to enhance the look of a modern kitchen or ones that are designed to be the perfect complement to a more traditional style.
Along with this, there are tons of different colors (such as oil rubbed bronze, stainless steel, chrome, and matte black) that provide you with infinite possibilities. Regardless of the specific model you go with, you can trust that there will be many opportunities to customize the faucet to be exactly what you desire.
Is A Pull Down Or Pull Out Faucet For You?
Many people truly have no idea about all the decisions that go into designing a perfect home or kitchen. A major aspect of this that is often forgotten is the importance of the faucet that you choose to install in your sink. Although it may seem minor, the faucet is the centerpiece of this space, providing both functionality while also enhancing the aesthetic nature of its surroundings.
With such a wide range of different models and styles currently available on the market, it can be more than easy to get in over your head and become unsure about what is the right option for you. Despite this, pull down and pull out faucets are a model that have developed a reputation for being both effective and beautifully designed. Each has its own unique advantages and disadvantages that will need to be taken into account when making a final decision; however, regardless of the one you proceed with you can rest assured that it will be the right choice.
3. Selecting The Right Company
While a lot of thought is often put into what style and design is best for a kitchen, something that is arguably more important is the company and brand that you decide to go with. There are a number of different suppliers of faucets. Each has their own reputations as individuals and provide different things to their customers.
As with any purchase, the company that you choose to go with is going to have its own specific pros and cons. These can come down to aspects of their products such as the quality of the materials used to construct the faucet along with the selections that they make available to their customers. Aside from the faucets themselves, each company will also differ when it comes to things like their customer service and the prices that they charge for their product lines.
It is important to know these differences so that you can make an informed choice about which direction to go in. Basing your decision entirely on your first look of the faucet can lead you to ignore other facets of the product that may cause problems later on. Along with this, it is also important to not base your choice entirely on just who the company is because you may not be taking in all of your options and figuring out which is actually best for your situation.
American Standard
American Standard has built their brand around ingenuity and technological advancement when it comes to plumbing which is reflected in the design of each of their quality products. The kitchen sinks that they offer their customers mend together the styles of the old and the new. They perfectly blend together modern features with a traditional aesthetic that is sure to be a great fit in any kitchen space. Each of their faucets in their collection utilizes sleek designs, intelligent features, and study materials that ensure that the products are both durable and resilient.
Aside from these great characteristics, the company also offers their customers limited lifetime function and finish warranties for all of their products. If you happen to find that there are any shortcomings in the performance or the materials of the faucet, the faucet will be covered and the issues will be fixed (this does only apply if you are the original purchaser of the faucet however).
One of the standouts of this brand is the great value that they offer with their products. Many people on a lower budget struggle to find a faucet that has high standards of quality but at a great price that is affordable. American Standard has eliminated these problems by having faucets that range not only in style, but also in price. The top of the price range for the brand is the Pekoe 1-Handle Semi-Professional Kitchen Faucet which is $684. This comes with features such as a polished chrome or stainless steel finish, push-button activation, and a coordinating pull-out and pull-down spout.
Delta
Delta is an industry-leading kitchen faucet brand who has made a name for themselves over the years due to their stark attention to design and consistent innovation. These values have been cemented at their core and have allowed them to develop a reputation for being trustworthy and having a brand image that keeps their customers coming back. They truly put a lot of thought into the curation of each of their faucets. From minimal arch designs to beautiful spots and fixtures, they are well known for providing the perfect pieces for any kitchen regardless of the specific style.
Along with this, they design their products using a multitude of different color options and fixtures which include mirror-shine chrome, sleek matte black, and a striking tarnished bronze.
The brand looks to revolutionize the appliance market as a whole by way of their unique technology. They focus on creating devices that are meant to simplify the process of cleaning, and cooking so that your kitchen experience is always one that is seamless.
Delta is synonymous with quality and luxury, and their prices reflect that. When compared with other faucet and kitchen appliance companies in the industry, Delta's customers often spend more on their products because they know that what they will be receiving is top caliber. While their prices are somewhat expensive, it makes sense considering how advanced and innovative each of their faucets are. All of their products are both durable and stylish, ensuring that you are getting exceptional value and will be able to make use of the product for many years.
Hansgrohe
With over a century of experience in the industry, Hansgrohe has become one of the premier producers of stunning appliances for both bathrooms and kitchens. At their start, this focus involved only the formation of exceptional bathroom products, however, since then they have expanded their reach. Over the years they have continued to develop their technology and infuse a sense of expertise in their work that has enabled them to design faucet models that look fantastic while doing the job.
When working with Hansgohe, you can always trust that you are in good hands. The company is true to themselves and their identity which is why they have continued to produce their products from their home in the Black Forest in Germany. Here, they have perfected their craft bringing attention to them and their products from customers all around the globe.
As with other brands, the company implements a general design that is meant to combine aspects of both modern and traditional design. This allows their products to have that classic feel while still keeping up with all of the innovation that is continuing to allow faucet models to progress in functionality.
Their products include technology such as rubber jet nozzles for quicker cleans, magnetic detachable hand sprays, a select button that allows for the water stream to be adjusted, and airpower shower heads. Also, they have an ecosmart function which is meant to save water in order to help out the environment and your water bill.
Hansgrohe has an expansive product line with a wide range of prices. This makes it easier to afford and find a product even if you are on somewhat of a smaller budget. Some of their models are set near the $100 price point while others are closer to $1000.
Kohler
Kohler is well known for being a top producer of luxury kitchen appliances. The company prides itself on taking a comprehensive look at the needs of a kitchen and meeting these needs with an integrated faucet solution that can work within any home. Because of their focus on enhancing the overall space of the home, Kohler puts a lot of time and thought into the exterior design of their models. They offer designs that can fit the desires of any customer.
While Kohler's products are the standard when it comes to elegance and quality, customers will find that their price range is on the higher end. This can be attributed to the detailed design process along with the quality of materials that they make use of. It is important to take your own budget into consideration when trying to figure out if Kohler is the right fit for you.
The company offers a great variety of specific details for the fixtures and spouts of the faucets as well as providing a range of choices for the features of the faucet. Their models come in different colors and designs which can make it easier to find something that will complement your kitchen or bathroom. From pull out to bridge faucets with ergonomic designs, you will easily be able to find what you are looking for.
Kraus
Kraus is known as one of the most popular producers of faucets in the industry. Their model designs are elegant while also being functional and presented in a diverse array of styles that can fit in and find their place within any type of kitchen. They offer specific products and advanced features including detachable hoses and traditional pull-down or pull-out faucets. Each has fantastic finishes that expand upon their excellence even more.
Within their line of products, the models that can be found that are produced by Krause can generally be placed within three categories. These are commercial-kitchen style faucets, traditional pull out faucets, and spot-free stainless steel faucets. Each collection is meant to function differently so as to enhance its ability to work in your specific kitchen. This is an important consideration to make as many people use their kitchens for many different things.
While Kraus can hold their own against many of the other most popular faucet producers, many customers may be surprised to see how low the prices of their faucets are. In fact, some of their models can be purchased for as little as $70 and most of their models set under the $200 mark. This makes it the perfect option for someone with a smaller budget who is still looking for a great faucet that will add to the efficiency and beauty of their home and kitchen.
Brizo
Brizo is Delta's line of premium faucets that are meant to revolve around the values of luxury and excellence. Many of the designs for these products are uniquely curated with attention being given to even the smallest detail.
The faucets put out by this brand are known for being extremely durable due to their almost indestructible PVD finishes and diamond seal technology ceramic disc cartridges that guarantee that you will never have to deal with any hassle involving shoddily made products.
Moen
Over their 75 year history, Moen has grown to become one of the best kitchen faucet brands in the North American area. They have established themselves as innovators who include unique technological design and gadgets into their faucets that are meant to enhance their overall efficiency. Aside from this, many customers trust them because they build most of their faucets in the USA using only the best materials and design processes.
Moen looks to improve the everyday life of their customers by taking some of the stress and hassle away from things like washing dishes, cleaning the kitchen, and cooking. The faucets and fixtures that they currently offer revolutionize the plumbing industry and have become a standard of excellence in kitchens across the United States.
Moen has an extensive catalog of products which can make it much more simple to decide on a final choice. This catalog includes faucets that differentiate from one another in terms of their features, colors, shapes, and sizes which can work in any kitchen regardless of the specific design or style of the space.
The company's sink faucets include types such as wall mount, single mount, pull out, pull down, deck mount, low arc, and high arc faucets. Each of these have their own capabilities and advantages which should be taken into consideration before making a final decision. Along with this, Moen makes it easy to find something you will love due to the well designed, user friendly website that they offer to their customers. On the site, rather than being given pages upon pages of unspecified results, Moen allows visitors to browse their great number of faucets by categories such as price and color. This makes the purchasing procedure seamless and cuts down on any wasted time.
Kingston
Kingston is known for offering great, high quality faucets, but at a price that pretty much anyone can afford. With many other companies, although their designs and features are fantastic, the prices of their products are exceptionally high which can make it difficult to get a hold of them. Kingston takes care of this by offering great prices without sacrificing quality.
Kingston has a selection that includes hundreds of different faucet designs making it easier for anyone of any style to find what they want for their own home. Many of these designs combine traditional approaches of style with two handle setups and classic spout shapes that will fit in perfectly in any kitchen.
Pfister
For over a century, Pfister has committed themselves to producing bathroom and kitchen fixtures of the highest quality. They have established a great reputation for themselves due to their track record of excellent customer service that ensures that the people who purchase their products are always completely satisfied. In fact, their amazing customer support is what has made them so popular as a brand. Pfister has a lifetime warranty service that they offer on all of their products that is called the Pforever Warranty. This protection guarantees that if any system or part fails, they will fix it for free in a quick amount of time.
Beyond this, the company is also known for their innovative designs that have helped to improve the efficiency and effectiveness of processes in the kitchen. This includes things such as their built-in filtration system faucets which enhance the quality of the water being used (this is especially great for things like cooking). This delivers filtered water straight from the tap at double the speed of traditional filtration devices.
Pfister also makes it easy for their customers to find something that they will like. While some companies like Vigo have built their brand around a specific design or colorway, Pfister leans more toward providing a great selection of variety. They have everything from curvaceous long necked taps to ornate gold taps that will make the selection process easier, particularly for those who often have trouble making up their mind.
Vigo
Unlike other brands, Vigo does not include a huge range of differing faucet styles and designs as part of their collection; rather, they have focused on creating their own bespoke style that has become synonymous with their brand itself. They employ designs that convey a timeless, yet contemporary design style.
One of the most interesting aspects of the faucets that Vigo offers to their customers is the fact that they design pretty much all of their products using just two colors: silver and black. Whereas other brands offer a number of different colors and finishes including bronze and chrome, Vigo has formulated their trademark style around two tone designs that use black and silver. These include such options as the Vigo Branson silver tap that comes along with matte black accents.
A characteristic of Vigo's faucets that are especially attractive for some households is their industrial nature. Their faucets are meant to have high functionality rates and are meant to be similar to industrial faucets which allows them to cut the time you spend in the kitchen for things like washing dishes in half. Also, features such as the jet spray head which pulls down from the faucet provides a quick stream of water that can give you the opportunity to do anything from filling up a pot in just a few seconds to getting a pesky stain off of a dish.
4. Things To Consider Before Purchasing
As with anything, you should always look at your individual situation before deciding on a product or solution that is going to work best for you and your home. As seen above, there are a ton of great companies each with their own advantages and unique qualities which will ultimately work better in some homes when compared to others.
A mistake that some people make is basing their decision entirely on the aesthetic value of the faucet. They focus too much on the style and design (these are both important things to consider), however, they fail to see if the option that they are looking to install will be a good fit in regards to the existing infrastructure of their sink and the technical features of the faucet. Here are some things to look out for and take notice of when choosing the faucet that will work best for you and your home:
Existing Plumbing
Most people who are in the market for a new faucet are often looking to replace an old, outdated one that is currently in place. Because of this, it is more than likely that there is going to be existing plumbing and concerns that you need to make note of which could have an effect on the type of faucet that you end up going with. For example, households that are deciding to transition from a double handle to single handle model may be left with an extra hole in the countertop that needs to be taken care of. Similar to this, the piping and tubing should be checked to see if it is compatible with the new sink you are looking to purchase.
Flow Rate Of Water
Although it may seem simple, the water flow rate of your faucet is an important factor to think about when trying to make a decision about the faucet that you want to install in your home. Many newer faucets have been designed to save water and reduce the cost of your monthly water bill. This is a change that needed to take place due to the fact that many older faucets often waste water and raise financial and environmental concerns due to their excess release of water while turned on.
On the other hand, the flow rate can also be taken into account to see how powerful your new faucet may be. A strong faucet head with a powerful jet stream can make it much easier to complete processes such as cleaning the dishes and getting rid of tough stains. Many companies and suppliers of faucets will list and describe the flow rate in the product description which will make it easier to figure out what you want.
Aerator
A faucet aerator is a small attachment that is added to the end of a faucet spout on the inside. The device works by mixing water with air from the surrounding space which allows the single stream of water to be separated into many different smaller streams (this is somewhat similar to a sieve). As a result, less water is being used, but the water pressure remains constant which aids in cutting down on waste. Aerators are often added to older faucets because they usually face more problems when it comes to water that is being wasted.
Pull-Down Sprayer
Pull down sprayers are faucet heads that can be extended from the body of the actual faucet in order to give it more reach around the sink and make it easier to clean out large pots, pans, and other forms of dishes. Whereas other types of sinks are often stationary and can make it hard to cook or clean effectively, a pull down sprayer takes care of these concerns with ease.
For those who live in households where this might work well, it could be a good idea to invest in a faucet with pull down capabilities. In many cases, these types of faucets may be more expensive, however, they are usually well worth it due to the increased opportunities they provide in the kitchen.
Get The Right Faucet For Your Kitchen Sink
In many cases, a faucet can make or break the look and feel of your sink and the surrounding kitchen. This appliance is the core of your sink and allows you to make it easier on yourself to cook, clean, and take care of any other processes in your kitchen.
Each kitchen is going to be different from the next which is why it is so important to make choices that will specifically be best for your situation. There are things that need to be taken into consideration to ensure that once your faucet arrives at your home, it will be able to be installed quickly and easily. You also want to make sure that the faucet is sure to be long lasting so that you don't have to worry about replacing it anytime soon. Before going forward with a final decision for the faucet that you would like to include in your home, take a look at some of the factors listed below that could have an effect on the decision.
Make Sure Your Fixture Fits Your Sink:
Sinks and faucets come in many different types of configurations. These configurations have to line up with the number of holes that are already in the countertop, so it is important that you pay attention to what type of model that you purchase. The good news is that these holes do not have to line up perfectly with the faucet that you choose because extra ones can be covered up with plugs that eliminate any potential issues.
Not all sinks will be compatible with your area. Check around the area where the sink is to be placed. If the faucet has a mounting plate, you can check under there to ensure that you do not miss any holes. There are several things to keep in mind when looking for these holes. This includes the facts that kitchen sinks usually have between one to four holes, that three holes are used for the spout and handles, each new faucet will have the amount of holes it utilizes on the packaging/description, and the deck plate of the faucet can cover up any unused opening.
1 hole faucet:Single hole faucets have one singular stem with a handle or handles that are attached directly to the body
2 hole faucet:Two hole faucets either have two individual single hole faucets side by side (each lets out one temperature of water) or you can use a bridge faucet.
3 hole faucet:Three hole faucets are commonly seen in kitchens. They have enough space for one spout along with two handles placed to the side of the faucet body.
4 hole faucet:  A four hole faucet is similar to a 3 hole faucet, however, it includes enough space for the addition of an attachment such as a sprayer.
Water Lines
Aside from the holes, it is important to ensure that the water lines are also compatible with the faucet you choose. You can look under the sink itself to figure out the size of the water lines and take note of the shutoff valves so that you can match them with the new faucet and prevent any future problems.
Spouts
The faucet spouts are crucial in regards to making sure that the faucet is able to perform properly without causing any issues. These pieces of the faucet include parts such as O rings that prevent the faucet from leaking water. When getting a new faucet, it is important that you install it properly and pay attention to this part of the model in order to guarantee effectiveness.
Aesthetic
While the functionality of the faucet is certainly important, it is also a good idea to consider the aesthetic value of the faucet. As it is the centerpiece of your sink, you want to make sure it is beautifully designed while also ensuring that it complements the surrounding area appropriately.
Do You Need A Decorative Plate
Decorative plates may be necessary depending on the faucet that you end up choosing to put in your kitchen. For example, if you are in a situation where the faucet you have decided on does not cover up all of the openings in the cabinet, you can make use of a decorative mounting plate to ensure that the aesthetic value of the area is not hurt.
Cartridge
The faucet cartridge is a piece that connects to the handle and can be found within the valve. When the handle is turned, the cartridge turns and controls how much water is flowing out from the head of the faucet. These pieces can be found included in both one and two handle faucet models.
Size
Every aspect of your faucet should be checked and measured before deciding on the one that will work for you. The first step is measuring the sink to make sure that it will function properly and will actually fit into the allotted space. This will save you from experiencing any trouble later on in the process. Second, you must also measure to make note of how far it will jut out from the base so as to ensure that it will be balanced aesthetically.
Do You Need A Secondary Faucet
Secondary faucets may be a good idea for people who are specifically looking for convenience. Specific types of this style of faucet such as a pot filler faucet above the stove can be used to make cooking easier and limit the amount of time that you have to spend running around your kitchen. Make sure to plan out the space properly if you are installing one of these faucets in order to ensure that it is not too cluttered in your kitchen.
Installation
Although it may seem complicated, installing a new faucet in your kitchen isn't actually as hard as it may look. This is why many people choose to go about the process themselves rather than relying upon a plumber or similar professional. While each installation process will be different depending on the type of faucet you are installing and the existing area that you're working with, it is important to make sure that the procedure is completed accurately to prevent any future problems such as leaks.
Leaks
If your new faucet is leaking, the most likely cause is poor installation (this can especially be a problem if you put in the faucet on your own). Make sure to read the directions carefully and check for common problem areas such as the valves and O-rings during the installation process so that you don't have to face this problem.
Loss Of Water Pressure
After the installation of a new faucet, some people may find that the water pressure is lower than their previous faucet. This is often due to dirt and debris that built up when the faucet was being changed out. The water supply should be turned on and off to flush out any of this material and prevent this issue from occurring.
Finishes
Many companies offer a variety of unique finishes that are meant to work well alongside many different styles. Some finishes that are commonly found include elements that are meant to convey traditionalism with others looking to give off a more modern feel.
Faucet: Price And Value
The prices of faucets greatly range and will be much different depending on factors such as the style of the faucet and the brand. They often can range anywhere from $60 to $1000 dollars. While it can be easy to just look at the price, it is better to consider the value of the faucet when taking into account the quality of the product and how it can enhance the look and functionality of your home.
The Benefits Of Getting A New Faucet
Even with all of the fantastic options for new faucets that are on the market, some people may still be unsure on the value of installing a new kitchen faucet. In reality, there are numerous benefits that make it a good choice to proceed with.
It's the Most Important Feature:  The faucet is the foundation of your success in the kitchen. It is used for almost everything — from cooking to cleaning — which is why it is so important that the one you have in your home is updated and efficient.
A New Faucet Will Transform Your Kitchen:A new faucet adds a sleek nature to your kitchen that will impress anyone who walks in. Not only this, but it also can improve your day to day operations immediately.
It Will Improve Your Life:Everyone knows that a bad faucet can both ruin the look of your kitchen while simultaneously making it much more difficult to do even the simplest of chores and activities. A new faucet takes away these problems and allows you to make the most of your kitchen experience.
The Benefits Of Getting A Smart Faucet
Over the past couple of decades, kitchen faucet brands have been committing themselves to improving upon traditional designs and utilizing advanced technology that improves the overall capabilities of their products. This can especially be seen with the release of smart faucets which have revolutionized the industry as a whole. Smart faucets are able to:
Hands free operation: Oftentimes, when cooking or cleaning your hands become messy and you may not want to mess up your faucet handles by grabbing onto them. This problem is solved with a smart faucet due to its ability to be turned on by sensors that detect your movement.
Environmentally-friendly: Many people do not realize how much water they waste on a daily basis especially when it comes to water that is lost from the faucet. Smart faucets cut down on this waste by having automatic shut offs that aid in protecting the environment and making your home more energy conservative.
Help to reduce germs:As mentioned earlier, the sensors of the smart faucet allow you to turn it on without even touching the handle. This limits the spread of germs and allows you to be healthier in your kitchen.
Great for children:A lot of kids have to deal with the frustrating issue of not being able to reach the handles of the sink when attempting to wash their hands or brush their teeth. Smart faucets do not have this problem as they can be turned on with the swipe of a hand by way of the IR sensors.
5. The Right Way To Choose A Water-Conserving Faucet
When trying to find the right water-conserving faucet for you, it is important to think about factors such as cost and the water pressure of the faucet. These are two of the main concerns that many people have when attempting to purchase one of these products, so knowing your expectations as an individual before going forward can be a big help.
What About Water Filters?
Even the best, most well designed faucets still can not be 100% protective against some of the harmful materials that are found in water on their own. Because of this, many people opt to add water filters or install faucets that have built in ones. This can achieve things such as the:
Initial screening of larger debris: Because all of the water must pass through this filter, it is impossible for any foreign materials or debris to slip their way out (this is especially important when using the water for cooking or drinking).
Activated carbon block:Activated carbon blocks are made up of loose granules of carbon that help to filter out tap water. It can improve water quality, eliminate nasty odors, and get rid of chlorine and other pollutants.
Removal of chemicals:Water straight from the tap can sometimes contain harmful chemicals that should not be used for cooking or drinking. These include chemicals such as chlorine which can make its way into the water stream.
Why You Might Consider Using A Faucet Water Filter
Healthier water:There are a multitude of harmful bacteria and substances that can slip into unfiltered water. Using a faucet water filter rids these dangers. Additionally, it provides the same great tasting water without having to deal with the microplastics that make water bottles dangerous.
Chlorine-free water:The water that comes from faucets can often contain chlorine due to the leftover chemicals from the water cleaning process. Although it is safe in very small amounts, it is still not a great idea to have this even in trace amounts due to the negative health effects it can cause.
No harmful microorganisms:Harmful microorganisms in unfiltered tap water can raise the possibility of sickness and health problems within the people in your household. Filters help to remove these organisms and make the water safer and tastier.
Water without heavy metals:Heavy metals that are able to slip into water supplies such as lead, chromium and arsenic can be extremely harmful and toxic even when they are in small amounts. Getting these metals out can reduce the potential of any of these problems which can make you more comfortable in drinking from the tap.
An eco-friendly solution:Similar to a smart faucet, faucet filters aid in cutting down on the amount of water that is wasted by the system. This allows you not only to save money on your monthly bill, but also is more eco-friendly.
Warranty And Customer Service
Even the top faucets and fixtures in terms of quality sometimes need repairs. Nothing is perfect which means that some people may eventually run into problems that call for fixes to be made. Luckily, many of the top suppliers of kitchen faucets offer great warranties that cover any breaks or issues. Along with this, many of them have fantastic customer service which makes it easy to work out problems and get to a solution.
6. Kitchen Faucet FAQs
Read below to find out more answers to some of the commonly asked questions and concerns about kitchen faucets:
1) How Much Does It Cost To Replace Your Kitchen Faucet?
  The cost to install a faucet usually ranges somewhere between $150 and $350 depending on the specific circumstances and the person that you choose to hire. Additionally, this can become more expensive depending on the specific faucet that you plan on installing. Many professionals can install a new faucet quickly and reduce the hassle of you having to complete it yourself.
2) What Exactly Is A Ceramic Disc And Is It Worth The Extra Money?
Ceramic discs are designed to replace the rubber washers that are traditionally found in older faucets. It is often a good idea to get a faucet with a ceramic disc because they are much stronger, can withstand really high temperatures, and can go for longer periods of time without having to be replaced.
3)What Constitutes A Reasonable Flow Rate For Top Rated Kitchen Faucets?
The United States currently specifies that the flow rates for faucets should be no more than 2.2 gallons per minute at 60 pounds per square inch of pressure. Many of the best faucets are going to sit somewhere right below this number.
4) What Is An Escutcheon, And Do You Really Need One?
Escutcheons are decorative metal pieces that are meant to cover up the opening left in a wall where a pipe comes through. They are not necessarily mandatory unless you are really looking to cover up these openings or if they are standing out too much and serving as a distraction.
5) I've Chosen The Right Kitchen Faucet, But What's The Best Way To Keep It Clean?
When faucets become dirty, they not only become less attractive, but also shorten their lifespan. The easiest way to keep your faucet clean is by making sure that your hands are clean when you go to touch it. If it has already become dirty, you can use a damp microfiber towel or cloth to clean it without fear of scratching or damage.
6) How Long Do The Best-Rated Kitchen Faucets Last?
Faucets, especially high quality ones, are built specifically with longevity in mind. Because of this, many of the models currently on the market can last for anywhere from 10 to 20 years with the best-rated kitchen faucets sitting towards the higher end.
7) What Is A Center-Set Faucet?
A center-set faucet sets in a compact space where the spout and handles are set in the middle of the space and are close to one another. This type of model uses three holes with space included for a connection to each tap and a mixing space in the middle.
8) How Do Pull-Out And Pull-Down Faucets Differ?
Pull out faucets, as the name suggests, have a faucet head that pulls out from the base. This gives them the ability to reach a wider amount of space in the kitchen. Pull down faucets, on the other hand, pull out straight down from the body of the faucet which gives it the ability to reach into taller pots and pans.
9) How Many Holes Are Required When Mounting A Kitchen Faucet?
The amount of holes required for a faucet installation process is going to depend entirely on the type of faucet that you are actually putting in. Pretty much every kitchen faucet is going to use somewhere between 1 to 4 holes depending on the size, shape, and style. Make sure that you read the packaging/description of the faucet before purchasing it so that you can ensure that it will fit into the existing space that you have available.
10) What's The Standard Size For Holes Intended For Kitchen Faucets?
Most standard kitchen faucets without an air gap will need a sizing hole that is about 7/16 in diameter (at least) in order to properly fit. Holes that are between 1.25 and 1.5 inches will be able to fit standard kitchen faucets as well.
Find The Right Kitchen Faucet For You!