What Is A Dual Mount Kitchen Sink – Everything about it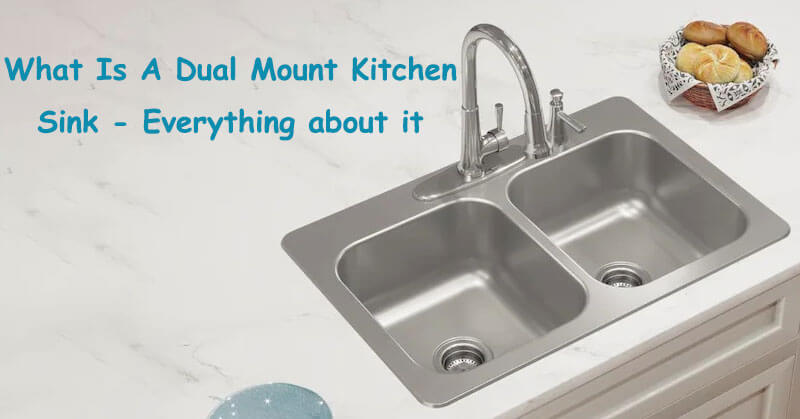 The dual mount sink is probably not the first option that came to your mind as a potential addition. Even so, it may be suitable for your kitchen in some situations. So what is a dual mount kitchen sink and how to install it? In this post, we will walk you through everything about dual mount kitchen sink. Continue reading for more details.
Dual mount kitchen sink denifition
What does dual mount kitchen sink mean? As the name implied, dual mount kitchen sink is one kind of mounted kitchen sink with dual options including overmount sink and undermount sink. The dual mount sink owes its installation versatility to its smartly designed flat rim. This flat edge can help seal the edge of the sink hole, and the low-profile flat edge can easily be wiped directly from the counter into the sink.
Undermount sink or Overmount sink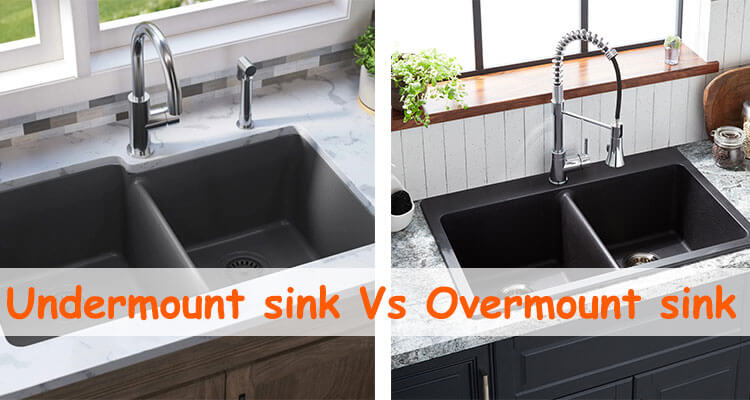 An overmount kitchen sink is not constrained in size by the walls of your cabinet. If your countertop is produced using a delicate material, for example, marble, an overmount kitchen sink helps in security of the edges. An overmount kitchen sink is less expensive and simpler to install than an undermount kitchen sink.
Undermount sinks are typically attached with a two-part epoxy adhesive and sealed with silicone caulking around the perimeter. Make sure to get a professional or someone who knows what they're doing.
Furthermore, drop-in sinks, also called self-rimming or top-mount, are still the most common type of kitchen sink. A drop-in sink has a visible lip around its perimeter that rests flat on the countertop. An undermount sink does have a rim, but the rim is not visible because it rests up against the bottom of the counter.
How to install a dual mount kitchen sink
Overmount Sink
The double-mounted sink will have a very flat edge of the sink. If you choose laminate, tile or wooden countertops, the over-installed recessed style may be a good choice due to the flat edges of the sink. The sealing edge is easy to low profile, and it is also easy to wipe the counter directly into the sink, where it can be sent to the garbage for disposal.
The choice of top-mounted or plug-in sink makes installation easier, which is an important consideration if you are a DIYer. However, if you rent out this task, then it is a quick and simple installation for pro, so it is quite cheap.
This is a good choice for countertop materials that have more holes than other materials, such as wood (for example, slaughter blocks) or 2 x 6 stained and sealed countertops, which have become somewhat popular today. Sealing these edges is a simple task and very effective.
However, for solid countertops such as granite, marble, and ceramic tiles, over-installing sinks is also a good choice. The flat edges can protect the edges of these countertop materials and prevent debris.
Undermount Sink
The installation of a sink hanging from below requires more work, but can be an attractive presentation and good appearance in your kitchen. You will have three methods or "looks" to choose from, all of which are related to how many sinks you want to display.
The front display will show a bit of the edge of the sink. Your countertop stopped before the sink descended, so a little edge was exposed.
The negatives will completely hide the edges, and the countertop will hang slightly above the sink. The edge is not revealed at all.
The flush appearance aligns the countertop with the edge of the sink. In other words, the mesa extends to the end of the edge, not the edge.
The sink installed at the bottom creates a pleasing and clean line in the kitchen and provides an extra few inches of usable countertop space. Brushing debris or cuttings into the sink for disposal is also easier to use the bottom installation method.
Conclusion
For those who want to choose how to install a sink, a dual-installation sink is a great option. They have a variety of options and can be installed as under-hung or flush-mounted. No matter how many renovations your kitchen may undergo over the years, they have the potential for flexibility and longevity.