Fireclay Vs Cast Iron Sinks: Which is Better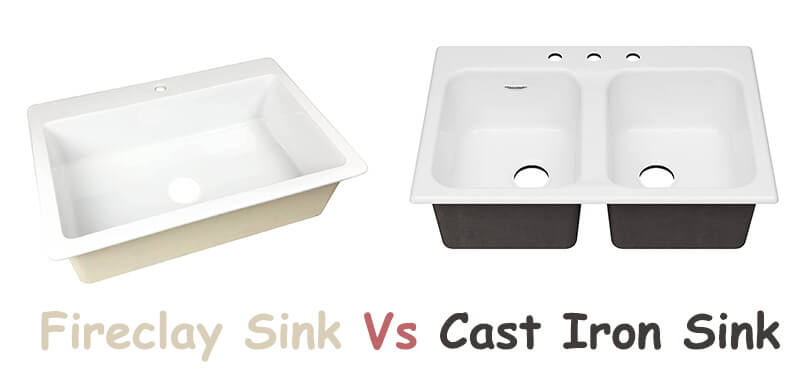 Fireclay is currently one of the popular materials for kitchen sinks, especially fashionable farm sinks. Similarly, many people choose cast iron kitchen sinks. What makes them different from all other sink materials (porcelain, ceramic, stainless steel)? What is the difference between Fireclay VS cast iron? This article will compare fireclay and cast iron kitchen sinks in detail, and point out the difference between them and which one is better.
Fireclay Sink
As the name suggests, refractory clay is a clay-based material that is usually fired in a kiln at very high temperatures. It is a kind of ceramic that is fired to fuse the glaze into the clay to improve the strength and integrity of the material.
The material used to make clay sinks is very flexible and easy to mold into any shape. They are cheaper than cast iron sinks and add a charming charm to any kitchen interior.
The fireclay sink is strong and durable. They can also maintain a smooth appearance for a long time, which means you don't have to worry about scratching every time you put utensils, pots or pans in the basin.
Cast Iron Sink
The cast iron sink is a sturdy and durable sink. They are made by melting iron and then casting the iron into molds. These sinks are usually coated with an enamel coating to help strengthen their strength. They have a variety of options and can provide a popular color for the kitchen palette.
The enamel coating is more susceptible to damage, especially when the fragments and scratches are deep enough to show the iron under the enamel. To avoid scratching or scratching the enamel, avoid using any abrasives to clean the sink. And the cast iron sink is very resistant to stains due to its enamel coating.
Differences of Fireclay vs Cast Iron Sink
Cost
Due to its extensive manufacturing process, the cost of clay sinks is usually much higher than the cast iron option. Cast iron sinks start at $200 to $600 and can go up to US$700, while clay sinks usually start at $600, and then go up from there. The price range of cast iron sinks is wide, depending on the size and model. The prices of the two may vary depending on the size, brand and model of the sink. The cost of both types of sinks is in the range of thousands of dollars, but in most cases, the cost of clay sinks is higher.
Installation
Fireclay sinks tend to be much lighter than cast iron sinks, which makes installation easier. Cast iron sinks are very durable and this feature makes them heavier. The heavy weight makes them difficult to install, especially without professional help. Heavier compositions may require additional base support for safe installation.
Durability
The cast iron sink is more durable. The enamel coating also helps prevent rust in the sink. However, the enamel coating may be peeled off by sharp objects and cause scratches on the surface of the sink. This will allow you to destroy the smooth and beautiful surface of the sink and make it prone to rust. Although lighter, clay sinks have the same durability as cast iron sinks. However, they are more difficult to peel off than cast iron sinks, so they are less prone to rust.
Color
Cast iron sinks are available in a variety of colors; therefore, it is easy to find a product that matches the appearance of your kitchen. Due to the enamel coating, these models have a very polished appearance.
On the other hand, there are not many types of Fireclay sinks. They also do not have the polished appearance of cast iron sinks and they usually come in white and off-white.
Bottom Line – fireclay vs cast iron sink: which is better?
Choosing the right kitchen sink for your home ultimately depends on your preferences. Both products have their own advantages and disadvantages, so it is up to you to decide which type of sink is best for you.
If you are looking for an affordable, durable sink that will stand the test of time and heavy use, cast iron sink is a very good choice. However, it is not very durable. Once the enamel is damaged, the sink is easy to rust
On the other hand, if you are looking for high-end durable sinks, fireclay sinks are also a good choice. They can create the feel of an old-fashioned farmhouse in your kitchen while still maintaining a clean and smooth appearance. Fireclay farmhouse sinks are usually more expensive than cast iron sinks, but they are easy to install and quite durable.