How Can I Tell What My Bathroom Sink is Made of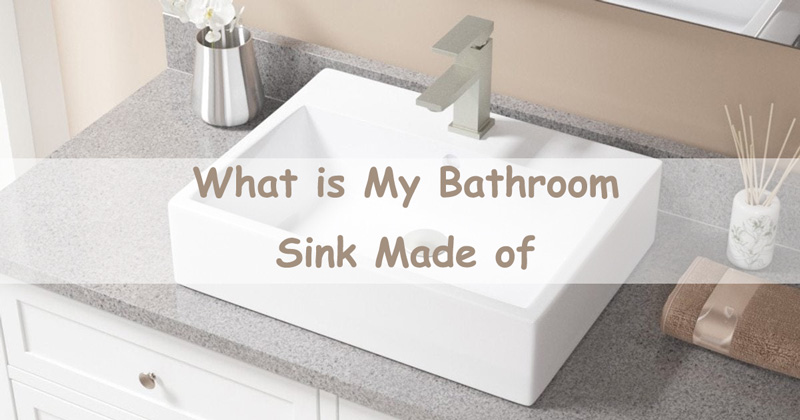 The sink in the bathroom can be made of many different materials porcelain or ceramic. Whether your bathroom sink is for aesthetics or practicality, the composition, price, and appearance of materials vary from each other.So, how can I tell if what my bathroom sink is made of? Read on this article and you can learn about what bathroom sink is made of.
Main materials of bathroom sink
Actually, though there are many types of bathroom sinks on the market, the main materials are basically porcelain and ceramic. Besides, stainless steel, tempered glass, and limestone or copper are also the materials of bathroom sinks. Here are the lists:
Porcelain
Ceramics
Copper
Stone
Composite
Stainless steel
Cast iron
Fireclay
Cast polymer
Tempered glass
How to tell what my sink is made of
Considering the bronze, stainless steel or copper materials used, metal sinks are usually easy to identify. The natural stone sink can be made of marble, granite, onyx or other forms of natural stone. Tempered glass sinks are usually identifiable, but if the dark tone of the glass being rotated almost makes it look like metal, it may be illegible.
If you are not sure what your sink is made of, please check the original packaging or use the model number to research to determine the material used to make it. If you are not sure where to start, there may be an identification assistant on the manufacturer's website, depending on the manufacturer. To tell what your sink is made of easily, it is advisable that you have a good understanding on the materials of bathroom sinks.
What is the difference between porcelain and ceramic sinks
The ceramic sink is made of clay. The clay is hardened and heated at high temperatures. The surface has elasticity to prevent chipping, scratching and impact damage. Porcelain is a kind of ceramic made of clay, which is somewhat durable, but it is easy to stain and chip. Ceramic sinks are usually smooth, hard and sealed, so dirt does not easily penetrate the surface. Porcelain sinks are usually white and need to be cleaned more frequently to prevent accumulation of dirt and soap scum.