Who Owns Moen Co – Everything about Moen Faucet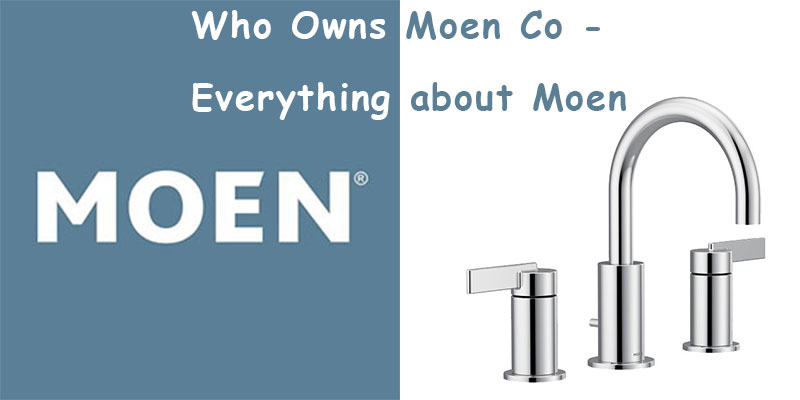 When it comes to American faucets, many brands might come into your mind like Moen, Waterstone, Kohler, WOWOW, Parlos, etc. Among these faucet brands, Moen always occupies much market share every year. To make you know Moen better, this article will discuss everything about Moen including who owns Moen Co and the features and reviews of Moen faucets. Let's take a closer look at Moen!
A brief introduction of Moen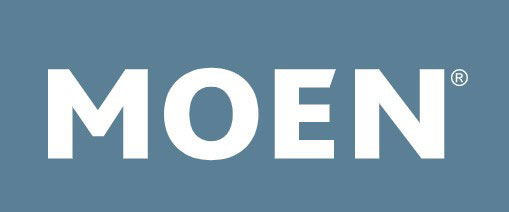 Moen is an American faucet brand that has been producing sanitary equipment since 1937. The brand is world-renowned for its kitchen faucets and has won many awards for its quality products.
The difference between Moen faucet and competitors lies in its wide range of fashion finishes and unique design. Finding a faucet design that meets your performance and aesthetic requirements from the company will not be a problem.
Moen has an IAPMO certification, proving that its innovative products do not contain lead or other harmful substances. Another distinguishing feature of the company is its innovation. Some of Moen's popular products include MotionSense™ and Power Clean™.
Who owns Moen and its history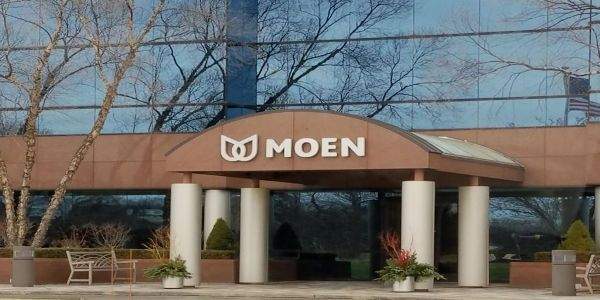 Moen was established by Alfred M. Moen in 1937. Moen is an American product line of faucets and other fixtures founded by Alfred M. Moen and is now part of fortune brands home & security. Moen subsidiary is headquartered in North Olmsted, Ohio. Morn was originally part of Ravenna metal products in Seattle, Washington.
Ravenna was acquired by Chicago standard screws in 1956. Mohn continued to be a department of standard screw. Until 1986, the company was acquired by New York investment company. Forstmann, little & Co. sold most of Stanadyne's other businesses, focusing on Mohn products.
The company was renamed Moen, Inc. in 1990 and sold to American brands, which was renamed fortune brands in 1997.
In 2011, the fortune brand was split into two companies. Its spirits division became beam, Inc. (Jim Beam, maker's mark, Canadian Club, Cooley kilbergan, Ardmore, raphroaig) and was almost immediately sold to Suntory Holdings Co., Ltd. in Japan at a price of US $16 billion, and renamed Beam Suntory, Inc.
The rest of the company was restructured into fortune Brands Home & Security, Inc., retaining Moen as part of its core business. Other fortune brands include master lock, masterbrand cabinets, Simonton windows, Therma-Tru access control system and Waterloo tool storage products.
Features of Moen faucets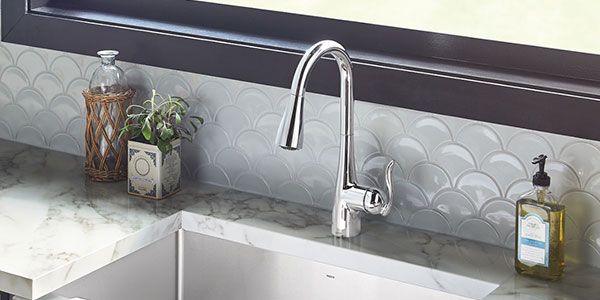 Design
Moen offers a variety of styles and designs, which may be the most selected of all brands. This makes it easy for you to choose the style that matches your kitchen decoration perfectly.Moen offers commercial styled faucets, such as Align; traditional, such as Brantford; and modern, such as Arbor. There's also a wide selection of both pull-down and pull-out models.
Finish
The most common finishes in Moen faucets are chrome and oil-ground bronze. Chrome plating is a low-maintenance finish that will shine year after year and easily match other decorative elements. On the other hand, oil-rubbed bronze is more suitable for traditional designs because it provides the lovely brilliance of yesterday. In addition to chrome and oil-ground bronze, other popular finishes offered by Moen include matte black and stainless steel. Moen uses Spot Resist technology to help keep the surface clean, free of mineral deposits, fingerprints and water stains.
Technology
Moen faucet adopts advanced technology that is not available in other faucets on the market. This is why Moen faucets occupy a large share of the faucet market.
What makes Moen faucets stand out is the motion sensing technology. This technology involves operating the faucet without touching it. mJust move around the faucet and the sensor located on the neck or base can sense the control you need.
Another technology in the Moen faucet is the Power Clean technology, which increases the force of the water released by this technology by 50%, helping to clean dishes more easily and faster. M•PACT® helps to change the style of the faucet without the cost of replacing the faucet and plumbing. They provide compatible mounting parts for easy replacement.
Reviews of Moen faucets
In summary, Moen faucets are mostly high-quality products, which sadly also means that there are some disappointing products. Our list is the result of careful inspection and selection, considering only a few good models. I hope you will like it.
1. Moen 87999SRS 1H SRS KT FAUCET W/SPRAY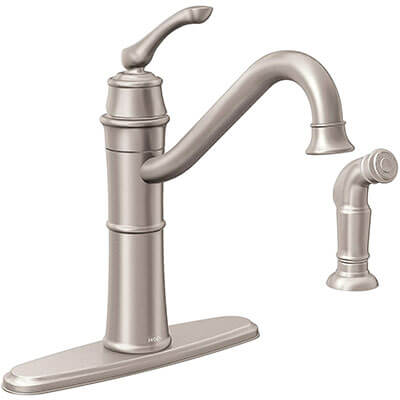 This Moen faucet uses a single handle mounted on the top, almost like the handle of a water pump, reminiscent of the classic feeling of the 18th century. The faucet has an elegant curved arch and looks great with a farmhouse or apron sink or sitting on the preparation table on the island. This faucet uses a Duralast ceramic butterfly valve spool system with a rated number of cycles close to 500,000. This is enough to maintain regular use for decades.
The faucet is available in three different finishes: classic chrome plating, deeper and more elegant bronze, and Moen's trademark stain-resistant stainless steel finish. No matter which finish you choose, your faucet is covered by Moen's limited lifetime warranty. In addition, this faucet is equipped with an elegant side spray. This faucet is designed to be installed in a single hole, while the side spray uses a second one.
2.
Moen S7170 90-Degree One-Handle High Arc Kitchen Faucet, Chrome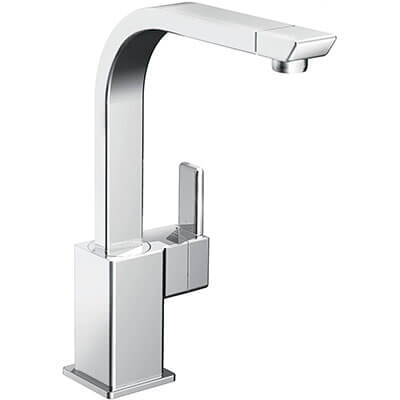 The futuristic look of Mohn's 90 degree faucet is not suitable for everyone, but for those who like it, they will soon like it. It has a pull-out nozzle, straight forward, and the outlet is at the bottom rather than the tip. The sprinkler connects to the 59 inch spray hose and benefits from Moen's Reflex technology. This allows you to automatically retract smoothly after use. When combined with super flexible hose, this faucet is ideal for you.
Thanks to Mohn's hydrolock connection system, the installation of this faucet is easier than you think. The system allows you to quickly connect the water pipe to the faucet, minimizing the tools required to install a new faucet. This faucet features a single hole mounting system and a Mohn 1255 Duralast ceramic spool for long service life and smooth operation.
3. Moen 87350ESRS Haysfield One-Handle High Arc Pulldown Kitchen Faucet, Spot Resist Stainless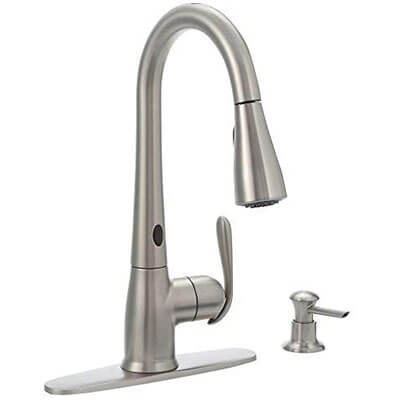 Amazon US
The Haysfield MotionSense faucet is made of Spot Resist stainless steel, so even if you don't have to touch it, you won't be afraid to touch it. There is a ready-made sensor on the faucet body, which allows you to fill a cup or kettle without touching it. You will like to use this faucet. The drop-down nozzle is connected to a 68-inch hose, providing you with an extraordinary touch. After use, the reflection system will allow the nozzles to be connected smoothly and automatically.
The faucet has a moderate height of 15.5 inches, and the nozzle gap is slightly larger than 8 inches. If there is not enough space, the entire faucet will rotate to one side, allowing you to enter the sink without restriction when cleaning or spraying with the drop-down nozzle. The faucet is covered by Moen's limited lifetime warranty to the original purchaser and homeowner.
4. Moen CA87003SRS 1H SRS KITCHEN FAUCET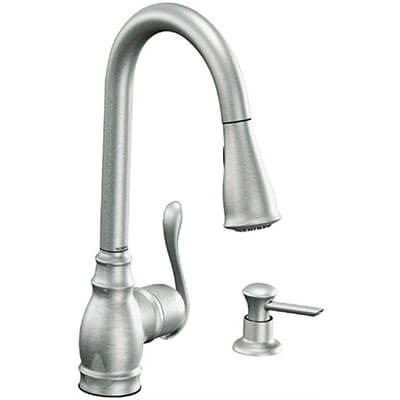 Amazon US
This quaint and classic faucet has a flared design that perfectly matches your classic and elegant decoration. This faucet comes in four finishes, from dark, rich Mediterranean bronze to clean and elegant (and easy to clean) stain-resistant stainless steel. The sprinkler head can be operated with only one hand, and it can be retracted and docked easily and smoothly.
This package comes with a soap dispenser installed in the second mounting hole. The soap dispenser is easy to refill and allows you to keep the soap at hand without messing up your countertop. The faucet is also covered by Moen's limited lifetime warranty. The faucet uses Moen's Durallast ceramic disc technology, which can achieve years of leak-free and drip-free operation.
5. Moen 5923EWSRS Align Motionsense Wave Sensor Touchless One-Handle High Arc Spring Pre-Rinse Pulldown Kitchen Faucet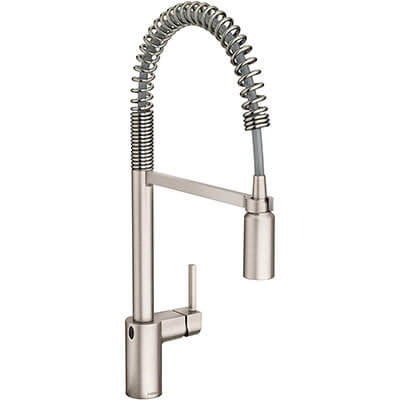 Amazon US
This MotionSense faucet has two sensors that allow you to fully control how the water is used. You can also use a single handle that is easy to control. When using motion sensors, they will automatically premix the water to your specifications and turn it on and off according to your commands. If you forget to turn off the faucet, the faucet will automatically turn off after a few minutes without sensor engagement.
The pull-down kitchen sprinkler adopts a reflection system, which can be quickly retracted and docked. In addition, the sprinkler is easy to operate, and you might think it is predicting your movements. Coupled with the Durallast ceramic disc valve and its smooth dripping and leak-free operation, this MotionSense faucet has a lot to love.
6.
Moen 7294SRS Arbor One-Handle Pullout Kitchen or Laundry Faucet Featuring Power Clean, Spot Resist Stainless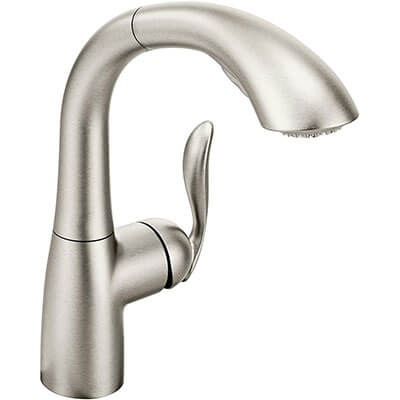 Amazon US
The smooth appearance and unique handle design form the iconic appearance of the series, which can be easily matched with various kitchen decorations.My personal choice of kitchen faucet is always pull-down. I like high radians very much and find the vertical length quite elegant.
However, this does not completely ignore the pull-out faucet. In the small kitchen with limited counter and sink space, compact faucet is certainly the best choice. It also depends on your own preferences for design and usability. Moen Arbor 7294 is not equipped with advanced technology, but it is still a pull-out kitchen faucet with all functions, which can easily simplify your daily kitchen work. Simple and economical.
Final thoughts on Moen
Moen faucets are rated consistently high across almost every collection and model that is offered. For such a large and influential brand, that level of quality is difficult to find in any industry. They have always been on the cutting-edge of innovation and their reputation is excellent. With Moen, you have an excellent opportunity to find the perfect kitchen faucet.