How to Loosen A Stuck Faucet Stem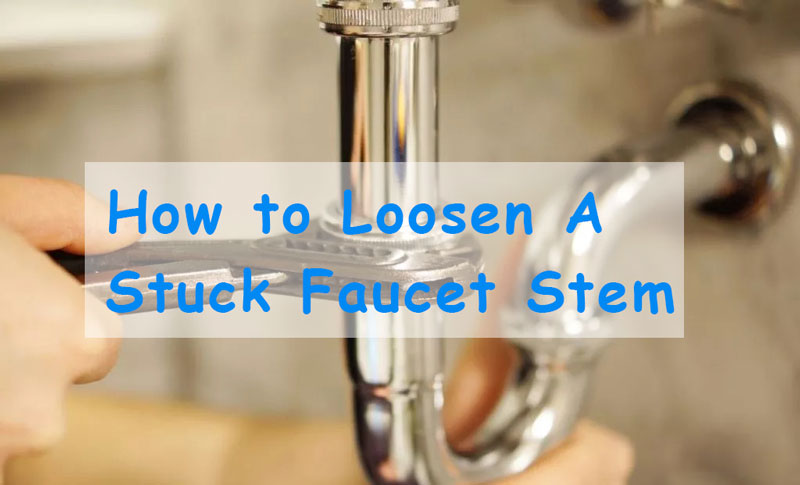 Making a minor repair or replacing a part on a faucet is much easier than it used to be such as fixing a leak kitchen faucet or replacing a shower faucet cartridge. But things don't always go smoothly, especially with older hardware. Sometimes those stubborn bolts won't move, even if you spend a lot of effort. As the saying goes, where there is a will, there is a way. Follow the steps below and try to remove a stuck faucet nut.
Table of Contents
The cause of a stuck faucet stem
Over time, it is inevitated that there are red rust stains at the bottom of your sink or a green substance on your water fixtures. After a long period time of usage, water leaves behind highly corrosive materials like calcium, iron, and magnesium that can block your pipes.
What's worse, the corrosion can damage your pipes causing that severely corroded faucet handles are difficult for anyone to disassemble. Ideally, you can tap the faucet to loosen it, but if not, you will have to take stricter measures.
Required tools to remove a stuck faucet nut
Before loosening a stuck faucet stem, you should prepare the following tools in advance.
Screwdriver
Core puller (faucet stem removal tool)
Pliers (channel locks, needle-nosed, vice grips)
Core puller (faucet stem removal tool)
Allen wrench
Box wrench
Drill and drill bits
½ inch screw extractor
Lubricant like WD40
Detailed steps of loosen a stuck faucet stem
Step 1: Turn off the water
Locate the hot shut-off valve and cold shut-off valve and make sure they are in the closed position. The valve should be at a 90° angle to the direction of the pipeline.
Step 2: Remove the handle
The assembly will depend on the brand and model of your faucet. Please consult the manufacturer or find it online. Normally, the handle will be held down by the bolt. Locate the screw that secures the handle. Use a screwdriver, an Allen key, or a combination of both to loosen the handle. Then try to pull it out with pliers.
Step 3: Remove the stuck faucet nut
Having the proper tools may make all the difference. A core puller is a special tool made just for this job. If you don't have a replacement, it is a relatively inexpensive item you can find online or at your local department store.
Step 4: Disassemble the cartridge
Insert the core removal tool onto the cartridge. Pull it out. Always use slow and steady pressure. If it isn't moving, try twisting it back and forth to get it started. If it still doesn't work, try increasing your leverage. You can do this by making longer levers. The problem with these tools is that they don't work if the cartridge is really stuck. You'd be lucky if that worked on an older faucet. An old rusty stem that has been stuck for years may even break off after you try to remove it with a cartridge puller.
More Info about stuck faucet stem
One of the best ways to loosen rusty bolts is lubrication. Once the rust reaches the thread of the fastener, it cannot be moved. Lubricants like WD-40 not only stop squeaks; It dissolves rust well.
If all other methods fail, this method will certainly fail. You will need to make your own faucet stem removal tool for better grip. The last and only one way is to use a screw extractor. Drill a ½ tap (screw extractor) in the center of the cartridge. Now turn the cartridge with pliers until it comes out slowly. If it does not move, increase the leverage. You can do this in a few different ways. Try to lay a piece of wood flat on the shower surface between you and the cartridge. Use it to slowly pry the filter element out of the valve seat.