Who Owns Delta – About Delta Faucets & Reviews

When it comes to bathroom and kitchen plumbing fixtures, Delta is one of faucet brands that cannot ignore. Delta offers an exclusive lineup of some of the most spectacular designs in kitchen faucets that will redefine the style quotient of your kitchen. In this post, we will introduct to you something about Delta like the features and reviews of Delta faucets, who owns Delta and its history, etc.
A brief introduction of Delta Faucet Company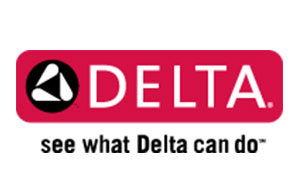 Delta is one of the most popular kitchen faucet brands today. The manufacturer offers a wide range of styles, types and price points, making it easy for almost everyone to afford the upgraded look of the kitchen. Delta has one of the largest collections of kitchen faucets on the market today. Each design of Delta has a mission in mind: to change the feeling that the kitchen faucet brings to you. Their faucets are beautifully designed and supplemented with new technological innovations to make every housework in the kitchen easier to complete.
As one of the top innovators in the industry in America, Delta always aims to use designs that inspire, giving people smarter solutions when it comes to water conservation, energy savings, and a quality of experience beyond what is offered by competing brands. From using apps that integrate your faucet with other devices that help you prepare amazing meals, to improving the way we clean our faucets, Delta offers great products and the support you need to use them to their full advantage.
Who owns Delta and its history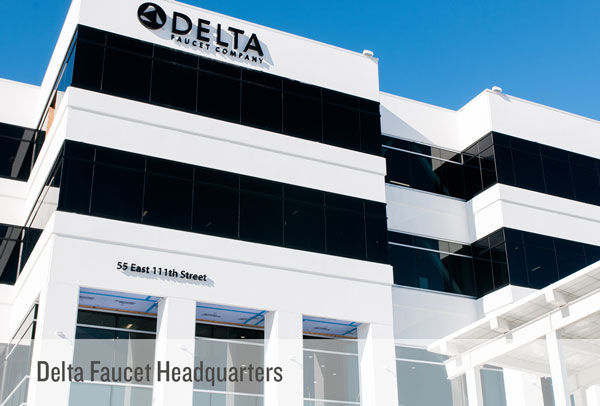 Delta faucet company (delta) is a wholly-owned subsidiary of Masco Corporation, which is one of the world's leading manufacturers of home decoration and construction products. Delta faucet company, founded by Masco Corporation in 1954, launched a single handle faucet. It is a leader in faucet innovation in the United States. It provides a wide range of residential and commercial products and integrates style and innovation into faucets and flushing valves. The company produces Delta ®、 Brizo ® And peerless ® Brand products.
Masco was the largest faucet manufacturer in the world for most of the last 30 years but it may have been overtaken by LIXIL Group Corporation, a Japanese building products conglomerate that has since 2013 purchased the U.S.- based Amer­ican Standard Brands, Inc. and the large German faucet manufacturer Friedrich Grohe & Co. AG , the manufacturer of the Grohe faucet line. Masco and LIXIL are now head-to-head competitors in the North Amer­ican and European faucet markets and it is a toss-up as to which company sells more faucets worldwide. It's not a toss-up in North Amer­ica, however, where Masco is the hands-down winner. Delta sold more faucets in North Amer­ica for more than 50 years than any other faucet company, which has about 30% of the North Amer­ican faucet market.
Features of Delta faucets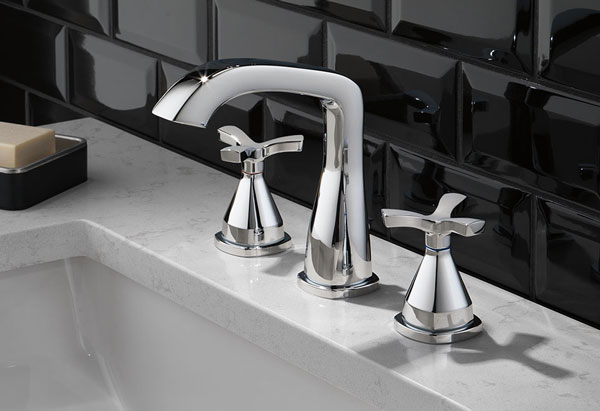 Designs
The Delta brand offers a variety of styles and designs, probably the most selected of all brands, which makes it easy to choose a style that perfectly matches your kitchen decoration. Delta's kitchen faucet series include traditional designs, such as the Leland series; transitional designs, such as Essa; and modern designs, such as Trinsic. You can also find pull-down and pull-out designs.
Finishes
Delta faucets are available in 16 finishes, one of which, Bright Stainless Steel, is not actually an applied finish but the mterial from which the stainless steel faucet is made, polished to a high shine. Delta uses the SpotShield technology, which essentially does the same. It resists water spots and fingerprints. However, in addition, it also provides antimicrobial protection.
Technology
Delta faucets offer both touch and touchless operation. The touch functionality is provided by the Touch2O technology. It makes the faucet's body and handle intuitive to your touch. So if you don't want to spread the dirt from your hands to the faucet, just tap it with the back of your hand and it will get the water going.
Touch2O®
Delta faucet's distinctive landmark technology is the award-winning touch2o ®– Delta's unique touch sensor technology. Delta competed with the familiar motion sensors and began to develop its own technology to provide users with an experience that only delta faucet products can have. With touch2o, our typical chaotic kitchen routine will not be so troublesome. The touch on / off function allows us to control the kitchen faucet, even if our hands are busy holding pottery or deep in the wrist of food.
ShieldSpray
The normal water pressure is usually not strong enough to efficiently rinse off food remnants completely. Now, we could try to improve the pressure a bit, by taking out the aerator, for example. But the stream would be too aggressive, causing more splashing and water wastage. With Delta's ShieldSpray, all of the mentioned are taken care of. The single concentrated stream of water is immensely increased in pressure with the same amount of water, letting us force even the toughest foods off the dishes. And splatter won't be a concern anymore with the water shield surrounding the targeted cleaning zone.
SpotShield®
SpotShield ® Surface treated products can not only resist unnecessary traces, but also prevent microbial growth, so as to prevent the generation of uninvited unpleasant smell.
Delta faucets reviews
1. DELTA Essa Black Kitchen Faucet with Pull Down Sprayer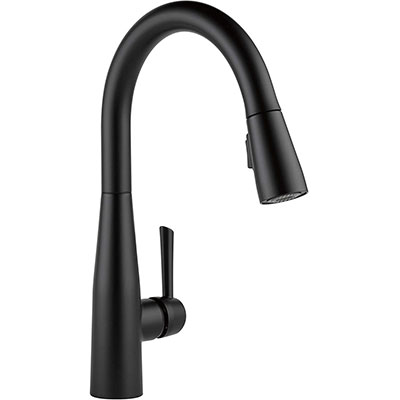 For a more modern style, the single handle and simple appearance of the essa line is the way to go. This design will not only attract your attention and become the talk capital of jealous friends and family, but also provide reliable operation for decades.
DST and integrated supply line provide you with seamless, leak proof, durability and smooth DIY installation. Magnite docking is standard for all pull-down faucets. It is equipped with a temperature control handle to keep non-contact operation active and will not drain the battery. The best pull-down kitchen faucet is probably Essa, with a simple and easy to use sprayer, high radiant design and simple beauty. Almost no one can match it.
2. DELTA Faucet Leland Single-Handle Touch Kitchen Sink Faucet with Pull Down Sprayer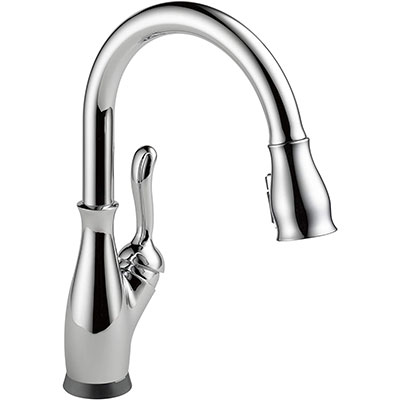 Leland's one hand touch in the Touch2o series throws all the problems about touching the faucet with dirty hands out of the window. The unique touch2o technology allows you to touch the faucet with your wrist or forearm to start or stop the water flow. The tempsense led on the faucet indicates the water temperature by changing the color so that you can know it at any time.
The Magnitite docking system of the fixture adopts excellent magnetic technology, and the kitchen sprayer is stuck in place to maintain its safe docking. Diamond sealing technology can prevent leakage and its service life is twice that of standard industrial faucet materials.
The advantage of this tap is our shield spray technology, which ensures that sharp spray penetrates stubborn stains and provides anti splash protection balls. This helps you stay dry while cleaning and reduces the average splash generated by standard faucets by about 90%.
3. DELTA Trinsic Pro Single-Handle Spring Spout Touch Kitchen Sink Faucet with Pull Down Sprayer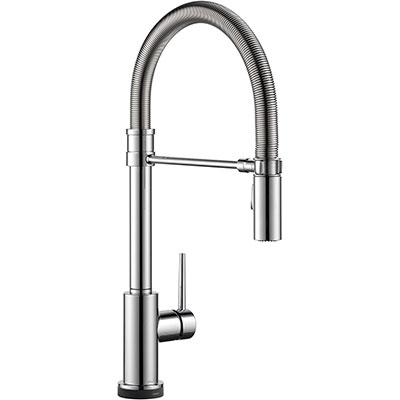 Trinsic Pro is one of the best commercial kitchen faucets on the market. This faucet uses MagnaTite for docking to hold the drop-down sprinkler in place when not in use. The magnetic system prevents sagging, and since there are no clamps to wear out, the nozzle will be as safe as the first day. The nozzle is 20 inches from the nozzle, so you can reach and clean where you need it. The faucet can also be rotated 360 degrees, so if you need extra space, it is there.
The single handle uses Diamond Seal technology, and each ink cartridge can provide you with more than one million cycles. The diamond-inlaid ceramic disc valve ensures the reduction of leakage point stress and the elimination of hard water accumulation. The print head provides two different options, which can be selected by the switch on the print head. You can choose an aerated flow to quickly fill a jar or pitcher, or choose a powerful spray to quickly clean and rinse other items. This faucet is backed by Delta's limited lifetime warranty, so you can rest easy when using it at home.
4. Delta Faucet Cassidy Single-Handle Kitchen Sink Faucet with Pull Out Sprayer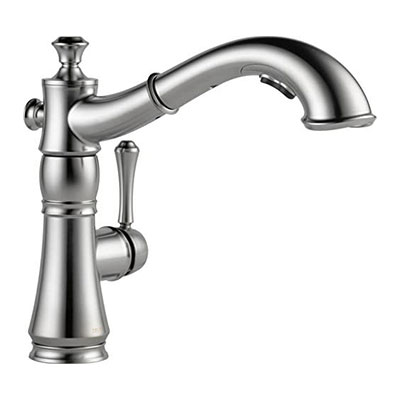 This faucet has a variety of colors. The colors they made for this model were Arctic stainless steel, champagne bronze, chrome and Venetian bronze. With 1-hole or 3-hole 8-inch mounting options, customers can plan their preferred installation in advance. It has a pull-out spout with multiple functions, and the faucet itself can be rotated 120 degrees, providing you with enough space to complete urgent tasks, and the faucet will not hinder you. The spout is 10 11/16 inches long and 10 11/16 inches high, with a unique style.
This is indeed the largest faucet on the list, with the best design of a Delta kitchen faucet. It lacks the iconic Delta MagnaTite docking feature, but there is a way to install it for savvy users who want technology. Sometimes, for kitchen faucets and Cassidy, aesthetics is everything, and this is definitely the case.
5. DELTA Spargo Single-Handle Kitchen Sink Faucet with Pull Down Sprayer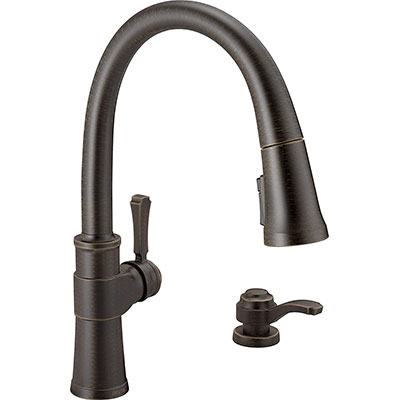 Delta faucet Spargo kitchen faucet with bronze finish and plug installed on the deck, stylish appearance, durable, high-quality seal can reduce possible leakage points.
Its packaging is equipped with all the necessary equipment to make your installation process easy, and in most cases, the most interesting thing in the kitchen faucet is the strong spray with the least splash. The magnetic anchor holds the kitchen sprayer in place without falling. This Venetian bronze and classic style faucet is the guarantee of a lifetime commitment.
Final thoughts on Delta faucets
Moen provided the cornerstone for the construction of a wonderful kitchen and bathroom. Not only do they produce world-class kitchen faucets, but all the other components and hardware you might need are also easily available. You will find several types of faucets, filter faucets , garbage disposers, and all modern accessories, which allow you to easily complete your work in the sink.