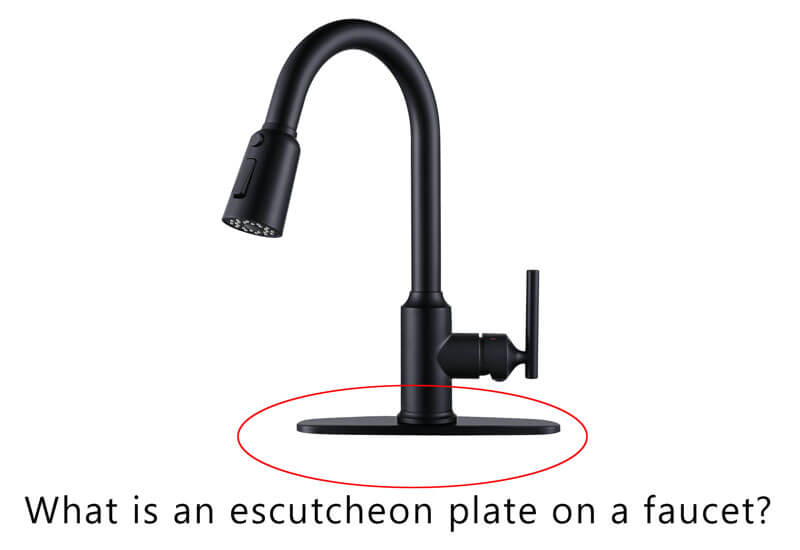 When you purchase a faucet, there's always an escutcheon plate as an accessory. I think we have the same question: what is an escutcheon plate on a faucet exactly and what is the use of it? In this article, we will show you what an escutcheon plate on a faucet is and its sort and how to choose the right one.
What is an escutcheon on a faucet
Generally speaking, an escutcheon plate on a faucet is a metal plate surrounding its base, which covers the gap between the faucet base and the sink. Usually, it is also called a deck plate or flange. Its main purpose is to provide a neat appearance for the installation.
An escutcheon plate on a faucet comes in various styles and finishes. Therefore, it can be confusing to know the various options that exist when trying to choose the right option. So, let's take a look at some of the available options and how to choose the right escutcheons for faucets.
Types of Escutcheons on a faucet
There are many kinds of escutcheons for faucets including escutcheons ring, deck plate and remodellers' plate. Each of them can provide a clean and suitable finish in its own way. For example, the escutcheon ring can cover the gap around the hole and  faucet. Moreover, the deck plate provides a firm foundation and covers unused holes. In addition, the remodellers' plate hides large holes for repairing leaks or faucet valves. Although escutcheons come in various shapes and sizes, they all play the same role –  make the installation look neat and clean.
Escutcheon Rings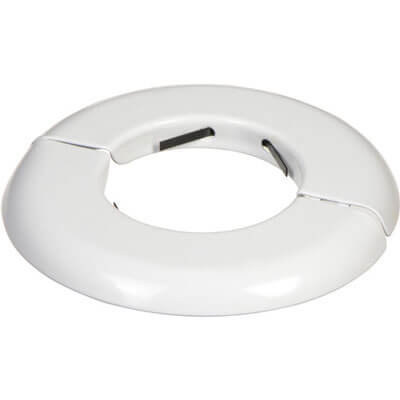 Escutcheon rings is usually located at the bottom of faucet. It provides a beautiful and clean finishing touch to the entire fixture. Based on the model, some fixtures may don't need their decoration. Although rare, they have become an important part in completing the installation of a faucet.
Deck Plates

Deck plates are also called cover plates or escutcheon plates. They are located at the bottom of the faucet and cover all unused holes, making the installation look clean and tidy. As you can see, they have a variety of configurations that can meet the needs of almost all types of remodelers. Or rather, from no-hole to three-hole hide. They also come in round or square shape with a variety of finishes to suit almost any faucet installation. Meanwhile, some deck plates are made for specific types of faucets. Therefore, it is important to find out whether a particular deck plate matches the sink and faucet combination or not.
Remodelers' Plate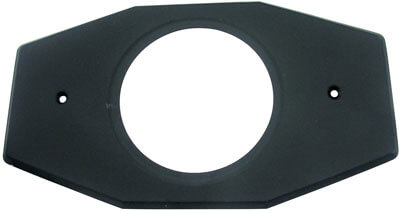 Remodeller's plate is often called retrofit plate or smitty plate. Unlike other types, these plates hide the large holes of the faucet valve. Or, a large hole is needed to repair the leak or valve. Nonetheless, it proved to be a cost-effective alternative to refurbishing walls.
Choosing the right escutcheon for your faucet
Almost all new faucets are equipped with one escutcheon plate at least. If the provided board is not suitable for a particular installation, you can replace it. They are inexpensive and can be used in almost all types of faucet-sink configurations.
Suppose you have a sink made for a centerset faucet, and you decide to buy a single-hole deck mount type faucet. Now you need a deck plate that is long enough to cover the unused holes and keep the faucet stable and tiny.
The escutcheon plates may look old and rusty as time goes by. Although you can try to clean it with vinegar or solvent, it would be better to buy a new one. Similarly, please make sure that the size and shape you purchase are suitable for your installation.
Since they come in various sizes and finishes, make sure you have a product with the same finish as the faucet. In other words, if your faucet has a brushed nickel finish, make sure that your escutcheon also has the same finish.
4 ways to cover a sink hole without an escutcheon
The easiest and most cost-effective way to close the sink hole is to use an escutcheon or sink hole cover. However, there are other innovative and functional methods to cover the sink hole as follows:
1. In counter soap dispenser
An in-counter soap dispenser is a practical way of closing the sink hole. You can get one where you refill from the top so that you don't have to crawl under the sink every time the soap runs out. Also, they come in various finishes such as chrome or brushed nickel so that you can match your faucet.
2. Instant hot water dispenser
An instant hot water dispenser is another slick option. They come with stainless steal finishes and can deliver up to about 60 cups per hour of steaming hot water. Also, the temperature is adjustable from around 160 to 210 degrees Fahrenheit. Moreover, you can use it to make hot coffee or tea, warm baby bottles, and clean dishes.
3. Water filtration unit
You can use a water filtration unit to cover the sink hole. This would be a useful and healthy choice. By installing one, you can enjoy a steady stream of clean and healthy bpa-free drinking water. And, they provide protection from over 58 contaminants found in drinking water. Some of them include sediments, chlorine taste and oder, cysts, lead, and chemicals. And, they come in various finishes too. Furthermore, they are a cheaper alternative to buying bottled water.
4. Garbage disposal switch
The switch to your garbage disposal unit can take the place of the hole. To set it up, you will need an Air Switch Kit. The mechanism is quite simple. All you have to do is to plug the Air Switch Kit to the wall outlet underneath your sink. And, plug your garbage disposal into the air switch and viola. Also, they come in various finishes too so you don't have to worry about a mismatch either.