The 10 Best Oil Rubbed Bronze Kitchen Faucets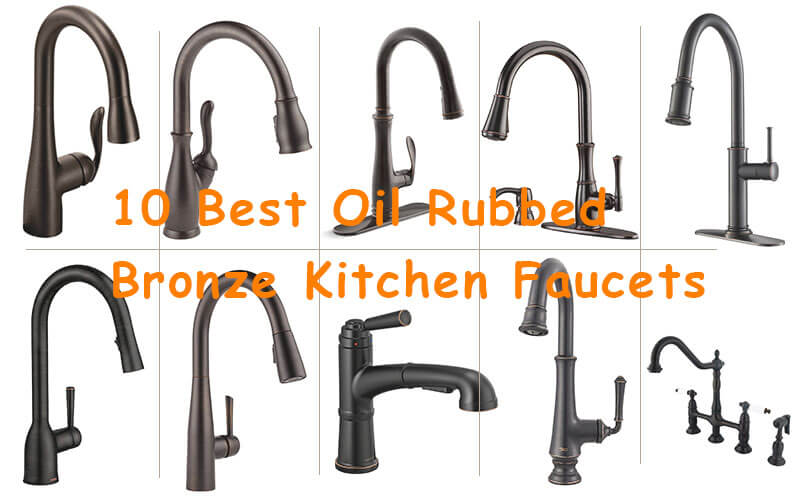 Every home needs a certain amount of aesthetics to make it feel alive. Vibrant colors and personal touches go a long way to improving the mood of any room or series of rooms in a house. Some rooms are easier to improve than others. Living rooms, bedrooms, dining rooms; they all serve a single important function but can be renovated and improved around that concept as well.
The kitchen is where we make and manage our food. As such, there are requirements to designing or redesigning a good kitchen. It needs countertop space, a stove, a fridge, and somewhere clean. The Sink is a central fixture in all kitchens, but it's often overlooked or underutilized. A sink can be not just a great tool for cleaning food, hands and giving quick access to enough water to fill a family soup pot, it can also look good doing all of that.
A properly curated sink faucet can liven up a kitchen and any room connected to it. It draws positive attention to a highly utile area of the kitchen and makes up for the unavoidable faults in aesthetic design. The sink basin will pretty much always be stainless steel, part of the purpose of a kitchen sink is to do heavy duty washing with thick, stain-prone materials. It also needs to be big, which creates a lot of empty space when there aren't dishes stacked up in it. Those require a sink to be powerful, too. A trickle of water isn't enough, it needs to have a strong flow to keep up with kitchen duties.
This list covers 10 top brand, affordable and unique kitchen faucets that can cover all the criteria above. They work good, cost good and look good to complement a whole house's design focused down to a single point. If you want a better looking kitchen, upgrade your metal knob for something more artisanal and fine.
1. Moen Kitchen Arbor One Handle Pulldown High Arc Pulldown Bar Faucet with Reflex, Oil Rubbed Bronze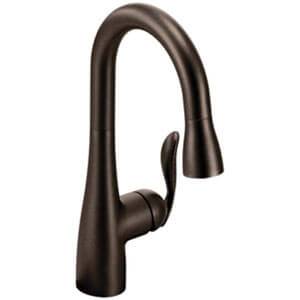 Moen Kitchen offers a minimalist, sweeping design of a nearly continuous angled-down faucet for direct vertical pour with a simple appearance. The oil rubbed bronze finish gives it a rustic feel, but not a rusty one. As opposed to a steel or chrome-plated design, this gives it a weighty dark color that can bring a room together.
The faucet head is equipped with a hose which can be pulled out to reach any angle inside the sink. It rotates a full 360 degrees for up to 68 inches. Once done, the hose will retract automatically to the starting position leaving the same nearly creaseless design intact. It's minimalist but highly efficient.
The handle operates all water, hot to cold, from front to back as well as the pressure of the water which can total up to 1.5 gallons per minute. An overall splendid faucet in both usefulness and aesthetic design, good for kitchens with a dark color scheme and large sinks for cleaning out large pots and containers with its any-angle faucet hose.
2. DELTA Leland Single-Handle Kitchen Sink Faucet with Pull Down Sprayer, ShieldSpray Technology and Magnetic Docking Spray Head, Venetian Bronze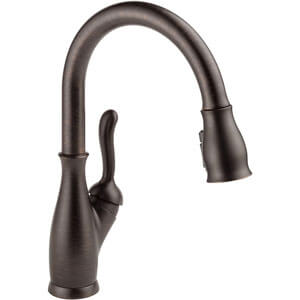 Very similar to the Moen design but with a number of DELTA brand accessories available that all share the same dark Venetian bronze oil rubbed finish. These can create a whole suite of aesthetic, useful tools built directly into the sink counter to enhance visibility from a distance.
The spray head can detach and has visible button-press grips that control the nozzle strength and angle. When finished, the head can snap back into place using magnetic strips to line it up perfectly. No bunched up hose to cut off the water flow, it all gets funneled right where it needs to go.
Favorite accessories that go along with this design are the Delta Soap Dispenser and Air Gap, each of which can be installed alongside the sink for a full Venetian Bronze assembly at your kitchenside. The single-lever action of the Delta faucet gives you full control in two hands, one to aim the faucet and one to manage the water.
3. KOHLER Bellera Pull Down Kitchen Faucet, Kitchen Sink Faucet with Pull Down Sprayer, 3-Spray Faucet, Oil-Rubbed Bronze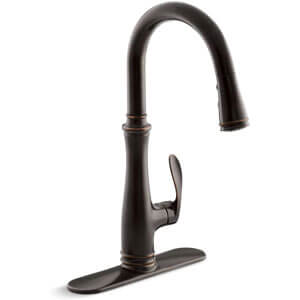 When you thought bronze finish couldn't go darker, there happens to be one that's just dark enough to fit in and stand out. The Mediterranean Bronze finish on the Moen Adler model is close to a matte black but still carries a metallic sheen of excellence, which is complimented by the ring patterned bronze highlights that trace around the faucet from the base to the nozzle.
The retractable Reflex system has a decent reach for getting into hard to cover angles and two modes. The standard stream for soaking and glass filling and the enhanced Power setting for a directed jet of high pressure water to scrape any residue off of even the most stubborn pots and pans.
It features a simple pull-and-tilt handle to activate the water and a forward-backward tracking motion to adjust the temperature. The main hose grip of the nozzle is extra long to fit any size of hand from dainty to hefty so everyone can get cleaning when the cleaning needs done.
4. Pfister Wheaton 1-Handle Pull-Down Kitchen Faucet with Soap Dispenser, Tuscan Bronze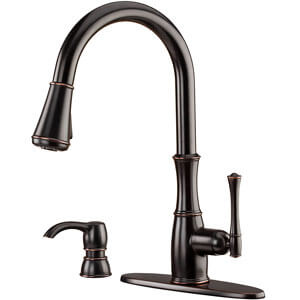 Another unique blend of classical design with modern sensibility. The Pfister faucet comes with a soap dispenser as an attachment, not an option, which pairs well with the ring-segment look. The Tuscan Bronze leaves it a shade darker than standard oil-rubbed finishes, lending it a more powerful presence, fitting of a powerful faucet.
The lever is a far more simple crank design. It doesn't flow into the rest of the design but sticks out much like an old valve would from an early steam-engine pipe. This is what gives it an authentic look around the base. Then, the rounded design of the main stem balances it out and gives a comfortably high lift over the sink area.
The Pfister faucet is ideal for sinks that handle a lot of food. Straining salads or filling pots is easy with the default water stream mode but finer detail work can be down with the showerhead spray mode, both of which are available from an underhand squeeze-grip that can change with just a press.
5. Kraus Sellette Single Handle Pull Down Kitchen Faucet with Dual Function Sprayhead, 17.63, Oil Rubbed Bronze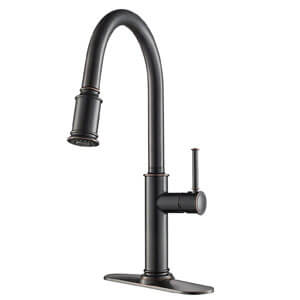 If you want a lot of style for not as much money, the Kraus Sellette faucet will fit right at home. The Oil-Rubbed Bronze finish makes it stand out especially well in bright areas, adding a very dark sheen to the area. The spout height stands out at 8.5 inches, a fair medium compared to other competitors.
The nozzle can swap between a stream mode and a spray mode and features easy to clean rubber nozzle holes. These are less likely to bunch up or clog with residue from the inside. All you have to do to clean them is give them a nudge and a half-power faucet will spray as good as new.
It's easy to use and easy to manage. The ceramic cartridge guarantees a leak-free lifelong performance and can be fitted over one or three holes to replace an old fashioned faucet with dual temperature knob controls. This is a one lever, slim and sturdy faucet option for a good kitchen.
6. Kingston Brass Heritage Kitchen Faucet with Brass Sprayer, 8-3/4-Inch, Oil Rubbed Bronze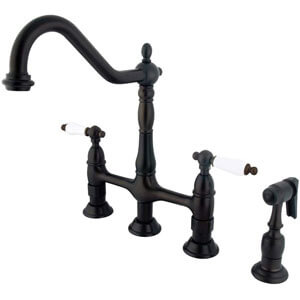 There's nothing like a classic, solid brass turn-of-the-century inspiration to class up a kitchen with an old fashioned looking, new technology driven faucet. Kingston Heritage Kitchen is all about evoking feeling with fixtures, turning them into compliments to the home without compromising their utility. This is a simple sink with a unique and fascinating design.
It's a two-lever design, one on either side of the faucet which itself is linked together – looking like a very old-style traditional well pump, which sticks out straight and then curves upward to give the water an almost vertical drop with a 10 inch clearance from the basin.
Also included is a detachable cable-fed sprayer to compensate for the faucet's mobility. The faucet can swivel, but is made of hard metal and there was no room to include a detachable nozzle. That was put onto the side, and it matches the same old-time aesthetic as the main faucet base. You can get a full complement of matching designs inspired by a an ageless design to bring class and decorum to your kitchen to wash your dishes in style.
7. American Standard 4279410.278 Delancey Pull-Down Bar Lb, Legacy Bronze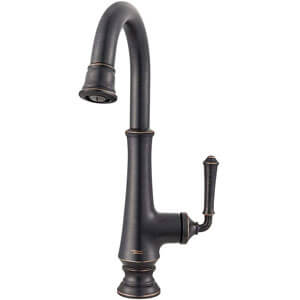 This is a classic design raised to a new height – literally. The elevated spout stays above the spigot line to give maximum space underneath to work with pots, pans, or wash food and hands to stay clean and sanitary. It's the classic bar style faucet with a simple pull-down lever handle.
Despite the downward facing nozzle, it's been specially constructed to stay shut when the water is off, guaranteeing a drip-free performance. Even the finish is guaranteed to last, or your money back and a replacement will be on its way to enjoy an uninterrupted series of similar designs.
The faucet features a Memory Positioning Valve which opens and closes at any temperature, making it easy to switch on and off or change between temperatures for repetitive, necessary cleaning tasks. The Legacy Bronze finish is darker than normal, giving it a sleek and humble presence. It's there to tie all the attention together, not hog it for itself, a highly cooperative piece for a kitchen with matching sleek and simple aesthetics.
8. Moen 87233BRB Adler One-Handle High Arc Pulldown Kitchen Faucet with Power Clean, Mediterranean Bronze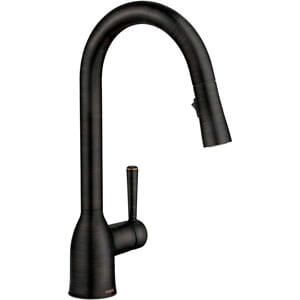 When you thought bronze finish couldn't go darker, there happens to be one that's just dark enough to fit in and stand out. The Mediterranean Bronze finish on the Moen Adler model is close to a matte black but still carries a metallic sheen of excellence, which is complimented by the ring patterned bronze highlights that trace around the faucet from the base to the nozzle.
The retractable Reflex system has a decent reach for getting into hard to cover angles and two modes. The standard stream for soaking and glass filling and the enhanced Power setting for a directed jet of high pressure water to scrape any residue off of even the most stubborn pots and pans.
It features a simple pull-and-tilt handle to activate the water and a forward-backward tracking motion to adjust the temperature. The main hose grip of the nozzle is extra long to fit any size of hand from dainty to hefty so everyone can get cleaning when the cleaning needs done.
9. DELTA Essa Single-Handle Kitchen Sink Faucet with Pull Down Sprayer and Magnetic Docking Spray Head, Venetian Bronze 9113-RB-DST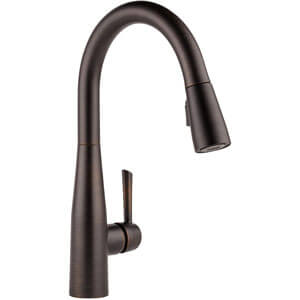 This is an advanced model in the Delta line. The Essa has been manufactured and fitted with Diamond Seal Technology. This isn't made of real diamonds, the name simply regards to what matches it in hardness. The valve eliminates wear on the seals and extends the life of the faucet indefinitely. Also included is the Innoflex PEX supply lines. Even if one thing leaks, the lines that go under the sink will not, ensuring a zero chance of secret leakage behind the walls.
It's a faucet designed for safety disguised behind a very sleek, Venetian Bronze simplicity. With minimal moving parts it almost looks like it's a voice or touch activated. These are, in fact, extra features that the faucet can come equipped with, so if you want to adjust temperature with a verbal command and have a conversation with your sink, you can.
The rest of its features are standard for its brand. One lever, pull-tilt, and an extendable faucet hose with a MagnaTite Docking magnetic lock to keep the nozzle in place for static angles. It comes ready to install, no professionals required, into any one to three-hole sink setup, and has optional accessories not included but advised.
10. Peerless Westchester Single-Handle Pull Out Kitchen Faucet with Pull Out Sprayer, Oil-Rubbed Bronze P6923LF-OB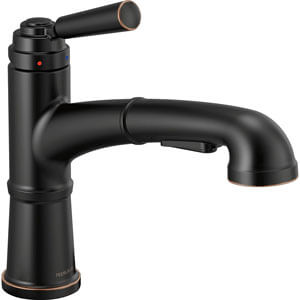 A combination of both a timeless design and modern flair, the Peerless Westchester brings back the old familiar fixture with all the advantages of the modern edge. This isn't a stand-up design, it's the unmistakable hangover with a short, 90-degree angled nozzle pointing straight down. The lever manning the valve is horizontal over the top of the faucet, left for hot and right for cold, then just push up and watch it jet out.
The oil-rubbed bronze finish makes it look like it belongs in a Tesla. It's fine black finish wraps around the joints and merges them together into a seamless entity, up to the lever up top and the detachable hose-fed nozzle. This turns it into an all-purpose stream scrubber which can cover any angle with its low profile an angular design. No need to bend the wrist to get up and around unseen corners of a complex piece of kitchenware.
Buyer's Guide
A faucet is more than just a simple water spout. It can be a centerpiece for your kitchen or a distracting aside in the wrong environment. You need it to work for you while also looking good when it's doing nothing. There are plenty of factors at play that go into deciding the right faucet and there are as many answers as there are individual kitchens. If you still aren't sure which faucet will be right for your kitchen, consider this list of ideas and work through them to determine what brand and type will fit best for your lifestyle and your aesthetic choices.
Budget
Kitchen faucets are priced for their quality and long lasting guarantees. You have to expect to spend a fair amount on a good one that will match its surroundings and still not be lacking on the waterpower. The models listed above range from $150 to $300, some can cost more than that as well. You have to consider it an investment, especially if its replacing a faucet that hasn't been getting the job done with enough pressure for a while. Another price to pay attention to will be your water bill, to see which faucet can save you the most per use.
Style
Pick one that will compliment your kitchen in terms of its presence. Which one looks best isn't down to only color, it also applies to the shape it leaves over the sink as well as the shape it adds to the sink counter itself. Picture your ideal kitchen and the sink that will go with it. Work down from a perfect vision and find one that looks just right.
Installation Procedure
Do you know how many ports there are in your kitchen faucet? Many sinks can fit from one to three holes, but if your sink counter has more they may remain exposed. Oil rubbed bronze is also quite heavy. Some sinks can weigh seven pounds or more. They all come with installation instructions, but you can reach out and hire a professional if you need the assistance.
Touchless Or Not?
If you are looking to integrate new technology or build up a smart house, you can get a touchless model. These can be activated by infrared which detects motion or can be activated by vocal commands. Either way, you won't have to touch a lever or knob again, but they will increase the budget.
Brands
When shopping around, certain companies will have much more of an established presence in their industry than others. These are four of the top brands for kitchen fixtures and make excellent oil rubbed bronze faucets.
Delta
An American company focused on long lasting products using high-quality materials for residential and commercial kitchens. They have classical designs with antique bronze manufacturing methods as well as modern models that capture the same old school style.
Kohler
A German manufacturer that puts a focus on eco-friendly efforts with water conserving features and leak-proof guarantees. They have a wide range of availability in terms of prices and all come with lifetime warranties.
Moen
Moen has the most options for oil rubbed bronze finishes on their products and range from commercial pull-down dishwasher faucets to more simple lever-operated personal sink faucets. They keep aesthetics as a primary focus as well as quality so that anyone can get a good-looking faucet that is capable of great results.
American Standard
A company that has withstood the test of time for 140 years by offering high quality house fixtures focused on health, safety and quality products. They are all about bringing relaxation and comfort into homes through superior quality products based on a legacy branding.
Types
Before you settle on a design or a brand, you should determine what kind of sink fits your lifestyle best. In the end, as a fixture, its purpose is to provide a utility to your kitchen. It has to work well, and you have to like how it works if you plan on using it every day.
Pull-Down And Pull-Out
It's a somewhat new feature to combine the any-angle hose attachment directly to the faucet. These designs are more common in commercial kitchens where the high powered nozzle can extend and retract to cover larger pots and pans or spray across many dishes in a row. The reduced design for residential use still has the same benefits but is compact and sleek, meant to fit into the modern kitchen in appearance and in function.
Single-Handle And Double-Handle
These are compressed and simple in design. There's just one lever that can be pulled in multiple directions to control how much water comes out and what temperature it is. Some levers are as simple as on or off in either direction, others include a tilt to control water pressure with direction controlling temperature. Double handles have the water pressure tied directly to the temperature with one side forcing cold water out and the other side forcing hot.
Touchless
Touchless faucets are most common in commercial bathrooms, but the same innovation can be brought to regular homes as well. It removes one step from the process of running water, which is to touch something. It's ideal if you work with a lot of raw ingredients and don't want to leave residue behind when turning on the water to wash your hands clean. It is more expensive because it integrates higher technology than a simple mechanical valve, and always acts on a slight delay turning itself on or off at your signal.
Commercial
If you cook like a pro you might appreciate cleaning power like a pro as well and opt for a commercial model of a well designed faucet. These also come in varieties of finishes, including oil rubbed bronze, but have much higher water pressure and usage associated with cleaning all day, every day. If a regular stream isn't enough, you can spring for the extra power and soak everything down the way they do in the backroom of your favorite restaurant.
Conclusion
Everyone wants a home to look good and every kitchen needs a strong, working, multi-use sink. There's no need to compromise a unified sense of fashion and taste just for a piece of utility when so many manufacturers are capable of delivering both. All these faucets can be manually installed and hooked up with little effort to replace whatever faucet you're tired of seeing right now.
Oil-Rubbed Bronze is a timeless aesthetic that fits with every kitchen. It produces a blending act combining natural shadows with solid form and function, turning even unlit spots of a kitchen into something worth looking at. Add to that the versatility, the options and the solid construction of high grade material, there are no losers in this list, only winners waiting to be used.