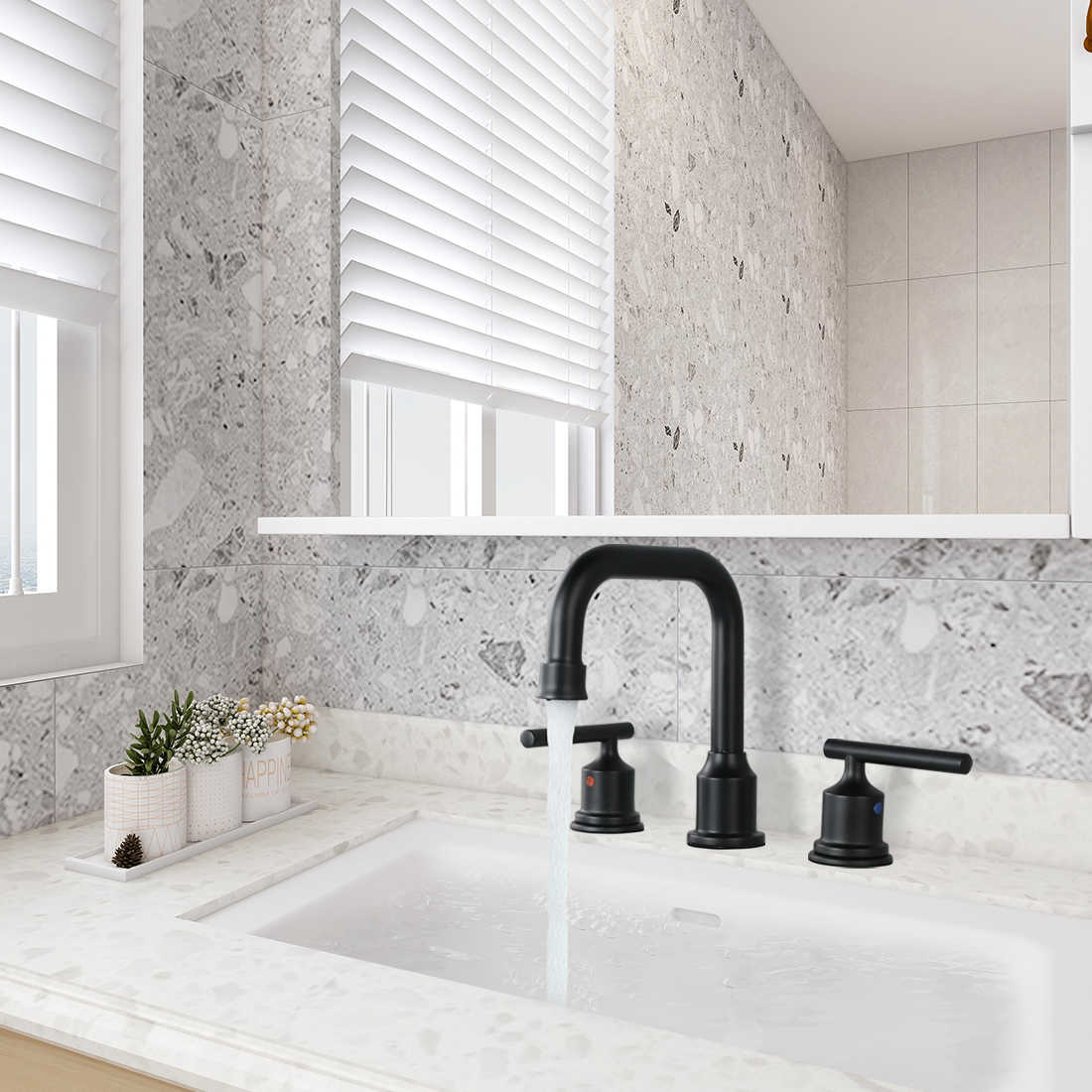 While most people wouldn't likely pay much attention to it the world of faucets is more thorough than most people would assume at first. You have likely noticed that different homes or even different rooms in your house have different types of faucets. Let's take a brief look at them before moving with the main topic:
By far the most common one is the ball faucet, a type of faucet that has a single lever on the top to release water. Simple and effective we can find it in most sinks and modern houses, and it's called ball faucet due to the way the lever is attached to the main body of the faucet.
A cartridge faucet can be identified by it's two handles. And gets it's name from a movable cartridge on it's main body that helps control the flow of water. Cartridge faucets largely tend to take more space than their counterparts, a point we will go back to in a bit.
A compression faucet is quite possibly the oldest model you are likely to find in these days. Compression faucets are most commonly found at sinks and in older homes. And are recognizable due to the tight lever one has to spin to open and close the faucet.
The disc faucet is one of the newest models in general. It uses a single ceramic body not unlike the ball faucet and also uses a single handle. Cold and hot water are mixed inside the main body and by switching the handle from side to side users can choose the temperature of the flow.
However while those classifications are the most relevant and should always be taken into consideration when you want to replace your faucet. They are mostly related to function, these categories let us know how a faucet works on the inside, but don't take into consideration the installation process and that's where things change a bit.
So,what is a widespread faucet after all?
A widespread bathroom faucet can be best defined based on how they have to be installed and this goes to a factor that most home owners probably can't' see or haven't paid that must attention to. And by that we mean the distance between the mounting holes. If you've paid attention to the inner working of your sink you might have noticed that a series of cables go below your faucet and through the ceramic of your sink. In smaller faucets the distance between these is rarely more than 4 inches, and all the parts are generally close to each other. However in a bathroom faucet 8 inch or beyond is the common measurement.
Largely speaking this does not affect functionality; a widespread bathroom faucet will work as well as any other model or a lesser spread faucet. The difference largely lies in aesthetics. A widespread faucet allows for the handles and main cylinder to have more space between each other, and in some cases to be completely independent parts. This spacious design makes for a look people often consider more elegant. And in large bathrooms with a focus on design they are often preferred on virtue of looks.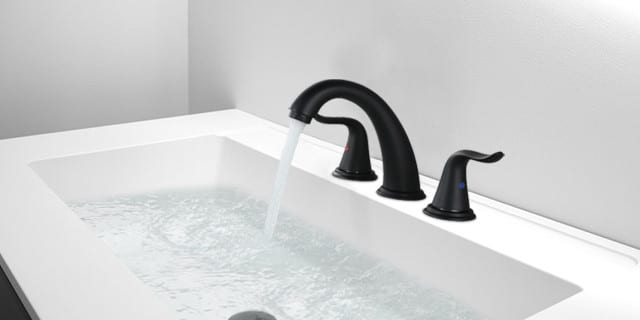 How can I tell what kind of faucet I have?
Largely this comes to sight and some simple measuring. As we said before the main difference between a widespread faucet and their smaller counterparts is just the distance and size of the mounting. So if you have a model where the handles and main faucet have a lot of space between each other or are even separated chances are you have a widespread bathroom faucet. Most experts can recognize it with a single photo, so asking online or to a local shop can easily clear up any doubts you might have.
Are the different models interchangeable?
They somewhat are. Generally speaking with enough modification and the right parts any sink can be adapted for any model of faucet, so in a sense you could say they are interchangeable. However a large part of the installation comes down to the holes in the ceramic sink, so some refurbishing might be necessary to complete the adaptation to a widespread faucet.
That said the process is rather straightforward and hassle free. And most clients agree that the wider design and it's accompanying elegance are a worthwhile investment. So if you are interested in getting a widespread faucet rest assured that it can be done easily and at little to no extra cost. As with all matters, the main effort is to choose a design you like and feel comfortable with on the long run.
Where can I find the best widespread bathroom faucet?
If you are looking for a widespread bathroom faucet and still don't know where to look, there's no need to look any further than wowowfaucet.com. WOWOW counts with the best selections of faucets both for kitchen, bathroom and beyond. With some of the best prices in the market and a selection of offers and coupons that can help you save even more on any purchase you make with them.
If you are interested in their bathroom faucets black is definitely one of the colors to go for. Their signature jet black color stands out in any bathroom composition or design. With a matte and textured look that just speaks for itself and elegantly combines with any design in the market. They are also available in multiple sizes so any client can find the right one for them. For those who already have a widespread faucet or are looking to change into one we strongly recommend the Double Handle Bathroom Faucet in Black for 8 Inches. The simple and elegant design coupled with the astonishing color makes it one of the most distinctive faucets any sink can aspire for.
However if what you are looking for is discount bathroom faucets you are also at the right place. Check their promotions tab to find the hottest deals currently available and choose your favorite amongst them. Or see their available coupons and add that discount to any model you already like. Saving and looking elegant go hand in hand at WOWOW and for that we can't recommend them enough.
For more information into their current line-up make sure to visit them at:
https://www.wowowfaucet.com/product-category/bathroom-faucets/