What is A Waterfall Faucet – Everything about Waterfall Faucet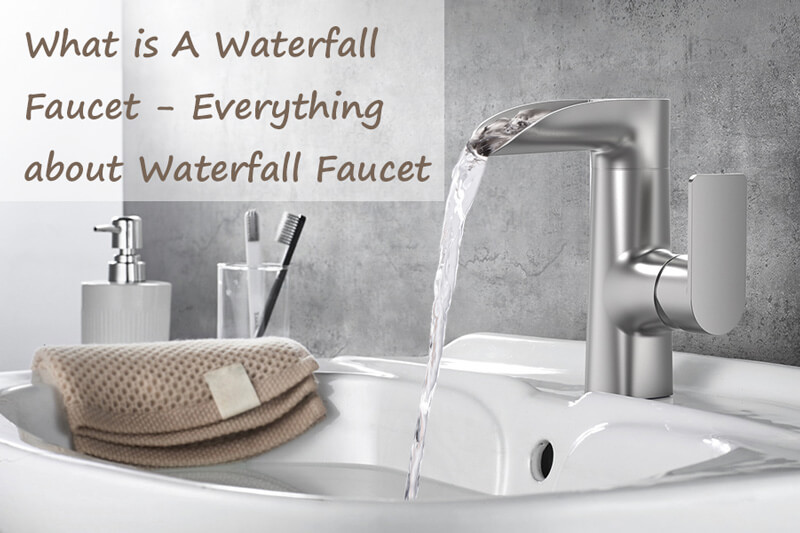 What is a waterfall faucet
The traditional faucet pushes water out of the inflation hole, resulting in some unnatural movement of water. What is a waterfall faucet? Waterfall faucet is a fixed device designed to replicate the falling motion and let water flow naturally, which is both soothing to the eyes and to the ears. f you're looking to give your bathroom a spa-like feel, springing for one of these bathroom fixtures will automatically lend an aura of serenity and beauty to your home.
Pros and cons of waterfall faucet
There are a few pros and cons to think about when looking at upgrading your bathroom with a waterfall faucet. Here lists the pros and cons of waterfall faucet for references.
Pros of water faucet
It looks gorgeous
Undeniably, its visual appeal is the best feature of the waterfall faucet. Generally speaking, the waterfall faucet has a simple appearance and a stylish and clean appearance, which is very suitable for our modern bathroom. The exquisite appearance of the waterfall faucet can easily enhance the charm of your bathroom.
The sound of relaxation
The bathroom is an ideal place to relax from the hustle and bustle of daily life. In addition to appearance, it is also found that the soothing sound of water can reduce stress and keep you in a relaxed mood.
Available design options
If you want to transform your bathroom into an amazing oasis with a specific design in mind, you will not be disappointed by the number of design options to choose from.
Cons of waterfall faucet
Expensive
A well-designed waterfall faucet will be much more expensive than an ordinary traditional faucet. The best waterfall faucets will belong to high-end luxury bathroom brands.
Corrosion and mold issues
Since the water pressure of the waterfall faucet is significantly reduced, there is a higher possibility of water accumulating in the sink or sticking to the faucet. Since the spout is generally wider and flatter, water can accumulate and stay on the surface, causing mold and corrosion.
Tricky installation
Gener ally speaking, installing a waterfall faucet is the same as installing a traditional faucet. However, you definitely want to look carefully at the rubber seals, caulking and threads between the connections. Because the water flow is slower and more stagnant, the leaks you see are more likely.
Are Waterfall Faucets out of style                      
Absolutely no! There are many different designs to choose from when it comes to picking the right waterfall faucet. There are many different types that will fit with your aesthetic, no matter what it is. So waterfall faucet is an excellent way to lend your bathroom an air of sophistication and style.
How to clean waterfall faucet
To clean the kitchen faucet, all you need is distilled white vinegar, a bag and a rubber band or elastic hair band. Then let's begin cleaning the waterfall faucet.
Step 1: First fill your bag half-filled with distilled white vinegar.
Step 2: Any white vinegar will do. Vinegar is a miraculous disinfectant that helps kill any bacteria.
Step 3: Pull the bag of vinegar onto the kitchen faucet, fix it with a rubber band or hair band, and let it sit for 20-30 minutes.
Step 4: Remove the bag and discard. Use a dishwashing brush to remove any debris remaining on the faucet head, then rinse with warm water.
Step 5: All of your faucet nozzles should now be free of any mold, mildew, lime deposits and food debris, so you can use it without worrying about these things spreading to other areas of the kitchen!
Final thoughts on waterfall faucet
The waterfall faucet is the perfect complement to any bathroom. Simulating the feeling and sound of natural flowing water, the waterfall faucet is both pleasing and pleasing to the eye. If you want your bathroom to have a spa-like feel, then purchasing one of these bathroom fixtures will automatically bring tranquility and beauty to your home.