What Is A Self Rimming Sink in Bathroom and Kitchen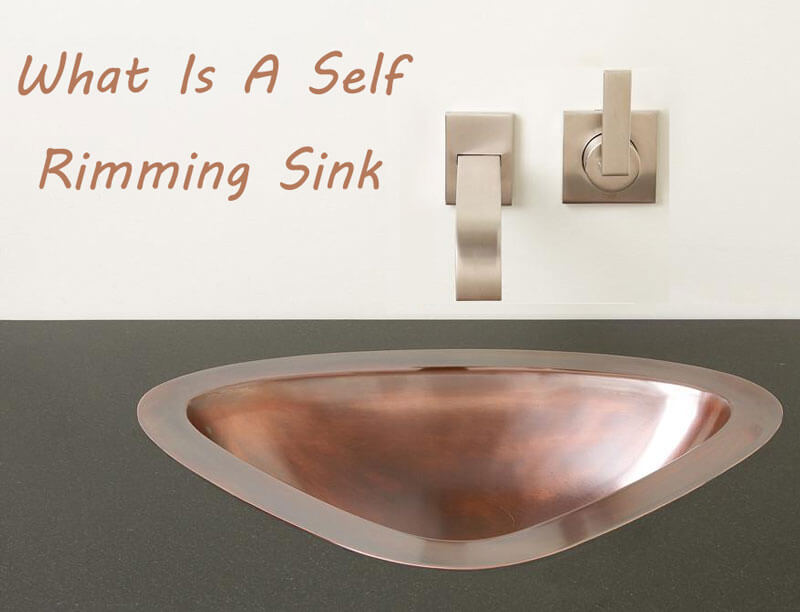 Self rimming sink definition – What is a self rimming sink
What is a self rimming sink – A self-rimming sink is designed so that the edges are on the counter. It's basically a recessed sink that you put into a hole in the countertop, and then it's fixed and sealed on top of the countertop.
Self-rimming sink (drop-in or top-mounted) is one of the most common type of kitchen sinks. The visible edges around, lying flat on the table, provide a clear line to define the space. The base also has an edge, but the edge is invisible because it rests against the bottom of the counter.
Features of self rimming sink
Lip of the Sink – The lip of a self rimming bathroom sink is the most outstanding feature of the sink, which is also the origin of its name. The edge or edge of the self edging bathroom sink allows it to be installed into a hole cut on the surface or countertop to be installed.
Sink basin – when the sink is installed, the self edging bathroom sink basin is located below the surface or countertop. In addition, the sink basin is similar to a bottom mounted or embedded sink. If you are not sure whether to add a self edge sink in the design, you can refer to the sink.
Faucet combination – self-rimmed bathroom sink is similar to any other bathroom sink in terms of faucet combination. There are different numbers of tap holes on different models, allowing single-hole, double-hole, three-hole and non-hole variants. You can use wall-mounted faucets and deck faucets.
The Benefits of self rimming sink
Self edging bathroom sink provides several advantages, making it a good choice for any bathroom space. If you want to know what a self rimming sink design can offer, here are some of its benefits:
Easy to install – The installation of the self rimming bathroom sink is very simple. Just put it into the cut and seal it in place. This not only helps with quick initial installation, but also makes it easy to replace the sink when you need a new look or material.
Durable – Because the weight of the self-rimmed sink depends on the surrounding countertops, it can withstand heavier weight and rougher operations than the base sink. This makes it a long-term investment, especially suitable for kids' bathrooms.
Sanitary – The maintenance of self rimming bathroom sink is much simpler than that of pedestal sinks, which usually have difficult-to-clean joints or cracks. This is because its edges are visible and easy to clean and disinfect.
Suitable for all kinds of counter materials – whether your bathroom countertop is ceramic tile, laminate or solid surface, you can install a self rimming sink directly on it.
Affordable – Self-rimming sinks tend to be relatively low in cost, making them an affordable update for any bathroom or kitchen.
All the above benefits demonstrate the perks of choosing a self-rimmed sink for your bathroom. Enjoy maximum convenience and durability by choosing a sink that can work with a variety of counter materials. This style of sink could be the perfect choice for your bath!