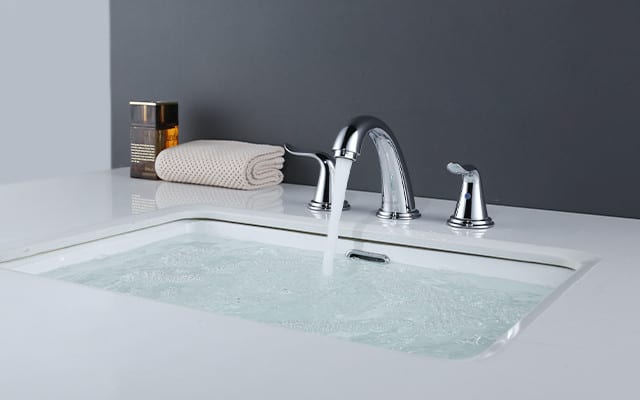 What Are The Benefits Of Faucets?
A water-saving faucet is a product that saves water by limiting the speed and volume of water dispensed. Compared with ordinary faucets, water-saving faucets, as the name suggests, have the function of saving water. According to a related survey, when we wash our faces by hand with ordinary taps, the assumed time is about half a minute. The volume reaches about 6 kg. However, only one-sixth of the water actually holds up the face, which means that the total amount is about 1 kilogram. In this way, we have wasted about 5 kilograms of water.
When using a water-saving faucet, the total amount of water used to wash the face in the same way, assuming it takes the same amount of time, is only about 1 kilogram. After comparing the water-saving taps with regular taps, we can see that the water-saving taps are more water-efficient than the regular taps.
Faucet Design
The First, a water-saving faucet for basin kitchens, is designed with an all-copper plated head and a copper adapter head with a cross-flow O-ring. According to mechanical principles, the O-ring will deform when it is subjected to water pressure. At the same time, it will create a linkage with the surrounding structure, thus saving water. This water-saving faucet has two ways of dispensing water, one is ordinary bubbling water, the other is shower water, with a gentle pull, the two ways are free to choose, a larger area of water coverage. In addition, it has a 360-degree rotating design that allows water to cover the entire sink. With the super quiet technology, it greatly avoids harsh sound while bubbling. The water-saving device inside can effectively remove impurities from the water, which can be used with confidence while purifying the water source and saving water. The humanized design and installation is also extremely convenient and simple.
The Second One, 304 stainless steel hot and cold basin faucet, this water-saving faucet adopts Hungarian Kallus spool design, which has the advantages of high temperature resistance, abrasion resistance, aging resistance and long life, which can achieve precise control and not waste every drip. Using water-saving technology, the Swiss imported bubbler, more abundant bubbles, and no splash, more economical water. The design structure is scientific, exquisite workmanship and good hand feel. This 304 stainless steel excavator is seamlessly welded, non-rusting and corrosion resistant. The inside and outside of the faucet are designed with the same process, and the inner wall is smooth and delicate, avoiding secondary pollution of water.