Moen Arbor 7594ESRS Kitchen Faucet Reviews: Is It Worthy?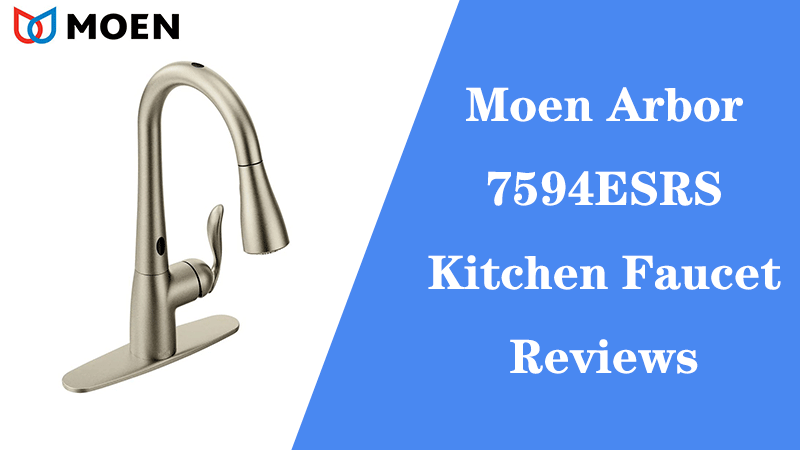 If you want to create a modern kitchen, you should never ignore the faucet. The faucet occupies an important position in the style of the kitchen, and a suitable faucet can make your kitchen shine. Among all kinds of faucets, I think Moen Arbor 7594ESRS Kitchen Faucet is one of the best modern faucets. It is designed to make your kitchen simpler and more modern. Read on to see why you need to install it in your kitchen.
Main features of Moen Arbor 7594ESRS Kitchen Faucet
Spray mode
We all know that it is important to choose to change the spray pattern. If you are used to using traditional faucets, your only choice is to adjust the water flow. If you are washing food, flow mode is not your best choice. With Moens Arbor, you can switch to the spray mode when the nozzle is retracted. You don't have to adjust the water flow! You don't have to experience water splashing again.
Hands free technology
Moen Arbor 7594ESRS faucet is equipped with up to 2 sensors, so you can operate it without freeing your hands. This feature provides you with three options for using the faucet: standing in front of the faucet, waving on the faucet, or you can use only the handle. You can even adjust the temperature from there!
Spotless
Have you noticed that the faucet is full of rust, fingerprints and water stains? This is inevitable, yes, but it only applies to traditional faucets. Moen Arbor 7594ESRS faucet has an antifouling stainless steel surface, which means you don't have to wipe the faucet as often as you do now. This is a way to keep the kitchen clean.
Power cleaning
Sometimes the conventional water flow is not enough to remove stains and grease. Mohn knows this, so the arbor power they make is increased by 50%. You do not need to scrub hard to see that the stain has not been completely removed.
Flexible
Moen Arbor 7594ESRS faucet is a pull-down faucet. This means that you can remove the water outlet nozzle and clean anything from any angle and direction. If your stove is only one arm away from the faucet, it will be more convenient for you. Imagine pulling the spout to add water to the stove instead of moving the stove in and out. That's convenient!
FAQs of Moen Arbor 7594ESRS Kitchen Faucet
1. How to change the temperature?
The way to change the water temperature depends on your control box. If you have a gray box, you can use it to change the temperature of the motion sensor. However, if you have a black box, you need to use the handle to adjust the temperature.
2. Do I need to learn from other kingdoms?
You can reach into the sensor for at least 5 seconds to turn off the motion sensor. This avoids turning on the faucet when you don't want to open the faucet. You can turn on the faucet again through the same steps.
3. How do I flush the focus?
Although this faucet has a Spot Resist feature , you will still need to clean it to avoid the spread ofbacteria . A damp cloth with mild dishwashing liquid will do . Avoid cleaners containing abrasives ,ammonia , bleach , or other harsh chemicals that may damage the finish.
Personal opinion of Moen Arbor 7594ESRS Kitchen Faucet
There is no better way to use the faucet than the hands-free mode, because there is a way to easily disable these modes when you don't need it, so it becomes easier to splurge on this particular kitchen faucet. There are some other motion sensor faucets on the market, but none can compare with the brand leader Moen's product.
The energy consumption is stable, and the attached battery has a good lifespan. If you encounter problems during the installation process, you only need to make a call to get customer support. We recommend it easily, not only because of its ease of use, but also because of its excellent overall design and finish. Due to the increasing popularity of its unparalleled set of features, this model is expected to be among many of the top ten.
Summary of Moen Arbor 7594ESRS Kitchen Faucet
If you are looking for a new faucet or just want to upgrade your kitchen, we strongly recommend that you choose a high-tech type of faucet like Moen Arbor 7594ESRS Kitchen Faucet. It not only increases the overall appearance of the kitchen, but also makes you more efficient and faster. If you are always in the kitchen, you may want to use Moens Arbor, it has the features you always wanted