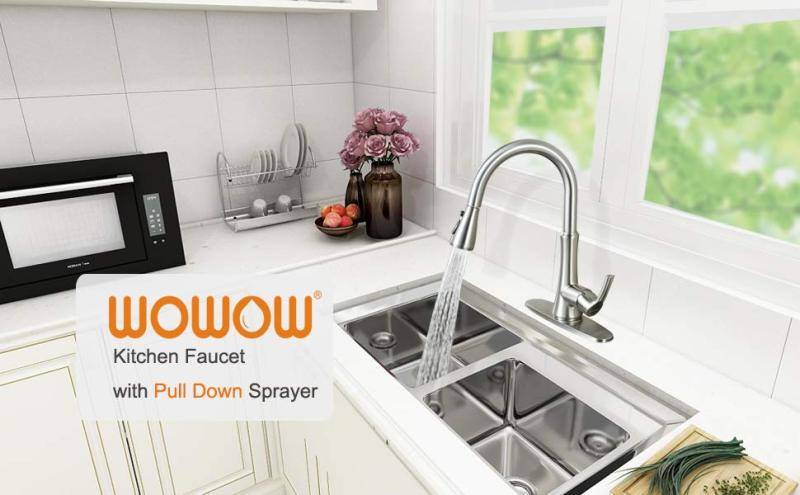 A faucet is a valve that controls the flow of water. It is usually used in conjunction with the kitchen sink to facilitate the use of water for domestic purposes. The following describes the use and maintenance of the sink faucet.
In the process of installing the faucet, it is necessary to thoroughly remove all kinds of impurities from the water pipes to prevent the impurities from being cleaned, causing the valve core to be damaged, jammed, clogged or leaking. At the same time, the surface of the faucet must be cleaned so that it is free from residues of decoration materials.
Any kind of faucet in the use of the force can not be too strong, just gently twist or toggle to use, do not use the handle as a handrail support. The filter cover at the outlet needs to be dismantled and washed regularly, and the configuration of the hose equipment should also be kept in a natural state of stretch to prevent water pipe rupture. 3.
Some faucets may not close completely, leak, have loose handles, loose connections and other leakage problems soon after use. Usually, this situation can be resolved on your own.
If the ceramic piece valve plug sealing spout of the faucet does not close completely, hard debris may have scratched the sealing surface, or the preload applied to the plug may not be sufficient. In this case, if the faucet is scratched by a hard object, you will need to call the vendor for after-sales service.4. If the faucet does not have enough preload, you will need to remove the handle and tighten the spool.
The faucet should be gently wiped with a clean, soft cloth dipped in detergent, avoiding wire rings and cleaning cloths containing hard objects that come into contact with the surface of the faucet.
If the faucet has thick masks, deposits, and other stains, use a mild liquid glass cleaner, a pure clear liquid glass cleaner, an acid-free, non-abrasive soft solution, or a completely dissolved powder, non-abrasive solution. Remove shine and other cleaners.
Do not use any abrasive cleaners, cloths or papercloths, and any acid-containing cleaners, polishing abrasives, or rough cleaners to clean faucets.