How to Easily Connect Two Faucet Supply Lines Together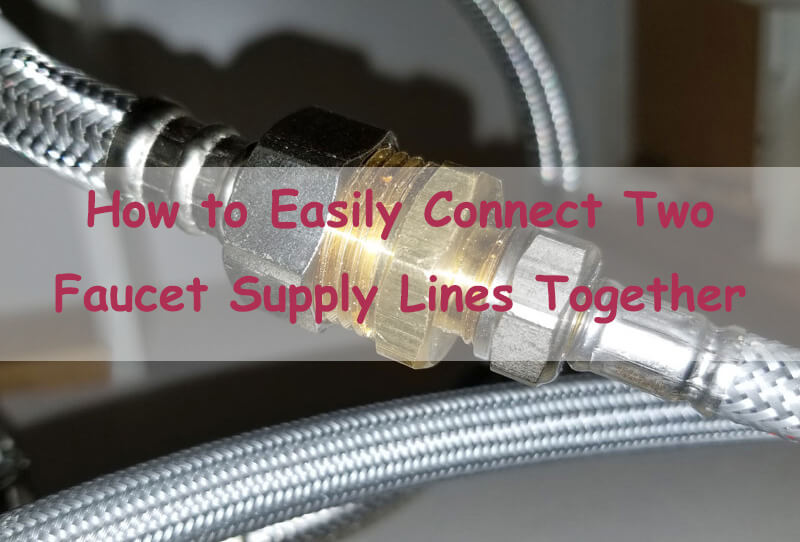 Many people want to try to install the faucet by themselves. One thing that needs to be done is to connect the two faucet supply lines together. This may seem like an easy task, but there are many details worth noting.
Types of Faucet Supply Lines
There are several types of faucet supply line pipes, and not all use the same compression fittings. Therefore, you should find out which lines you have before starting the project. The following are the most common types.
Braided nylon flexible tube
These tubes are fabricated of a solid PVC core covered by braided nylon and purchasable in many different lengths. Furthermore, they are very flexible and can be looped, making them quite convenient. These pipes can be used for hot or cold water; however, check for damage when using these pipes for hot water.
Stainless steel braided flexible tube
These pipes consist of PVC inner cores covered with braided stainless steel. They are flexible and durable. In addition, although expensive, the pipe looks good, so it works well in the exposed area.
Polymer coated flexible pipe
Another flexible pipe with a PVC core and polymer coating looks a lot like stainless steel and is suitable for hot and cold water. Compared with any metal pipe, they are very effective and more resistant to corrosion.
Another advantage of polymer-coated tubing is that you can easily bend and bend them-this is an excellent choice for most offset connections.
PVC flexible pipe
PVC flexible pipe is a simple pipe, only the PVC core is coated with a thin vinyl layer. They are similar to braided nylon tubing, but without a reinforced outer layer. Therefore, hot water is more likely to damage them.
Although inexpensive, PVC pipe is only recommended for cold water applications. If you want both hot and cold water to pass through the pipe, choose the more durable type.
Flexible copper supply pipe
Finally, you can see flexible copper supply lines in most kitchens and bathrooms. They are usually used in combination with polymer coating or braided stainless steel tubing-the former is usually used for thick pipes, and the latter is used to connect to fixtures.
Copper pipes have incredible rust and corrosion resistance. They are usually more difficult to install and require soldering, but they will last a long time.
Things You Will Need
Compression fitting
Water line (if necessary)
Adjustable wrench or pliers
Protective equipment
Bucket
Teflon tape
Detailed steps of how to connect Two Faucet Supply Lines Together
Step 1: Wear safety equipment
Wear heat-resistant gloves and goggles. Since the pipe you are welding will be very hot, you need to protect your skin and eyes from this. If you don't do this, you may suffer quite serious injuries.
Step 2: Check the connectors
Make sure that the fittings around the new pipe fit tightly. If you reuse old pipe fittings, measure the inner diameter to ensure that you get the correct pipe. If not, you will need to go to the store quickly to make sure you have the correct materials to successfully complete the job.
Step 3: Polish the area to be welded
Use sandpaper or emery cloth to prepare the end of the pipe to be welded. After that, prepare the interior of the accessory using a tight-fitting wire brush.
Step 4: Brush both sides with flux
Then, thoroughly brush the outside of the pipe and the inside of the pipe with flux. If it is a power cord, please use lead-free. Next, completely cover the two welded parts, but don't let them drip. Paintbrush can help.
Step 5: Place the pipe in the fitting
Make sure it fits snugly and is pushed to the depth you want. Normally, you can walk until it stops or connect two pipes, and then you need to leave the room and place it in the middle of the pipe fittings.
Step 6: Light your torch
Disposable lighters can be ignited. Next, for the fuel source of the torch, propane (such as propane for camping) is OK, and Map is also OK. Map burns at higher temperatures, but both can achieve this, and propane is easy to find.
Step 7: Heat the metal
Starting from the bottom, you need to heat the metal. It is worth noting that when you do this, the heat rises to the top. Perform welding. While maintaining the heat, apply a strip of solder along the joint formed by the pipe and fitting. Then, observe the capillary action to pull the solder into the crack.
Step 8: Walk around the pipe.
Make sure to pull the weld bead into the cracks around the entire pipe. Then, observe whether cracks are formed during cooling. If there is a leak after the water return, you need to re-welding.
Conclusion
It is a relatively simple task to connecting two faucet supply lines, as long as you take the right measurements and work with the right equipment. You need to know how to weld pipes, and we provide relevant instructions. However, if you do not like this, it is best to hire a professional or ask a friend for help.