How to Disconnect Sprayer Hose from Kitchen Faucet – Step by Step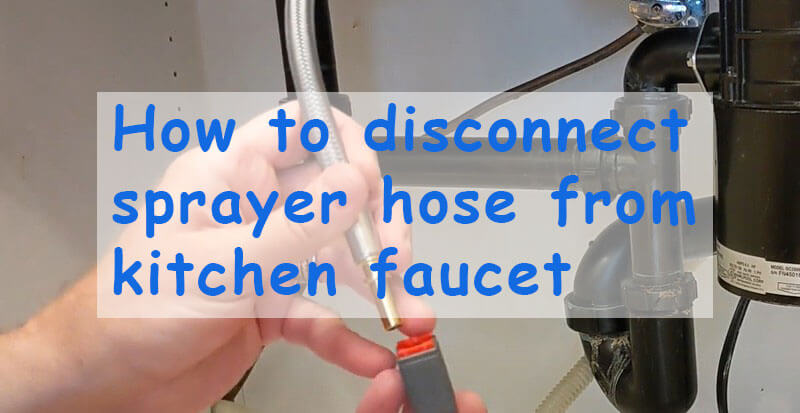 From cleaning the sink to washing food, the sprayer hose part of our kitchen faucet is one of the tools we often need to use. If you are intended to remove the sprayer hose from kitchen faucet, you are in the right place! This post aims to discuss the required tools and how to disconnect sprayer hose from kitchen faucet step by step.
Tools and materials required
Before disconnecting the sprayer hose from faucet, these tools are required.
Washbasin (store water)
Adjustable wrenth
Basin wrenth (if needed)
Then start following the guide below step by step to remove the sprayer hose from kitchen faucet.
Detailed steps to disconnect sprayer hose from kitchen faucet
Step 1: Clean up the rubbish
Clean the working place and remove the rubbish. Feel comfortable to start the work by this. Disconnection of the sprayer hose from kitchen faucet may happen in any sensible place. Prepare yourself and the work area to eliminate any damage. Otherwise, disconnecting the sprayer hose may cause any problems.
Step 2: Turn Off the Water Valves Knobs
After completing the first step, find the water valve knobs. Shut off the water valve knobs to close the water supply. If you do this, the flow of water may rinse your body. So you need to turn off the water valves' knobs carefully.
Step 3: Release the Water Residue
Drain the remaining water in the existing sprayer hose, which will cause interference when loosening the nut. Wait until the last drop of water comes out. Place a basin to store dripping water. It may take some time to dry the water stream.
Step 4: Take Adiustable Wrench
After making sure that there is no water left in the sprayer hose, take an adjustable wrench and start disassembly. Find the exact size adjustable wrench from the different sizes available. If you need to hold a wrench, you can also use a basin wrench.
Step 5: Lose the Nuts
Place the adjustable wrench properly to lose the sprayer hose nuts. Scroll the wrench anti-clockwise. Continue this according to the same process. Stop when your fingers are available toscroll the nuts. Detach the all sprayer hose related nuts from the delta faucet. Use another waterbasin below the faucet if there is any water residue present.
Step 6: Disconnect the Sprayer Hose
Make sure that all the previous steps get complete. Now you present at the last stair of the task. Collect all the loosen nuts from the sprayer hose. Afterward, you can find that the sprayer hose has been disconnected from the kitchen faucet. That's all.
Bottom Line
Acually, many things are much easier than you think after you do it yourself. In addition, it can not only save the money for plumbers, but also you can experience the fun of hand job on and the joy of success. So don't hesitate to spend time doing the chores.