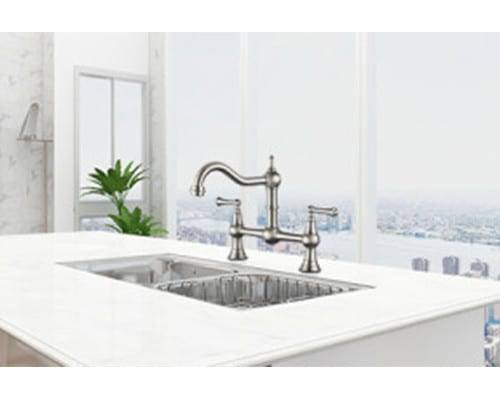 Common faucet surfaces are titanium plated, chrome plated, lacquered, and porcelain. Among them, chrome-plated stainless steel is the most common. Colored faucets are also loved by people. The colors are red, yellow, black, and blue. They can be color matched with other utensils in the bathroom and kitchen.
When buying a faucet, you should consider the matching problem with the sanitary ware.
1. Model Matching
The most important thing is that the model numbers match, otherwise it will cause problems with the installation. Even if it is barely installed, it will inevitably lead to dripping.
2. The style and color should match
Second, the style and color should match. If your bathroom is dominated by cool colors, you can choose a silver faucet. If the color is warm, it should be gold. If the style of the whole bathroom is more complex, you can use a cream-colored one.
3. The design of the faucet should match
In fact, with the development of technology, the style of the faucet has also changed. It also has a matching rule: a good partner for the glass basin on the table is a straight-handled faucet, the kitchen sink is equipped with a curved faucet, while the under-counter basin is equipped with an ordinary short-handled faucet, and the ceramic countertop is equipped with a long-handled curved faucet with two handles. The glass basin's straight handle, while aesthetically pleasing, is not very practical because its spout is not in the center of the basin. People touch the edges of the basin when they wash towels underwater, but with a double-handled curved faucet it's also not pretty because the handles touch the glass and look unsafe, so if you're not very stylish or use a ceramic basin, it's easier to find a matching faucet.