How to Choose A Black Faucet – Black Faucet Buying Guide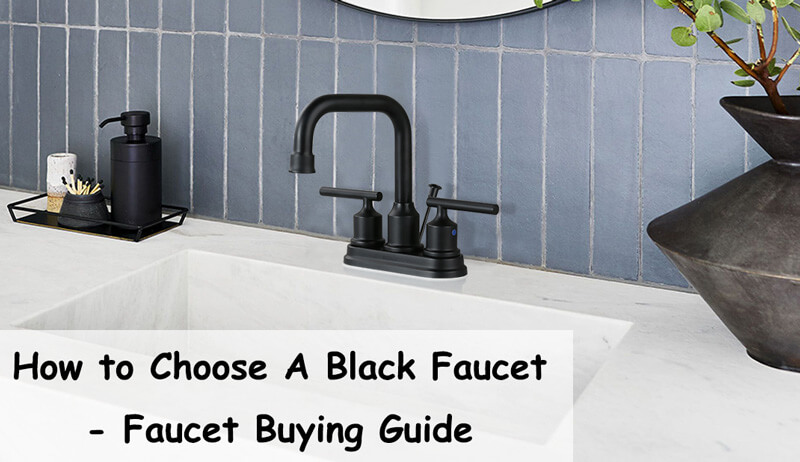 Black is increasingly making its way into bathrooms and kitchens in all corners of the world and a substantial increase in searches for black faucets in recent years. Black fixtures can give bathrooms and kitchens that boost they need, a touch of elegance and refinement. In this post, we will show you how to choose a suitable black faucet for your bathroom and kitchen.
Why choose a black faucet
A black faucet has lots of benefits that beyond your imagination. Here are the reasons why choose a black faucet:
Neutral
While a lighter palette and white-on-white interiors might have for long been considered aesthetically neutral, designers believe darker tones in our kitchens and bathrooms keep things neutral while still adding character.
Highly adaptable
Whether the faucets are paired with marble surfaces, a monochrome palette or a colourful interior, black easily matches its surroundings. This makes it a highly adaptable colour that can easily fit any space.
Aesthetically pleasing
Not only can black stand the test of time, but there is little doubt the colour looks good, especially when contrasted with lighter hues. Black-filled rooms might be heavy on the eye, but black details make for sleek and classy accents.
Anti-fingerprint
As we all enjoy tidy and clean homes, we know how annoying fingerprint marks on chrome-plated fixtures can get. Thanks to an electroplated finish, fingerprints on matt black faucets stay invisible for a little longer — and bear in mind this applies to faucets with matt black finishes only.
Anti-scratch and non-corrosion
While this might not apply to all black fixtures on the market, matt black faucets include meticulous nano-coating, which helps protect the faucet's surface from dirt and scratches.
So, whether you are looking to upgrade your bathroom and kitchen, or just add a touch of class and sophistication, black faucets might just make the cut – timelessly.
How to choose a black faucet
Have no ideal how to choose a good black faucet? Here are some factors should take into consideration when you are intended to buy a black faucet.
Thick coating
The thicker the coating, the better: this will shape the resistance of the fixture to wear, chemicals and scratches. This coating requires a thorough 5-step process – from sand blasting to air drying – to ensure that the faucet can stand the test of time.
Carefree surface
After such a meticulous coating process, you don't have to worry that the surface will be accidentally scratched or corroded by irritants such as soap and detergent. Therefore, please check with your installer whether the fixture is coated in the correct way or whether continuous care is ultimately required.
Smooth touch
Although the elastic coating can prevent premature wear of the device, you need to make sure that the new shower and faucet feel good when in use. So try to see if the surface is smooth and silky enough for daily use.
Durable color
Pay attention to color fastness: This is an indicator to measure the strength of color finish. You will need to choose lamps with high color fastness, which means they can resist fading or operation for a long time. Consider contacting manufacturers and relying on brands that invest in quality products.
Check your water space
You may want to install multiple black faucets and showers in your home to maintain a consistent appearance. To avoid disappointment, we recommend that you check your water space in advance with the installer to see if you can install the same faucet line throughout the process. Sometimes, even a simple visit to the manufacturer's website can provide all the answers.
Sustainable and health options
While choosing the right brand is essential to ensure the durability of your new black faucet, non-contact may require additional effort. The automatic faucet can not only reduce water waste by up to 50%, reduce contact, and make the device a highly hygienic choice.
Final thoughts on black faucet buying guide
If you want to upgrade your bathroom and kitchen with matte black faucets and showers, be sure to find the right one. After two years, you will not want to replace scratched and worn fixtures.