How can I Repair Peeling Finish on A Black Drain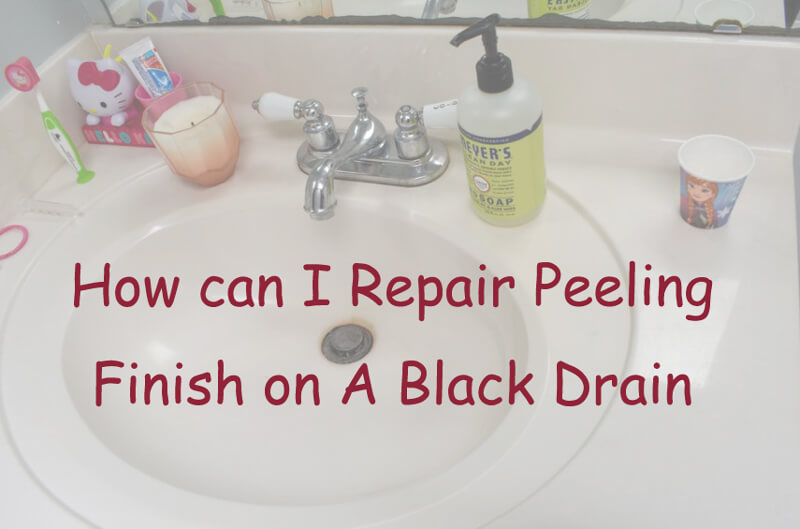 All sinks have a drain to allow water from the faucet to flow out of the sink basin. The drain is connected to your P-trap and plumbing connection hidden within the walls. However, it is inevitable that the sink drain finish is peeled off over time.In this post, we will show you how to repair peeling finish on a black drain.
Why the finish of drain is peeled off
Poor finish Materials
If the finish on your sink drain is peeled off soon after use, it is very likely that the material of finish is not good enough. The main materials of finish include lubricant and resin, which have a huge influence on finish. Besides, if the surface treatment is not good enough, it will cause sink drain to peel off quickly.
Weak acid water corrosion
Even if it is a good-quality black drain, if the drain is always in contact with acidic or alkaline water, the acidic or alkaline water will chemically react with the surface of the drain, and the surface will lose its protective, so it is easy to cause the finish to peel off.
Physical scratches
This is another one of the main causes of finish falling off the drain. In most cases, the finish on the surface can protect the drain for a long time, but once a place is scratched by some wire, an avalanche effect will occur, causing the drain to quickly fall off.
How to repair peeling finish on a black drain
Put high-quality tape around the drain pipe and cover it with plastic or other materials to protect the sink. Lightly sand the metal drain pipe and wipe it thoroughly. Use spray cans or brushes to coat metals with anti-rust oil paint. Dry as instructed and close the lid again. Dry as directed. Now, use a metal rust-compatible paint suitable for outdoor use, use the color of your choice, and paint the drain pipe again according to the drying time instructions. A thin, repetitive jacket is best. After it is completely dry, remove the tape and covering to make sure that the paint does not leak and is dry.
Tips to protect your black drain
Proper cleaning of fixtures will not cause water spots, dirt and soap scum to build up. Therefore, you can prevent the fixture from fading by preventing hard water, dust, and loose dirt from accumulating on the bathroom fixture.
After each use, be sure to wipe the bathtub and sink faucets with a soft cloth.
Use mild detergent and water to clean the surface. Avoid abrasive cleaning materials and harsh cleaners, as they may scratch the surface and destroy the delicate black finish.