Mr. Kitchen and Bath.    Kitchen and Bath Headlines
In 2020, the development of the global bathroom industry is subject to many challenges, a number of bathroom companies in order to meet the challenges of the market, a new round of personnel appointments and dismissals. In May of this year, the kitchen and bathroom king in "These 7 sanitary ware companies changed their executives! In the article, reported TOTO, LIXIL Group, Moen and other companies in the first half of the year to open a round of intensive personnel adjustments. Into the second half of the year, and a number of companies began to redeploy their troops.
Villeroy & Boch
Director of Bathroom and Wellness changes positions
On July 27, KBBREVIEW reported that Georg Lörz, who will succeed Andreas Pfeiffer as the new Director of Villeroy & Boch's Bathroom & Wellness division from August 1, 2020, has a long and distinguished career, having worked for Villeroy & Boch from 2003 to 2008. Villeroy & Boch held several positions, including Head of Sales and Marketing for the Bathroom and Health division. Georg Lörz then worked for 8 years at Recticel Bedding, a Swiss company producing mattresses. After two years of study, Georg Lörz obtained a doctorate in German medicine from the Varicor Group. More recently, Georg Lörz founded the company werkbad Group, which specializes in custom bathroom furniture.
Alexander von Boch-Galhau, Chairman of the Supervisory Board of Villeroy&Boch, said that Georg Lörz has a wealth of experience in the fields of management, strategy, sales, marketing and supply chain, and that Villeroy&Boch's Bathroom & Wellness Division will be led to new successes by Georg Lörz.
Andreas Pfeiffer, former Director of Villeroy&Boch Bathroom & Wellness, also had an outstanding tenure at the helm of Villeroy&Boch Bathroom & Wellness, achieving a steady increase in profits and expanding Villeroy&Boch's presence in Asia, particularly in China.
Geberit
Re-appointment of sales director, key account manager
Geberit has recently announced two new senior appointments to strengthen its support of the retail sector.David Upperton will take on the role of Geberit's retail and trade sales director to strengthen Geberit's support of retailers, distribution partners and procurement teams. In addition, Geberit has appointed Phillip Conroy as Key Account Manager, Phillip Conroy was previously with Kohler and will be responsible for the Key Account channel in the future.

David Upperton, Geberit's Director of Retail and Trade Sales
Duravit
Officials announce new CEO
In a recent announcement on its official website, Duravit announced that former CEO Prof. Richter has left the company as of June 30, 2020 to devote himself to new activities. Stephan Patrick Tahy will assume the role of Duravit's new CEO. Stephan Patrick Tahy was previously CEO of De'Longhi and was vice president and general manager of Mattel.
Duravit
Belux B.V.B.A. has a new manager, Katrien Meire, in addition to the new CEO.
With ten years of experience in the hygiene sector at Henco, the Belux B.V.B.A project team was required to interface not only with the project architects, but also with the builder and project procurement department.
Hansgrohe
Vice President for Central Europe takes over
On July 1, Hansgrohe's website announced that Frank Vermeer has officially taken over as Vice President for Hansgrohe Central Europe. Frank Vermeer takes up his position as Schiltacher accessories and shower specialist on December 1, 2019 and becomes Managing Director of Hansgrohe Deutschland Vertriebs GmbH. Prior to joining Hansgrohe, Frank Vermeer spent 15 years at Grundfos GmbH, most recently as Director of Trade Sales for Building Services Engineering in Germany and Austria. In his role as Vice President Central Europe, Frank Vermeer will take over the German and Austrian subsidiaries of Hansgrohe AG.
Huida
Vice President resigned
On July 24, Huida Sanitary Ware announced that Mr. Xue Yong resigned from the company's Vice President position for personal reasons. After the resignation, Mr. Xue Yong will no longer hold any position in the company, Xue Yong's resignation report from the date of delivery to the board of directors of the company. According to the personnel database of the company listed on the China Economy Online, Xue Yong graduated from Inner Mongolia University with a bachelor's degree in international economics and trade, and joined Huida in January 2018 as deputy general manager of Huida Sanitary Ware Co.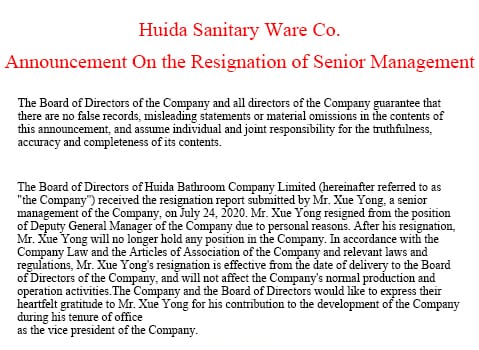 In addition to the sanitary industry, personnel changes in the home industry are also very large.According to related reports, I music home within a year and a half there are five executives left, Tubaobao, Sofia, Red Star Macalline, Golden Mantis, Opal, Dohia, Qumei Home and many other companies have experienced executive departures, home and bathroom companies have increased personnel turnover, competition between enterprises or will be more intense.