Delta Faucets Review: 2021 Buying Guide for Pot Fillers
It sounds like something from an infomercial, but we've all had the same worry. You fill up a large pot, of course while preparing an important feast like Thanksgiving dinner, and in the struggle to lift it from the sink to the stove, you drop it and soak the floor.
A pot filler faucet is a far easier alternative. To complete your true chef's kitchen, try these Delta pot filler faucets.
1. Contemporary Wall-Mount Pot Filler Faucet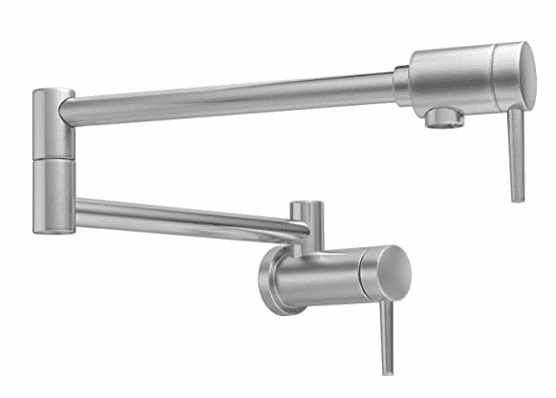 Amazon US
Delta's Contemporary Wall-Mount Pot Filler Faucet1165LF-AR  is a great addition to any modern kitchen. The sleek style means your faucet becomes a stylish part of your kitchen's backsplash.
Features
Dual shut-off valves
24-inch swing joints
Five finish options
Minimalism is the name of the game with Delta's pot filler faucets, especially the Contemporary. It's a simple yet effective swing-arm faucet with a 4-gallon-per-minute flow rate. That's around twice the flow rate of a traditional kitchen sink faucet.
Keep in mind that this faucet, like most pot filler faucets, uses cold water only. That makes it a quick and easy installation.
2. Traditional Wall-Mount Pot Filler Faucet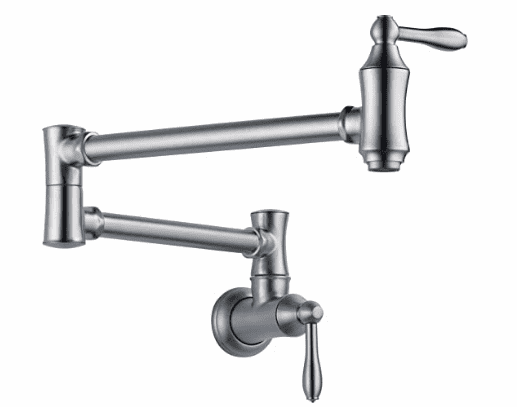 Amazon US
The features of the Contemporary are great, but its modern edge doesn't fit your home's style. If you prefer a more traditional look, you're the perfect fit for the Traditional Wall-Mount Pot Filler Faucet  1177LF-AR .
Features
Dual shut-off valves
24-inch swing joints
Six finish options
Feature-wise, the Contemporary and the Traditional are nearly identical. They both have fast four-gallon-per-minute flow rates and use cold water only with a single-hole wall installation. They also have the same length of 24-inch dual-swing joint arm with dual shut-off valves.
The design and the price are the primary differences between these two pot filler faucets, with the Traditional having a more modest price tag. The Traditional also comes with more finishing options than the Contemporary.
Choosing Your Delta Pot Filler Faucet
Every home chef needs a pot filler faucet to make cooking easier and more efficient. With similar features in both of Delta's top choices, it comes down to the look you want in your kitchen and the faucet model that suits it best.
The Delta Faucet Reviews You Need for Your Home
A faucet may seem like a minor detail compared to your kitchen appliances or your shower design. Still, it affects both the look and the functionality of your kitchen or bathroom, so it isn't a choice you can take lightly.
Who are the best people to tell you about the top Delta faucets for each area of your home? The people who have used and explored those faucets before you. With the Delta faucet reviews above, you can find the perfect fit for any room of your home.