Chrome Vs Stainless Steel Kitchen Faucet
: Which is Better?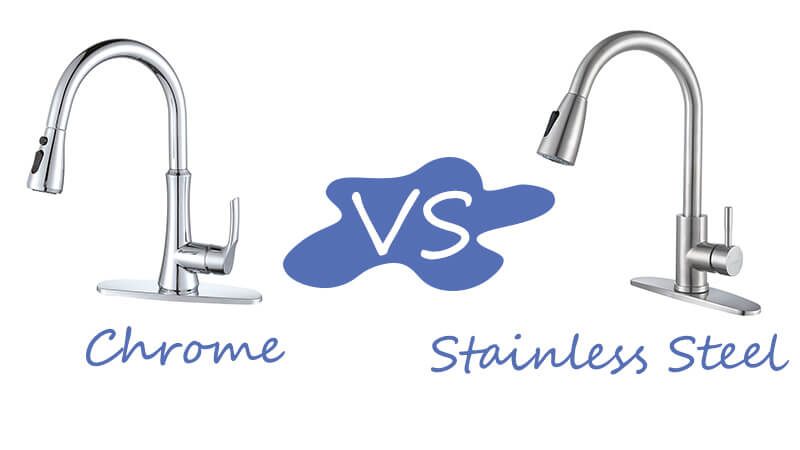 When buying a new kitchen faucet, one of the choices you need to make is the type of finish. The two most common choices are chrome and stainless steel. They are bright, durable and require relatively little maintenance. Both of them can be applied to almost any design. However, they have their own advantages and there are some differences between chrome and stainless steel. Therefore, in this post, let's take a close look at the comparison of chrome vs stainless steel for a kitchen faucet.
Main differences between chrome and stainless steel
The difference between chromium and stainless steel lies in their composition. Stainless steel is a non electroplated metal alloy containing nickel and at least 10.5% chromium to make it more durable. According to the content of nickel and chromium in the alloy, different types of stainless steel are manufactured. Chromium, the abbreviation of chromium, refers to the coating. Chrome plating covers the metal core. It consists entirely of chromium, not an alloy.
Chromium is usually polished and very shiny, although satin and brushed varieties may be more matte. It can be used for decorative and industrial purposes because of its corrosion resistance and high gloss. It is also a very light metal.
Stainless steel is more durable than chromium. It has the characteristics of corrosion resistance, scratch resistance and anti discoloration. However, depending on the environment, it is not completely free from all stains or wear. It is usually used in environments requiring high strength, low cost and corrosion resistance, such as cookware, tableware and industrial appliances.
Chrome kitchen faucet
From the appearance, the chrome kitchen faucet is too shiny compared to the stainless steel faucet. They have an attractive high gloss and will make your kitchen stand out. Chrome faucets have a more matte appearance because they have a satin and brushed chrome finish, so they have a matte appearance. With its shiny appearance, cleaning this faucet is always a hassle. If there are any water stains and fingerprints, the marks are very conspicuous, which will affect its gloss. Speaking of scratches, the chrome-plated polished surface is easily scratched. To avoid scratches, please clean it regularly with non-abrasive cleaning products. Chrome-plated faucets are as corrosion-resistant as stainless steel faucets. There are many different designs of chrome-plated faucet to choose from, so it provides you with a wide range of choices. Get the perfect chrome-plated faucet that meets your needs from the varieties available on the market.
Pros of chrome kitchen faucet
Shiny finish.
Modern looking faucets.
Cons of chrome kitchen faucet
Requires more upkeep for maintaining its shiny look.
Scratches easily.
Shows fingerprints and dirt.
Stainless steel kitchen faucet
Stainless steel has long been a popular choice for kitchen faucets. One of the reasons why people like it so much is its durability. The service life of stainless steel can exceed 10 years, and has strong anti depression and anti-corrosion ability. As we all know, stainless steel is also good at maintaining a uniform and shiny appearance. It is more resistant to water stains and finger prints, and is very easy to clean and maintain. Stainless steel faucets also perform well in extreme temperatures and are ideal for kitchen faucets. Another advantage of stainless steel faucets is that they are affordable. Many online retailers offer a wide range of stainless steel faucets in the market at competitive prices. However, stainless steel faucets also have some disadvantages. Although they do have shiny finishes, many people complain that they are less shiny and reflective than other faucet options.
Pros of stainless steel kitchen faucet
More durable
Resistant to corrosion
Flexible to operate in both high and low temperatures
Easy to maintain as compared to chrome
A wide range of models
Affordable.
Cons of stainless steel kitchen faucet
Are prone to scratches
Watermarks and fingerprints can remain easily
Final thoughts on chrome vs stainless steel kitchen faucet
When choosing between chrome steel and stainless steel kitchen faucets, it is important to consider your personal needs.
For a truly stunning shiny faucet, a chrome kitchen faucet is undoubtedly the better choice. But if you are more concerned about service life, durability and value for money, stainless steel may be a better choice for faucets.
If you care about frequent cleaning and maintenance, and beauty is important to you, please choose a chrome-plated faucet. However, if you live a busier life and put practicality first, you may be more willing to choose stainless steel for your kitchen sink.