So, how should you choose a good kitchen faucet?
Pay attention to the length of the basin and the faucet. If the kitchen is a double basin, pay attention to whether the faucet can take care of both sides of the sink at the same time when rotating.  Most kitchen faucets now allow the faucet body to rotate left and right, and the faucet part, the pull-out faucet, can be easily cleaned to all corners of the sink
For ease of use, the kitchen faucet should be taller and the spout should ideally extend above the drainpipe without splashing. If there is a hot water pipe in the kitchen, the faucet should also be double-walled. To meet a variety of use needs, kitchen faucets can usually rotate 360°.
Single-handle mixing faucets.
The hot and cold water is discharged, and the handle is operated through the stopper, which can adjust the amount of hot water and temperature on the left and right side of the operating type. Since they can be operated with one hand and are easy to use, they are widely used in the kitchen. Available in many prices and variations of designs, most kitchens also use single-handle faucets.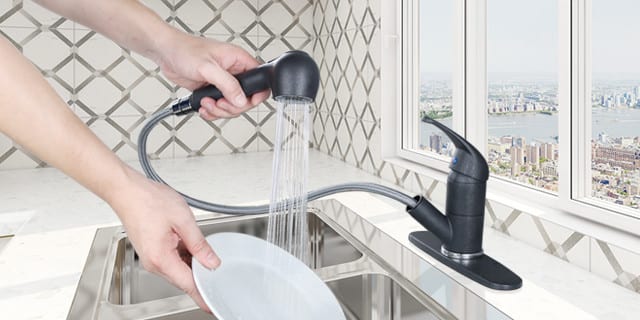 Non-touch faucets.
Drainage can be stopped without touching the faucet body. There is a sensor underneath the spout that detects the distance between your hand and the dish to control the water coming out, and the faucet stops automatically when you leave it. There is also a sensor placed on the upper part of the faucet to sense the water and when the action is repeated, the faucet will stop draining water.
Touch-switch faucets.
The switch at the top controls the drain type faucet. Touch the back of your hand or your wrist to operate it easily, even if your hands are busy, and you can stop it at any time. During cooking, you may dirty the handle with your hand. This touch can only be done by touching the palm or the back of the hand. Since it can stop water at the touch of a button, it is excellent in saving water.
These are just a few of the kitchen faucets that we have introduced to you. In fact, each faucet has its own advantages and is suitable for different scenarios of use. Therefore, you can only choose a faucet that you like by combining it with your actual usage situation.