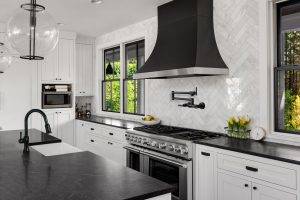 Sometimes it's the simplest tasks in life that are the most frustrating, like taking the garbage cans to the curb or lugging a heavy pot of water from the kitchen to the stove. That's why pot filler faucets are becoming so popular.
Any pot filler faucet will make your life easier by allowing you to fill up your water pots directly on the stove. As soon as you start shopping for that faucet, though, you realize that there are far more options than you thought.
How do you choose the perfect fit for your kitchen? We've done the legwork for you and narrowed it down to our top 10 picks for best pot filler faucets.
Our Top Pick:
Delta Contemporary Wall-Mount Faucet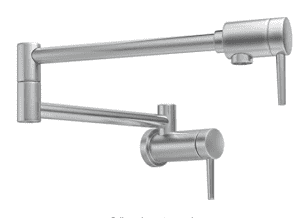 For a modern aesthetic, you won't find anything better than the Delta Contemporary. It has a stunning, clean style, and it's simple to operate. It's an ideal balance between style and practicality, with the reliable reputation of Delta behind it.
This Delta pot filler faucet landed the #1 spot on our list for a reason. It has both quality and style in spades, and it's compact enough to give you water access when you want it and space when you don't.
Why We Love It:
Brand-Backed Quality
Delta has been around since the 1950s and has been delivering high-quality faucets since then. With this faucet, you can trust you're getting a product that will withstand the test of time.
Size Range
This faucet has a 24-inch reach, which is further than most similar pot filler faucets. At the same time, it folds to sit flush against the wall when you aren't using it.
Design Variation
The contemporary look of this faucet is stunning in any color, but Delta also lets you choose from six finishes to match your kitchen: arctic stainless, black stainless, champagne bronze, chrome, matte black, and stainless.
Shut-Off Valves
The Delta Contemporary has two shut-off valves: one near the faucet head and the other near the wall.
2. WOWOW Pot Filler Kitchen Faucet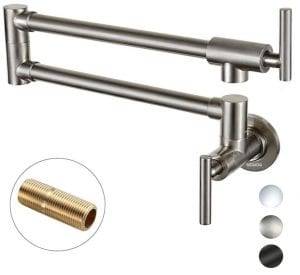 The angular, industrial look is popular in houses across the country. If that's your style of choice, the WOWOW Pot Filler Faucet might be what you're looking for.
Why We Love It:
Water Temperature Control
The vast majority of pot filler faucets only provide cold water so they only require one water output. The WOWOW faucet is among the few that offer both hot and cold water. However, this option is only available in certain finishes and it does require two water inputs.
Protective Technology
Choosing the right faucet is about more than style and convenience. It's about your family's health and safety too. That's why we love the unique technology WOWOW uses to prevent scaling and lead leakage in this faucet while also making it rust-proof and corrosion-proof
High-Quality Aeration
An aerator in your faucet is a great way to reduce splashing and get a smoother pour. This pot filler faucet uses an advanced Neoperl aerator for improved quality.
3. IMLEZON Pot Filler Faucet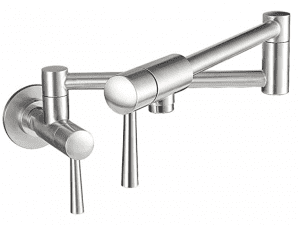 What do you do if you want a pot filler faucet that complements your modern kitchen but you're on a tight budget? You take the next best thing to the Delta Contemporary: a stylish IMLEZON model with a dazzling price tag.
Why We Love It:
Splash-Free Filling
The IMLEZON faucet has a built-in aerator. As you pour your water, the aerator creates a smoother pour so you don't splash water on your cooktop in the process.
Leak Protection
Leaks are a top concern for any faucet, but IMLEZON has outfitted this faucet with a solid brass ceramic cartridge to lower that risk.
On top of the high-quality cartridge, this faucet uses durable stainless steel tubing which is sure to last for years without creating a leak.
Value
When it comes to great quality and style for the price, you won't beat this faucet. It's one of the lowest-priced faucets on this list but with quality and features you won't find elsewhere.
Contemporary Look
For any modern kitchen, your faucets should complement your style rather than distracting from it. The contemporary look of this IMLEZON faucet will get that job done.
4. MSTJRY Pot Filler Faucet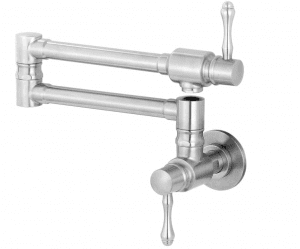 What if you want all the convenience of a pot filler faucet but your kitchen has more of a traditional look than a modern one? In that case, the MSTJRY faucet is the perfect fit for your home.
Why We Love It:
Fast Flow
No one wants to spend precious time filling a pot, especially if you're cooking in large batches. The MSTJRY pot has a faster flow rate than most pot filler faucets, with a flow rate of 5.5 GPM compared to the average of 3-4 GPM.
Traditional Style
If you're a fan of a more traditional aesthetic, look no further. The stylish, curvaceous design of the MSTJRY pot filler faucet will be the perfect complement to your kitchen.
Versatile Rotation
You don't just need a pot filler that has the water access you want. You need it to be able to reach the right angles and areas. This faucet has a 360-degree rotation so you can fill up your pot on any burner with ease.
Quality Assurance
Pot filler faucets aren't cheap, so you want yours to last. That's why the MSTJRY faucet's five-year limited warranty is such a bonus.
5. Delta Traditional Wall-Mount Faucet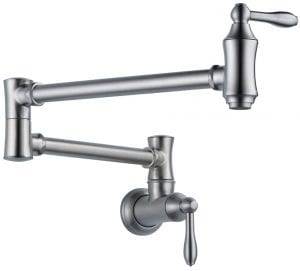 What if you loved everything about our top pot filler faucet pick except the contemporary style? If that's the case, this one's for you. This Delta model shares many similar features and advantages with the Contemporary, but with a more traditional design.
Why We Love It:
Long-Term Durability
Not all faucets are built to last, but this one is. It's constructed from brass, which is a particularly durable material for faucets.
Multiple Finishes
As we mentioned, this pot filler faucet is made of brass, but that doesn't mean it looks like a throwback to the 1990s. In fact, you have your choice of six beautiful finishes: arctic stainless, champagne bronze, chrome, nickel, stainless, and Venetian bronze. Few faucets have so many aesthetic options.
Warranty
You already know your Delta faucet is durable, but there's always a chance of a surprise problem down the line. Delta eases your fear by giving you a lifetime limited warranty for this faucet.
6. Moen S665SRS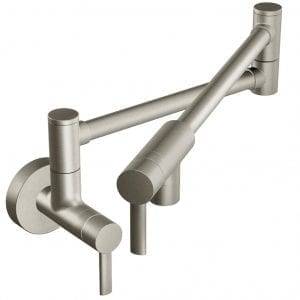 Sometimes it's worth splurging to add a dose of luxury into your kitchen. If that's what you're looking for, look no further than the Moen S665SRS pot filler faucet.
Why We Love It:
Unbeatable Quality
The simple fact is that when you want quality, Moen is the top choice. This is the most expensive faucet on our list but rest assured that the quality lives up to the price tag.
Continuously Great Look
Your faucet might look fantastic when you first install it. Then you start living your life and before you know it, it's covered in spots and smudges. If you opt for the stainless finish on this model, you'll get the benefit of a spot-resistant look day after day.
The stainless finish is the only finish that is spot-resistant, but this faucet also comes in matte black, chrome, or brushed gold.
Lifelong Reassurance
Peace of mind isn't easy to find, but Moen makes it a bit easier with their lifetime limited warranty on your pot filler faucet.
7. Kingston Brass KS8103DL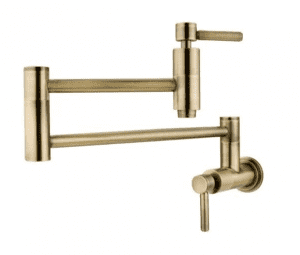 Kingston Brass is a popular and well-respected brand for a reason. You can see their quality come through in the KS8103DL pot filler faucet.
Why We Love It:
Unique Finish Options
Most of the faucets on this list come in multiple finishes, but you tend to see some finishes more than others. This Kingston Brass model comes in some unique finishes you don't see as often, like polished brass and oil-rubbed bronze. You can also get it in antique brass, brushed nickel, and polished chrome.
High-Quality Construction
Unsurprisingly, this Kingston Brass faucet is made out of brass. Not only is brass the highest standard for faucet material in preventing leaks and corrosion, but brass is this manufacturer's specialty. This tells you it's especially likely to have a solid construction.
Lighter Flow
Each faucet has a different flow rate. While many people prefer a faster flow rate for quicker filling, others like a lower flow rate so there's a lower risk for splashing. If you like a lighter flow, this faucet's 3.8 GPM will be perfect for you.
8. WOWOW Wall Mount Brass Faucet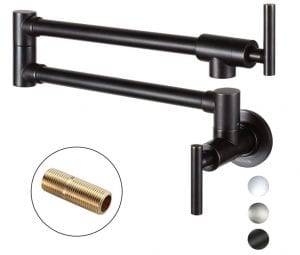 Your faucet doesn't have to merely "work" within your kitchen's design. It can be a stylish accent on its own. If that sounds like your vision for your pot filler faucet, you need to see the WOWOW Wall Mount Brass Faucet.
Why We Love It:
Unique Design
The most original and attractive aspect of this faucet is its design. The globe-like joints give it a fun and fashionable look, turning it into a piece of art that's also functional. With finish options of brushed nickel, chrome, and oil-rubbed bronze, you can enjoy the benefits no matter what your kitchen's color scheme may be.
Affordability
Not everyone has the budget to buy a top-of-the-line pot filler faucet. If you're updating your kitchen on a budget, this faucet will be easy on your wallet.
Simple Installation
Installation is one of the most challenging and often expensive parts of a wall-mounted pot filler faucet. If you already have the plumbing set up the way you need it, this faucet is meant to be easy to install yourself.
9. American Standard Studio S Pot Filler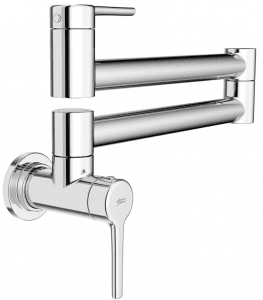 American Standard has long been a trusted brand for faucets, and their Studio S Pot Filler is no exception. This faucet combines design and quality for a beautiful yet functional addition to any kitchen.
Why We Love It:
Minimalist Design
The Studio S faucet is designed with clean, simple, straight tubes. This creates a modern and minimalist design that will look great in your kitchen without distracting from your room's style.
Internal Safety
Nothing is more important than your family's safety, and American Standard knows this. That's why they used an entirely lead-free construction for this faucet so there's no risk of lead leaking into your food.
Dripless Operation
No one wants a dripping faucet, and you won't have to worry about that with the Studio S. The ceramic disc valve is a high-quality feature that prevents dripping for years to come.
10. Kohler K-22067-BL Wall Mount Pot Filler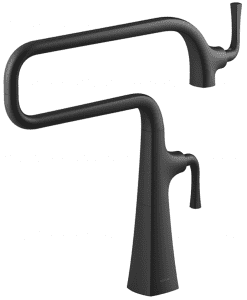 This faucet may have come in at #10 on our list but remember that it's still in our top ten among the countless pot filler faucets on the market. Whether you're a fan of the matte black, polished chrome, or vibrant stainless finish, this Kohler pot filler faucet has plenty to offer.
Why We Love It:
Deck Mount Option
As you've seen, all the pot filler faucets on this list are wall-mounted. While that's the preferred option for most people, others aren't a fan of having the faucet on their wall. Unlike the other faucets, this Kohler offers a deck mount option as well as a wall mount option to fit anyone's kitchen.
Industrial Look
If you're a fan of the industrial look, this is the perfect faucet for you. The faucet mimics the look of old metal plumbing pipes, which gives it a unique style that's both industrial and retro.
Long-Lasting Excellence
When you have a pot filler faucet that works well and looks great in your kitchen, you want it to stick around. With this model, not only do you have the known quality of the Kohler brand, but your faucet has a ceramic disc valve that exceeds industry quality standards.
Choosing Your Pot Filler Faucet
Pot filler faucets may all have the same purpose, but as you can tell from this list, there are also huge variations from one model to the next. No matter your kitchen's style, your space constraints, and your needs, you can find an option for you on this list.
For more selections of the top products for your home, check out more of our blogs.