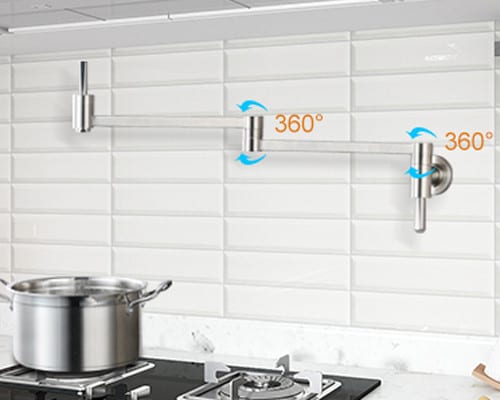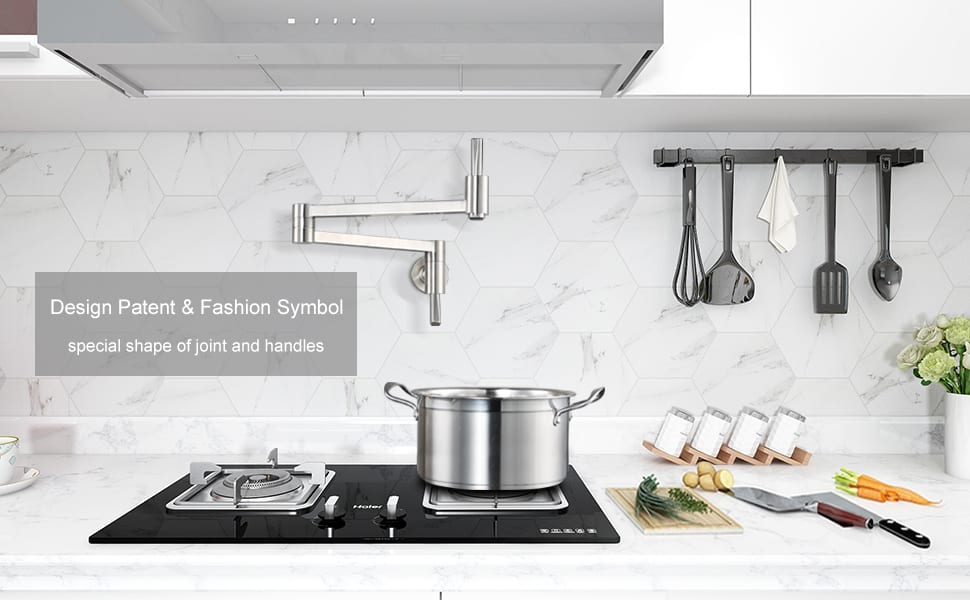 Product Description.
Wall-mounted faucet pot filler brushed nickel: high quality brass material, brushed nickel finish to ensure durability and easy cleaning.
Lead free catering commercial faucet: ensures water standards through lead free filtration technology, ideal kitchen faucet for pot filling and water filling.
Drip free kitchen water injector faucet: double handle water injector has 2 ceramic valves, smooth rotation, high pressure ABS aerator, less water splash, tight seal, drip free.
360° rotatable rocker wall-mounted hole faucet: double joint, rocker and 2 handles, 1 hole, kitchen sink faucet can be folded out when not in use, high efficiency.
Warranty and customer support: provide 5 years warranty and customer support.
Product Features
Minimalist Design & Brushed Nickel Finish & Solid Brass Body
The unique patented exterior design is perfect for creating a classic kitchen style; exquisite brushed nickel finish and solid brass for superior quality and understated luxury.
360° rotatable double-section rocker arm.
The folding faucet swivels 360° and has a dual joint spout up to approximately 24 inches, allowing you to access water directly on the cooktop or stove, or easily stow away when not in use.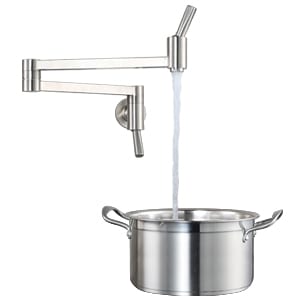 Huge water flow and quality Neoperl ABS aerators
High water flow rate to quickly fill large pots or pans, leak-proof technology to prevent unwanted drips when not in use.
High-performance Neoperl ABS improves flushing, saves up to 50% of water compared to ordinary faucets, makes the water flow smooth and gentle, and has filtering and anti-splash features.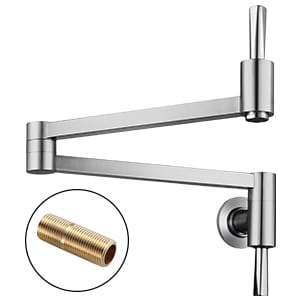 U.S. standard connectors and solid brass materials
1/2"NPS to 1/2"NPT fittings, US standard, for easier installation.
Architectural solid brass is by far one of the most durable and commonly used piping materials. In addition to years of superior performance, they are not prone to corrosion or leaks. Better yet, for hard water use, the faucets require very little maintenance.
Folding pot filler kitchen includes
1 pot filler
1 x Connector
1 faucet base
1 set of installation hardware
1 x installation instructions
1 pair of gloves