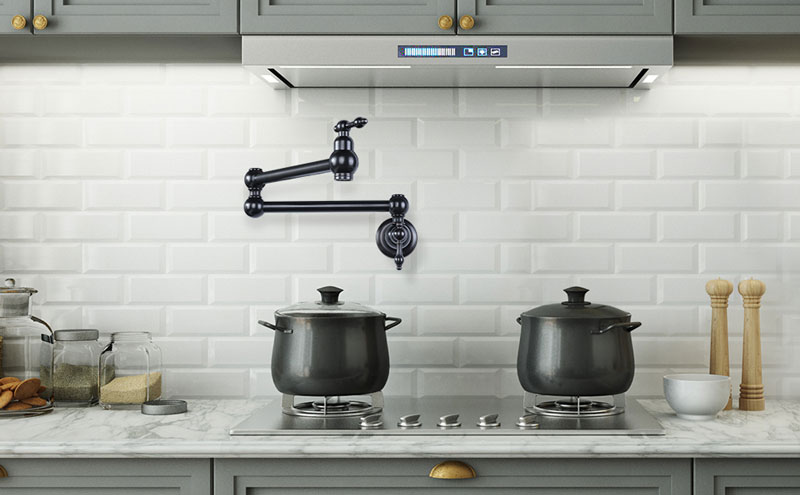 The pot filler faucet is installed directly on the stove, so you can fill the large pot directly on the stove without having to pass them through the kitchen. Although this seems to be the perfect addition to any kitchen, these faucets also have some disadvantages. Are pot fillers worth it and in style? In this post, we have summarized the pros and cons of pot filler faucets for your references.
Pros of pot filler faucets
The reasons of pot filler faucets are still in style is that they can play a crucial role in some situations in the kitchen. Here are the pros of pot filler faucets.
Eliminate Heavy Lifting
Having a dinner party means lots of food leadings to dirty pots dishes. Carrying those large pots and other dishes. Carrying those large pots and other dishes to the sink can be strenuous and painful for your hands and back. The main purpose of a pot filler faucet is to provide a way to fill pots without having to carry the water-filled pot from one side of the kitchen to the other. This is especially helpful in larger kitchens or in kitchens designed for older people who may lack the strength to carry heavy pots from one place to another. This is one of the main advantages to a pot filler faucet.
Helps multitasking and saves time
Another advantage is that having a pot filling tap can save you time. You can turn on the faucet directly on the stove instead of sitting by the sink and watching the kettle fill up with water. On the stove, you can continue to do other things while also paying attention to the fuel tank. You don't have to spend time carefully walking on the floor with a heavy pot that may overflow at any time.
Safe and avoid injury
Another benefit of canned faucets is safety. Moving a pot of water in the kitchen may endanger your health and the health of others. If you hit someone while carrying the pot, the water may overflow and cause slips, which may eventually lead to fractures or sprained ankles.
Cons of pot filler faucets
However, nothing is perfect and so is the pot filler faucets. They also have some disadvantages as listed below.
Structural and leakage issues
One of cons of pot filler faucets is the issue of structure and leakage. Just like any other faucet, the pot filler facuet can have some leakage issues which may cause confusion and damage to your stove, kettle, stove, and cabinets. In addition, if the faucet is not installed at the proper height or length, this may be an annoyance for you, not a convenience. It may bother you while cooking, and it will also make it difficult for you to fill large pots.
Maintenance issues
Unlike other faucets in the kitchen, filled faucets are a bit difficult to maintain and clean. Since this faucet is installed directly above the stove, heat, smoke and grease may devalue or lose its luster. It can be troublesome to clean and maintain it properly. Second, if the faucet is installed at a certain height, it may be difficult to reach for cleaning.
Bottom Line – pros and cons of pot filler
As a result, before you are intended to get a new pot fiiler for your kitchen, it is vitally significant to evaluate all the pros and cons of having a pot filler from various aspects. If you are still interested in pot filler faucets, here are various kinds of pot filler faucets for you, from which you can choose a suitable one for your kitchen.