The Most Popular Kitchen Faucet Trends in 2022 – Latest

Kitchen faucets come in different styles, forms, finishes, colors, and functionality that can make your kitchen unique and elegant. However, lots of people are confused when looking for the latest faucet for their kitchen. So, what are the latest kitchen faucet trends? Here are the latest trends of kitchen faucets that we'll see in 2022 and beyond. Get inspiration for your next kitchen remodel. Read on!
list of latest kitchen faucet trends
1. Touchless kitchen faucet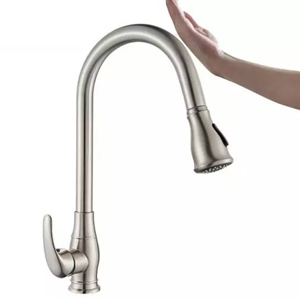 This is one of the latest kitchen faucet trends. Kitchen faucets are moving towards high technology and will become a popular trend in 2022. Although touchless faucets have been around for some time, the pandemic only emphasized its importance. In particular, the recent pandemic of COVID-19 has greatly increased people's awareness of health and safety. Whether it is increasing concerns about spreading bacteria or increasing demand for hands-free functions, the demand for touchless faucets will increase in the new year. With these innovative faucet trends, you don't have to worry about spreading bacteria to the faucet, it can improve your work efficiency in the kitchen.
2. Pull out kitchen faucet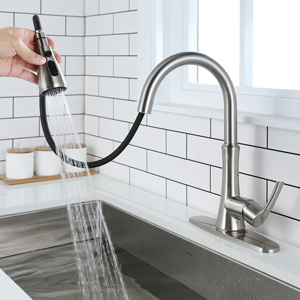 Pull out kitchen faucet is unprecedentedly popular in 2021 and the trend of it will continue in 2022. Most kitchens involve a lot of multi-tasking, a pull out kitchen faucet enables you to fix this problem perfectly. That's why they are so much popular all over the world. In the future, one important issue of pull out faucet will be fixed: ergonomic function for people with varying abilities. The faucet extends farther out over the sink than a standard faucet, making it easier to reach and use.
3. Pot filler faucet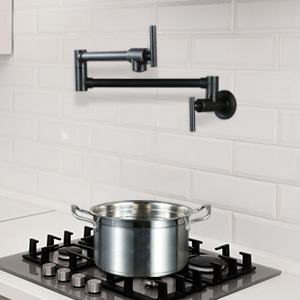 Many well-known product managers and presidents of faucets have expressed their views that pot filler faucets will be a trend in the future. The pot filler faucet is installed directly on the stove, so you can fill the large pot directly on the stove without having to pass them through the kitchen. As kitchens are getting bigger, pot filler faucets seem to be the perfect addition to any kitchen. In addition to practicality, its different finishing styles can also be perfectly integrated into different styles of kitchens. I believe that pot filler faucet will be a kitchen faucet trend in 2022.
4. Multifunctional spray head faucet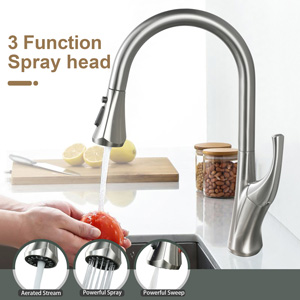 The multifunctional spray head faucet is another option that brings convenience to the kitchen. These new series have different sprays, including source, spray and sweep modes. This type of faucet has a wide range of uses and is very good at handling various situations in the kitchen, such as you can clean very dirty dishes or pots with sweep mode while use spray mode to clean fruits and vegetables. Many well-known faucet brands like Delta and Moen have recently actively launched this type of faucet, which also illustrates the multifunctional spray head faucet will be one of popular trends in 2022.
5. Mixing metals finishes faucet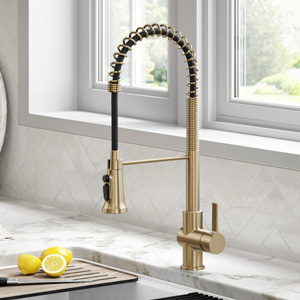 The pursuit of individuality is one of the main themes of the new era. The same is true in kitchen. In 2022, mixing and matching finishes will remain a strong trend, helping homeowners to personalize their kitchens. With the popularity and fall of different finishes, mixed metals help make the kitchen trendy. In addition to choosing different finishes for plumbing, lamps, and cabinet hardware, homeowners can now choose to mix two different finishes on the kitchen faucet.
Closing thoughts
Trends come and go, but some classic design styles endure for a long time. 2022 is the year to update these classic trends and make a unique turn for them. The update of classic design trends will continue for several generations and can be completely customized according to the needs of each user. In the latest trend, find the faucet that suits your kitchen! WOWOW Faucet is dedicated to providing the most fashionable and practical faucets to the world, which are suitable for all styles of kitchens!
Kitchen Faucet Products Recommended