Have you decided to remodel your kitchen? Even if you are just giving your kitchen sink area an update, replacing your kitchen faucet is an upgrade that can easily be accomplished. However, with so many different types, finishes, and costs of kitchen faucets available on the market today, how do you decide on the right one? Selecting a new kitchen faucet can become a tedious task if you don't know exactly what you want. Let's begin by taking a look at the 7 different types of kitchen faucets, and then we will touch on the other considerations to make when choosing the right kitchen faucet for you.
Pull-Out Faucets
Featuring a detachable head, pull-out kitchen faucets allow for a wide range of motion. It gives you access to a regular flow or a spray selection. This makes it easy for it to reach all of the corners of the sink, and some models allow it to reach over to the countertop to give it access to fill up a pot that may be too large to fit into the sink. Pull-out faucets usually have one handle, so you can use one hand to control the water flow and temperature while pulling out the faucet with the other hand.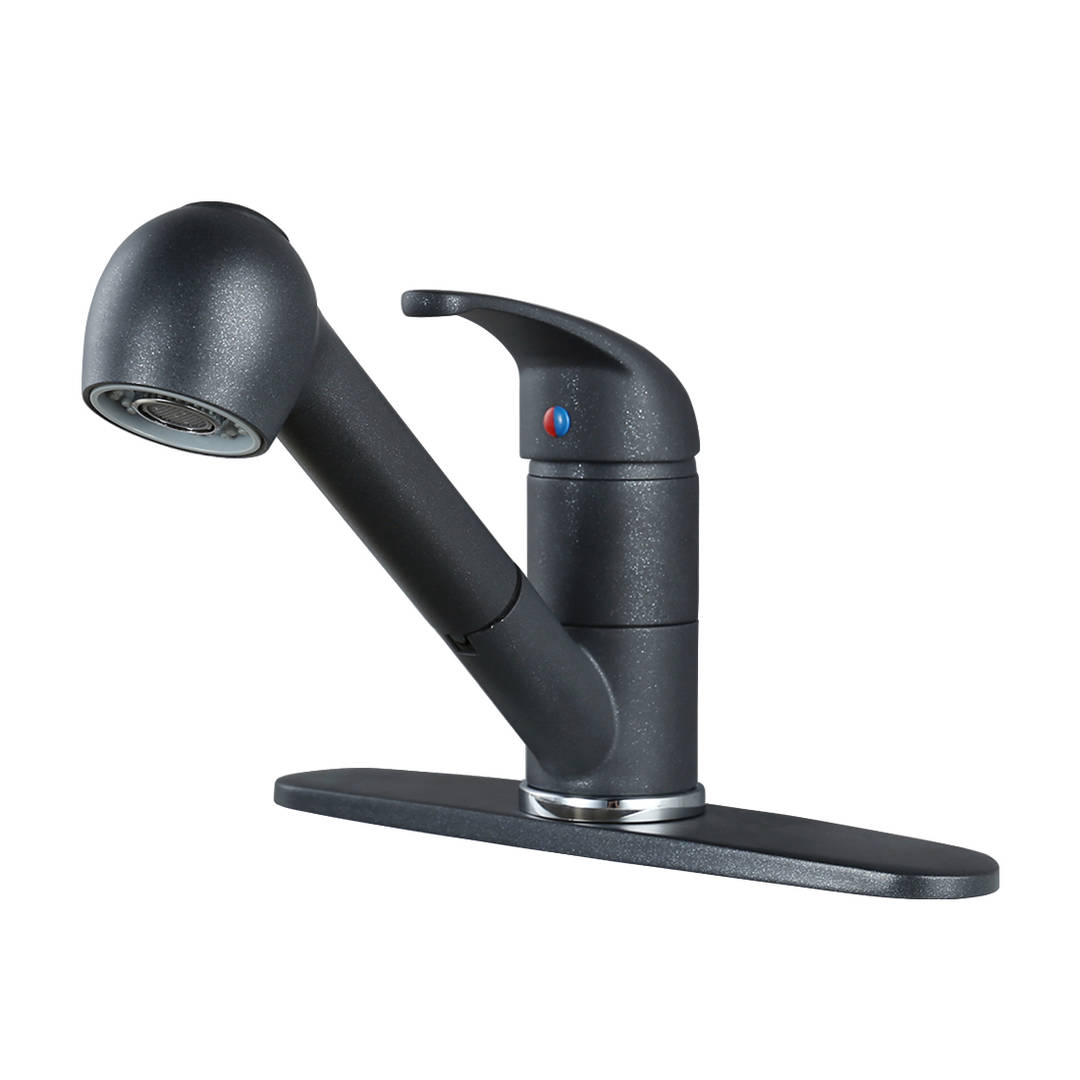 Pull-Down Faucets
A perfect choice for washing dishes, pull-down kitchen faucets feature graceful-looking gooseneck spouts. These faucets are popular for a good reason. A pull down kitchen faucet makes it simpler to allow the water reach into every corner of the sink, as well as getting into every nook and cranny of your pots and pans when you are handwashing them. Their fixed head pulls downward, but not out, such as a pull-out faucet does. For this reason, if you choose a pull-down faucet, it is best that you have a deep sink. If your sink is too shallow, you will likely end up splashing water all over yourself.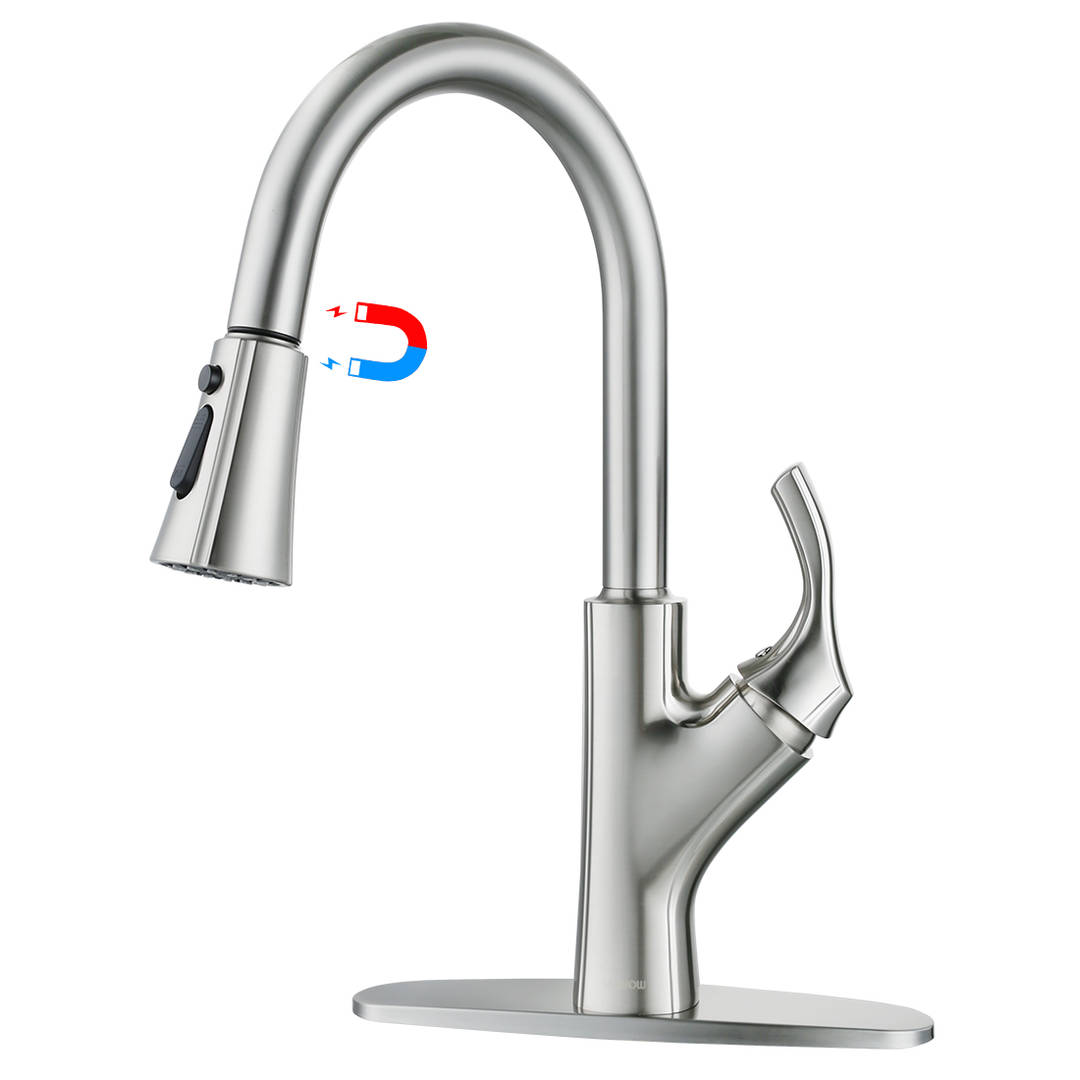 One-Handle Faucets
One-handle kitchen faucets feature a gooseneck design, with a single handle usually off to one side. The single handle is easily moved from one side to the other to change the water temperature. The disadvantage is that it may be so sensitive that it might be difficult to get the water to the exact temperature that you need. However, the advantages of one-handle faucets are that they are very dependable, easy to fix when necessary and have a classical, elegant design. If you decide upon a one-handle faucet, be sure to choose one that has a tall profile, so that you can fit your taller pots and pans beneath the spout.
Two-Handle Faucets
A two-handle faucet is more commonly found in kitchens today. One handle is for hot, the other for cold, and the spout rests in the center. The style is appropriate for almost any kitchen design when the appropriate finish is selected. As the handles are separated, you get hot water more quickly, and as the hot and cold are separated, you are able to get the water temperature exactly as you want it. The only drawback is that with two handles, you will either need to use both hands to make temperature adjustments or using one hand to move between the two handles if you are very busy cooking.
Touchless Faucets
Absolute perfection for a serious cook, touchless kitchen faucets turn on with a simple wave of your hand. They operate when a tiny sensor triggers the flow of water when you wave a pot or your hand in front of it. It is a great answer to the problem of your hands being contaminated from handling raw meat, for example. However, it should be noted that in order for you to adjust the temperature and water flow, you will need to touch the handle, on its base. The only mentionable downside of a touchless kitchen faucet is that it comes with a hefty price tag.
Pot Fillers
Location is everything. The most mentionable aspect of a pot filler is that it is located on the backsplash area behind your kitchen stove. Convenient as it can be, having a pot filler eliminates the need to fill up a heavy pot in the sink and then carry it over to the stove. Plus, what could be more beneficial than having an additional water source in your kitchen? This means you can use the pot filler for cooking, and your regular kitchen faucet for doing dishes or washing your hands. The only drawback is that pot fillers are generally located far away from the sink plumbing, so they usually need to be installed by a professional.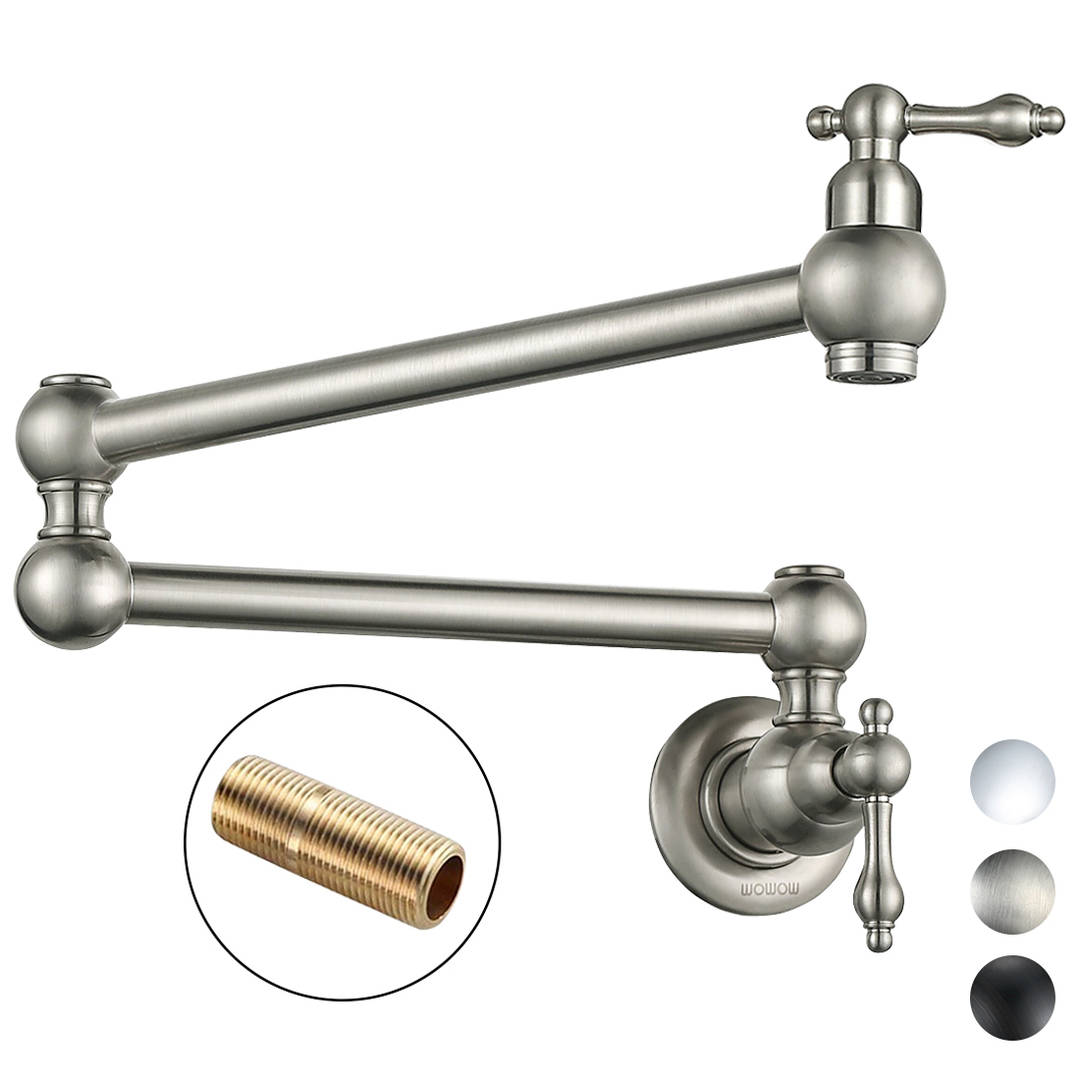 Smart Faucets
If you are looking for the most luxurious option in kitchen faucets, look no further than smart faucets. A smart faucet listens to what you are telling it to do and follows your directions. You tell it to turn on and find a particular temperature, and it does. Tell it that you need cup of water, and it measures out that exact amount. Smart faucets come equipped with all kinds of fancy features such as digital displays and hands-free operation. Basically, it is the most ultimate and priciest option for the serious cook.
Mounting Styles
In order to choose the right kitchen faucet, you need to decide how the faucet is going to be mounted. Here are the three locations to consider:
Sink M