Is there anything more refreshing than a relaxing shower? Of course, if your shower faucet system isn't doing its job well, you won't get what you bargained for. No one wants to constantly struggle with low water pressure, uncomfortable showerhead angles, poor temperature control, or other issues that come from a low-quality shower faucet.
A great shower faucet is something you'll enjoy every day for years to come, so it's worth investing in good quality. Whatever your budget may be, there are options for you among these best shower faucet systems of 2020.
Our Top Pick:
Delta Faucet 4-Spray Touch Clean In2ition
Is it any wonder that a Delta faucet system ended up at the top of the list? This two-in-one design allows you to enjoy both an overhead showerhead and a handheld sprayer at the same time. It's packed with options to customize your shower experience, yet all at a price that gives you top value for your money. It doesn't get any better than that.
1. Delta Faucet 4-Spray Touch Clean In2ition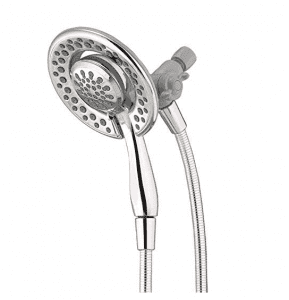 Amazon US
Delta is royalty in the faucet world, and for good reason. Their 4-Spray Touch Clean In2ition is the ideal balance of expert design and customizability.
Why We Love It:
Options Galore
Plenty of showerheads have hoses that let you jump between an overhead spray and a handheld sprayer. This is one of the few that lets you do both, with an overhead ring and a detachable sprayer in the middle.
Four Spray Modes
The name of this faucet system isn't a mystery because it comes with four easy spray options: massage spray, full body spray, a combination of full body and massage spray, and pause.
Easy Cleaning
This showerhead uses Delta Faucet's inventive Touch Clean spray holes, which allow you to easily wipe them clean even if you have hard water and other chemicals in your water.
2. SR SUN RISE Shower System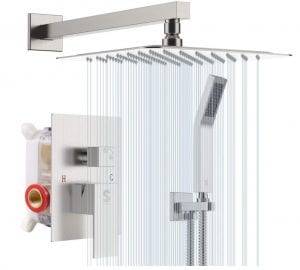 Amazon US
Your shower is a retreat from your stressful day, so why not make it a true oasis? The SR SUN RISE rainfall shower system turns any shower into a luxury experience.
Why We Love It:
Rainfall Style
A rainfall-style showerhead hangs directly overhead and features a wider area of water rather than a smaller stream. That unique shape is enough to make anyone feel like they're enjoying a warm summer rain.
Direct-Spraying Handheld Sprayer
When you use most shower faucet systems' sprayers, the water doesn't have as much power to it so it flows at a downward angle. This makes it difficult to aim your spray where you want it. This SR SUN RISE model sprays in a true straight line so you have the power of precision.
Sleek Modern Look
This shower faucet system is ideal for any modern home. With its sleek angles, clean lines, and an array of finishing options, it complements a contemporary bathroom with any color scheme.
3. Delta Faucet Linden 17 Series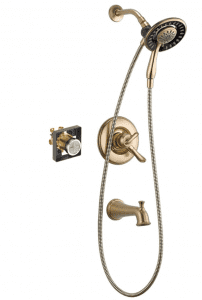 Amazon US
Is anyone surprised Delta Faucet landed two faucet systems among the top three spots on our list? Their trusted reputation, impeccable design, and innovative features make them a force to be reckoned with.
Why We Love It:
Tub and Shower Combo
This faucet system comes with not only a showerhead and detachable spray wand but a tub faucet too. It all pairs together seamlessly for a truly luxury, dependable system. There is, however, a shower-only option in case you love the style but have a standalone shower.
Unique Finish Options
Your shower faucet system is a big part of your bathroom's look, so don't compromise with a system that has one or two finishes. This Delta Faucet system comes in chrome, stainless, champagne bronze, and Venetian bronze.
Complete Kit
On top of the cosmetic components, Delta Faucet's kit comes with their high-quality valve as well, and you can get the system with or without a rough. You get everything you need to install your system and start enjoying it.
4. Moen T2909EPBN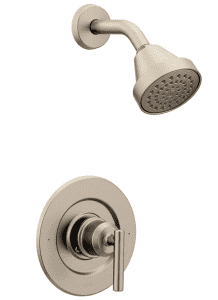 Amazon US
Moen is known for backing up their work and making products that last, and this T2909EPBN shower system doesn't disappoint. It focuses on one thing and one thing only: quality construction.
Why We Love It:
Minimalist Design
Sometimes less is more, and that's the design philosophy Moen has taken with this shower system. It's a simple showerhead with a no-frills handle for water and temperature control. It has everything you need and nothing you don't need.
Long-Lasting Quality
Unlike many of the shower faucet systems on this list, Moen's system comes with their signature limited lifetime warranty. You can rest easy that your faucet will last and then wake up in the morning with a great shower.
Ease for Future Upgrades
Moen uses an M-PACT valve system throughout their line of shower faucet systems. This means if your style changes later and it's time for an upgrade, you won't have to swap out the plumbing if you buy a new Moen system.
5. American Standard 9038804.295 Spectra Versa System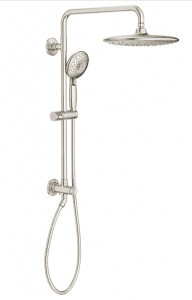 Amazon US
The American Standard 9038804.295 is a statement shower system if we've ever seen one. Between the rainfall showerhead, the handheld attachment, the long hose, and the control dial, your shower turns into a stunning focal point.
Why We Love It:
Rainfall Shower without Installation Headaches
Rainfall showers are the definition of luxury, but they often come with a problem: a challenging installation in the shower ceiling. American Standard, on the other hand, makes it easy by giving you a rainfall showerhead that installs from the wall with ease like any other shower faucet system.
Multiple Water Capacity Options
Most shower faucet systems have one water capacity rating (listed as gallons per minute or GPM) and you get what you get. American Standard offers this unique system with two options, 1.8 GPM or 2.5 GPM, so you can choose the experience you want.
Long Hose for Hand Shower
The American Standard Spectra Versa features a 69-inch hose for the handheld shower attachment, which is longer than we typically see. That gives you ultimate flexibility for washing your hair, washing the dog, rinsing the shower clean, or any other needs you might have.
6. Peerless Claymore Faucet Trim Kit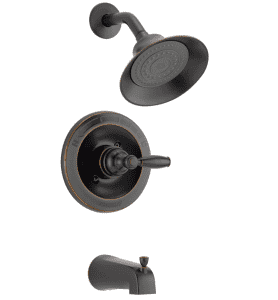 Amazon US
Simple yet timeless, Peerless's Claymore Faucet Trim Kit is designed for a tub and a shower in one. It's an accessible yet attractive addition to any bathroom.
Why We Love It:
Unique Design Aesthetic
Oil-rubbed bronze is emerging as a more and more popular choice for bathrooms, and Peerless knows. The stylish finish paired with the simplistic three-piece design of this faucet system complements your look without overpowering it.
Water Conservation
This Peerless faucet system proudly bears the WaterSense label. That means it gives you a refreshing shower while reducing water waste by 20%. Not only is this a gift to the environment, but it saves you money on your water bill.
Discreet Showerhead Design
A showerhead full of holes isn't the prettiest thing in the world, and that's why Peerless made sure that isn't the first thing you see in your bathroom. The showerhead's unique design shields the holes with a wide outer rim.
7. KES Pressure Balancing Rain Shower System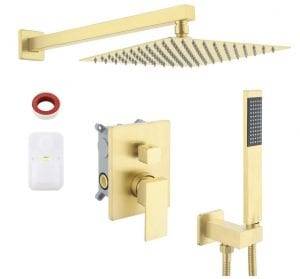 Amazon US
Some people love the relaxation of a rainfall shower while others prefer something with more water pressure. The KES pressure balancing rain shower system has the best of both worlds: a rainfall showerhead with a more pressurized handheld sprayer.
Why We Love It:
Pressure Balance Valve
We've all had times when we stepped into our shower half-asleep and the excessive pressure jolted us awake. If you prefer a less jarring experience, you'll love the scald-free pressure balance valve.
Extendable Hose
Most shower faucet systems have one length of hose if they have a hose at all. KES is all about customizability, though, so they offer an extendable hose that can reach between 59 and 75 inches.
Stylish Alternative
You might notice that this faucet system has a similar look to the SR SUN RISE system we ranked at #2. The look is similar but there are a few differences: the KES system has different finishing options and it comes with a slightly lower price tag.
8. Moen Genta Posi-Temp Tub and Shower Trim
Moen is the master of simplified yet elegant styles with quality that lasts. Their Genta Posi-Temp tub and shower trim offers the perfect balance of aesthetics and function that we've come to expect from the brand.
Why We Love It:
Unique Style
This Moen shower faucet system has a style all its own. The control panel has a blend of traditional curves and modern square lines, while the showerhead splits the line between a wide rainfall-like showerhead and a more traditional, narrow showerhead.
Tub and Shower Combo
Is there anything worse than finding a shower faucet system you love but discovering it only has a showerhead and now you need a tub spout to match? This Moen model comes with both a tub spout and showerhead so your shower looks well-curated from day one.
Easy Grip
A narrow handle might look stylish in some shower faucet sets, but for someone with arthritis, hand injuries, or other issues, they're nothing but a pain. This Moen model features a wide handle making it easy for anyone to use.
9. Grohe Europlus Perfect Shower Set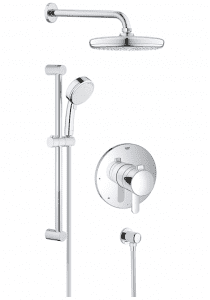 Amazon US
The Grohe Europlus Perfect Shower Set is a beautiful addition to any bathroom with chrome finishes. Its understated form gives you all the functionality you want without sacrificing style.
Why We Love It:
Contemporary Beauty
Who wants to choose between a traditional look and a bold, modern aesthetic? Why not split the difference with a contemporary style? That's exactly what this Grohe shower faucet system does with their chrome shower trim.
The Power of Tempesta
The Tempesta collection is a popular favorite among Grohe's fans, with its stunning style and high quality. This system combines the rainfall showerhead and handheld sprayer from the Tempesta collection into one luxe set.
Water Conservation
This shower set pushes through 1.75 gallons of water per minute, which is lower than many options on the market today. That means you'll be protecting the planet's water while still getting the shower of your dreams.
10. Grohe Grohtherm Smart Thermostatic Trim With Control Module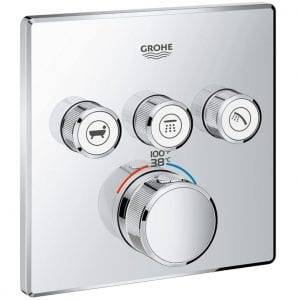 Amazon US
A great showerhead isn't all you need for a fantastic shower. You need to be able to control different water sources, temperatures, pressure levels, and more. The Grohe Grohtherm Smart Thermostat puts that control in your hands.
Why We Love It:
Choose Your Own Setup
Customizability is the name of the game with this control module, and you can even customize the amount of control you have. Choose between one, two, or three buttons and decide what symbols you want for each one based on what you want it to control
Abundance of Finishing Options
Because this control module comes separately, it needs to match any shower's faucet set. You get your choice between six finishing options from starlight chrome to hard graphite.
Easy-to-Understand Symbols
If you have kids, you don't want to be coaching them on how to control the shower every day, but that's what happens with some complex control panels. That won't be the case with the clear symbols on this control module.
11. Moen Smart Home Connected Digital Bathroom Controller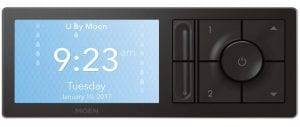 Amazon US
Like the Grohe control panel, this Moen smart home digital bathroom controller is a way to control your shower rather than an actual showerhead. It's a high-tech solution that makes your showers quicker, simpler, and more tailored to your needs.
Why We Love It:
Flexible Placement
Sometimes the little discomforts in life irritate you the most, like getting cold water on your head when you first reach in to turn on your shower. You can place this Moen control panel out of the line of fire so you don't get wet until the water has reached the perfect temperature.
Diverse Control Options
On a cold winter morning, wouldn't you love to go straight from your warm bed to a warm shower? This controller lets you do that because you can control your shower from your phone or your voice assistant like Alexa or Google Home so it hits the ideal temperature before you get out of bed.
Water-Conserving Features
The Moen controller offers water-conserving features like a timer that lets you limit your shower time. It's perfect for families with kids who lose track of time and anyone who wants to keep their mornings moving too.
Choosing the Best Shower Faucet Systems of 2020
Your shower is an opportunity to relax and refresh, whether it's at the beginning or the end of your busy day. Give it the consideration it deserves with any of these choices for the best shower faucet systems in 2020. For more top options for your home's hardware, check out more of our shopping blogs.