Best Bathroom Faucets 2017 – Buying Guide & Reviews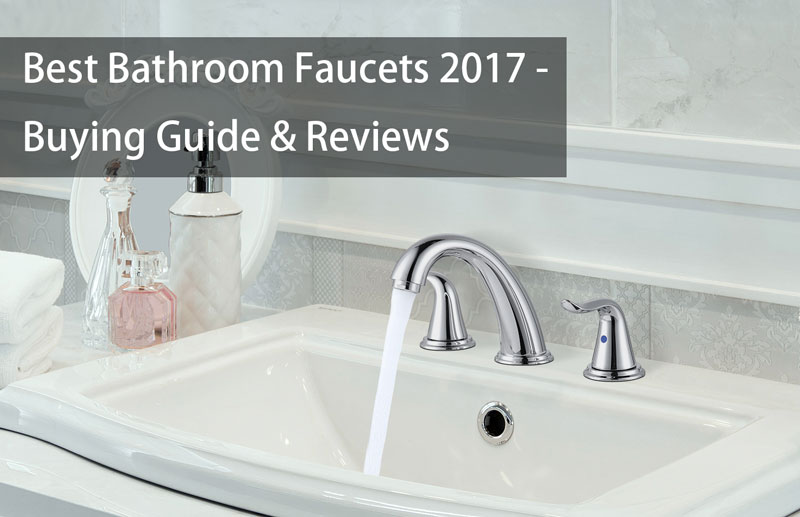 If you are building a new home or want to renovate the bathroom, you will have lots of choices in bathroom installation. Especially in the faucet, you will have so many choices that you may be overwhelmed by a large number of choices. That's why we took the time to look at many bathroom faucets and list what we think are the best bathroom faucets  in 2017on the market. According to our bathroom faucet review, here are the best bathroom faucets.
WOWOW Single Handle Bathroom Faucet 1 Hole High Arc Bathroom Basin Faucet Matte Black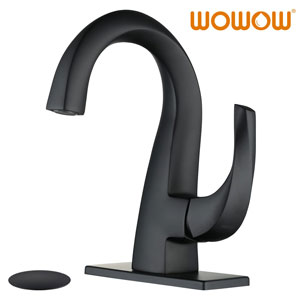 Amazon US
The single handle bathroom faucets are also known as single hole bathroom faucets. The main advantage of single handle bathroom faucets is that you are able to control the water temperature with just one hand. Another advantage has to do with the easiness of installing. As you just need one hole, it is pretty easy to install a single hole bathroom faucet. Single hole bathroom faucets come in all kinds of styles and designs. The matte black bathroom faucet of WOWOW offers you an elegant design that exactly resembles a gooseneck in a both bold and unique color.
Premier Faucet 284446 Sanibel Lead Free Single Handle Lavatory Faucet, Parisian Bronze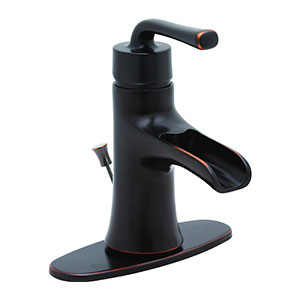 If you are the kind of person who likes a single handle that works in both hot and cold temperatures, then you should be very interested in seeing this Premier faucet model. It is not only a very practical faucet, but also very fashionable.
This faucet may seem simple, but this model has very good features. It all starts with its water-saving sensor function, which is specifically designed to save you more than 700 gallons of water per year. There is also a built-in ceramic disk cartridge that provides excellent operating performance.
The color and finish options of this faucet are truly unmatched. It has various finishes such as chrome (the cheapest), stainless steel and brushed nickel. So far, our favorite is the elegant Parisian bronzes. There is a finish that suits everyone's taste and environment.
This is more like an overflow faucet. This means that if you like a lot of pressure on the bathroom sink, then this is not the model for you.
DELTA Lahara Centerset Bathroom Faucet Chrome, Bathroom Sink Faucet, Diamond Seal Technology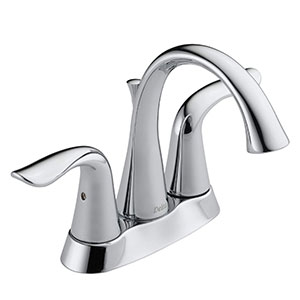 Amazon US
To say the least, this is a very good bathroom faucet. Not to mention that you can't go wrong with any fixtures made by the reputable manufacturer Delta.
The design of this faucet will give any sink a modern and elegant appearance. This is an easy-to-install faucet, equipped with everything you need. Simple and precise mechanical movement when operating the handle is also a big advantage.
We really like the exquisite finishes of this model faucet. To say the least, it is very suitable for many different bathroom styles. It has chrome, stainless steel, Venetian bronze and champagne bronze finishes, and they all look great.
The coating of metal finishes needs some improvement because it is easily stained by water. Even after polishing, it still lacks gloss in some cases. With a little elbow grease it will eventually look good again, but we don't think it is necessary.
Moen WSL84502SRN Adler One-Handle Low Arc Bathroom Faucet, Spot Resist Brushed Nickel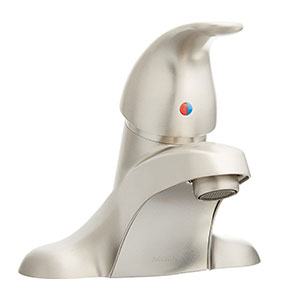 Amazon US
This product is designed for minimalist lovers who want to maximize bathroom space. It is a single handle design with a single hole function for easy installation. You can find that this can well replace the traditional Faucet Hole in your home. Next is my favorite inflation valve to increase the flow with better pressure. The controller is conducive to creating pleasant water flow movement. Therefore, you can expect many sweet experiences for daily use, such as brushing your teeth or washing your face. Don't forget the brushed nickel finish, because it can help you get rid of fingerprints and water stains on the faucet surface.
Bathroom Faucet by KOHLER, Bathroom Sink Faucet, Devonshire Collection 2-Handle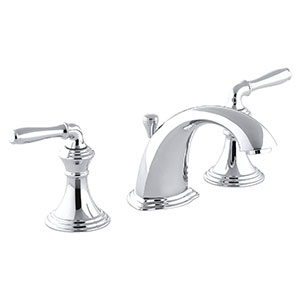 Kohler K-394-4-CP Devonshire is a purchasing agent for taste and beauty! The combination of the elegance of the old world and the modern curve makes this unique style stand out.
This gadget allows a double lever handle and a well crafted pop-up design to provide easy-to-use water and temperature regulation. Secondly, the polished chrome plated finish provides comprehensive protection against scratches, corrosion and discoloration. What's impressive is that these flexible and high-value products are quite affordable for the middle class.
WOWOW 2 Handle 8 inch Widespread Bathroom Sink Faucet with Pop Up Drain Matte Black Basin Faucet Mixer Taps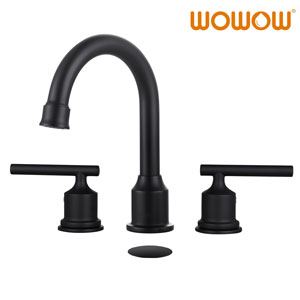 This waterfall faucet will be the perfect match for the container sink. With spacious water outlet clearance and within reach, you will be able to accommodate bowls up to 8 inches without worrying about too much splash or splash. The antenna of this bathroom faucet is 4.1 inches, which can reach deep enough into the sink to deliver the water to where you need it without being abrupt and cumbersome.
This faucet is designed for easy installation. The water connection is designed to be easily installed and quickly and easily connected to standard 3 / 8-inch water pipes. If you need a larger line, you can get an adapter to fit a 1 / 2-inch pipe. Longer hoses can also be used if you need them. This bathroom faucet uses ceramic filter element, which has longer service life and longer operation.
This bathroom sink faucet is also equipped with a traditional pop-up drain for sinks that do not overflow. If your sink does have an overflow, you need to buy it separately.
The waterfall faucet is suitable for installation in a single hole 1.25 inches wide. There are no eye locks included, but if you need one, several general options are available. The maximum deck thickness installed is 2 inches, but if you do have a deck, you also need to take this into account.
Premier Faucet 284443 Sanibel Lead Free Single Handle Lavatory Faucet, Chrome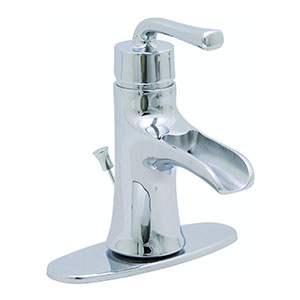 Amazon US
Premier's bathroom sink faucet is a single handle waterfall faucet that looks great with a traditional sink. However, due to the low outlet clearance, it is really not suitable for container sink. The total height of the faucet is less than 7.5 inches, and the outlet clearance is only 3 inches. The length of the outlet is 4 inches.The waterfall faucet has a lever on the top to control the water temperature and flow.
This bathroom faucet is designed for single hole installation, but with the included hole cover, it can be easily installed even if you have two or three holes. The deck plate is 6.5 inches from side to side. The maximum deck thickness installed is 1.25 inches. This faucet is designed to connect 1 / 2 inch water line, but you can also use an adapter to convert it to 3 / 8 inch if necessary.
The bathroom faucet kit comes with an easily installable pop-up drain. It is not clear whether the drain assembly is compatible with a sink with an overflow drain. The faucet uses ceramic disc filter element, which can provide longer service life without replacement or lubrication. In addition, Premier provides a limited lifetime warranty for the operation and finish of its bathroom faucets.
DELTA Windemere Widespread Bathroom Faucet Brushed Nickel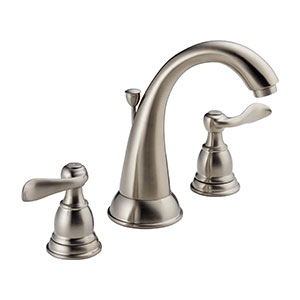 This Delta double handle faucet provides a classic transitional design of Delta performance and service life. This faucet has a full 90 degree operation to open and close. The handle complies with ADA standards and also meets all requirements for low-lead compliance. This faucet is also limited to 1.2 gallons per minute, so it not only complies with federal water protection regulations, but also complies with more stringent regulations in California.
This type of faucet, because it is a widely used model, can install the control handle at any position between the center of the faucet mounting hole that is 6 to 16 inches apart. The diameter of the hole shall be 1.25 inches and the maximum deck thickness shall be 1.125 inches. The kit includes all the hardware required for installation, including the pop-up drain assembly. If you like this faucet model, but don't like its wide range of applications, you can also find it in the center set model.
Delta provides a limited lifetime warranty, both for completion and operation. If the faucet leaks or drips at any time when the original purchaser owns the original residence where it was installed, Delta will repair or replace the faucet as needed. Delta uses special filter elements without gaskets to ensure a stable service life.