13 Square Meters of Humble Abode can Be Turned into A Small Mansion and My 110 Square Meters is Suddenly Not Spoiled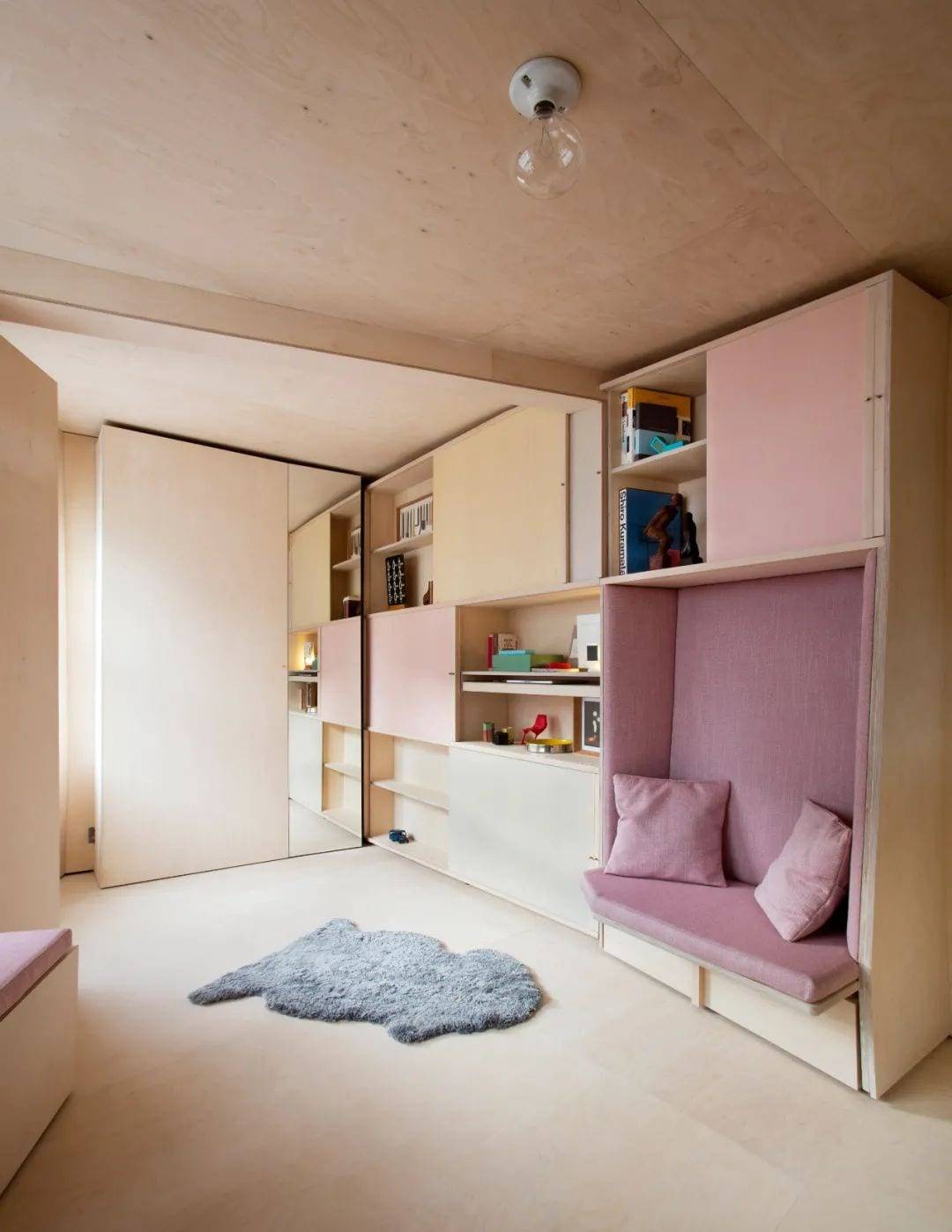 In modern society, many young people choose to work hard in big cities after graduation.
However, in the inch of the metropolis, even if that piece of space is not plentiful, but also considered to have their own shelter in the city.
"Dwelling", is it really so poor?
You know, life is not equal to survival, and home is not just a place to sleep at night.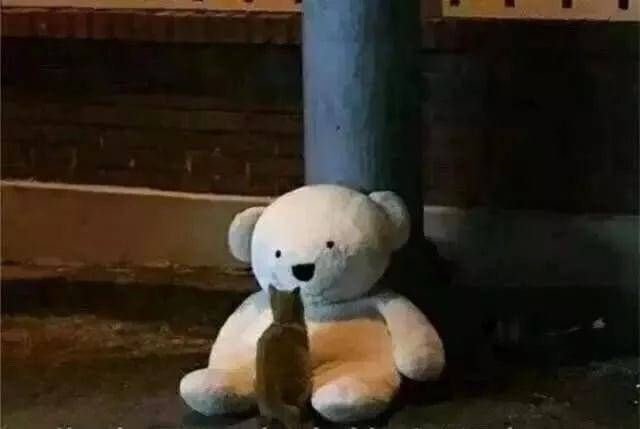 You just need to use your brain more on small house decoration. Let's see how the professional designers make a smart design and a reasonable plan to make the " small house" with an inch of land and money instantly worthwhile.
Today's two small rooms, area of 13 square meters, but also to accommodate two people, and see the miracle of the "Dwelling".
13 square meters to live for two people
[It's probably the smallest house in London]
This small bungalow, just 13 square metres, needed to be turned into a flexible living space to accommodate two people.
It was actually a challenge, but the founders of design studio Studiomama – Nina and Jack – gladly accepted the challenge and photographed the tiny house, determined to create "probably the smallest house in London".
(Incidentally, the couple are arguably the purists of the design world, never taking on luxury house projects and pouncing on small furniture designs)
From the outside, this plain white "little box", who would have thought that there is a secret inside?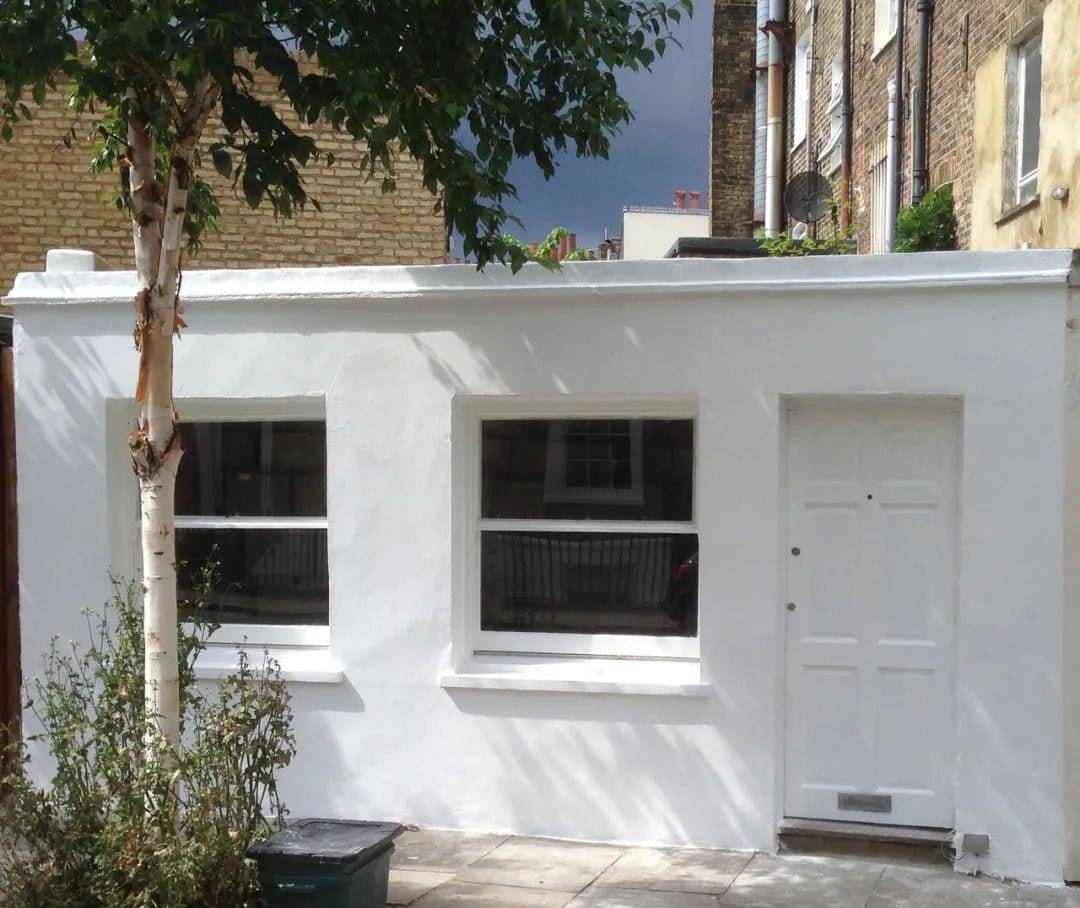 The design of the interior of the building is like a ship's cabin, which is a small space with all the necessary facilities.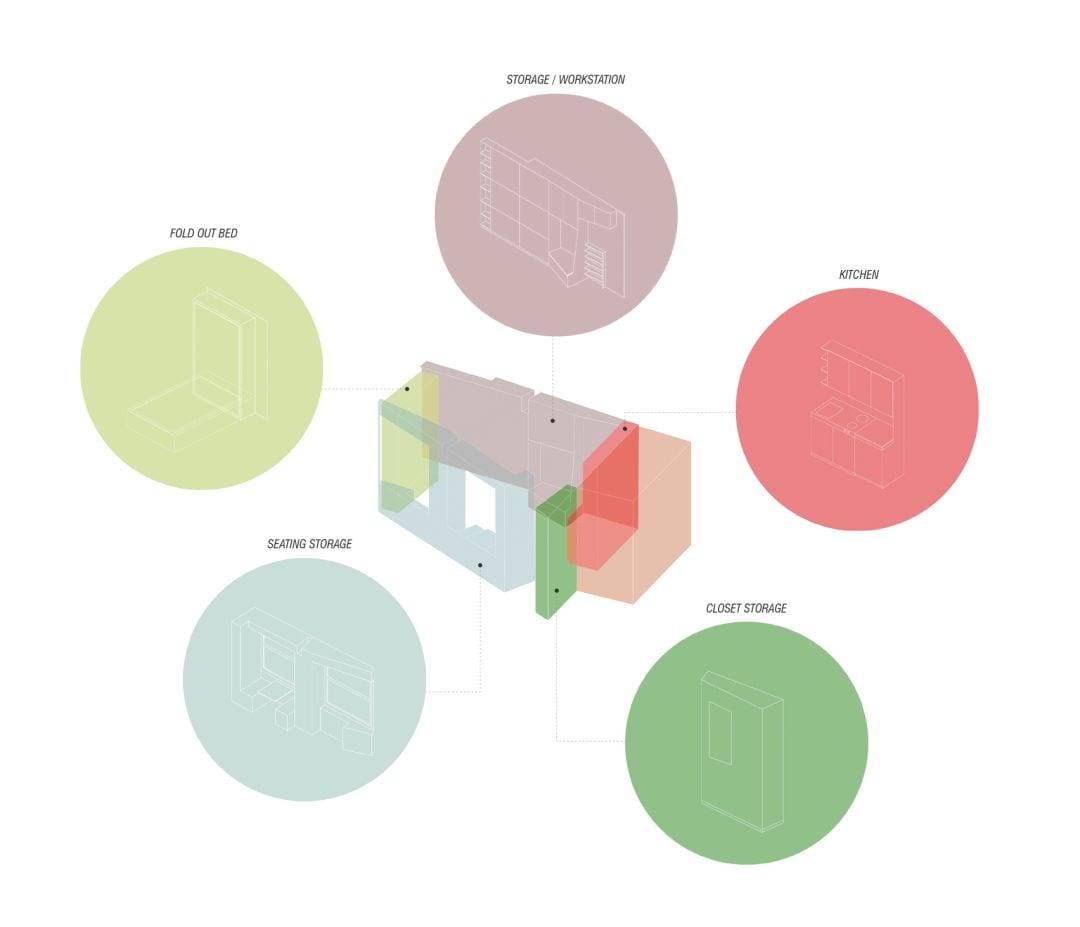 ▲Interior space structure
The small table attached to the windowsill is a place to eat, and by pulling out the wooden board equipped with chairs, the single sofa seat can be converted into a double seat.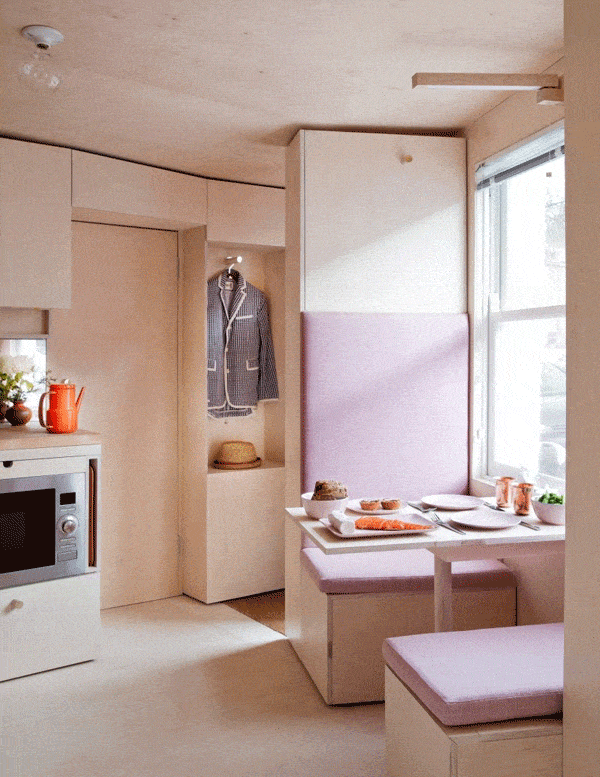 Even a party of 4 people is not a problem.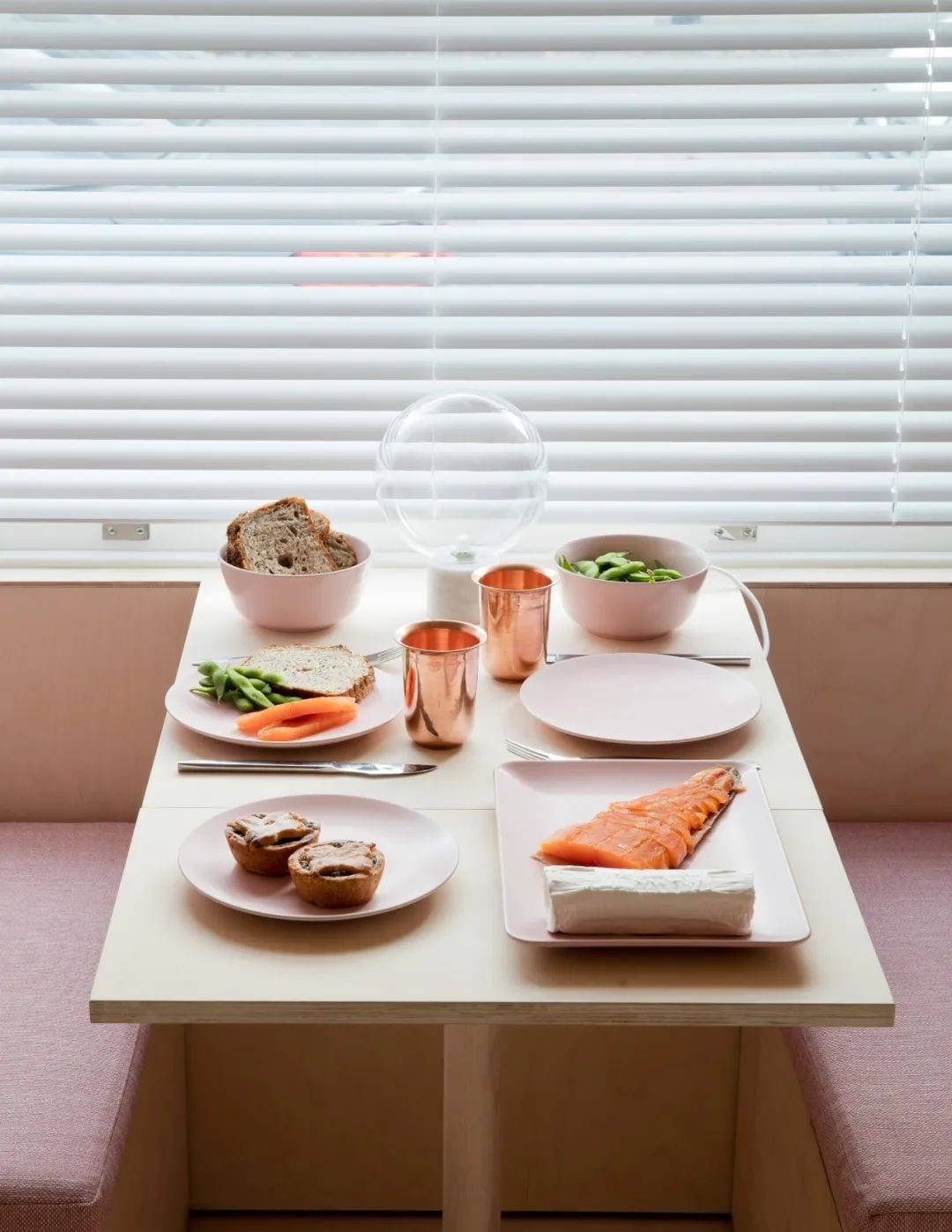 Next to the dining room is a mini open kitchen with a sink, a stove and a microwave oven.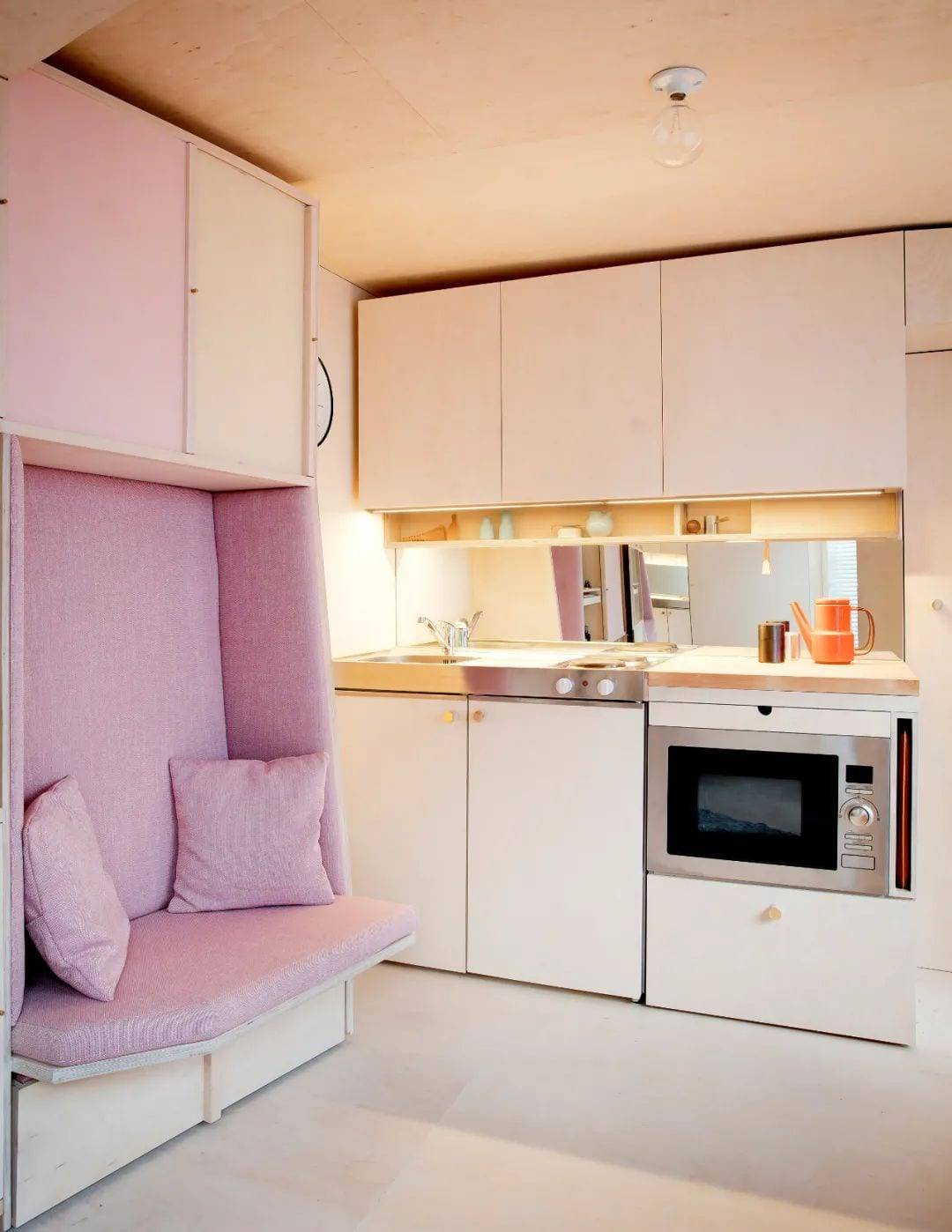 A small pull-out cabinet above the microwave makes it easy to check the recipes while cooking ~ even a hidden cutting board is handy.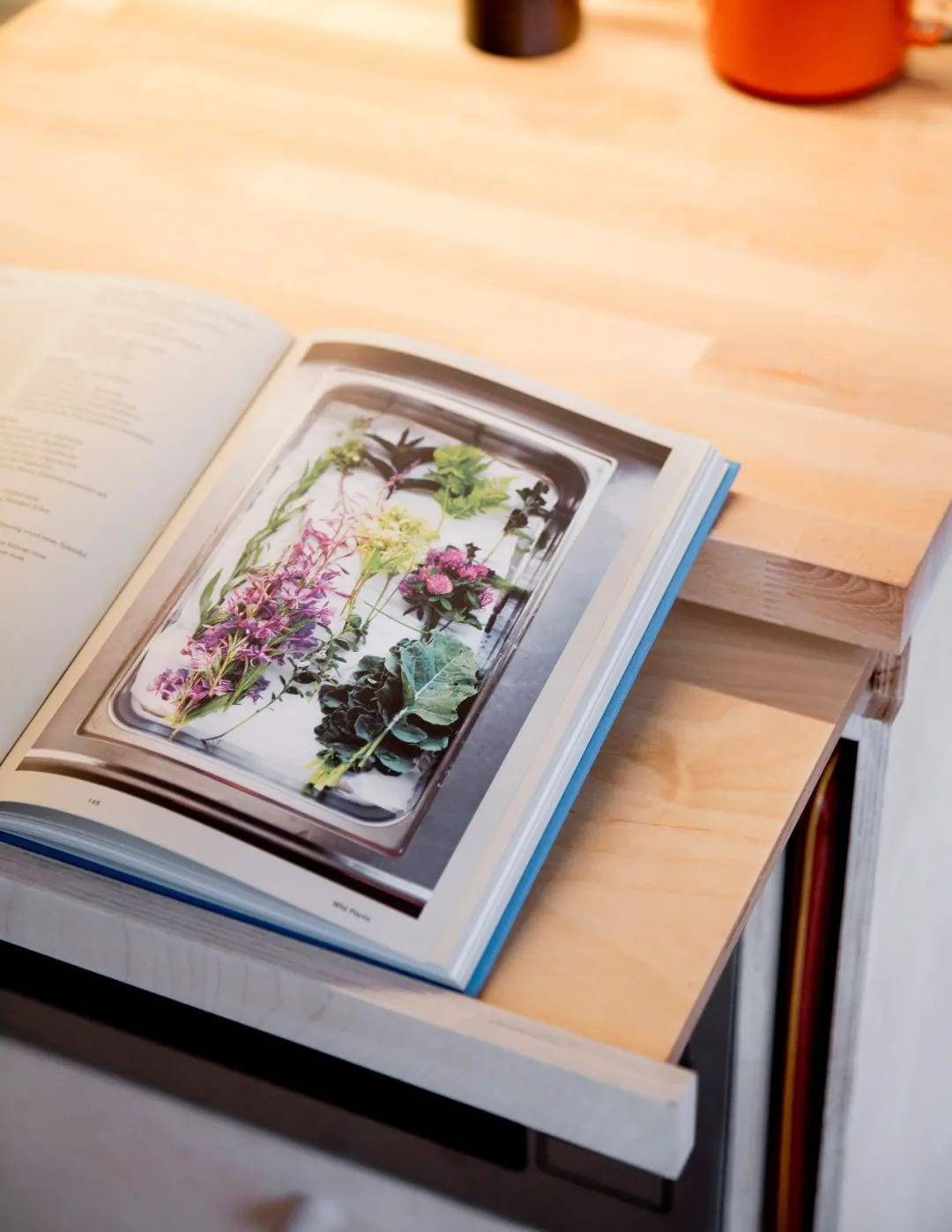 Narrow and odd-shaped corners are often difficult to utilize. It's even more difficult to place a double bed in a small house.
But the designer combined the two, placing the bed in a triangle at this narrow end of the room, with the wall bed on the side flipped down to make a comfortable king-size bed.
Daytime look.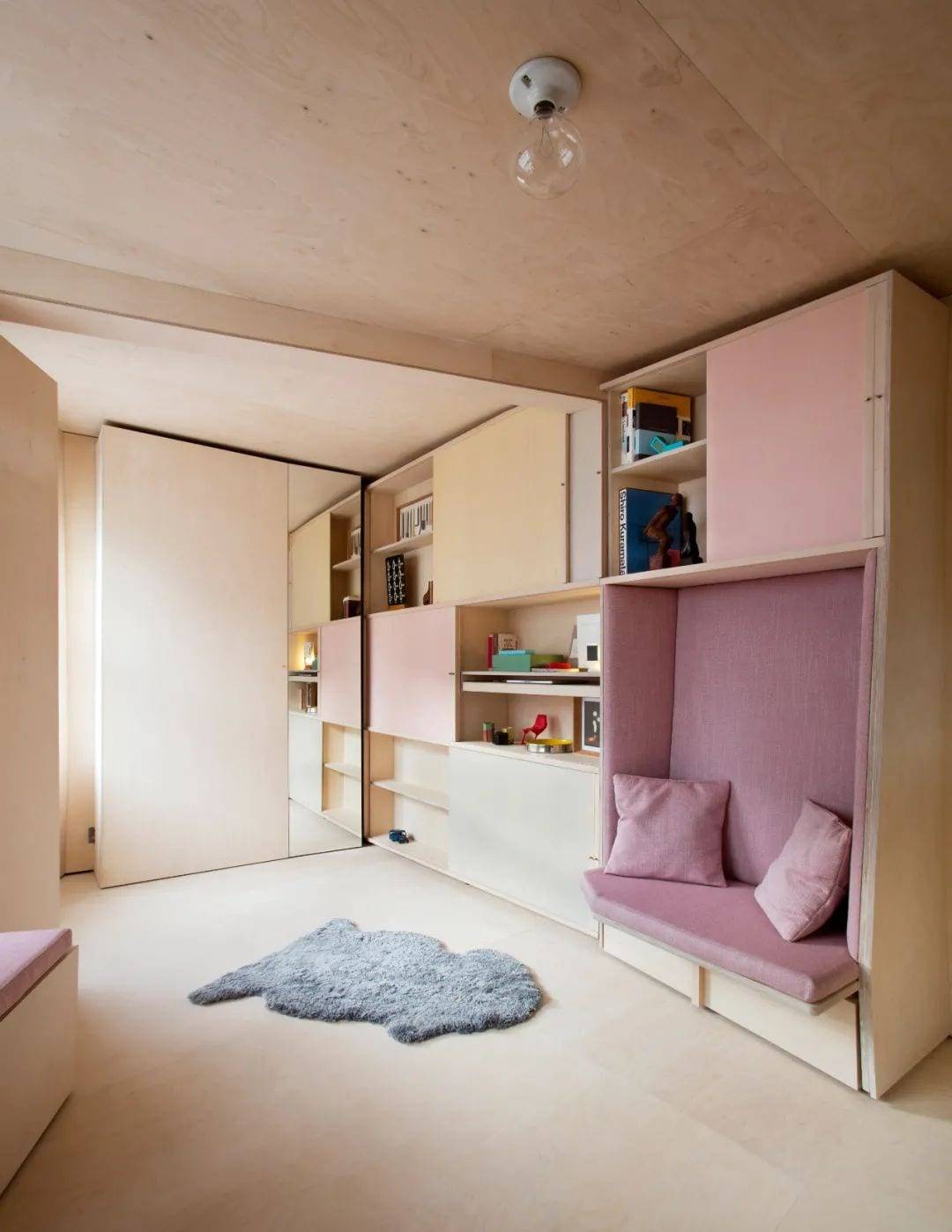 Evening looks.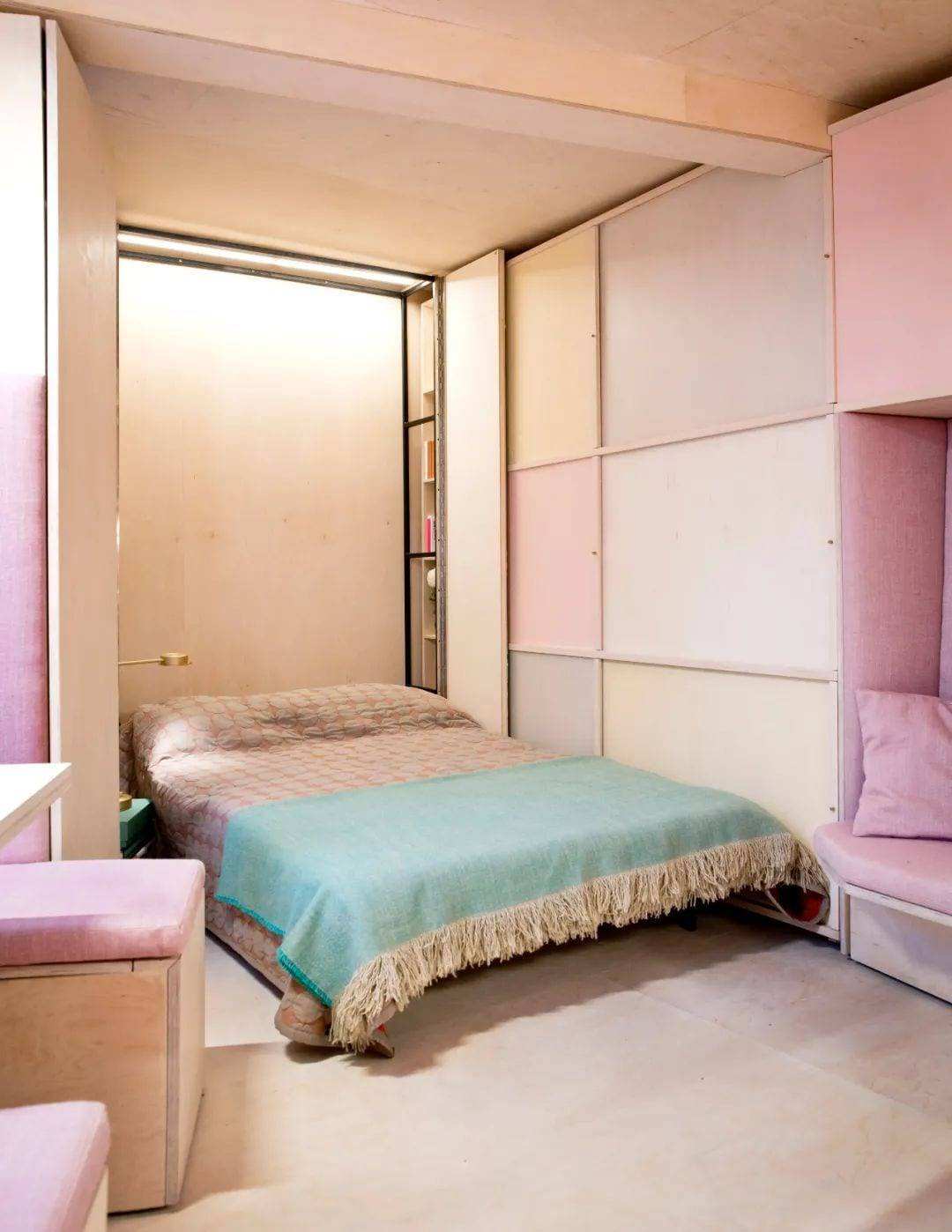 Even the gap between the headboard and the bed has not been spared, making it into a bookcase that can hold a lot of books and miscellaneous items.
On the side of the pink and purple sofa, which is connected to the cabinet, is a shelving unit.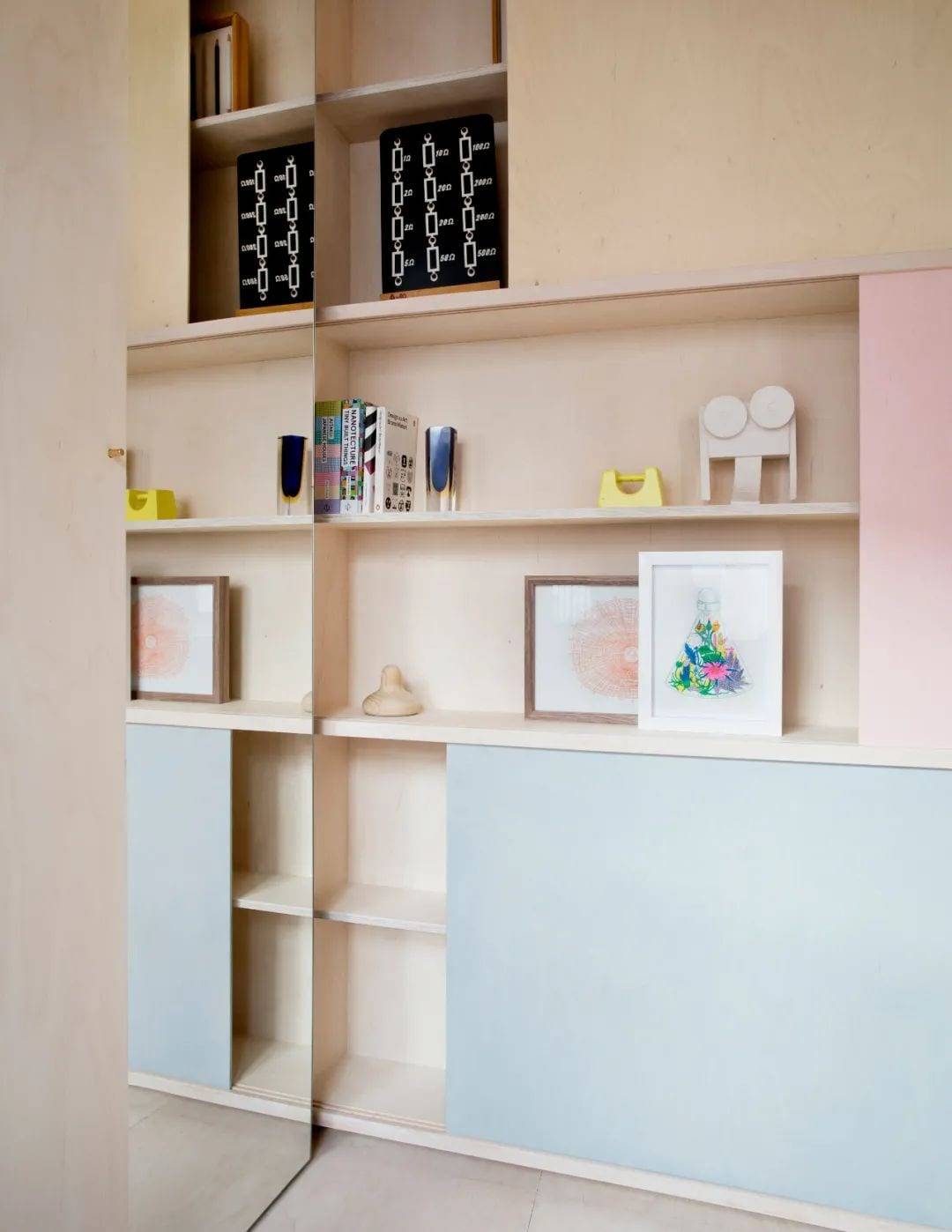 One of the doors opens to become a standing desk and it can be made into a simple work area.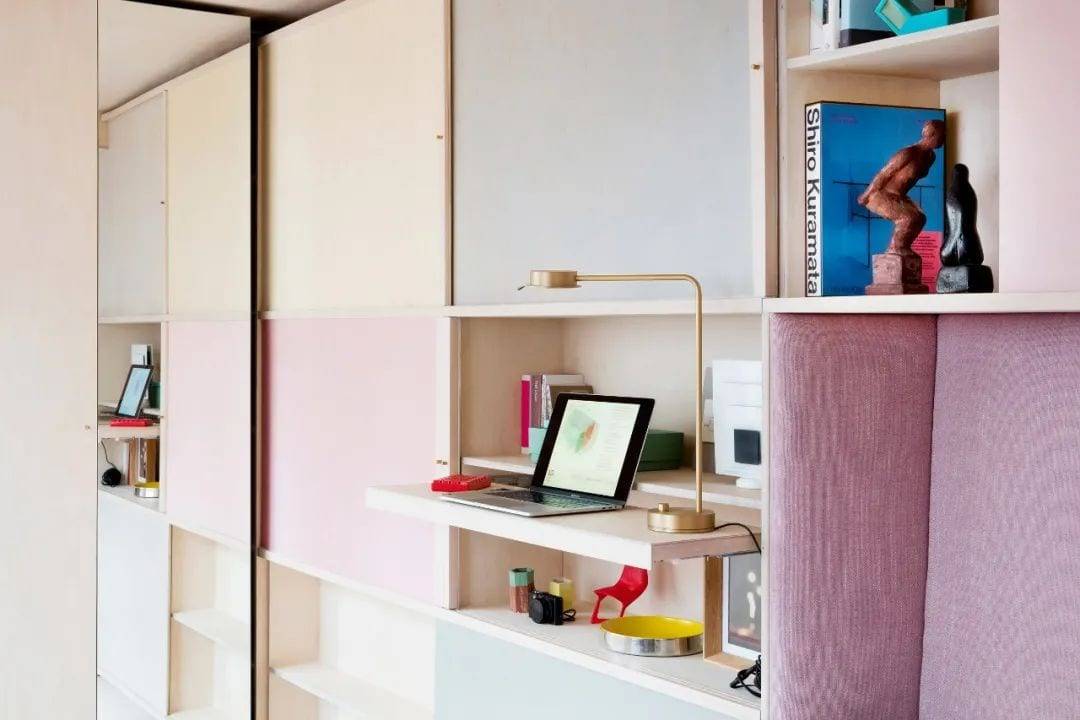 As soon as the workstation is positioned, you can immediately start standing office mode. This not only catches up with the health trend, but also solves the awkward problem of a house too small to have space for a desk.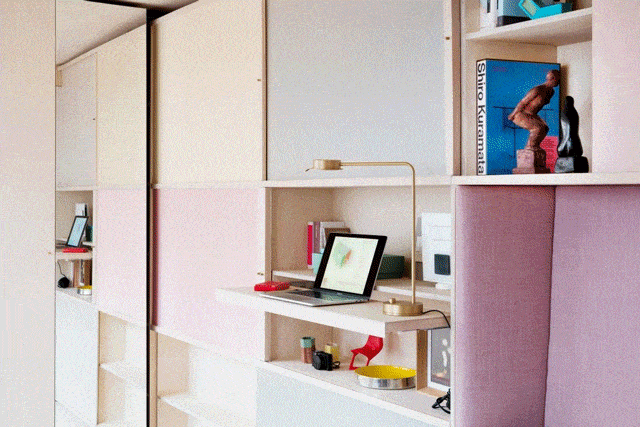 Next to the kitchen, and next to the workstation, there is a built-in sandy pink and purple sofa. You can take a nap in your spare time, but you can also hold a casual reading time.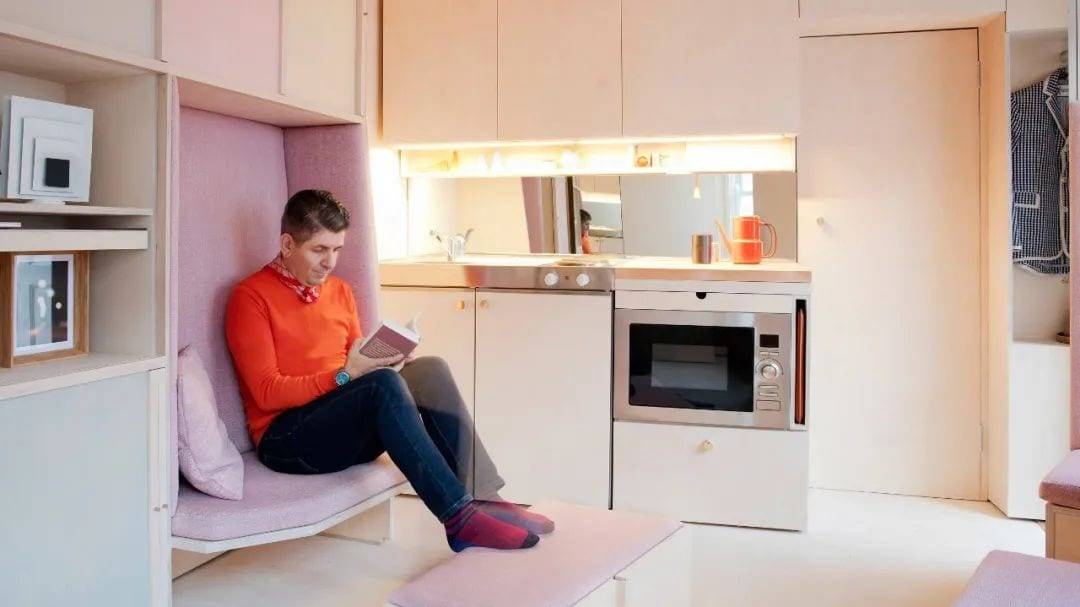 The bathroom once again makes use of the corner of the house. Except for the sink and toilet, the material is uniform everywhere else.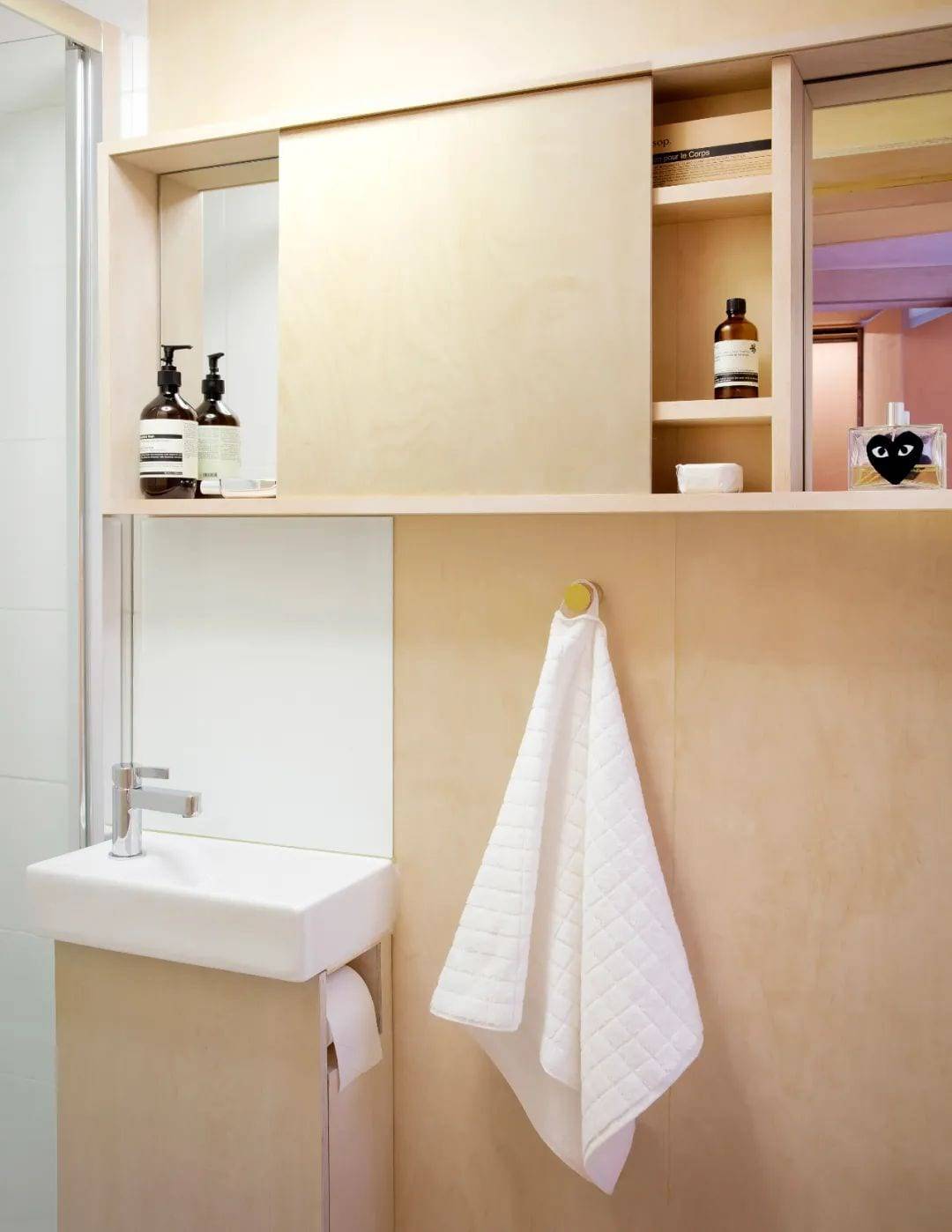 As a 13 m² bathroom, it is spacious enough.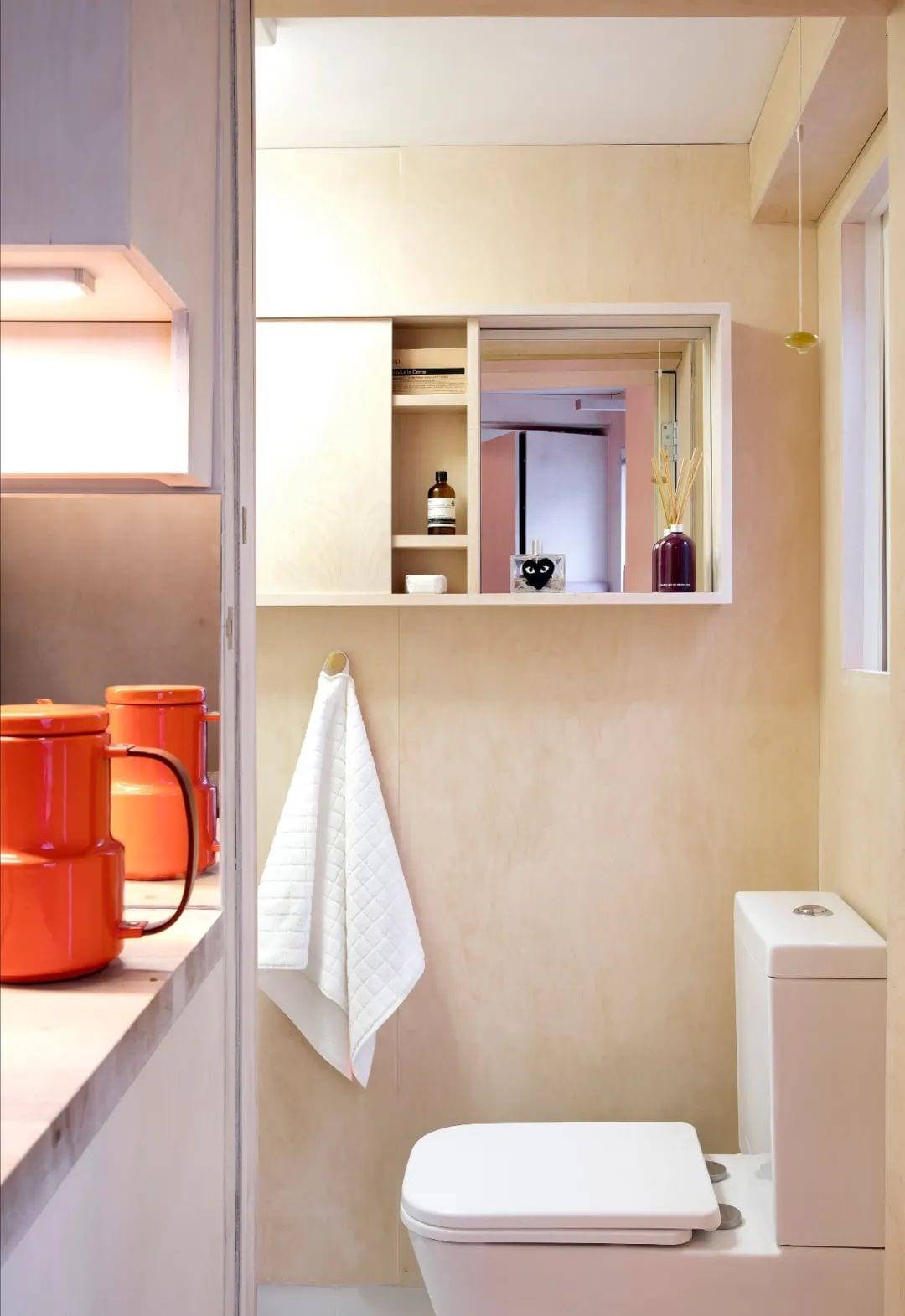 It is difficult to buy ready-made finished furniture that fits such a small area, so much of the furniture is custom-made. Lightweight composite triple plywood takes advantage of this to make a big impact.
Beds, workspaces, lounge seating, kitchens, bathrooms, closets and dining areas all feature bespoke furniture that fits the space perfectly, yet can take on the burden of storage.
As an important prop to create a sense of openness in a small space with high utilization rate – mirror, designers have used it in many places.
Kitchen backsplash: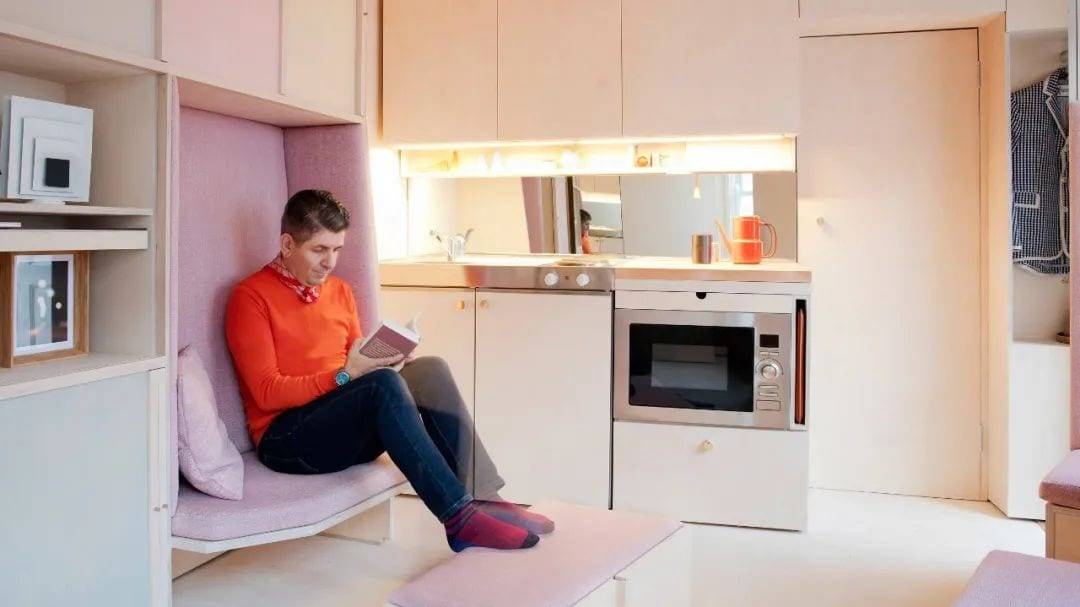 The "wall" to hide the folding bed: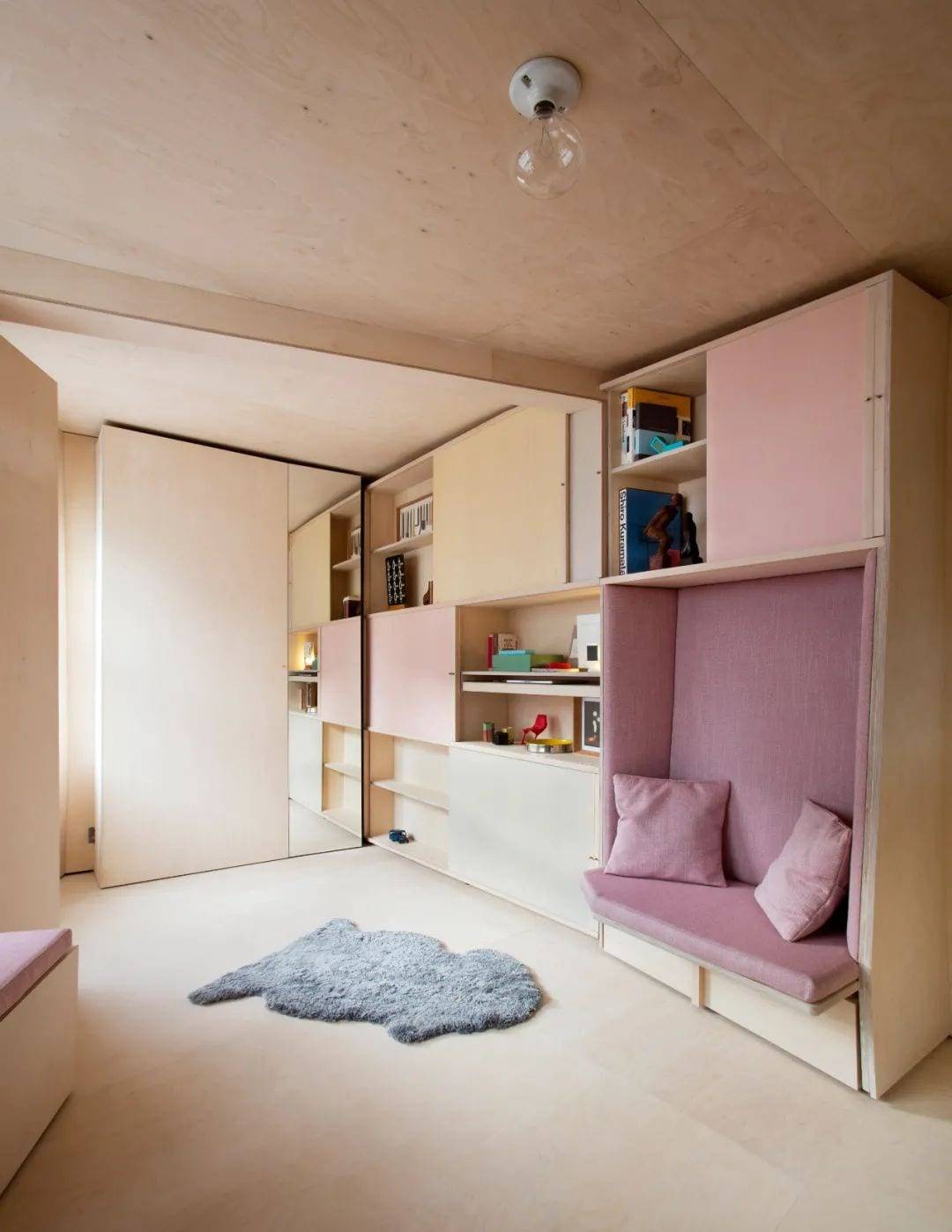 In the bathroom wall cabinet: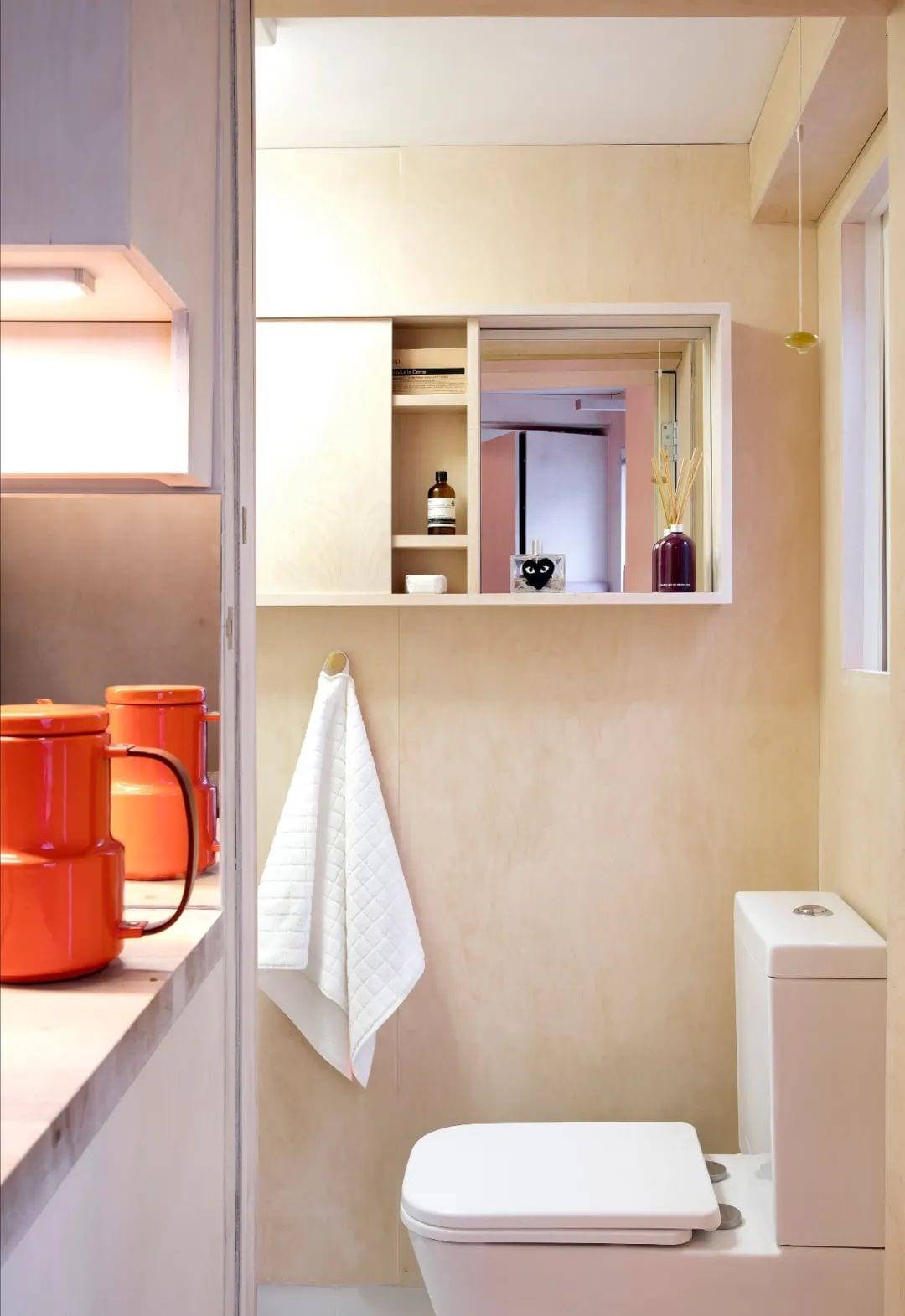 Use mirrors to create a wonderful sense of space while expanding your view and reflecting more light.
Cabinets with soft colors basically represent the style of the whole house. Inside the light yellow, pink, and light gray-blue sliding doors are compartments of varying sizes.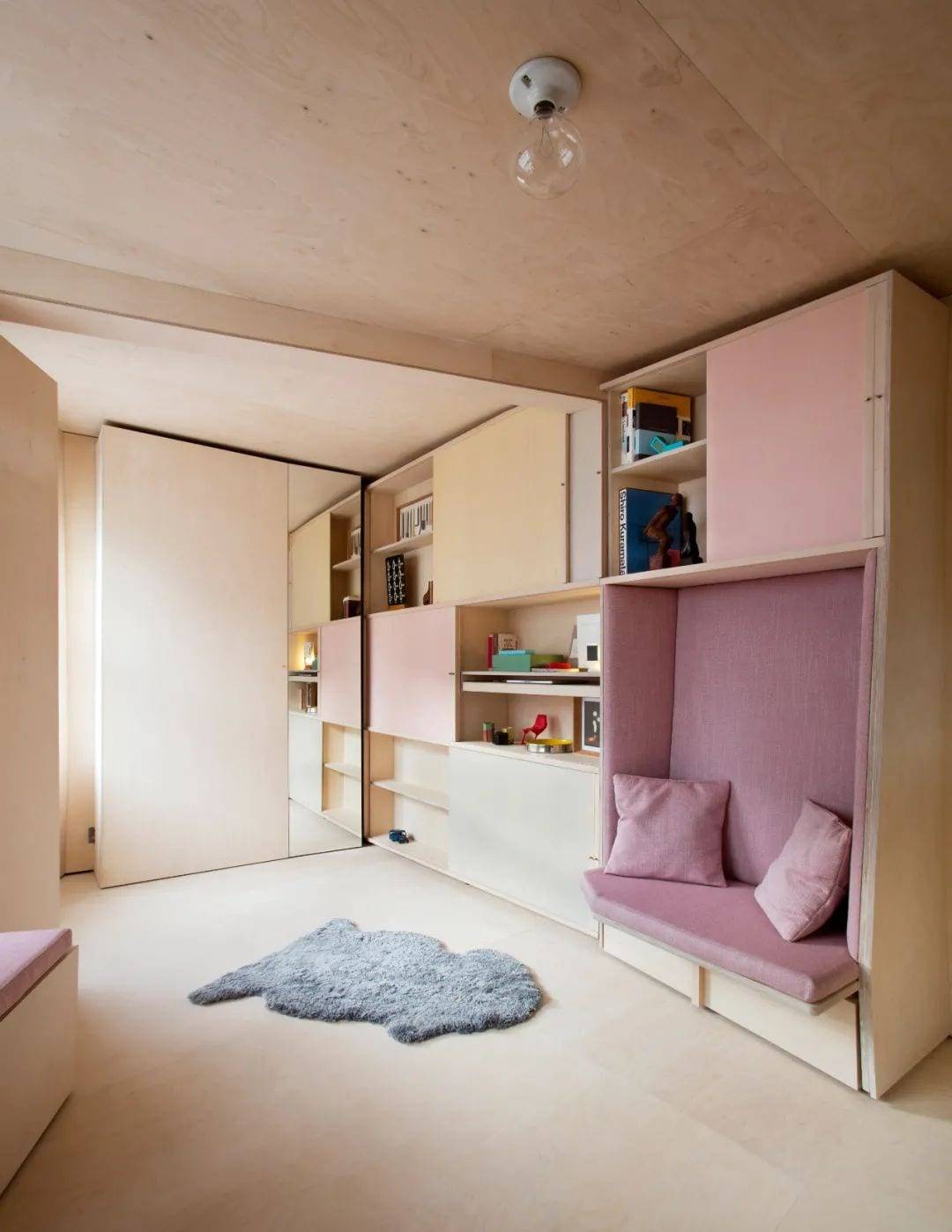 They can be used for storing sewing machines, games, wine and books, as well as for displaying decorative items, picture frames and small ornaments that you want to display.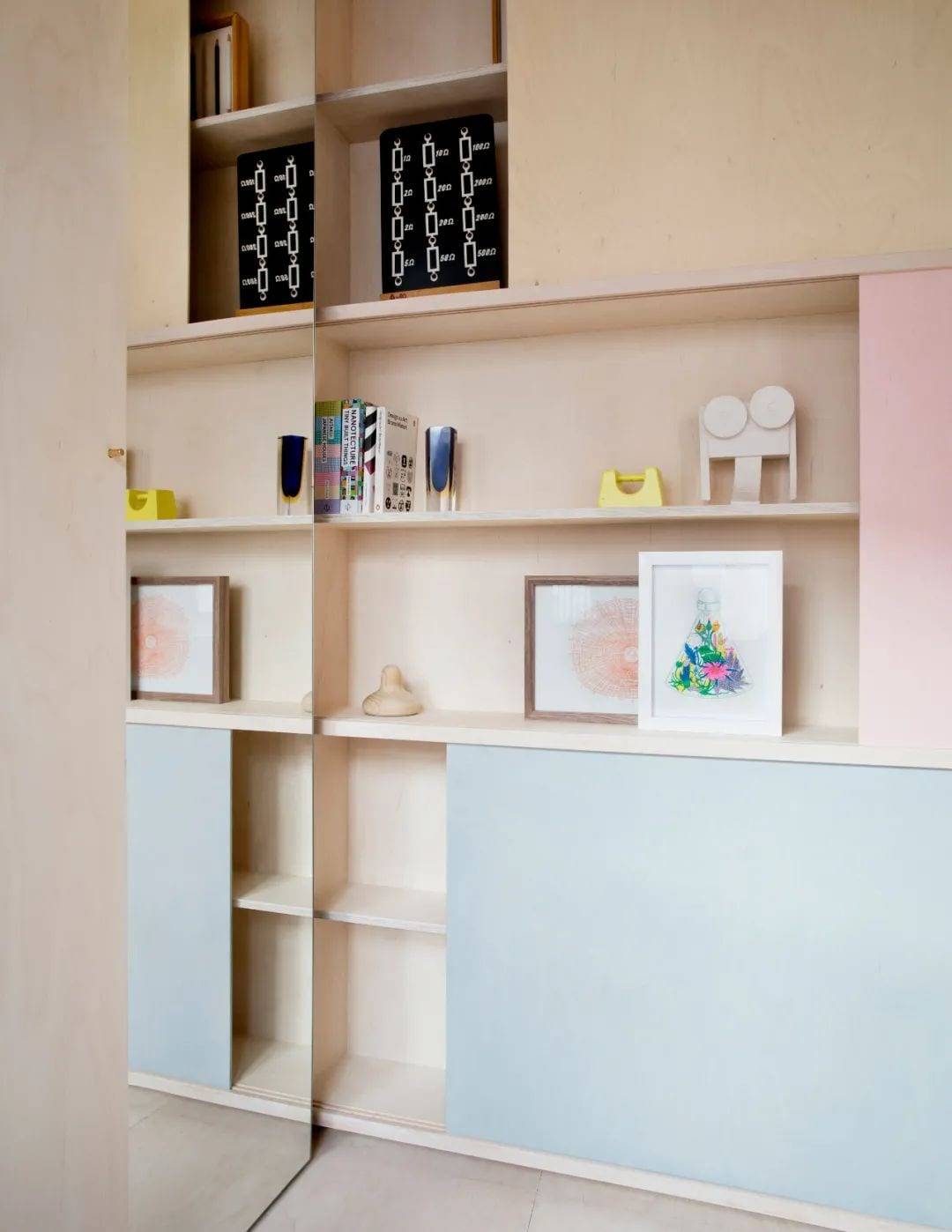 Nothing is more annoying in a small space than a room that is already small, with very little storage space left.
Bed, table, dining chairs, sofa, microwave oven, etc. are all custom-made and pressed into the cabinet, where the walls are all storage.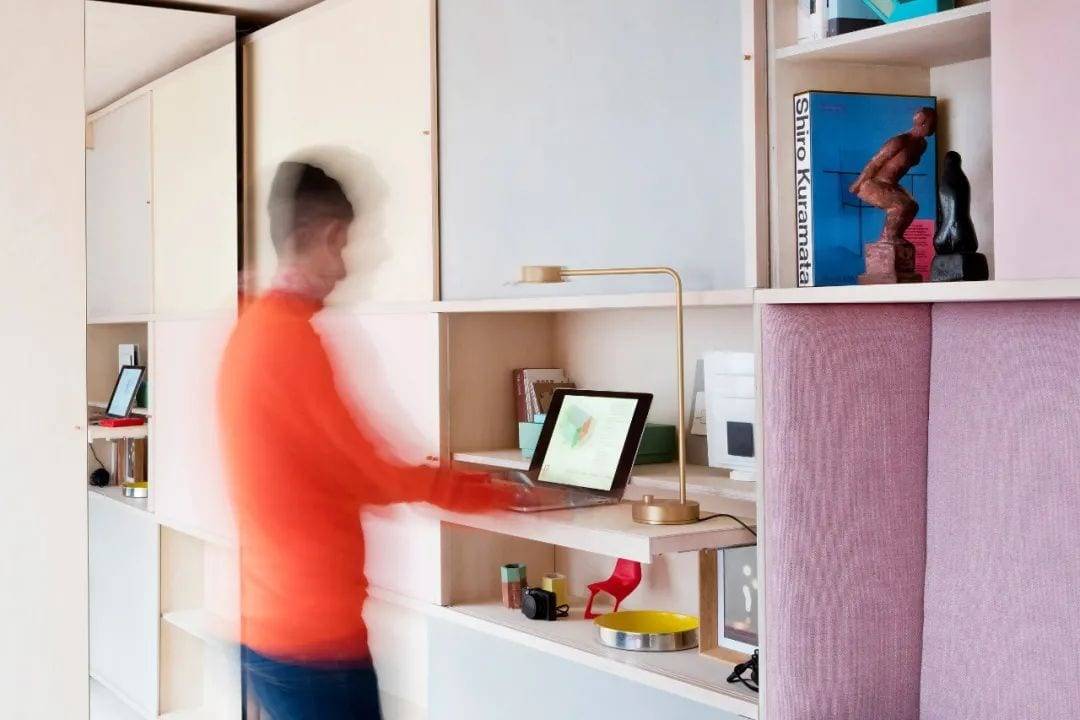 The designer's adaptive repurposing of furniture frees up more space for floors, walls, and even ceilings, so what is truly comfortable living? Does it have to be big and spacious? No, a " humble home" can also be comfortable.
13 square meters of contentment
[Interior designer's own home]
If the previous London cottages were more or less like experimental projects for designers, the following case is a real "self-housing".
This is Polish interior designer Szymon Hanczar's own apartment, with an area of only 13 square meters, but he is so satisfied with it that he has lived in it for many years.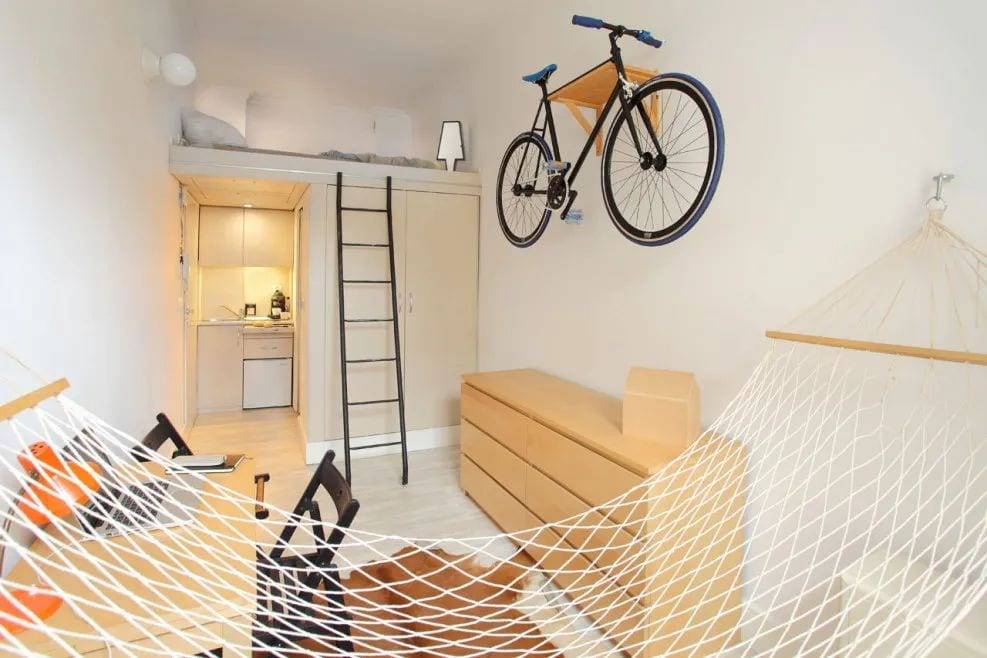 Although the cottage is only 13 square meters, it has been remodeled by the owner to create a raised area.
The upper part is a double bed, and most of the functional areas are concentrated in the lower part, such as a small kitchen, bathroom, living room, dining room, and a large storage cabinet.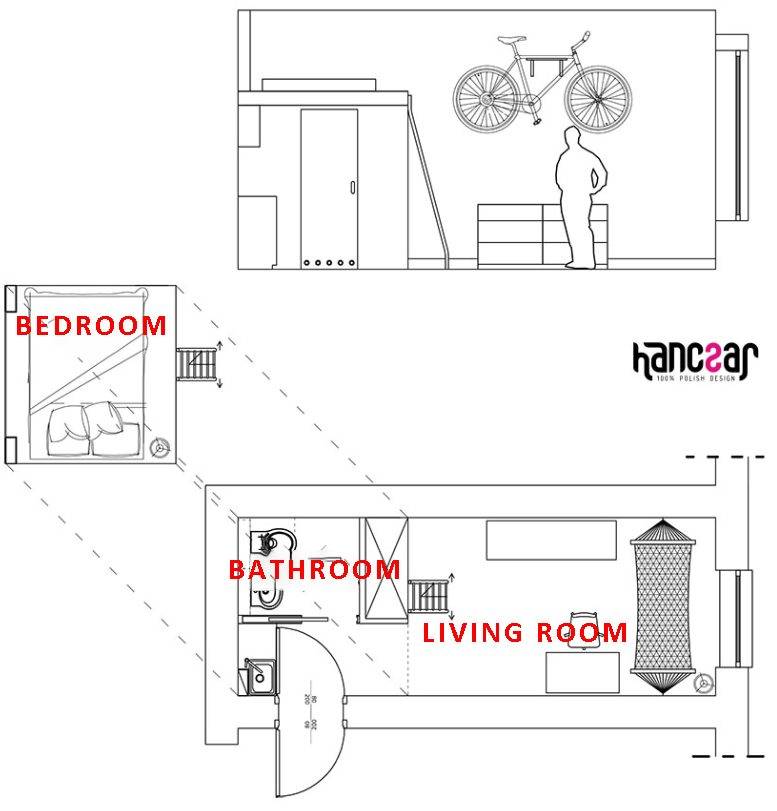 Upstairs there is only one simple bunk bed with a comfortable mattress. Even if you can't stand up upstairs because the floor is not high enough, the comfort of gentle light and books at night is enough.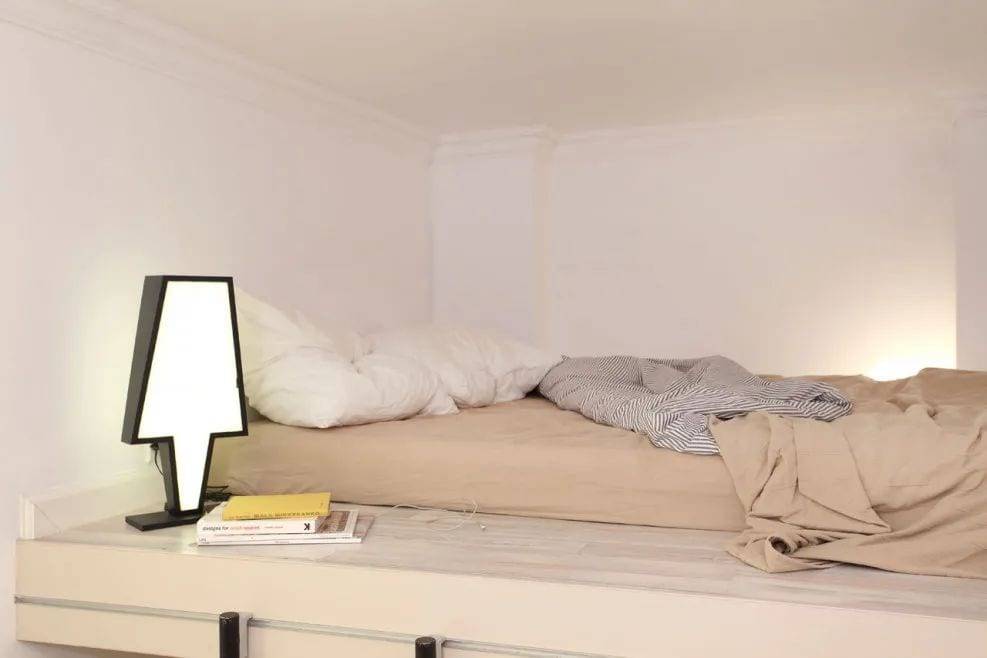 The living room space in the hut is not at all cramped, no extra furniture, only a desk.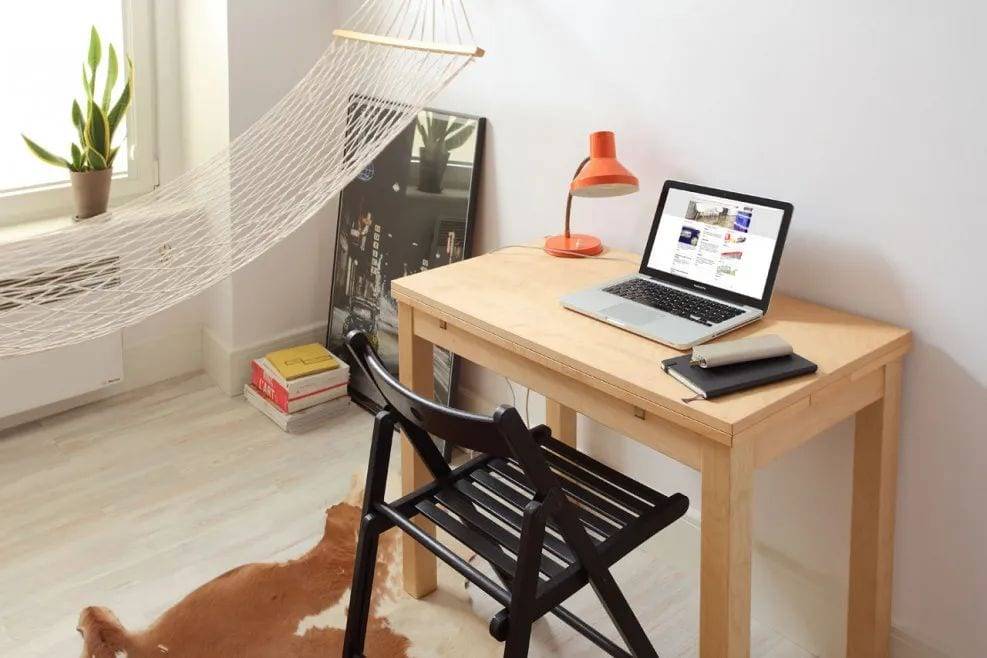 However, this desk is quite capable, folded when it is rectangular, can be used when the computer desk office. When eating can be opened into a square, when friends meet for afternoon tea.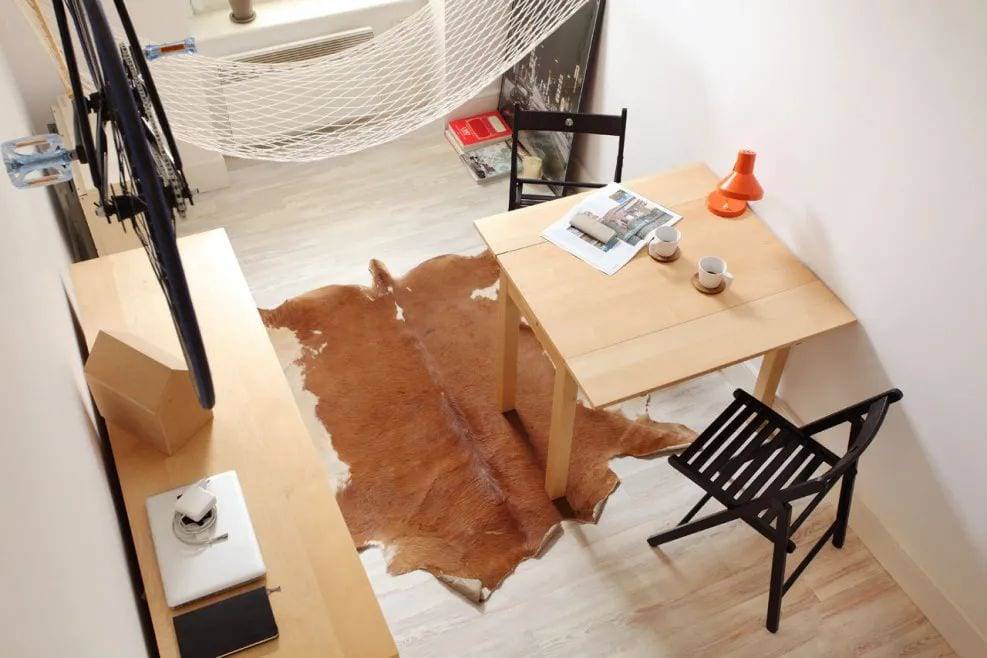 Although the space is small, the details can not be missing: the brown irregular shape of the rug, the corner of the decorative painting, the greenery on the windowsill….
There's also a little hammock in the window for a little fun in the sun and a nap… what a fun life!
Bicycles hanging on the wall can also add a lot of fun to a small space.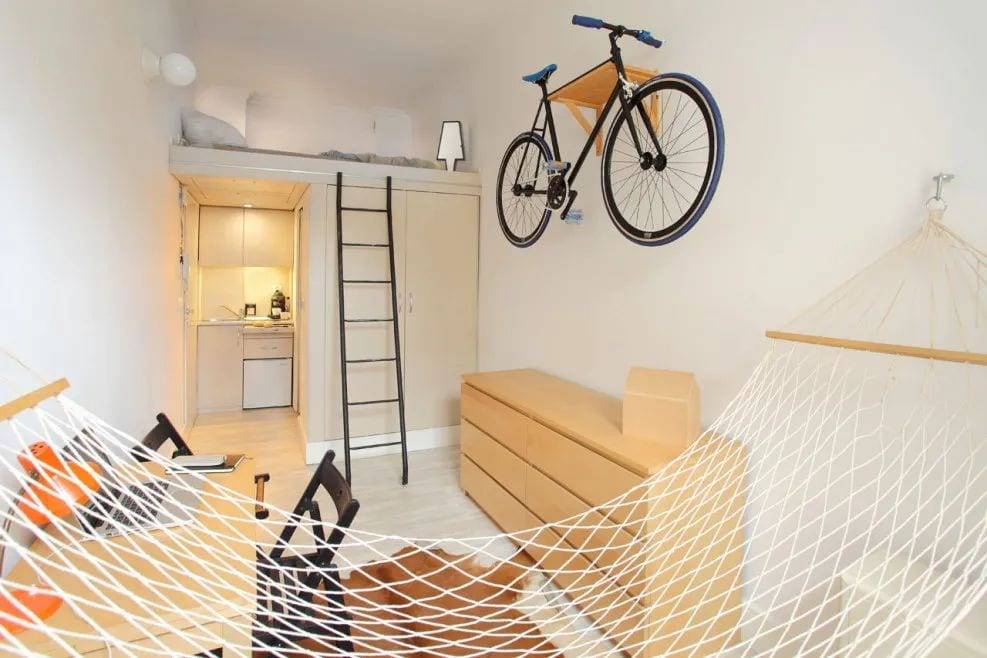 The six-drawer cabinet against the wall is the storage of the first floor space.
The kitchen, located next to the entrance, has a small sink, an induction cooktop and a small refrigerator, which can also meet the daily needs of Western cooking.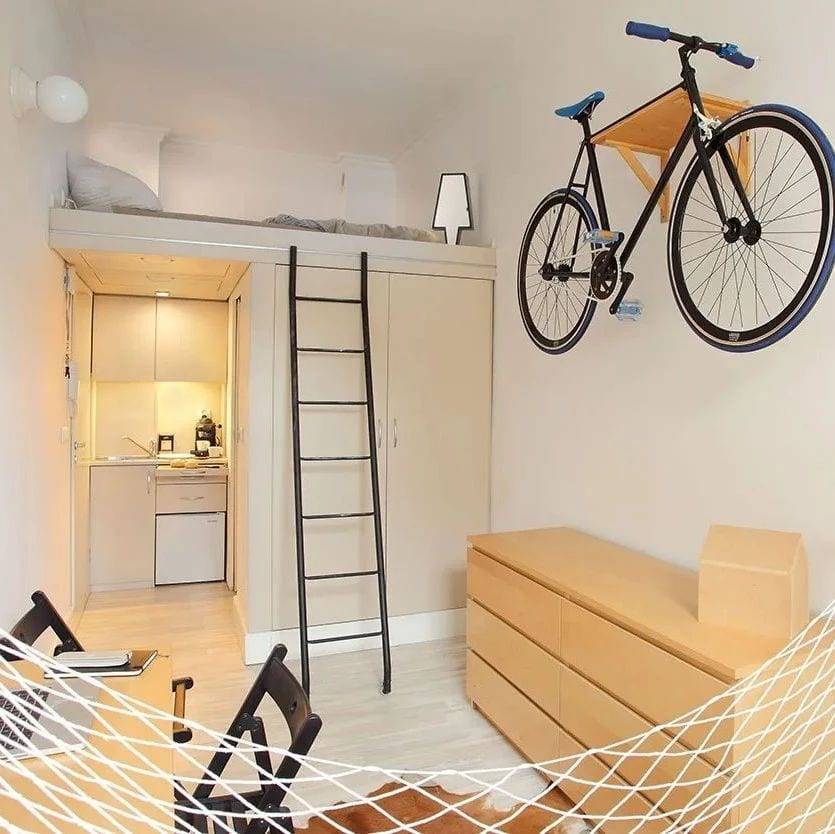 There's also a pull-out hidden cutting board, the number one space saver.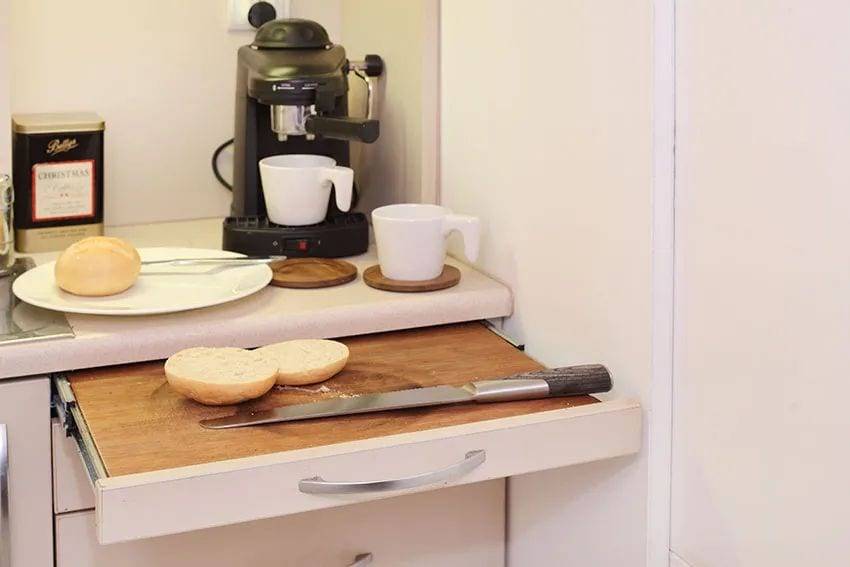 Don't underestimate this area, it's full of ingenuity and ingenuity. The removable metal ladder makes it easy to open the closet, making it an indispensable feature of the house.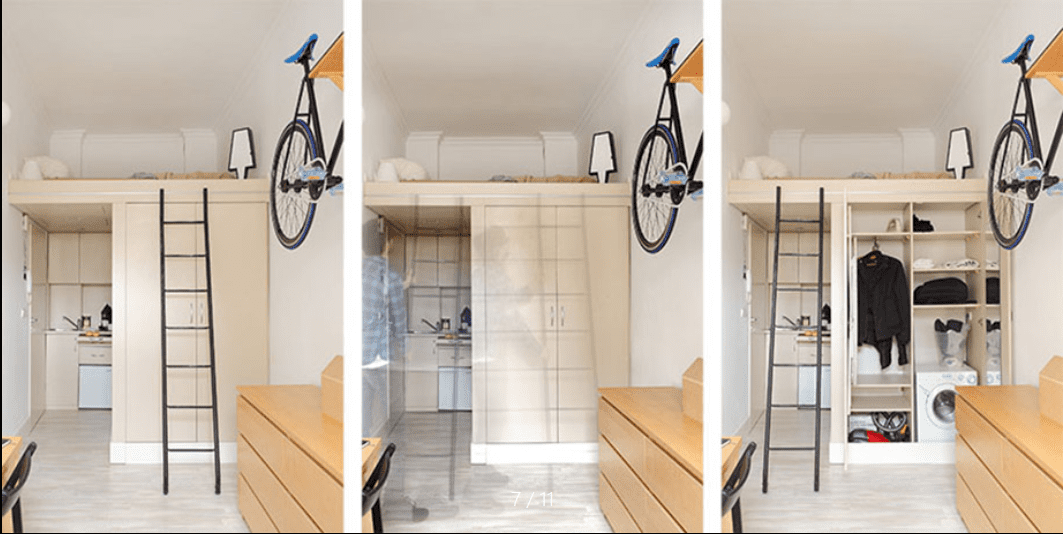 Open the double door cabinet, it can hang a few coats, cabinet door is also used to store mops, brooms and other cleaning equipment, but also to accommodate a big guy – washing machine, installed in the bottom of the cabinet, and share the bathroom drainage.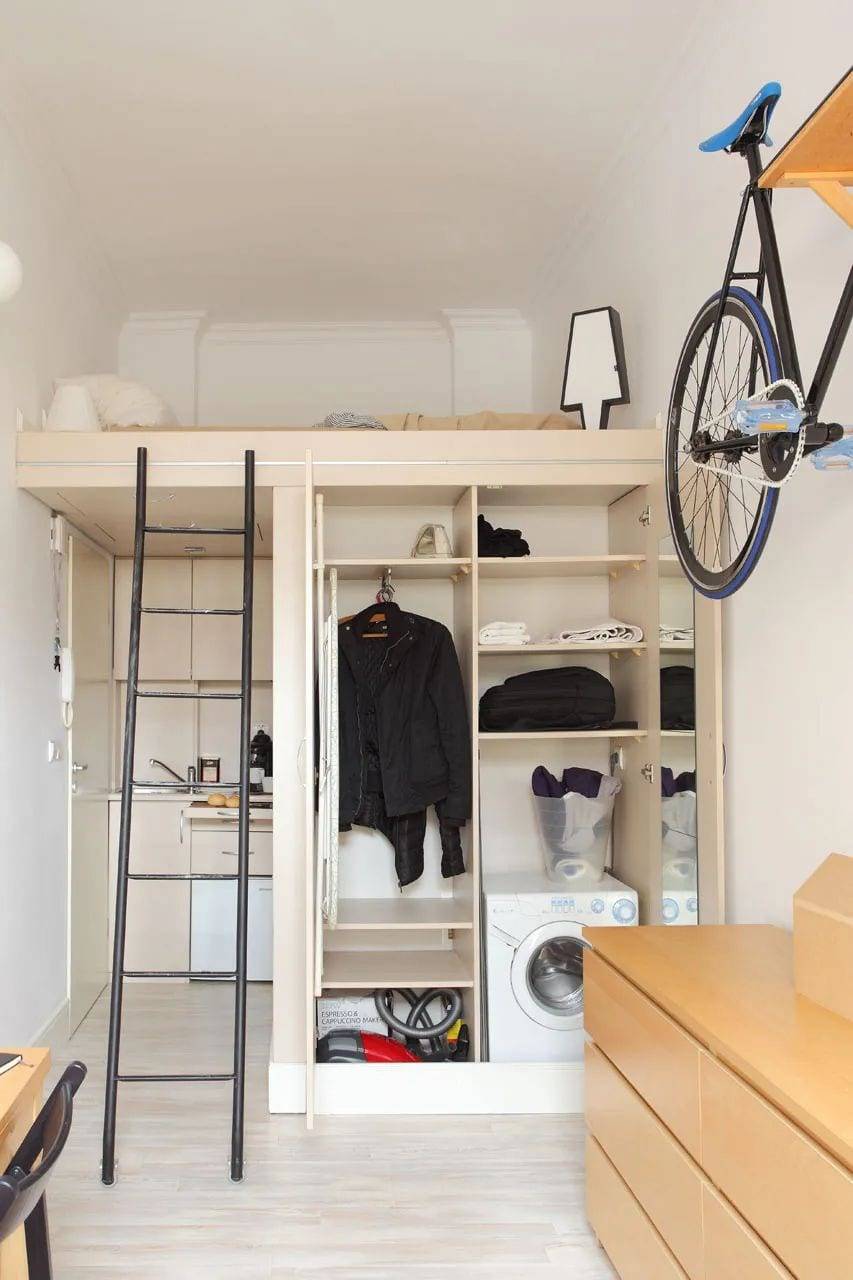 Even if it's only 2-3 m², it has to be all the essentials in compactness. The small square tiles in pure white are more simple.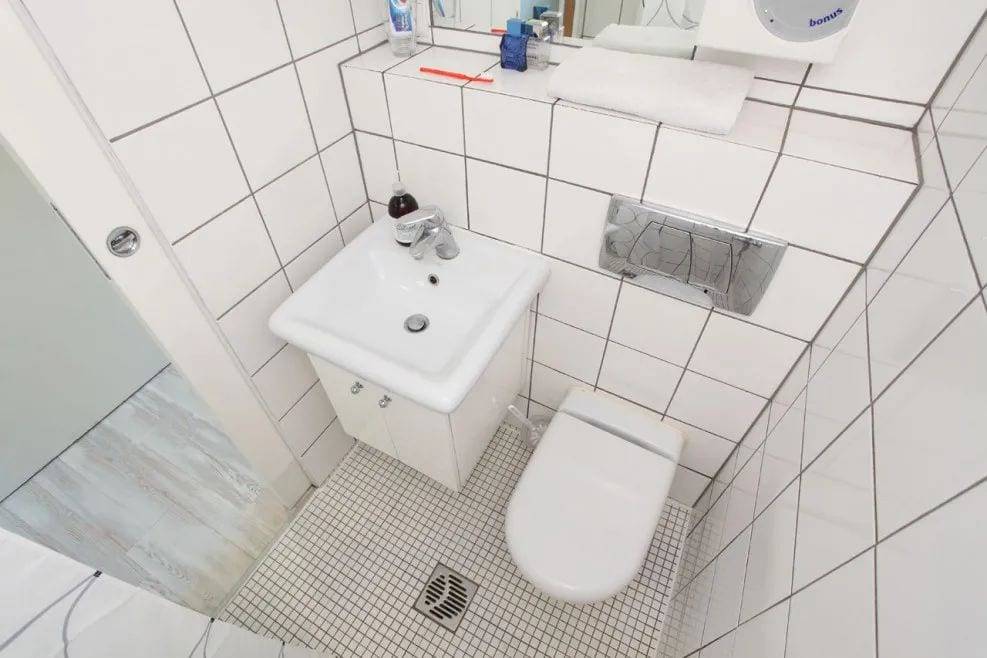 The owners themselves don't think that a spacious apartment is needed, because a lot of time has to be spent taking care of this house, and even a small space doesn't mean that we give up comfort and functionality.
Besides, a micro-apartment with a small kitchen, bedroom, bathroom and hammock is a micro-mansion in a big city with a lot of money!