VIGO Becomes the First Brand to Bring Matte Brushed Gold Finished Shower Doors to the US Market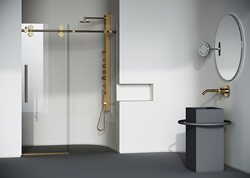 "No other company has done gold shower doors. We were the first to hit the marketplace and almost immediately sold out! Most stores have a waiting list for our next batch."
NEW YORK (PRWEB)
March 31, 2020
One of the biggest trends is gold-toned fixtures, designers are looking for finishes that elevate the look of designs and décor. New finish options like VIGO's Matte Brushed Gold gives the gold finish a more subtle and contemporary charm. The gold trend offers a timeless approach and adds a pop of luxury to the bathroom. With the increased interest in matte metallic bathroom faucets, VIGO has made it an option to seamlessly blend fixtures with shower door hardware. The Matte Brushed Gold finish compliments the whole room and matches other accents like mirror frames and light fixtures.
"No other company has done gold shower doors. We were the first to hit the marketplace and almost immediately sold out! Most stores have a waiting list for our next batch."
Other VIGO products will continue to become available in the Matte Brushed Gold finish in order to provide buyers with more versatility and range when it comes to designing their homes or businesses. VIGO makes a wide variety of finishes accessible to its customers. All the hardware is given a 7-layer platted finish that is resistant to corrosion and tarnish, making it long-lasting and resilient. VIGO aims to exceed customer standards and guarantees excellence in functionality manufacturing and customer satisfaction.
More information about VIGO Matte Brushed Gold Finished shower doors, as well as detail about additional shower doors and other products can be found on VIGO's website.
About VIGO
Since its beginnings in 2009, VIGO has been at the forefront of trends in the home services industry for its commitment to quality and innovation. With an imaginative approach to developing and designing products that go beyond the basics VIGO exceeds customers' expectations. Under the guidance and design of founder and CEO Lenny Valdberg, VIGO's attention to detail consistently results in the production of remarkably designed products that inspire.