Latest Trends in Kitchen Faucets & Designs in 2023
No longer limited to cooking and eating, the kitchen has always been the heart of every home. The design style of the kitchen also greatly determines the living conditions of the whole family. Kitchen design trends tend to be innovative, individual, unique and long-lasting with new trends. So, what will happen to the kitchen in 2023? What trends will be popular in kitchen around the world? In this post, we have summed up the latest trends in kitchen faucets & designs in 2023. Get inspiration for your next kitchen remodel. Read on!
Wide windows

Several trends are coming together to make windows a kitchen focal point in 2023, whether updating an existing space or designing a new one. Walls of massive windows that can slide open or go into pocket walls, merging indoor and outdoor spaces, these windows create stunning and refreshing spaces where nature, daylight and fresh air flood in. Relevant departments also predict that revolving doors and floor-to-ceiling windows will form a new trend in homes in 2023.
Touchless kitchen faucet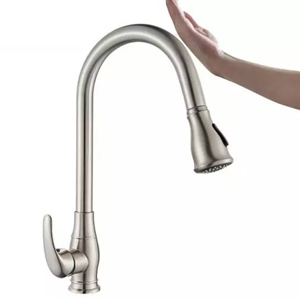 This is one of the latest kitchen faucet trends. Kitchen faucets are moving towards high technology and will become a popular trend in 2022. Although touchless faucets have been around for some time, the pandemic only emphasized its importance. In particular, the recent pandemic of COVID-19 has greatly increased people's awareness of health and safety. Whether it is increasing concerns about spreading bacteria or increasing demand for hands-free functions, the demand for touchless faucets will increase in the new year. With these innovative faucet trends, you don't have to worry about spreading bacteria to the faucet, it can improve your work efficiency in the kitchen.
Workstation sinks

There is no doubt that in 2023, workstation sinks will be one of the new trends. Workstation sinks are versatile and configurable to handle a variety of kitchen tasks. From food prep to cleaning and more in between, these multi-purpose sinks have a lot to offer over traditional undermount options. Here are some uses and benefits of workstation sinks, as well as how much they cost. One of the greatest benefits of a workstation sink is that it can help save counter space. Being able to prepare food, separate different types of food, and wash and dry dishes in one area frees up counters for other uses or items. If you have a small kitchen, this type of sink might be ideal.
Stone slabs

In the new 2023, stone slabs are slowly appearing in more home kitchens. From countertops to ceiling, slate dominates the backsplash, cascading to the floor at the edge of the waterfall and wrapping around the island. This is an exciting development because these stones are so unique and beautiful and really enhance these spaces as a basic neutral like never before.
Organic natural tones and materials

Organic, natural tones will be the choice of many home kitchens in 2023. Natural and organic materials are able to bring air to a room while being timeless and long-lasting. Kitchens and bathrooms will increasingly feature warm, natural tones rather than bold, bright colours. Natural materials are acting as display materials – from concrete to stone, wood, porcelain, tile and crystal. Many of the natural materials are timeless and influence mood and design.
Mixed metal faucet

In 2023 we'll likely see more faucets that feature mixed finishes – think black and brass or black and nickel. The pursuit of individuality is one of the main themes of the new era. The same goes for the kitchen. Mixing and matching finishes will remain a strong trend through 2023, helping homeowners personalize their kitchens. As different finishes come and go, mixing metals helps make a kitchen stylish. In addition to choosing different finishes for plumbing, light fixtures and cabinet hardware, homeowners now have the option to mix two different finishes on their kitchen faucets.
Lower kitchen drawers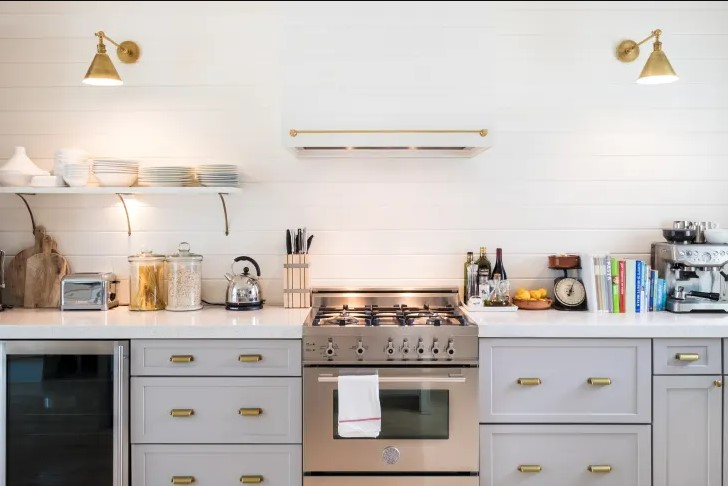 Cabinets are a must for most kitchens. But we boldly predict that kitchens with lower drawers will continue to grow. Because the drawers slide out easily and can store a lot of things. No more bending, kneeling, and holding a flashlight. Plus, oversized cabinet hardware is the icing on the cake for any kitchen, a must-have that's an integral part of any kitchen.
Multi-function sprinkler faucet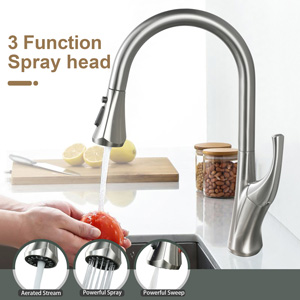 Multi-spout faucets are another option for bringing convenience to the kitchen. These new series come in different sprays including source, spray and sweep modes. This type of faucet is versatile and very good at handling a variety of situations in the kitchen, for example, you can use the sweep mode to clean very dirty dishes or pots while using the spray mode to clean fruit and vegetables. Many well-known faucet brands such as Delta and Moen have recently actively launched this type of faucet, which also shows that the multi-function nozzle faucet will become one of the popular trends in 2023.
Latest trends in kitchen thoughts
Trends come and go, but some classic design styles endure. 2023 is the year to update these classic trends and give them a unique twist. An update of classic design trends that will last for generations, fully customizable to each user's needs. Find the right faucet for your kitchen in the latest trends! WOWOW Faucet is committed to providing the world with the most fashionable and practical faucets, suitable for all styles of kitchens!