Best Bathroom Faucet 2019 – Buying Guide & Reviews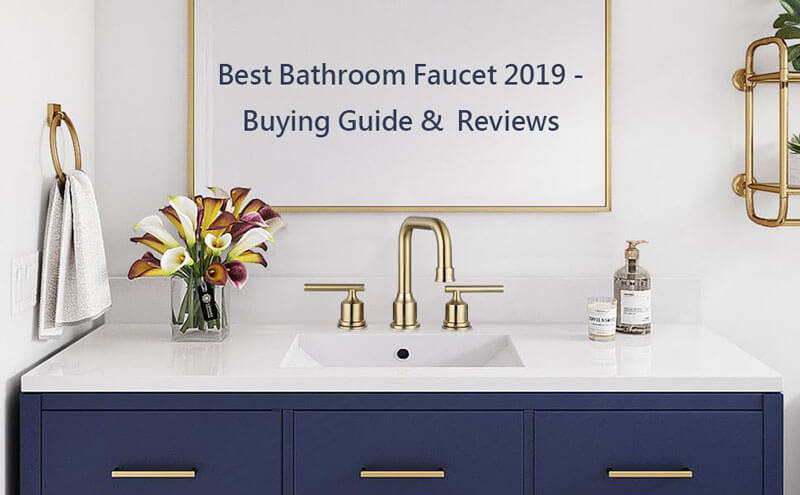 A suitable bathroom faucet can provide an overall look to your home and help you conserve the water. Besides, installing a new bathroom faucet can also update the appearance of your bathroom quickly and cheaply. But it really takes much time to find the best bathroom faucet because you need to read reviews, study product features, and learn more about available styles and configurations.
We reviewed a large number of bathroom faucets and determined the best option based on Amazon reviews, their performance in use tests, cost, and other considerations. We narrowed our search to 8 top bathroom faucets for your reference.
WOWOW 2 Handle Golden Widespread Bathroom Sink Faucet with Pop-up Drain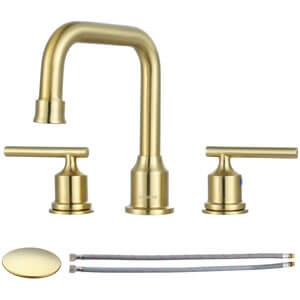 This modern & simple basin faucet has a brushed and golden finish can make your bathroom noble and elegant and help you resist corrosion and rust in your daily life. It is designed with 3-Hole Mount With 6-14 inch widespread, which can enable you to adjust the distance on the requirements of basin. Besides, it is easy to use: two handles, 360 degrees rotate high spout design, convenient and precise control of volume and water temperature. High-sealing ceramic ink cartridge with anti-drip performance.And water-saving NEOPERL aerator is equipped. The original quick-connect structure is easy to install, and you can install the washbasin faucet by yourself without a plumber. Save the plumbing installation fee! The package comes with matching pop up drain and cUPC water supply lines.
4 Inch 2 Handle Centerset Matte Black Lead-Free Bathroom Faucet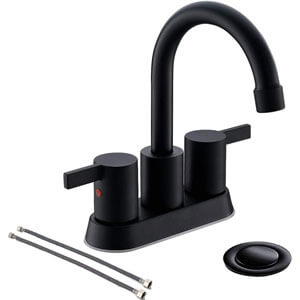 This bathroom faucet is made of copper, which is leak-proof and durable. Compared with the traditional lifting type road drainage pipe, this kind of centered bathroom faucet may be easier to install and use. Certified by CUPC and NSF 61, this lead-free faucet may be one of the most comfortable choices for daily use for you and your family. The color combination of white, gray and/or black, its modern appearance also looks very popular in the bathroom.
Grohe Eurostyle Cosmopolitan Centerset Single-Handle Single-Hole Low Arc Bathroom Faucet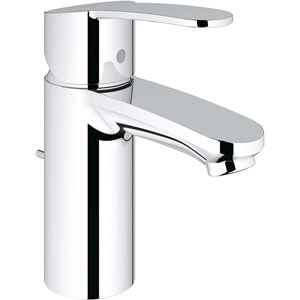 This Grohe cosmopolitan eurostyle faucet only measures 7 to 7/8 inches tall with a 4-inch spout that has a keyhole-like lever handle. The water flow is available by tilting the stem to 7 degrees which is optimal for ergonomic comfort. Thanks to the SilkMove technology, the faucet will carry out its functions with minimal chances of wear. There is also the Grohe StarLight which is the scratch-proof technology that helps the faucet resist instances of tarnishing on the surfaces. Its EcoJoy technology which will allow your household to save 50% percent of the water consumption in the bathroom.This product from Grohe ranks as a top choice considering it provides for a lifetime warranty.
Moen 84144SRN Sarona One-Handle Single Hole Rustic Farmhouse Bathroom Sink Faucet with Optional Deckplate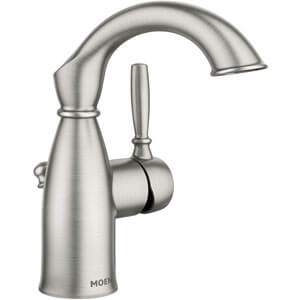 This one-handle single-hole bathroom faucet is simple and rustic. Although some other sinks are more charming or modern than others, this may be a better choice for families with young children. It is attractive enough to get the job done without worrying about the high maintenance involved with other faucets.
It has a Mediterranean bronze color and Moen's unique anti-fouling brushed nickel finish, which prevents fingerprints and water stains to maintain the brilliance of the lamp.
Although you don't have to use the bottom plate to make this faucet work, this is an option you decide. A bigger priority is to ensure that the nozzle can be moved easily. (This may require moving anything that is usually on the right side of the sink, or just avoiding overcrowding.)
Moen 6610BN Brantford Two-Handle Low-Arc Centerset Bathroom Faucet with Drain Assembly, Brushed Nickel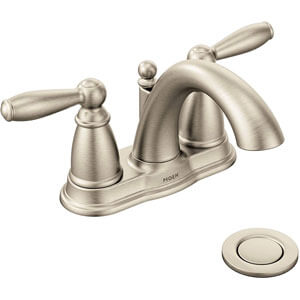 This product could be a great variant of your bathroom. Moen's Brantford series has a two-handle bathroom faucet with an additional drain assembly for easy installation.
The overall gray metallic polished appearance comes from the use of brushed nickel finishes to increase its visual quality. The Moen 6610BN Brantford bathroom faucet has a 4″ center drain assembly, and the centerset model has a 0.5″ IPS connection.
In order to increase its reputation, Moen's excellent product is a faucet that fully complies with the ADA standard, and its function also complies with the WaterSense water standard. The usage rate of Moen 6610BN is 1.6 GPM, which is the standard quality of most faucets.
KOHLER Forte K-10215-4-BN Single Handle Single hole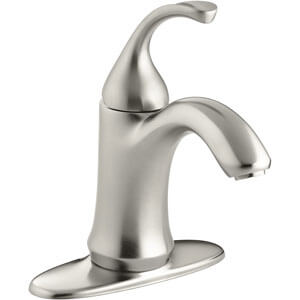 This is a faucet from Kohler, you should buy it without hesitation. First, you will find it simple, elegant, and with a central handle. In addition, it is made of high-quality materials. Its smooth, bright finish and curved lines will fascinate you.
Although this faucet is not expensive, it is made of solid brass. You can expect faucets, handles and accessories to be made of this material. Its brushed nickel finish is non-fading and stain-resistant; this makes it popular with many buyers.
Since this faucet has a ceramic disc valve inside, you can believe it will last a long time. In order to facilitate cleaning, this faucet is designed with smooth lines and arcs. In addition, the small temperature indicator on the top makes it different from other lamps of the same caliber.
Its high arch design allows you to easily wash your hands or even rinse. In addition, it complies with ADA standards; this makes it even more incredible. In terms of efficiency, the flow rate of this model is 1.5 GPM.
KOHLER Bathroom Sink Faucet, Alteo Collection, 2 Handle Widespread Faucet with Metal Drain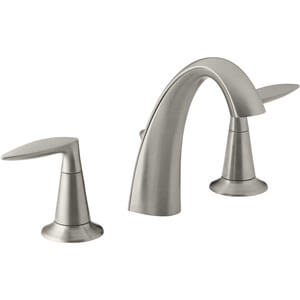 If you are looking for a modern faucet, you should consider choosing this faucet. First of all, it has a swooping curved neck and dual handles, low-key and elegant. It has clean edges and brings modern and simple decoration. In addition , these edges make it blend perfectly with natural patterns.
To make it feel stronger, this model is made of solid brass with a brushed nickel finish. Speaking of internal parts, this model has a ceramic disc valve, just like the model mentioned above. Finally, it has two knobs. Therefore, you will have more precise control over pressure and temperature. If you can find the right balance, you will have a very efficient faucet.
In short, just consider the above-mentioned Kohler bathroom faucets today, and you will not regret it. They have been tested and proved to be very effective in the past. The next time you remodel the bathroom, these faucets should come first. You can never go wrong. Also, don't forget to match them with the best Kohler sinks.
WOWOW Black Centerset Bathroom Faucet 2 Handle Bathroom Sink Faucet 4 Inch Basin Faucet 3 Hole Modern Vanity Faucet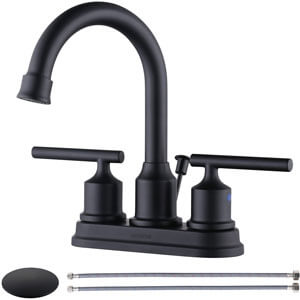 This 4 inch bathroom faucet comes with two handle design, which makes it easy to adjust the water and the temperature. High arc spout gives you ample clearance beneath the spout. The black bathroom faucet comes with a lift rod drain assembly&a pair of gloves. 4-inch centerset and 3 hole mount design allow for easy installation. Matte black surface, and fashion classic design, the durability of a bathroom faucet is ensured, non-corrosion, non-rust, anti-scratch. Copper leg ensuring durability and dependability; Made of BASF food grade material, protect you and your family's health. The spout of lavatory faucet made of ABS aerator can help you conserve water. This aerator can be taken down directly with your hands to clean.