Interior Design Alliance
The following article is from Design Together, written by giYi
This Article Is From: Design Together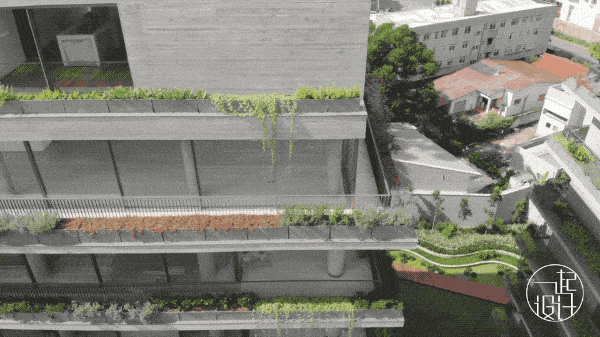 Luxury Apartment Design
Curitiba Ícaro
Is a villa or a large flat apartment better? This is an issue that is debated by almost every designer and occupant, as flat apartments are a great living experience, but have been criticised for having no garden and little greenery.
Today we are introduced to 'íCARO', a residential project in the southern Brazilian city of Curitiba, which is a 4,000m2 apartment project with a total of just 21 homes ▼.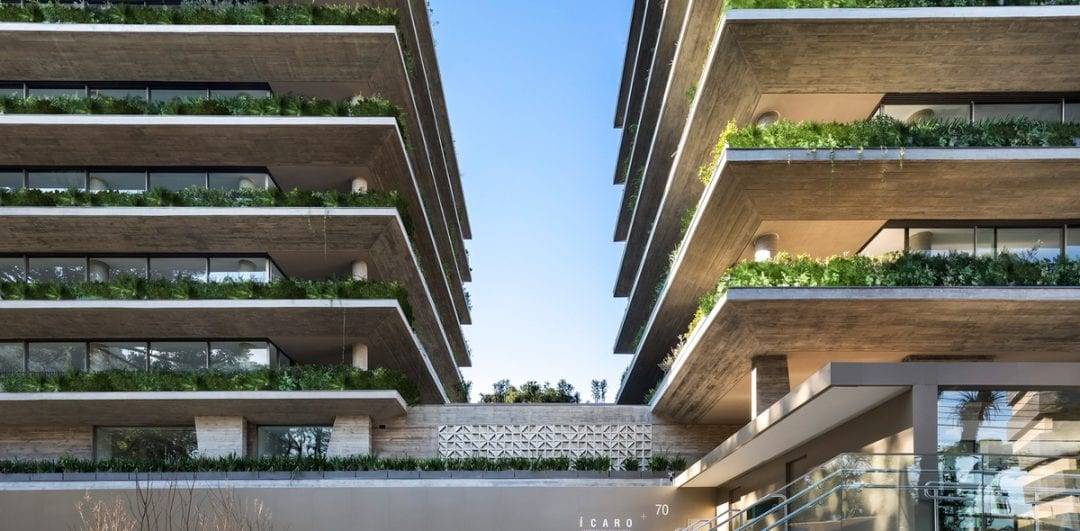 The cantilevered floor slabs covered with greenery are the most distinctive feature of the building ▼.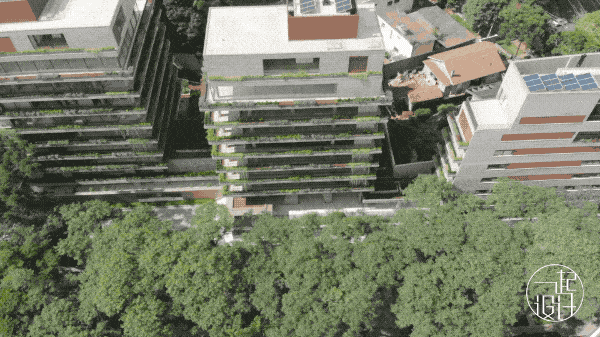 Aruthur Casas Studio, the firm responsible for the architecture and interior design of íCARO, has been featured more than once.
Aruthur Casas
Arthur Casas graduated in Architecture and Urban Planning from the Mackenzie University in São Paulo in 1983, starting with interior and product design. His work places great importance on the natural environment and the choice of materials, and adheres to the principles of modernism.
01.
Architectural Design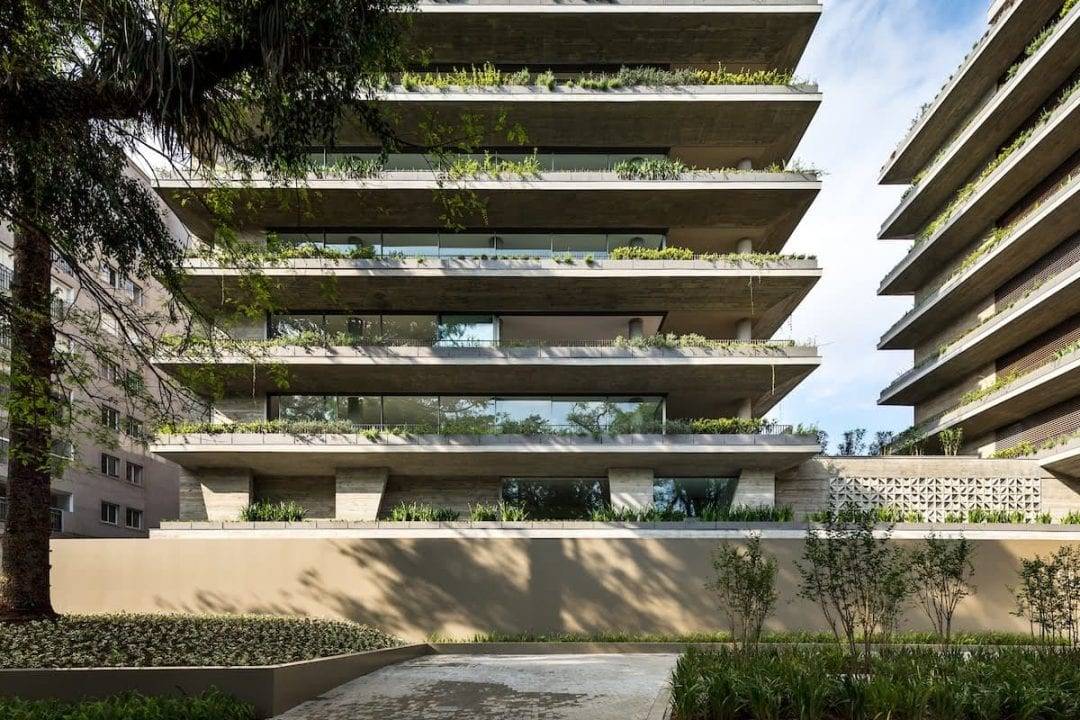 Concrete and glass are the main building materials, and unique decorations have been added to the apartment facades ▼.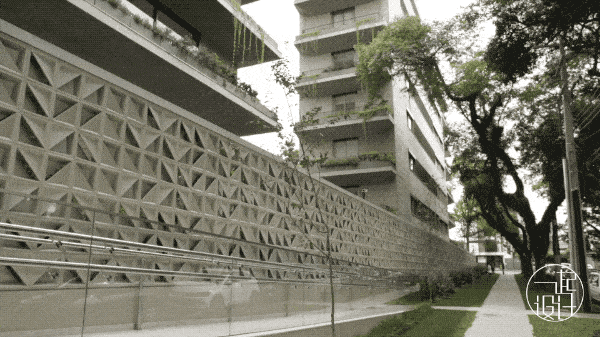 Each slab appears to float in the air, giving the building a lighter volume, and is covered with a large amount of greenery ▼.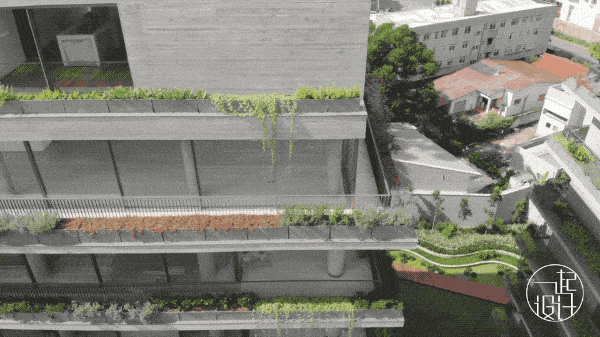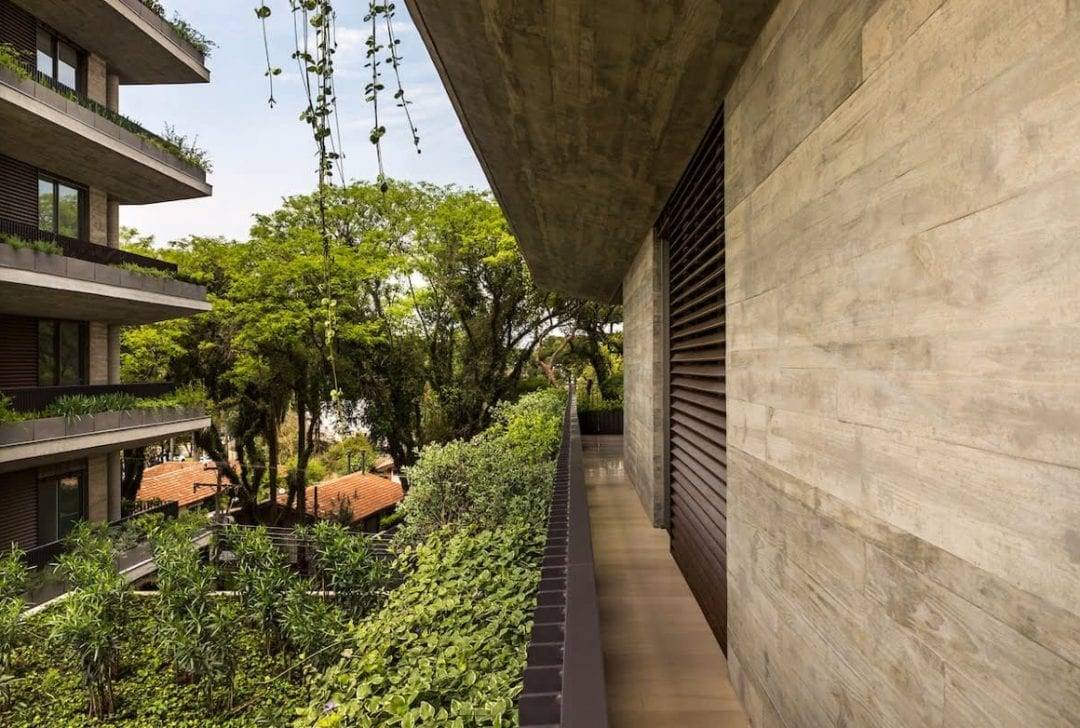 02.
House Type And Interior Design
In this project, the residential units feature large flat floor apartments. You will find that the layout of the apartments is not only square and unusually functional, but also has a large balcony space in each apartment.
TORRE 1
550m2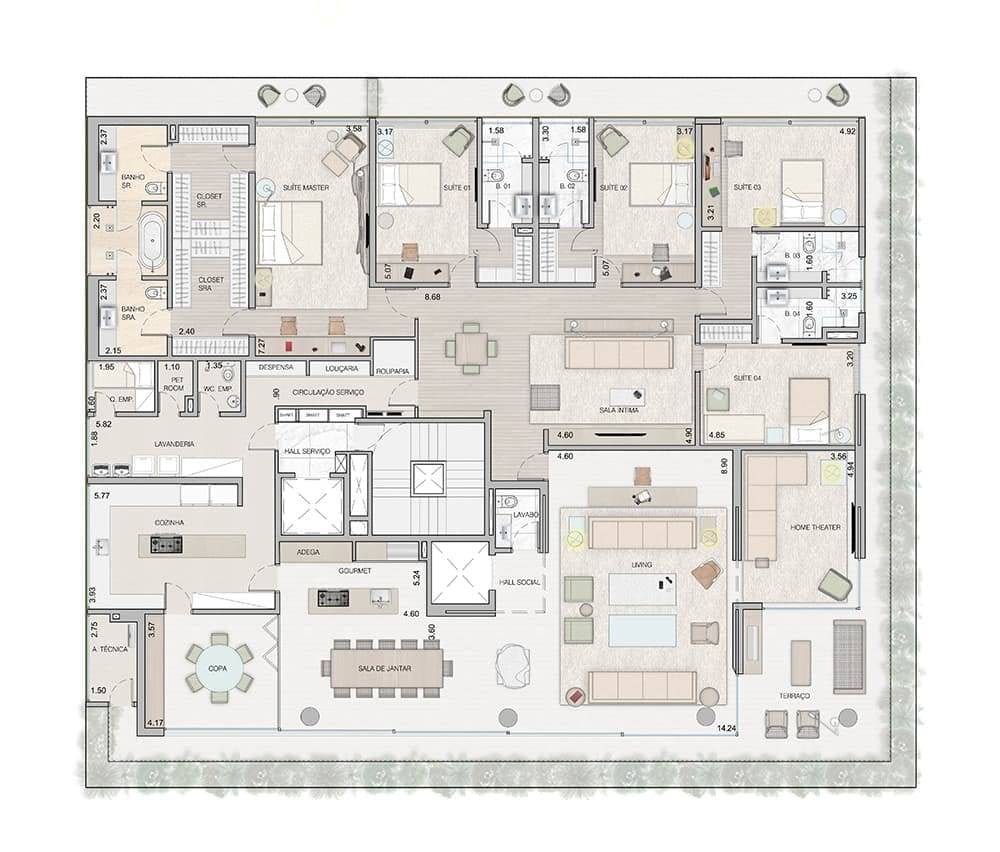 Each house type has two completely separate foyers, with the social foyer divided by sliding doors that can be opened and closed ▼.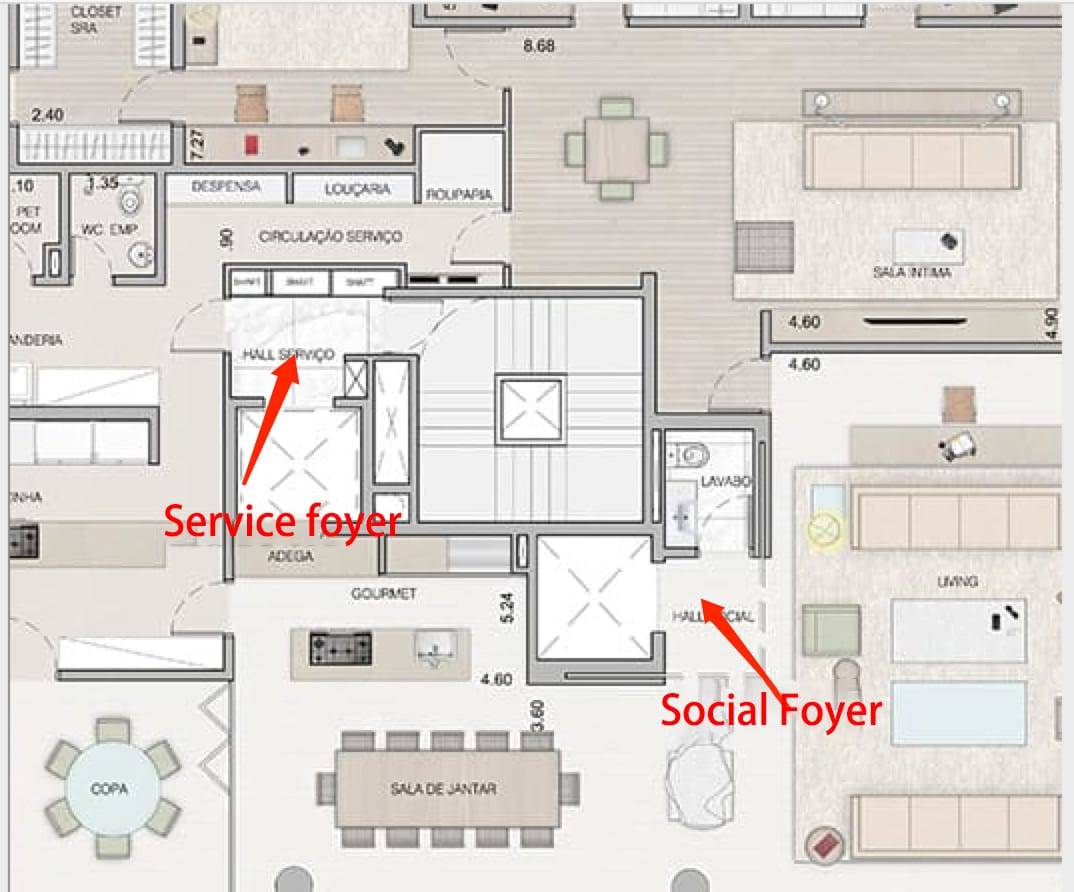 Service foyer connects to maid's room, pet room, chef's kitchen ▼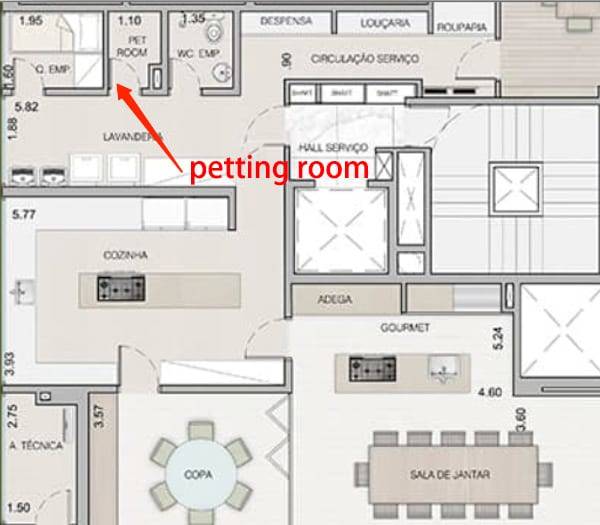 TORRE 2
459m2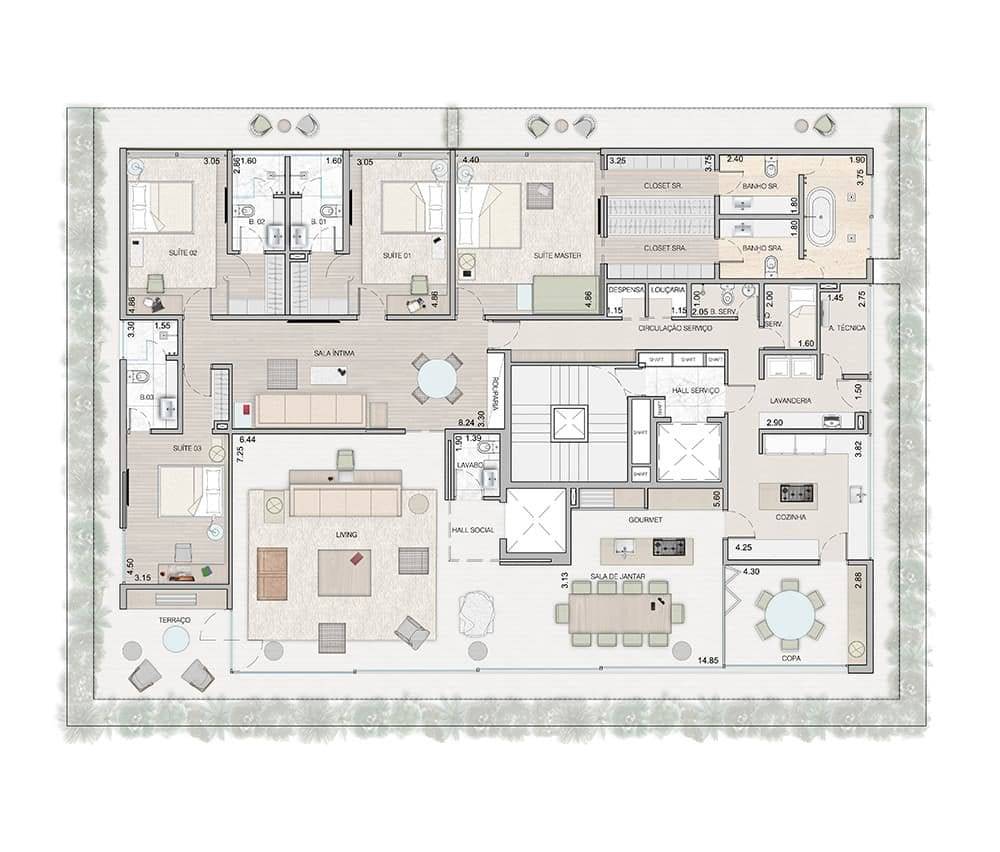 TORRE 3
315m2

The interior design of the project is imbued with comfortable natural elements, and the integration of the environment into the interior is a truly popular concept of 'luxury'.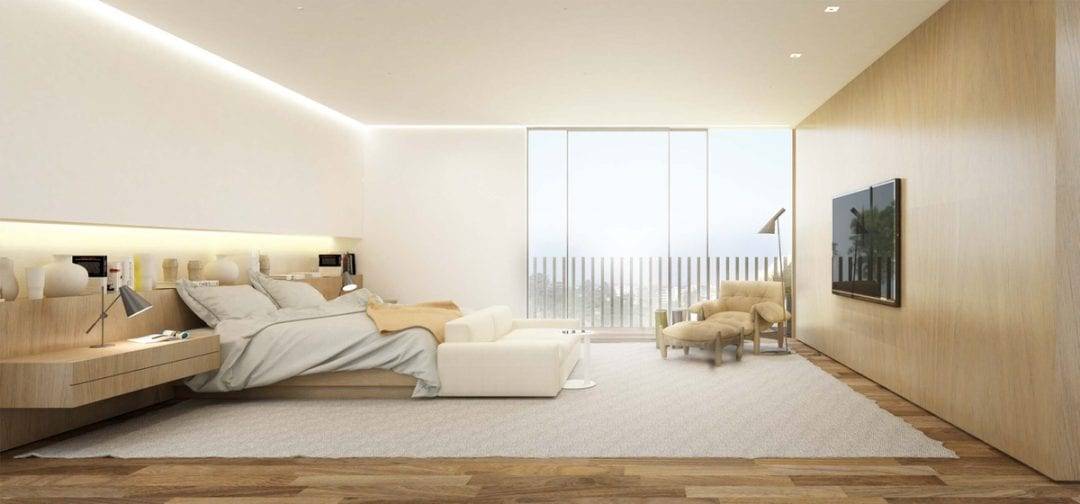 Simple lines and natural, soft materials create a sense of harmony throughout the space, and the large sliding glass doors and windows allow for maximum use of light ▼.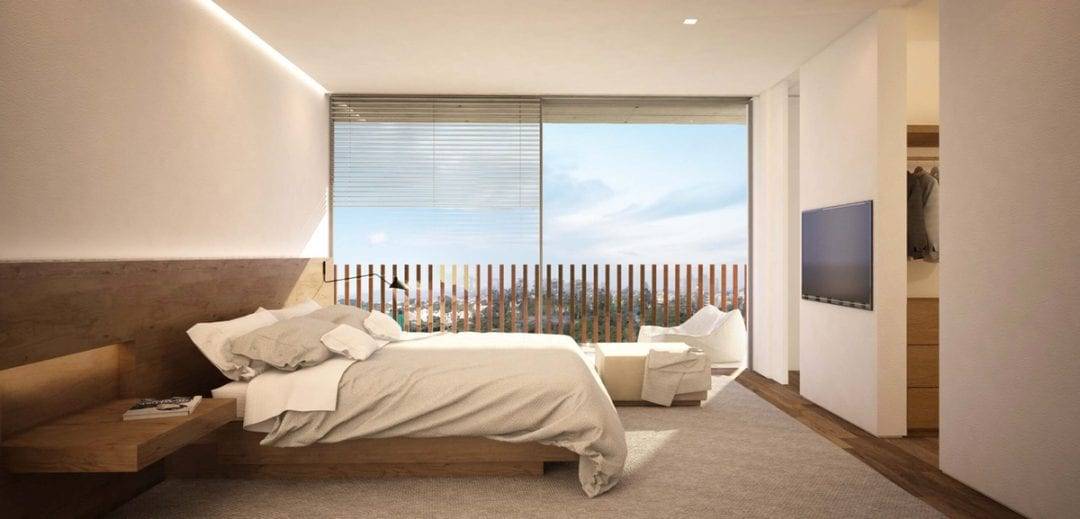 rendering (visual representation of how things will turn out)
Inside, the interiors have an open-plan layout, with raw materials and natural and comfortable lighting design to create a natural atmosphere ▼.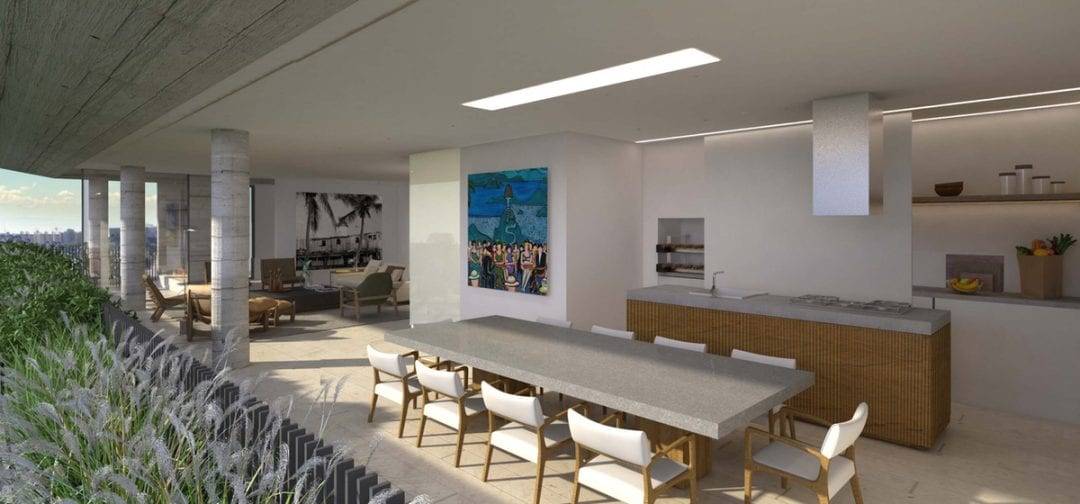 rendering (visual representation of how things will turn out)
Surrounded on all sides by large clear glass floor-to-ceiling windows, the indoor-outdoor space is integrated, bringing the beautiful views of the outdoors into the indoor space ▼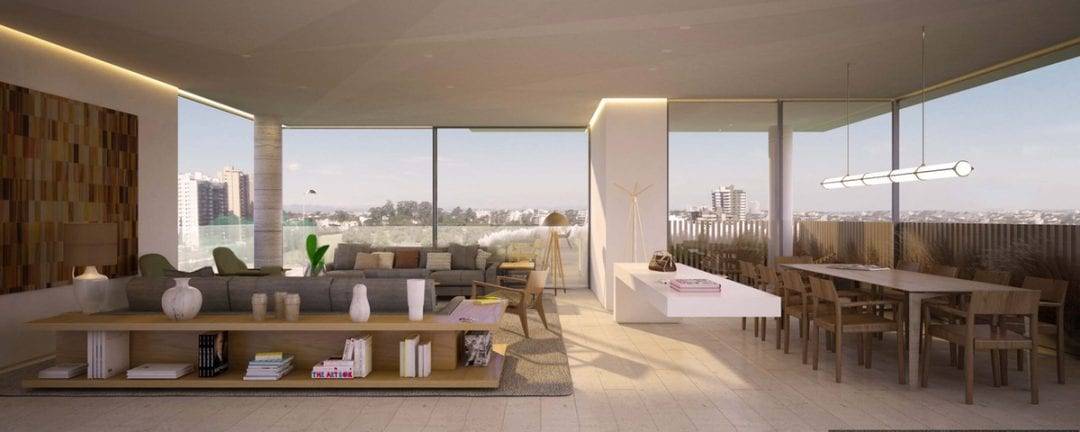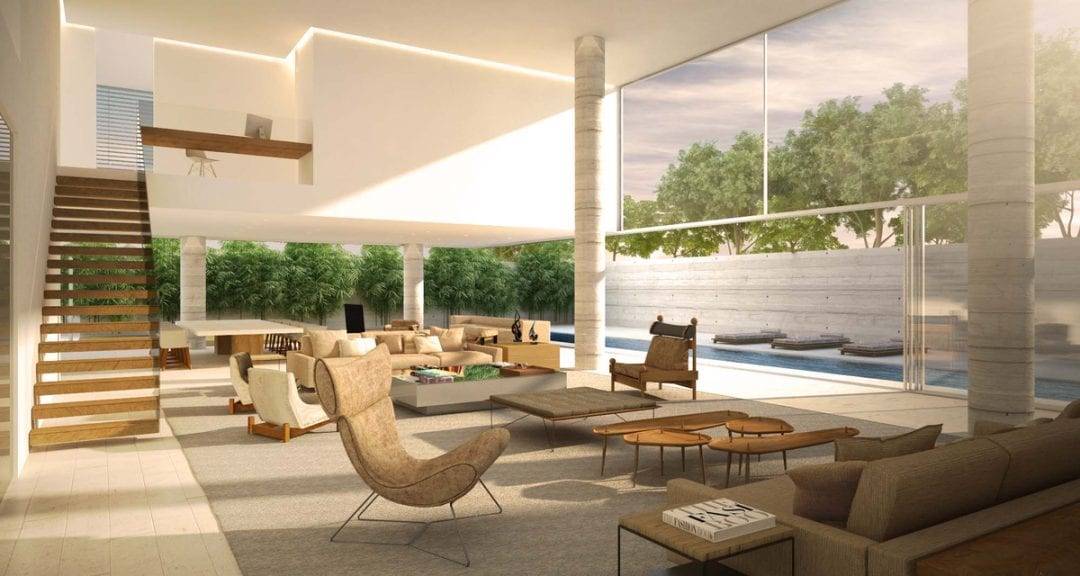 rendering (visual representation of how things will turn out)
Master Bedroom Bathroom ▼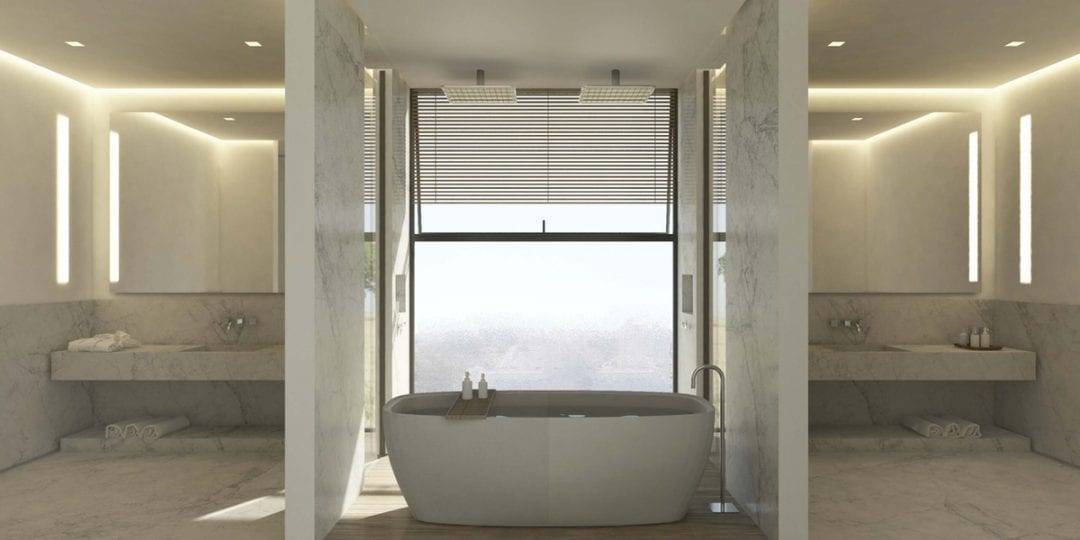 rendering (visual representation of how things will turn out)
03.
Landscaping
In addition to Arthur Casas, the award-winning Brazilian designer Renata Tilli was invited to do the landscape design.
Her work has always impressed with its ability to harmonize with the building's surroundings. Her ÍCARO landscaping not only provides extensive vegetation coverage, but also significantly reduces energy consumption for air conditioning.
Renata Tilli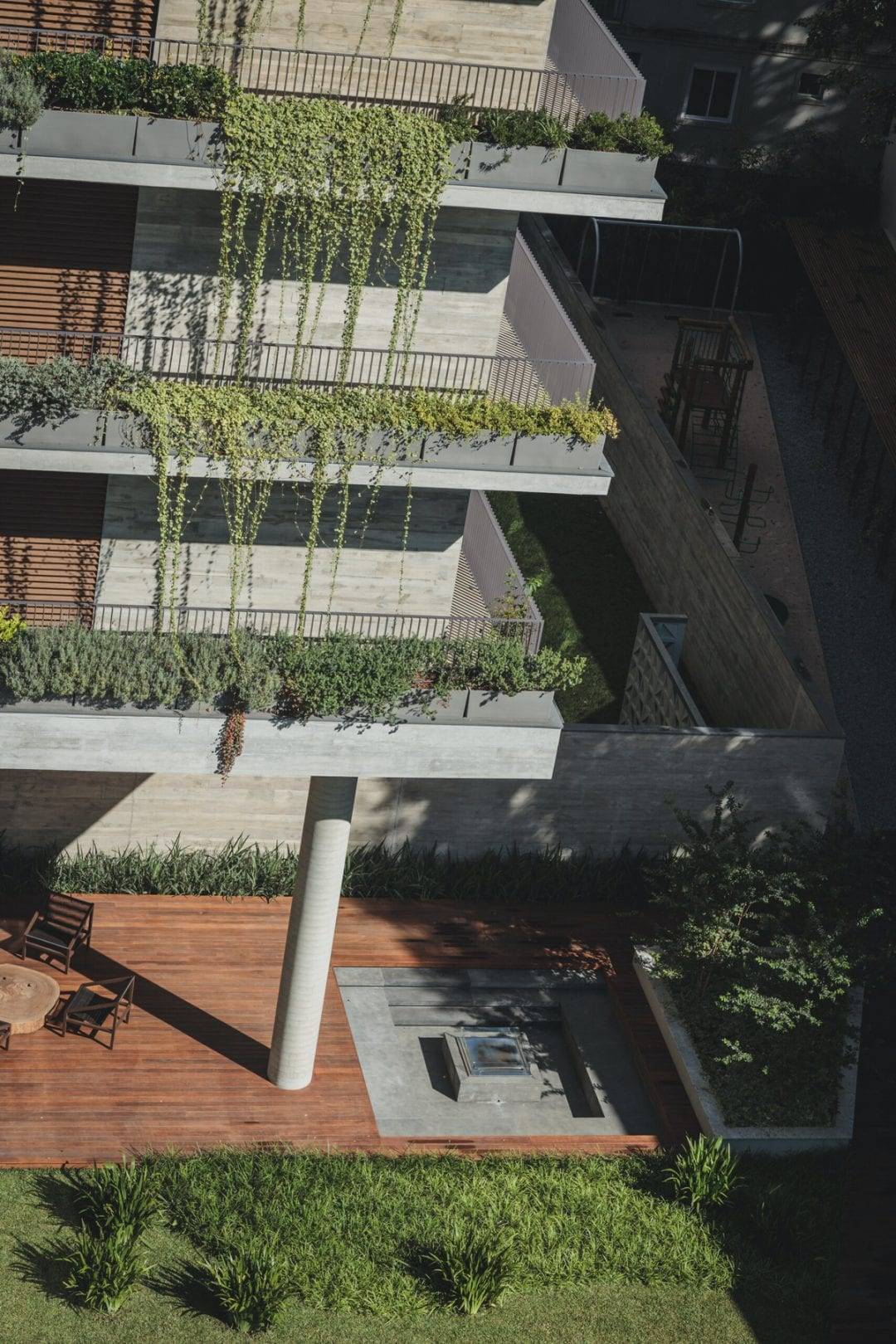 Arthur Casas and Renata Tilli have collaborated intensively to build the entire apartment building in harmony with its surroundings ▼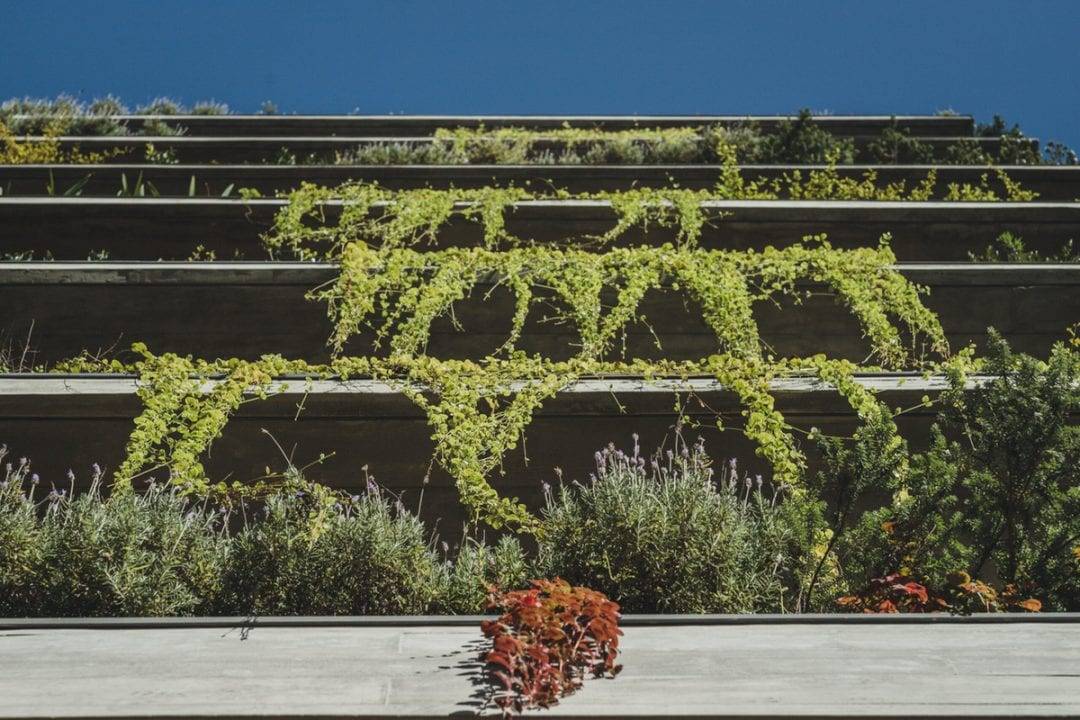 The large outdoor terraces are filled with neatly arranged strips of greenery that create an unparalleled natural atmosphere, each floor linking together to form a vertical garden that surrounds the building ▼.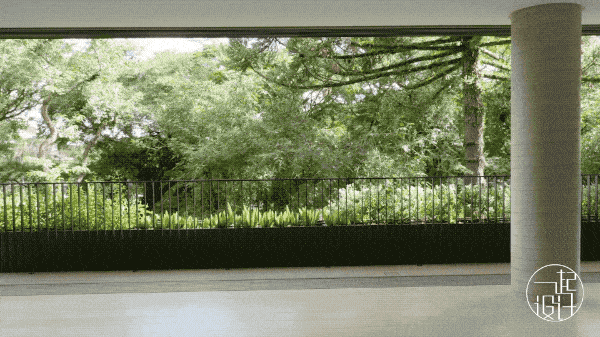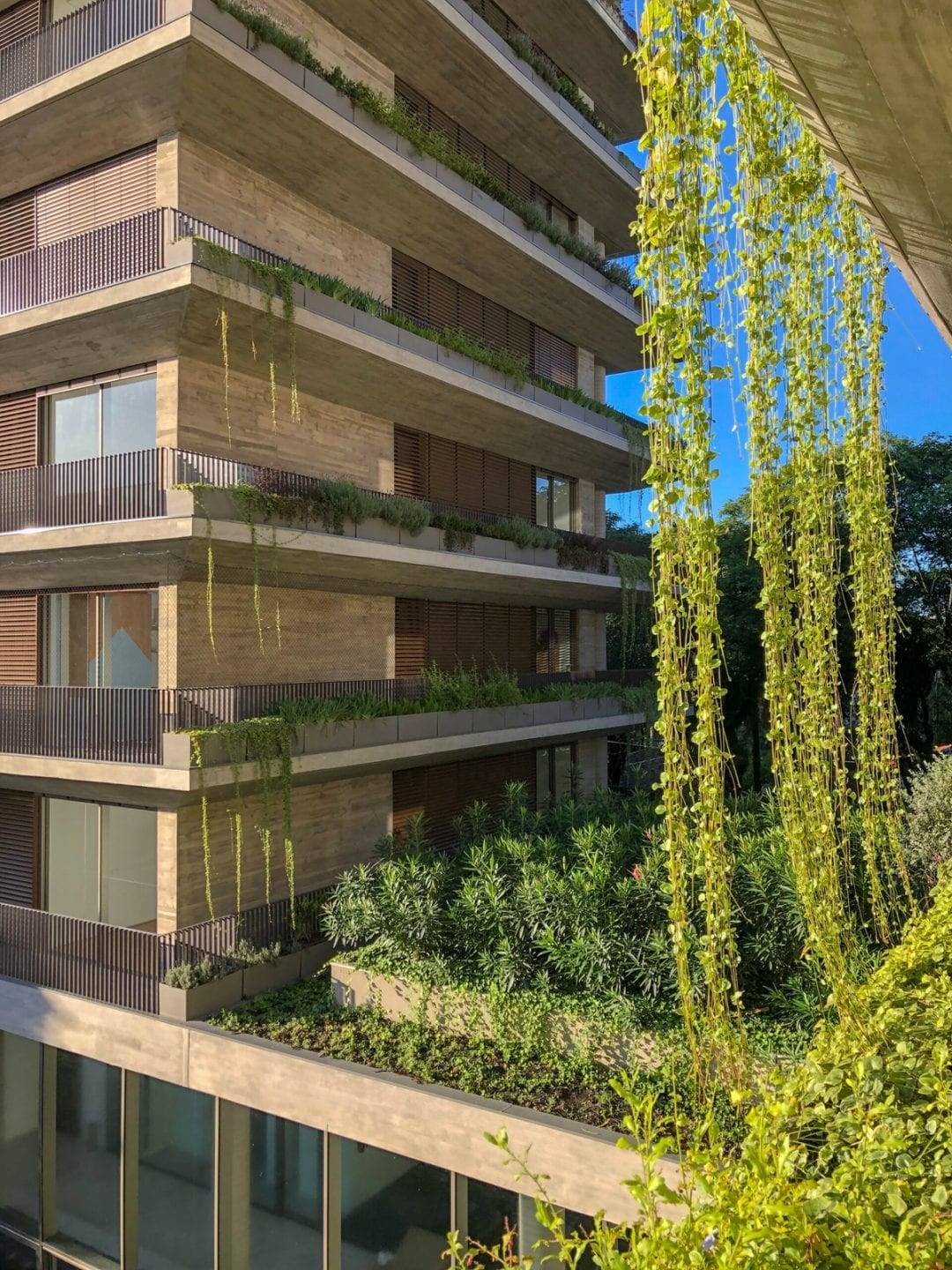 Greenery occupies nearly 15% of the floor space, adding up to 2500m2 of natural green space ▼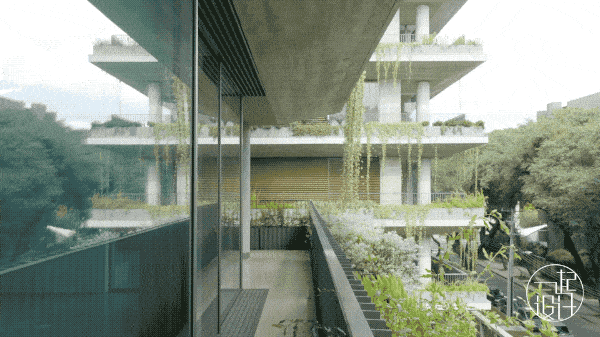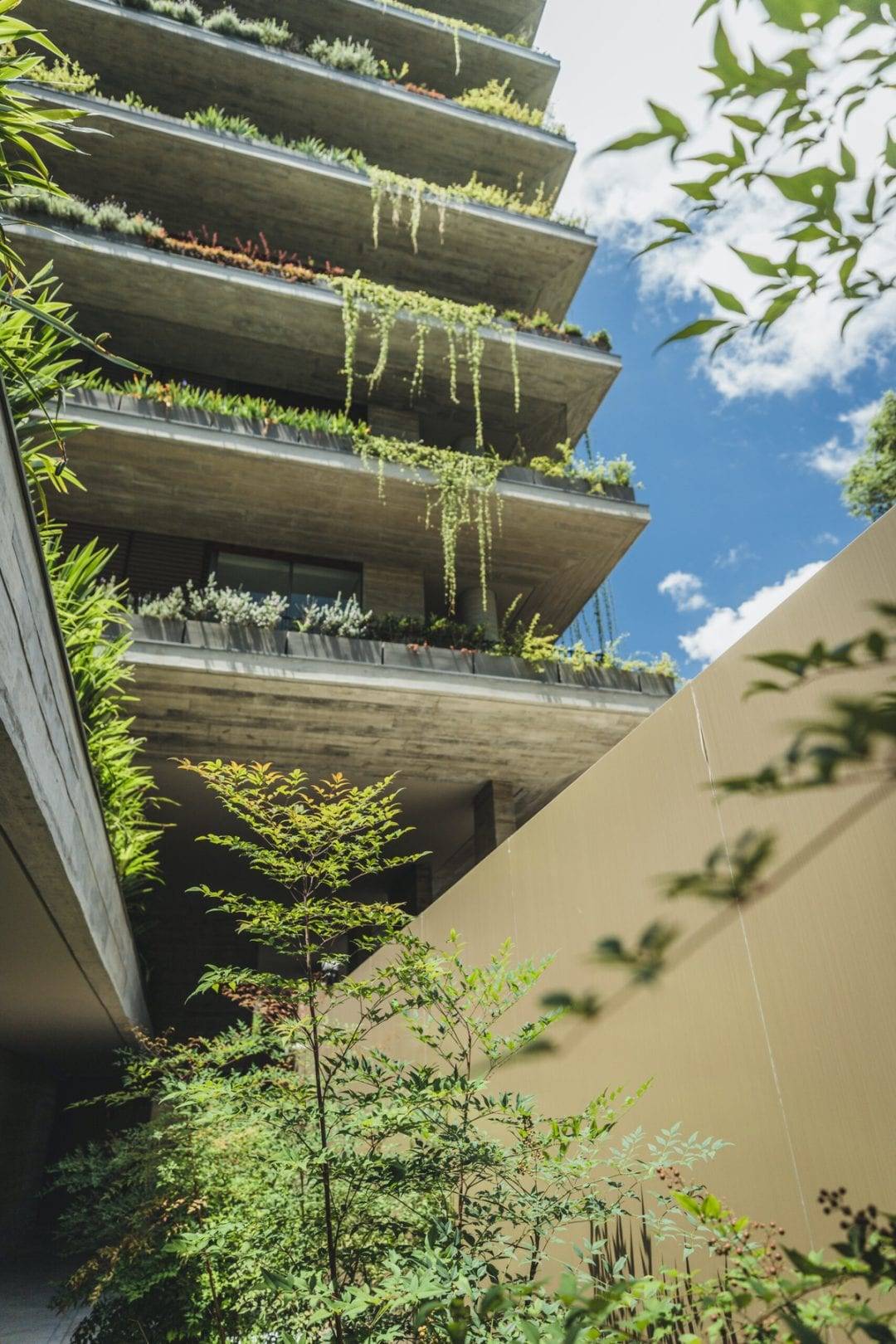 The landscape design is harmonious and elegant, combining concrete, glass and greenery to perfection ▼.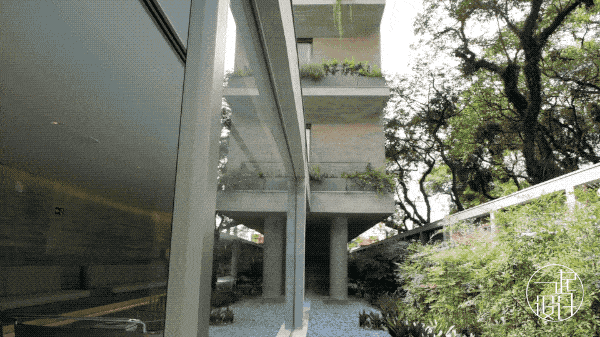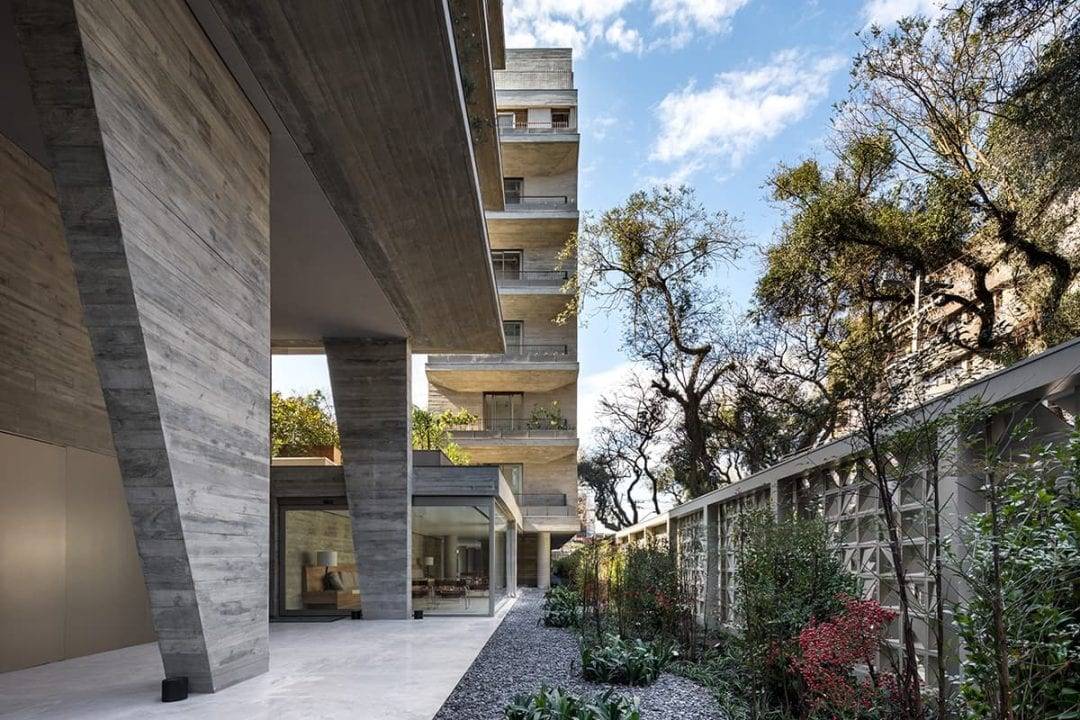 The designers' use of clean lines to define the space gives it a distinctive spatial identity, which is particularly evident in the pool design ▼.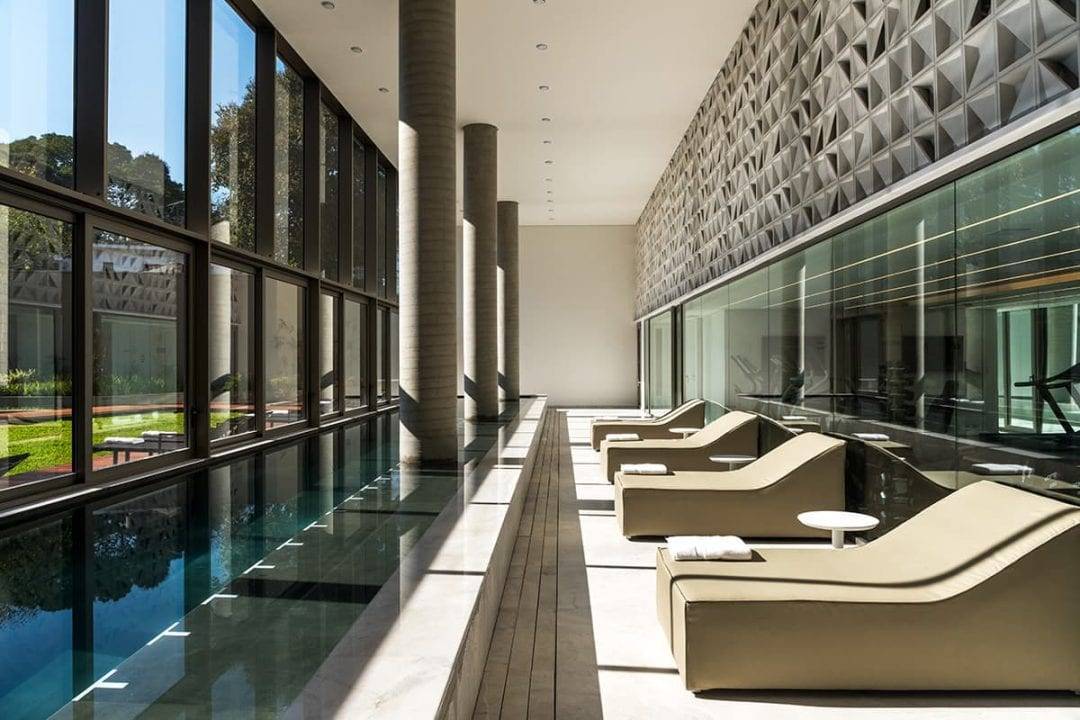 04.
Ancillary Facilities
The public areas are finished to a high standard and the lounging spaces are on a very generous scale, with views and a good balance between privacy and openness, with communal kitchens and outdoor terraces ▼.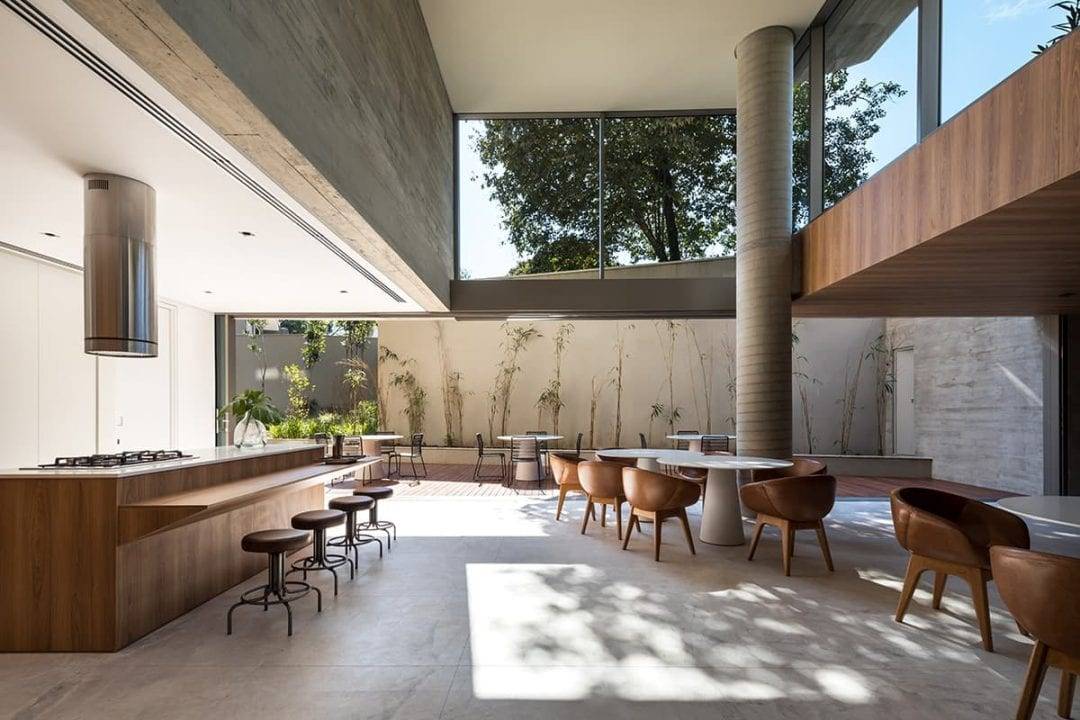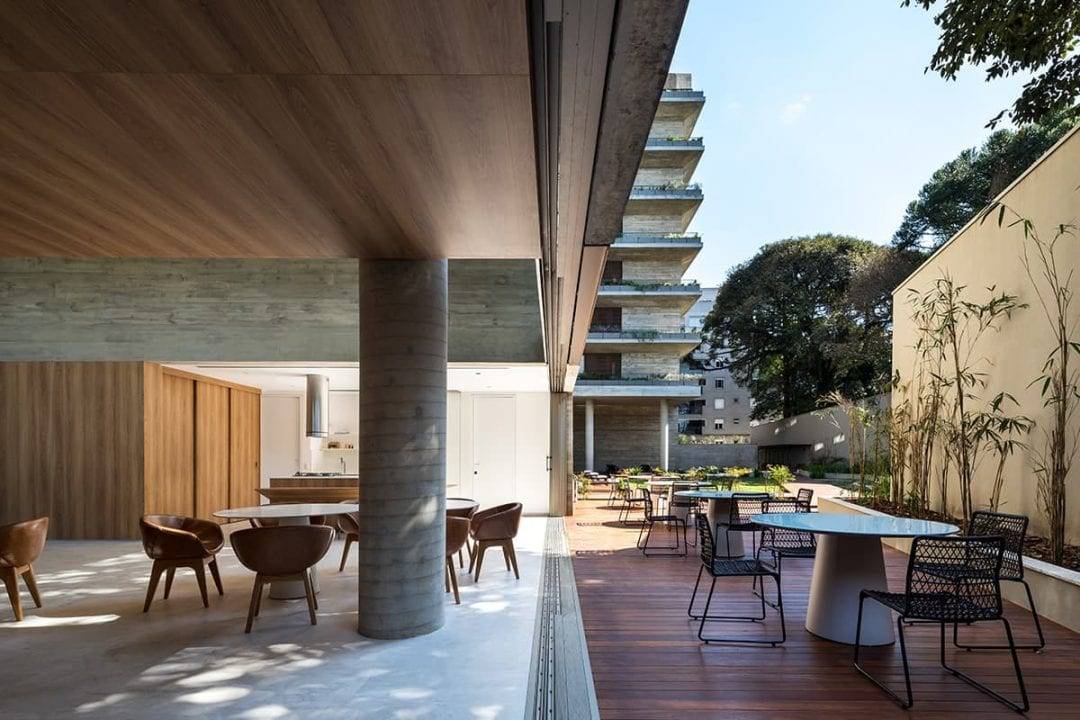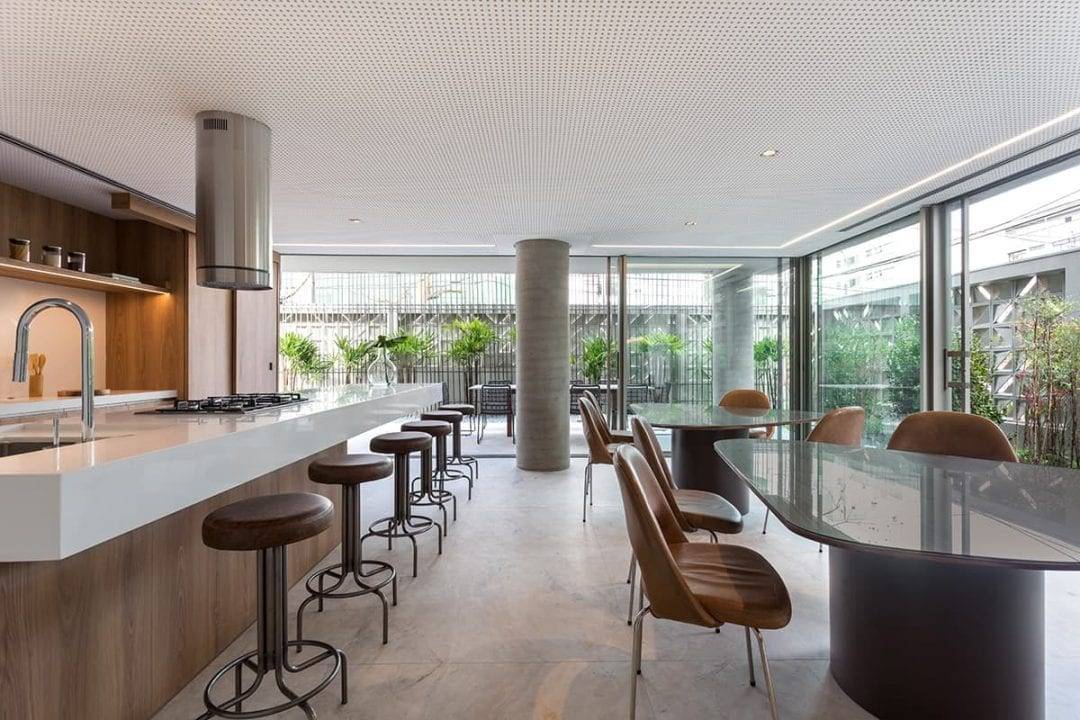 The lounge area has benches set up against the wall with soft cushions and seats above, while the tables and chairs have classic design pieces ▼.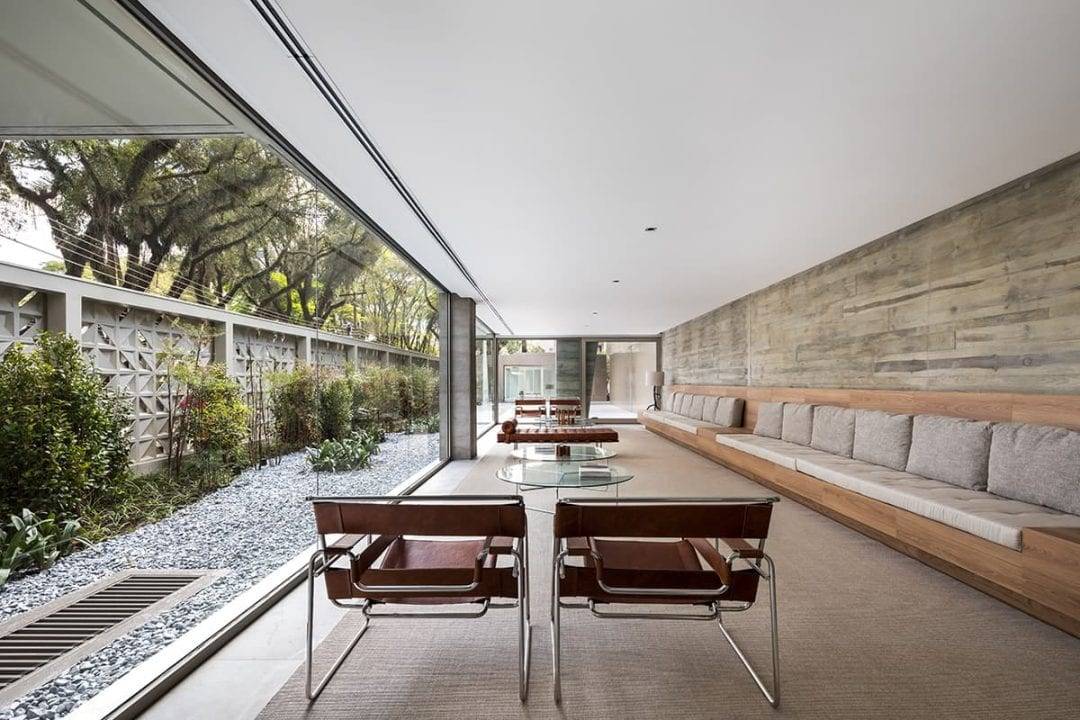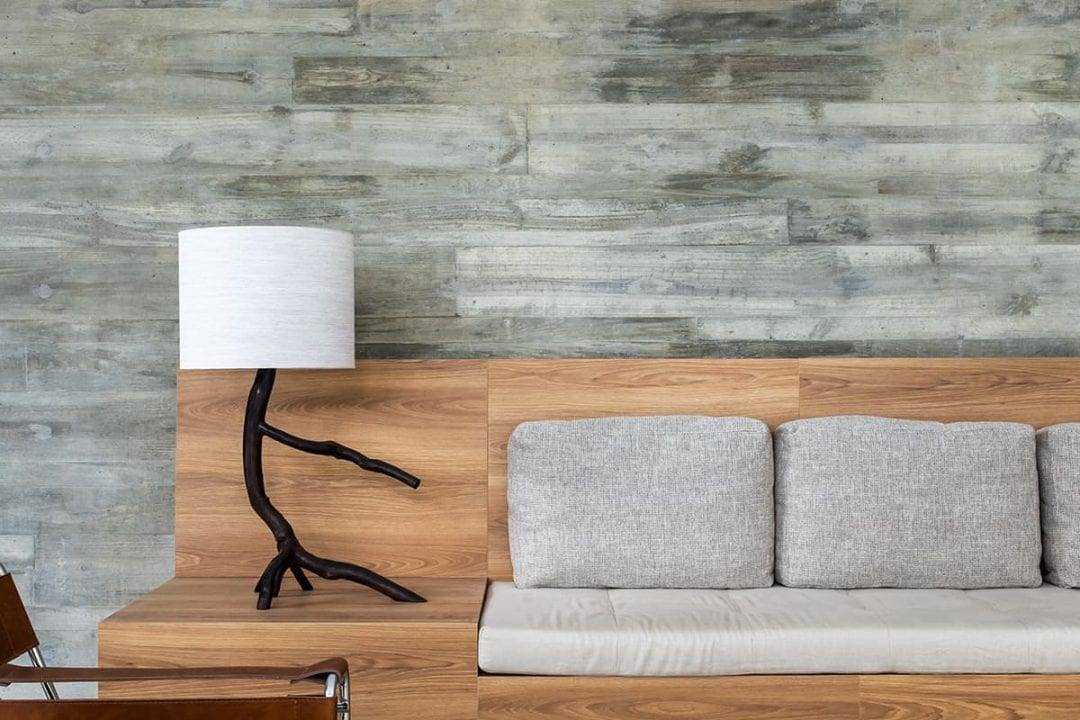 The outdoor terraces are also very varied, with sunken sofa spaces ▼.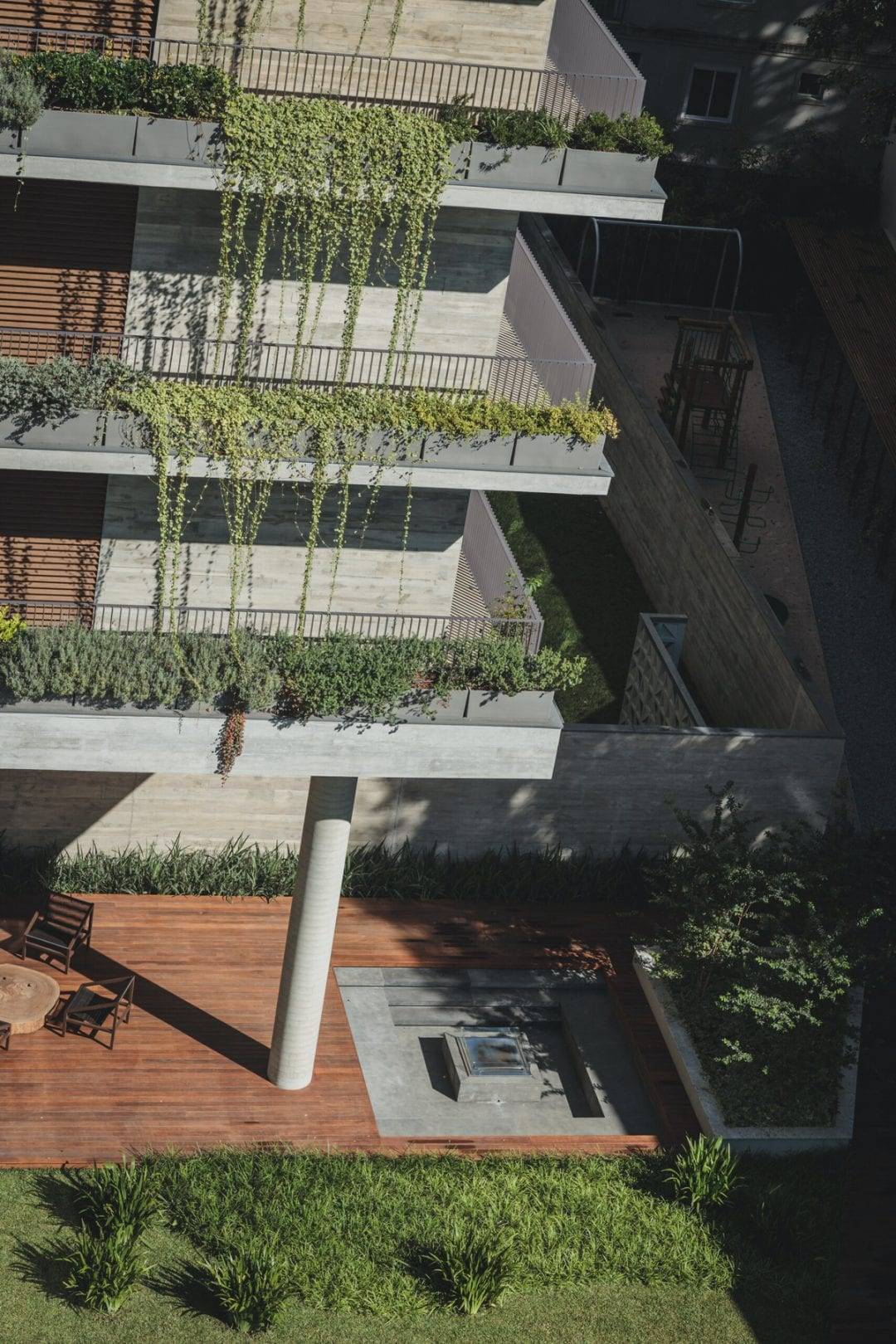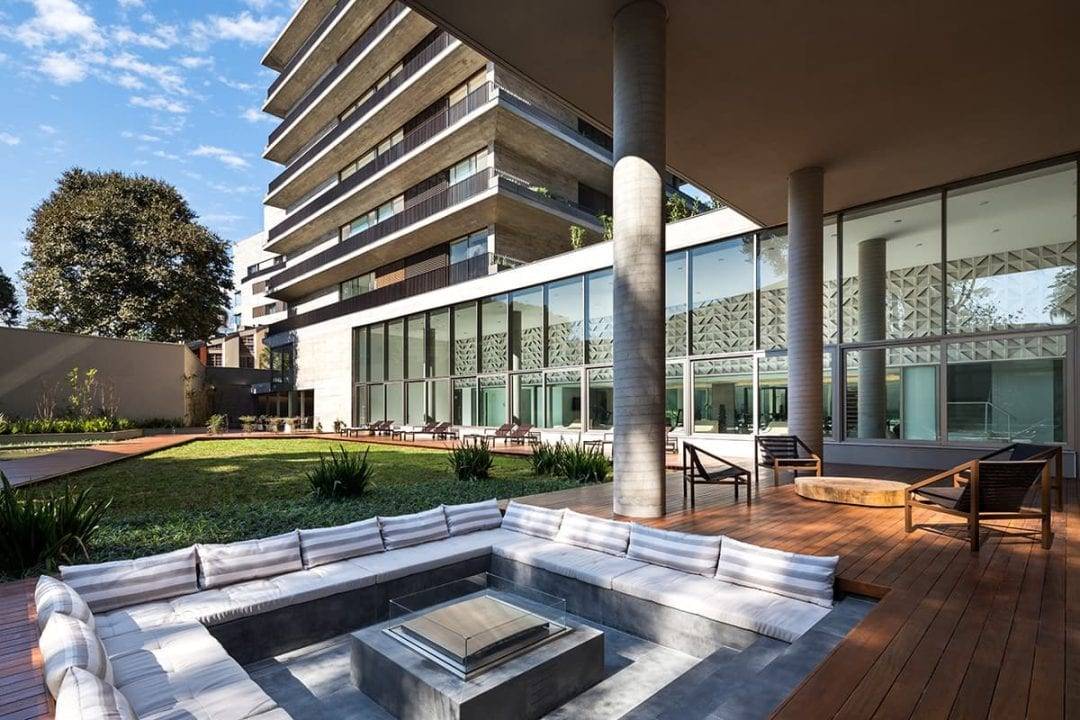 Underground Apartment Garage ▼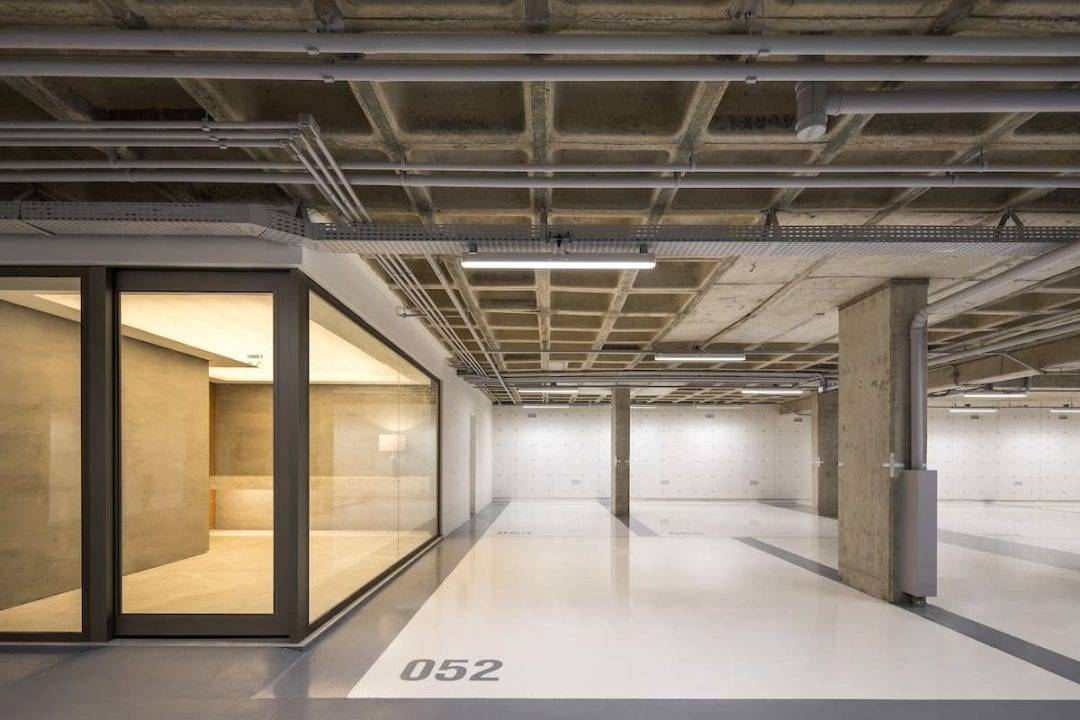 Garage lift lobby ▼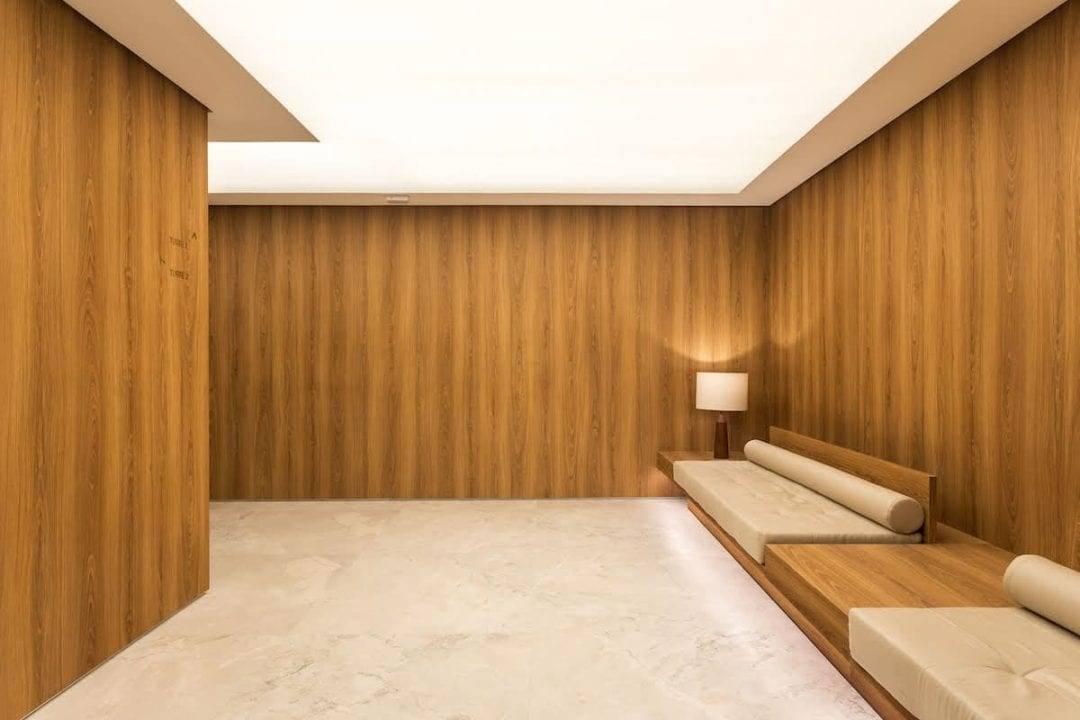 Comfort and natural elements co-exist in the definition of "luxury" in Ícaro, where the understated simplicity of concrete is harmonized by the gentle use of wood.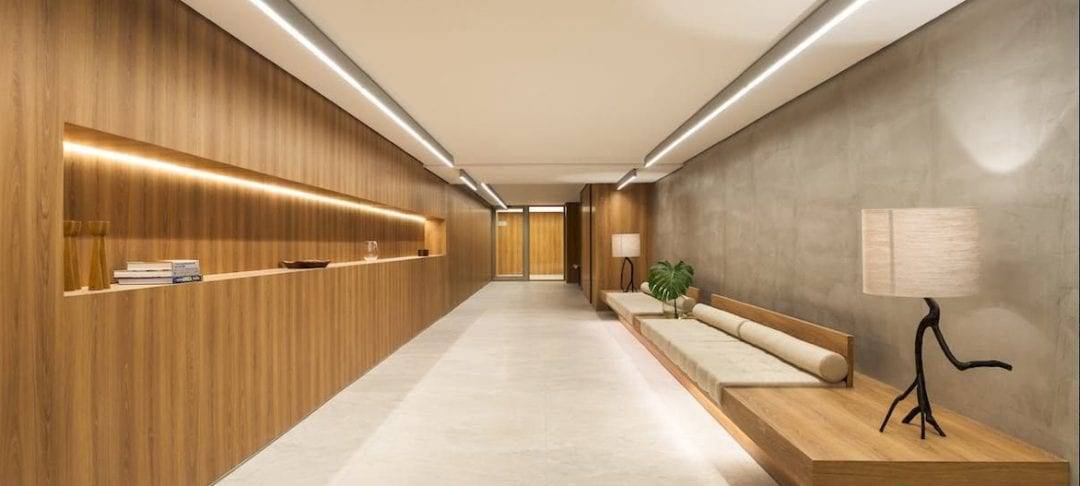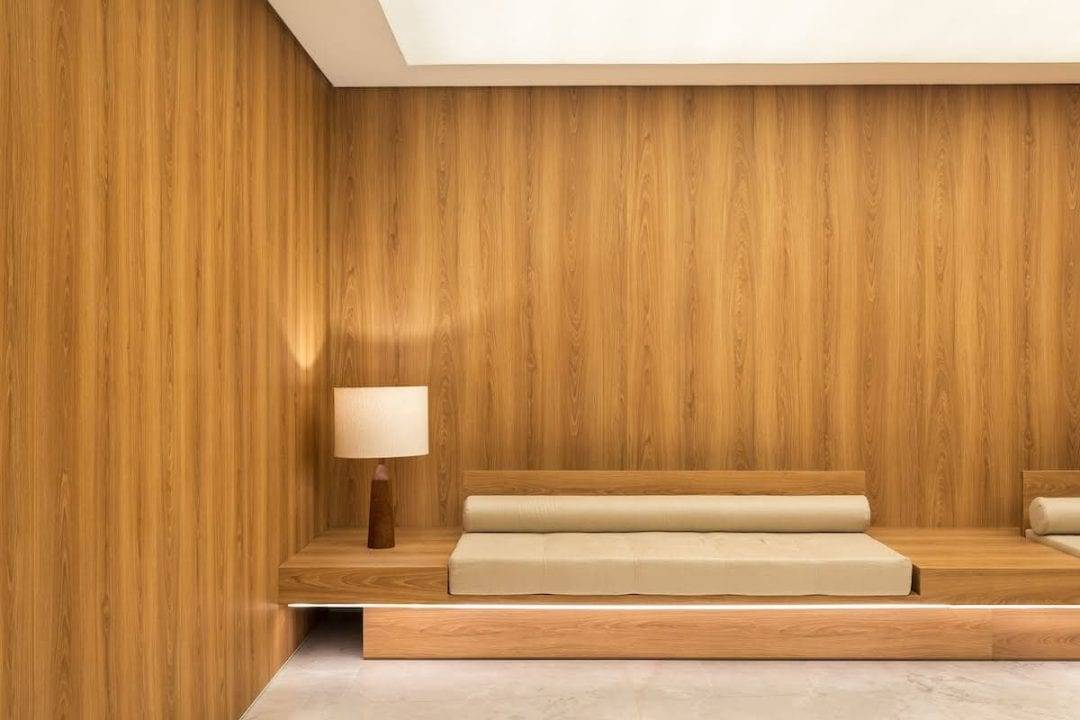 The project also fully integrates the landscape and architecture of the various private and public areas, achieving both aesthetic and functional standards inside and outside the project.