Who Makes Kraus Sinks – Is Kraus A Good Brand For Sink

Kraus is not only an innovative faucet manufacturer for kitchens and bathrooms, but also they offers a range of kitchen sinks to suit every need and satisfy any style preference. Kraus sinks focus on design and flexible functionality for the perfect fit. To know more about Kraus sinks, read on this post! In this post, we will introduce to you Kraus sinks from various aspects including who makes kraus sinks, who makes kraus kitchen sinks, where are kraus kitchen sinks made, is kraus a good sink brand, etc.
Kraus introduction – who makes Kraus sinks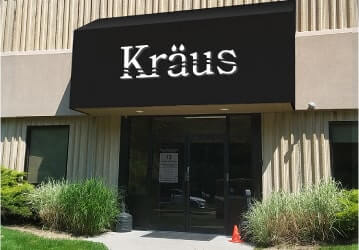 Kraus, founded in 2007 by Russell Levi and Michael Rukhlin, has become a dependable brand of plumbing fixture. The goal of Klaus to enter the plumbing fixture market is to thoroughly innovate the kitchen and bathroom design with reasonable prices by providing each consumer with a variety of clean, modern and high-quality products. Kraus is a group company, and all team members share the same passion for the design of kitchen and bathroom.Kraus is headquartered in base of Port Washington, New York. Since our headquarters in New York, Kraus has expanded to many facilities on the east coast and west coast, with more than 100000 square feet of integrated warehouse space Their products are based on German projects and are mainly made in China and India.
Is Kraus a good brand for sink
There is no doubt that Kraus is a very good and reliable brand of sinks. Kraus sinks have many great features. They are made of stainless steel material. This product comes with a limited lifetime warranty thanks to premium materials that provide long-lasting coverage. Also, there are a wide variety of Kraus sinks on the market. They are available in different colors, designs and sizes to suit your requirements. To learn more about Kraus sink, let's take a look at their features.
Design
Kraus sinks are available in a variety of designs to bring a glossy and elegant look to your kitchen. They are available in a variety of shades and structures. Unique designs for Kraus sinks include stainless steel, satin finishes and bronze.
Material
Kraus sinks are built with quality equipment and you'll never be disappointed. For the most part, their products are made of stainless steel. In addition, the ceramic material is another major feature of Kraus sink.
Size
Kraus sink offers you the option to choose the length according to your preference. The size of the sink is also less than 20 inches. The smaller size is suitable for small kitchens. Also, it comes in sizes from 35 inches to larger.
Durability
All products made of pure steel are very strong. Likewise, Kraus sinks are also very durable. Materials used to manufacture Kraus sinks include stainless steel. In addition to that, they contain durable ingredients that make the sink last longer. The sink also comes with wide cushions to keep the sink durable.
Price
Kraus sinks are available at relatively affordable prices. They offer you different categories at the right price. If you're looking to buy a budget-friendly sink with multiple benefits. Kraus is your first choice.
Kraus sinks reviews – Are Kraus sinks good quality
Kraus KBU32 Premier Kitchen Sink Double Bowl, Stainless Steel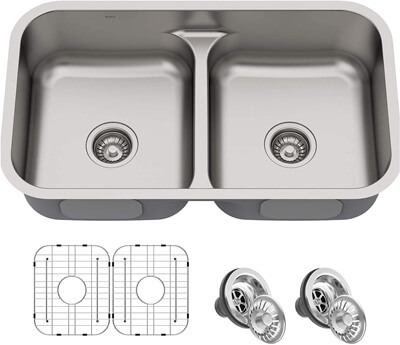 This sink contains a double bowl sink. The distinguishing feature of this product is the smart low divider, which you can borrow as a single and double bowl. The sink material is durable. It is made of real stainless steel with a satin finish. Due to the high performance of the product, the product can remain brand new for a long time. In addition, the insulating properties of the product allow you to work properly in a comfortable environment.
The cleaning method of the sink is very manageable. Since the sink contains curved edges, it can be cleaned comfortably. In addition, the under-counter mounting of the sink allows it to adjust the water output. It controls the water falling into the sink. The bottom grid of the sink is made of stainless steel. This prevents the mesh from being damaged. Plus, it aids drainage by avoiding water flow.
Kraus KHF200-33 Standart PRO Stainless Steel Sink 33 inch Farmhouse Apron Single Bowl 16 gauge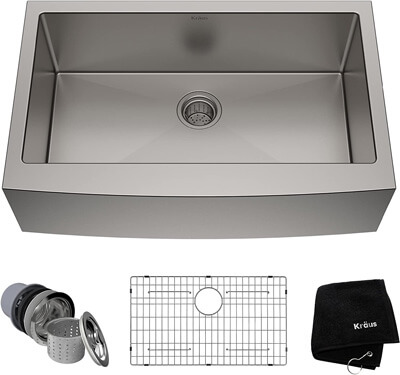 The Kraus Standart PRO Stainless Steel Room Sink features a smooth façade made of industrial grade T304 16 gauge stainless steel and commercial grade satin finish. The sink is sturdy, durable and dent-resistant. This sink comes with a grid that helps protect the bottom from scratches. The sink has grooves that direct water to the drain. Drain holes are located at the back of the sink instead of the center, creating more floor work space in the sink and storage space in the sink cabinet.
This sink features NoiseDefend technology and consists of extra thick pads that cover more than 80% of the sink for sound insulation. The sink has three mounting options – under, top and flush, and it requires a minimum cabinet size of 33 inches.