Who Makes Kohler Sinks – Is Kohler A Good Brand For Sink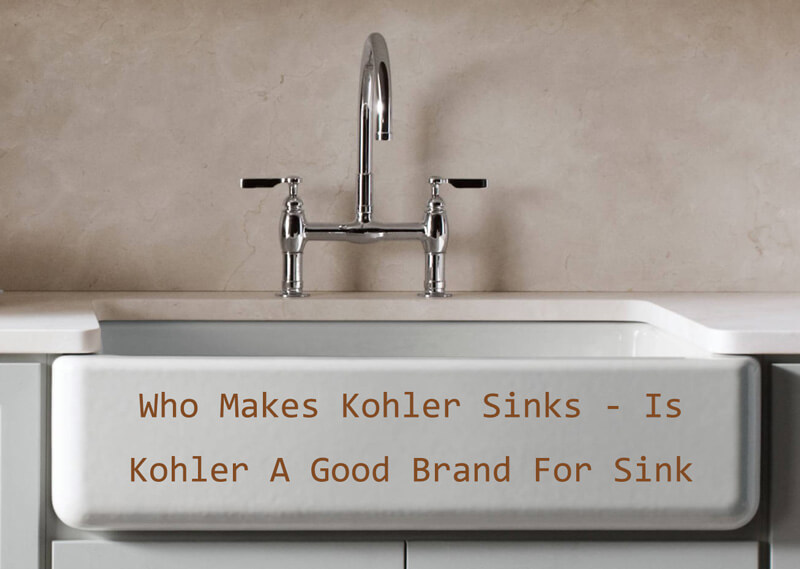 As a leading plumbing fixtures brand, Kohler's faucets are well sell around the world. Besides, due to premium quality and various styles, Kohler sinks are also popular with homeonwers in different countries. To know more about Kohler sinks, we have researched and summarized Kohler sinks in this post. Here you can learn about who makes Kohler sinks, where are Kohler sinks manufactured, is Kohler a good brand for sink, is Kohler sink good quality or not…
Kohler introduction – who makes Kohler sinks
Kohler Company was founded in 1873 by John Michael Kohler, an American manufacturing company located in Kohler, Wisconsin where they are headquartered out of today. As a leader in the plumbing business for well over 100 years, they have had plenty of time to refine every aspect of their business. Kohler is famous for its pipeline products, among which the most popular products are faucets and sinks. Most of the Kohler faucets sold in the United States are produced in the Kohler faucet factory in Sheridan, Arkansas. Parts and components entering Kohler faucets were mainly produced in the United States, but this has not been the case for many years. Today, they are produced in other countries, mainly China and India.
What makes Kohler special
What makes Kohler special is the wide variety of gutters they offer.
Precision Design: With an original design consisting of striking finishes and colors, the Kohler sink is a great addition to the family room, family room, or anywhere else you can entertain guests.
Professional: Kohler Professional sinks provide your kitchen with a look, efficiency and performance that professional chefs can use and enjoy. These task centers are organized, focused, and stylish, so it is easier for users to operate and reduce steps on the kitchen floor when preparing or cleaning up after meals.
Utility Sinks: Kohler's utility sinks come in convenient styles and shapes that can fit any home aesthetic, and the sturdy finish makes them durable. Whether it's your workshop, dog wash station or laundry room, Kohler's multi-purpose sink will help you get your dirty work done with ease.
These are the most common sinks you will notice when purchasing a Kohler sink. Each has been carefully crafted to be almost flawless, designed to reduce dish clutter and is a great addition to the kitchen.
Why are Kohler sinks so expensive
I believe many people are confused about this issue. In fact, the prices of Kohler sinks range from mid-range to high-end. The low-end prices are competitive with the company's mid-price competing products (including Delta, Moen, Pfister and American Standard). At the high end, prices are similar to other premium product lines such as Brizo, Graff, Watermark and Waterstone.
The company avoided the very low-end sink business that required large amounts of plastic and zinc parts. Even Kohler sinks that cost less than $150 have the same sturdy structure and high-end components as Kohler's premium sinks. The best part about Kohler kitchen sinks is that most feature the Response Touchless technology. This technology helps users to activate the sink without having to touch it. All you need to do is wave your hand or utensil under the water sensor to start flowing. Kohler actively develops the high-end kitchen and bathroom market, and cleverly provides architects and designers with high-quality CAD images, so that Kohler products can be easily integrated into the computer-aided design of kitchens and bathrooms.
Kohler sink reviews
Kohler Vault Single Bowl 18 Gauge Stainless Steel Kitchen Sink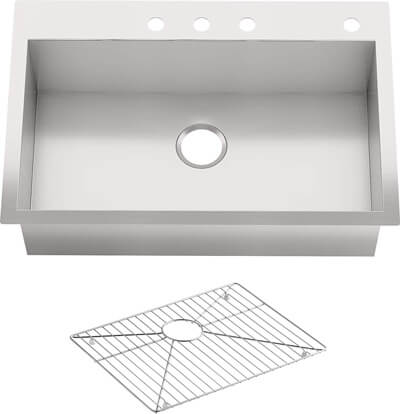 For those who like stainless steel kitchen sink,Kohler Vault Single Bowl 18 Gauge Stainless Steel Kitchen Sink is a choice that can not be ignored. It allows you to easily clean the largest kitchen tools. The deep bottom of the sink provides more space.
The stainless steel kitchen sink is made of high-quality No. 18 stainless steel, which is durable and can withstand those heavy dishes, but still maintain the classic appearance. It is an embedded installation and can also be installed as a base. Like most modern stainless steel, the Vault sink is equipped with SilentShield technology to help provide quieter performance when handling any work. The vibration generated during garbage disposal and other daily use is absorbed by the sound attenuation pad, which makes the water tank more functional and user-friendly.
KOHLER Whitehaven Farmhouse Self-Trimming Undermount Single-Bowl Sink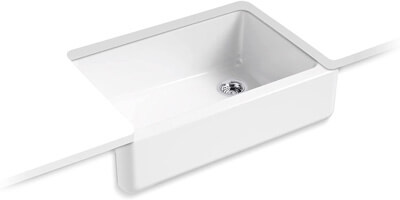 If you prefer a farmhouse sink, the Cole Whitehaven kitchen sink is an option you can't miss. It is made of super durable cast iron with glossy enamel finish and is available in 12 colors, from traditional white to neutral taupe to fashionable black.
The d material used by Whitehaven is guaranteed not to crack, peel or burn, and has a limited lifetime warranty. This single basin sink is equipped with the front of the iconic apron, which balances the sleekness, refinement and traditional charm.