Who Makes MR Direct Sinks – Are MR Direct Sinks Good Quality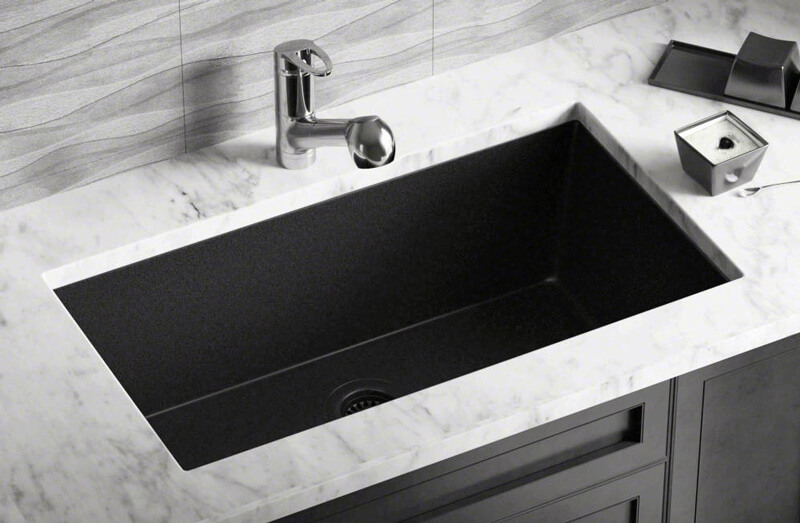 As one of the leading suppliers of kitchen sinks, MR Direct offers various styles of kitchen sinks to satisfy the need of families around the world. Although MR Direct is not as famous as Kraus and Kohler, its sink is not inferior to theirs. MR Direct can always provide a suitable sink for every family, whether from the quality or from the style. To make people know more about MR Direct, we are here to introduce MR Direct from various aspects such as who makes mr direct sinks, are mr direct sinks good quality, where are mr direct sinks made.
MR Direct Company – who makes mr direct sinks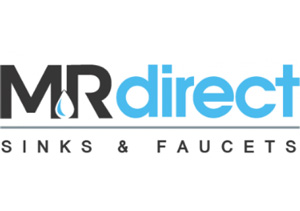 Founded in 2004, MR Direct is one of a new generation of sink manufacturers that promise better prices and higher quality. MR Direct is headquartered in Toledo, Ohio, USA. MR Direct may not sound like a sink company, but there is a deeper meaning behind their name. MR Direct operates on the idea of cutting out the middleman and selling their sinks directly to customers. That's why they keep their sinks so low and high quality. MR Direct has successfully proved itself to be one of the first sink manufacturers to do business both on its own and directly from the warehouse.
What makes MR Direct sinks special
Value for money
The main reason for choosing an MR direct sink is to get a higher quality product at a lower price. Because MR Direct sells its own products directly, eliminating the middleman's price difference, customers end up paying less for a high-quality sink.
Wide range of products
MR Direct also has an extensive catalog of sinks available, ensuring you will have no problem finding the one that suits your needs. Among their hundreds of sinks, there are many different styles and materials to choose from, such as stainless steel sinks, the TruGranite range, and copper sinks, so every customer can find a sink that matches their kitchen style
Customer service
Another attractive feature of MR Direct is its customer service. Like any other online retailer, MR Direct needs to have a strong customer service department to handle customer questions, concerns, etc. You can rest assured that when you purchase a sink from MR Direct, you will receive top-notch customer service.
MR Direct sinks reviews
MR Direct Undermount Copper 33 in. Single Bowl Kitchen Sink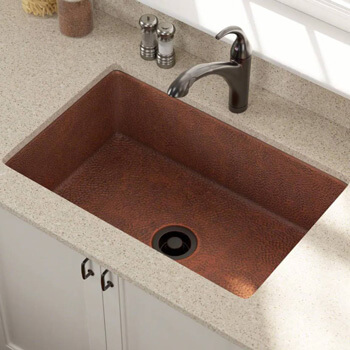 This single bowl undercounter sink is made from 99% pure copper. It has a one-piece construction that gives you a very strong and durable copper sink. The handcrafted copper details are sure to add warmth and richness to any decor. Because copper is naturally antibacterial and stain-resistant, it's ideal for busy homes that benefit from low-maintenance materials. The hammered finish looks great. The overall dimensions of the 903 are 33″ x 22″ x 9-1/2″ and require a minimum cabinet size of 33″. The sink contains a centered 3-1/2″ drain and is supplied with a copper filter and flange.
MR Direct 3221L-16 Stainless Stain Sink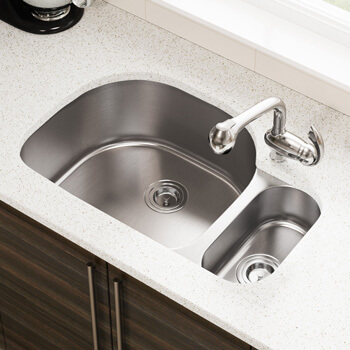 The MR Direct 3221L-16 sink features two bowls of different sizes; this sink is constructed of high quality grade 304 cold rolled steel. At full 16-Gauge thickness, 25% thicker than industry standard 18-Gauge steel, it is strong enough to resist accidental dents or any vibration from handling use. The visible steel surface has a brushed satin finish that adds shine and masks minor scratches that may appear over time. The bottom is coated with a dense soundproofing pad and insulating coating. Overall dimensions are 31-3/4″ x 20-7/8″ x 9-1/4″ and requires a minimum width of 33″ cabinet.
MR Direct Drop-In Stainless Steel Double Equal Bowl Kitchen Sink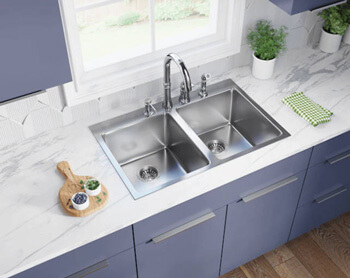 The equal-sized bowls of this stainless steel sink allow plenty of room for any chore to be divided and handled with ease. Its 3/4″ radius corners provide maximum interior space. This model is 304-grade, cold rolled steel, at the industry standard 18-gauge thickness. The surface is given a brushed-satin finish which adds to its luster and masks minor scratches which could occur over time. Dense, sound-dampening pads and an insulation coating are applied to the underside. With an overall measurement of 31-1/8″ x 20″ x 9″, it will require a minimum-width cabinet of 33″.