8 Outdated Bathroom Trends to Avoid in 2022 – on The Way out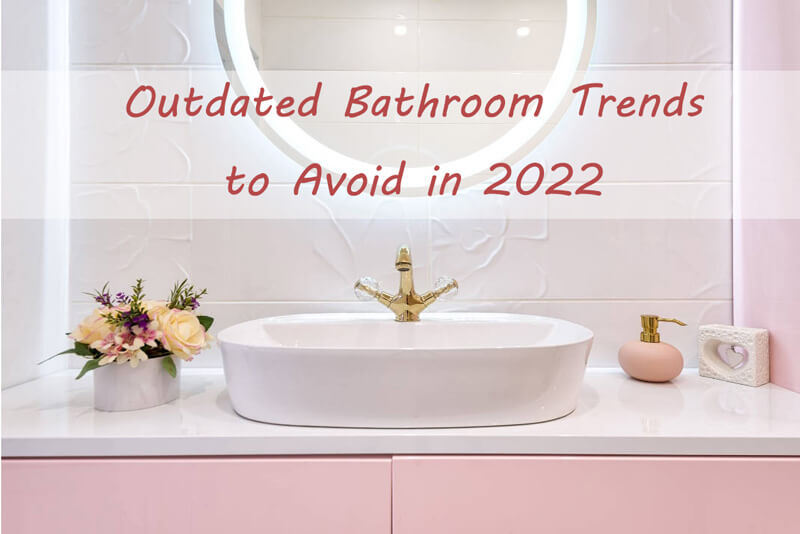 Bathroom trends have a way of going with the wind. These bathroom trends may change immediately, or others may change depending on the current environment. In 2022, there are many new bathroom trends while there are others on the way out. In this post, we listed 8 outdated bathroom trends to avoid in 2022 for your reference.
Oversized tubs
This is one of the most outdated bathroom trends to avoid in 2022. For some reason, everyone thinks an oversized tub is a great investment in their bathroom. Of course, it will be luxurious, and you will love the bath. However, it will definitely take up space in your bathroom. Apart from having more space to move or add other furniture or fixtures, you may not be able to because you no longer have enough space. On the other hand, a bathtub has a big disadvantage of wasting water resources, and it is unavoidable that a lot of water is consumed every time you take a shower. So, please don't waste your hard-earned money on this item since the disadvantages outweigh its benefits.
Extreme Floor and Wall Patterns
You can upgrade your bathroom by updating the floor or wall pattern. However, you need to avoid some extreme patterns. For a while, bathroom floor patterns were especially popular with contrasting stripes and other features. It doesn't look good now. In fact, it's one of the first signs that the bathroom is outdated. So if you're looking for a bathroom makeover, avoid this outdated bathroom trend.
All white design
A few years ago, all white bathroom design was seen as a way to show elegance and class among people. Today, however, that trend is fading away. Because the all white design is too monotonous, and it is difficult to find the right decoration. So is is not advisable to make your bathroom all white, although light colors have been found to make the space appear larger. Another reason it looks outdated is that it requires constant maintenance. This is one of those outdated bathroom trends to avoid in 2022.
wood on the ceiling
The idea was first used in bedrooms, living rooms and kitchens before most people started thinking about using it in the bathroom. Wood and moisture are not a good combination. Every opportunity for mold growth occurs over time. This makes it less popular among homeowners. Don't forget that the temperature elsewhere in the home is different from the temperature in the bathroom.
Nickel finish
For a few years, everything was brushed chrome or satin nickel and the hardware looked modern and sleek. Unfortunately, like all trends, this trend has come to an end. With those charming rustic designs back in vogue, more and more people are looking to upgrade to modern finishes, or more rustic styles like antique brass. You can still use this hardware, but if you want to add value, choose a different finish.
Wall mounted faucets
This is a particularly elegant trend. Wall mounted faucets usually come with a wall-mounted sink. It hides all the plumbing and gives a seamless look. However, there are many problems with this design. For starters, if there is a plumbing leak of any kind, you probably won't know about it until it becomes a bigger problem and when plumbing repairs are required, the entire wall needs to be torn up. Second, your bathroom already has limited storage space, and wall-mounted faucets and sinks eliminate the need for cabinets under the faucet. That's why wall-mounted faucets are one of the bathroom trends to avoid in 2022.
Floating sink
Floating sinks may be all the rage right now, but they're probably one of the biggest bathroom trends to avoid. Floating sinks are as good as they look now and aren't the most practical option you can get. Floating sinks give bathrooms an ultra-luxurious appeal that is irresistible, but they also take up too much space. Most of the time, they will only fit well in a master bathroom or statement vanity, and must be professionally installed to avoid splashing the rest of the bathroom.
Carved mirror
Sculpted mirrors are an intricate design with many nooks, grooves and spaces that are notorious for collecting dust and moisture in bathrooms. These are nearly impossible to keep clean and have busy and outdated designs that no longer appeal to the masses. So carved mirrors are also one of the outdated bathroom trends you need to avoid.
Last Words on Outdated Bathroom Trends to Avoid in 2022
The above summarizes the eight outdated bathroom trends to avoid in 2022. Of course, everyone has his own taste, this is just my personal opinion. It is strongly recommended that you think carefully before remodeling your bathroom, and weigh the pros and cons from all aspects, so as to remodel your bathroom better. If you are interested in latest bathroom trends in 2022, please read this article: 7 Latest Trends in Bathroom Faucets in 2022.